Once Again, NORAD Tracks Santa
Christmas is quickly approaching and the staff at NORAD are preparing to once again monitor the progress of Santa Claus and report his location to millions of excited boys and girls. I can remember as a child, turning on our television and watching as Santa Claus was tracked on Christmas Eve. That information came to us, courtesy of NORAD. This year marks the 50th year that NORAD (North American Aerospace Defense Command) has tracked Santa Claus, as he's made his way around the world on Christmas Eve, delivering Christmas joy to millions of girls and boys. Millions of boys and girls will log online or check in on their televisions to see the progress that Santa Claus is making. Millions of boys and girls will call the NORAD Tracks Santa hotline on Christmas Eve as well as check his progress on the official NORAD Tracks Santa website. The story behind how the annual Santa Tracking came to be is interesting and something that our readers should be interested in.
NORAD Tracks Santa

On Dec. 24, 1955, a call was made to the Continental Air Defense Command (CONAD) Operations Center in Colorado Springs, Colo. However, this call was not from the president or a general. It was from a girl in Colorado Springs who was following the directions in an advertisement printed in the local paper – she wanted to know the whereabouts of Santa Claus.

The ad said "Hey, Kiddies! Call me direct and be sure and dial the correct number." However, the number was printed incorrectly in the advertisement and rang into the CONAD operations center.

On duty that night was Col. Harry Shoup, who has come to be known as the "Santa Colonel." Col. Shoup received numerous calls that night and rather than hanging up, he had his operators find the location of Santa Claus and reported it to every child who phoned in that night.

Thus began a tradition carried on by the North American Aerospace Defense Command when it was formed in 1958. Today, through satellite systems, high-powered radars and jet fighters, NORAD tracks Santa Claus as he makes his Yuletide journey around the world.

Every Christmas Eve, several hundred volunteers staff telephone hotlines and computers to answer calls and e-mails from children (and adults) from around the world. Live updates are provided on the NORAD Tracks Santa Web Site (in six languages), over telephone lines and by e-mail to keep curious children and their families informed about where Santa really is and if it's time to get to bed.

In November and December 2006, the NORAD Tracks Santa Web Site received nearly a billion hits from 210 countries and territories around the world. More than half a million people called the NORAD Tracks Santa hotline, and volunteers received nearly 12,500 e-mails from children around the globe.

NORAD Tracks Santa has become a magical and global phenomenon, delighting generations of families everywhere.1
If you're interested in finding out where Santa is at on Christmas Eve, or have questions for the volunteers who assist NORAD in tracking Santa Claus, please visit the NORAD Tracks Santa website. On the website you'll find lots of helpful information for you or your children, as you anxiously await the arrival of Santa Claus.
http://www.norad.mil/about/Santa.html [↩]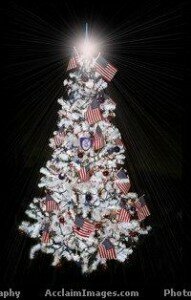 Ever since the wars in Afghanistan and Iraq began, one Christmas tree farm in Whitehouse, Ohio has showed their appreciation in a very special way. This year, they've given away 100 trees to military families, as their way of letting them know that they appreciate the sacrifices that they've made for our country.
"We've been giving trees to military since the war started," Duke Wheeler, owner of Whitehouse Christmas Tree Farm said. "We feel it's important to let these families know that we appreciate their sacrifices … We're grateful for all that they do."1
The business will be giving seven foot Christmas trees to military families who have family member currently deployed or one who just returned from deployment, until December 20th. The family member may cut down their own tree, or employees of the tree farm will do it for them, while they wait. Mr. Wheeler also participated in the "Trees for Troops" weekend. This is an annual event, where for each Christmas tree that is purchased at Christmas tree farms that participate in the program, one is donated to a military family. This year's "Trees for Troops" event took place from December 5th through December 7th.
"Trees for Troops," a Christmas Spirit Foundation and FedEx Corp. program, has delivered more than 34,000 real Christmas trees to military families since it began in 2005. The program has grown from about 400 Christmas tree farms and retailers participating to more than 850. Nearly 17,000 families at more than 40 military bases received a Christmas tree in 2007 through this program.2
These two events are just a couple of things that Mr. Wheeler participates in. He's also a member of the Ohio Christmas Tree Association. His Christmas Tree farm also participates in "Operation Evergreen." Operation Evergreen is a program that has been in existence for 12 years, that allows servicemembers to celebrate their Christmas with a live Christmas tree from Ohio. Each year around Veteran's Day, trees are cut and collected from several Christmas tree farms in Ohio and then transported to the Ohio Department of Agriculture, which inspects the trees and then packs them into boxes which will be shipped overseas by FedEx.
"This year alone, with 20 growers, we had 30 high school and middle school students come and help us pack 325 trees," Amy Galehouse, Operation Evergreen coordinator for OCTA, said.3
Mr. Wheeler is pretty modest about his willingness to participate in the three programs that benefit our military at Christmas. He feels honored to be able to participate in the programs and be able to share a small token of his thanks with the Troops and their families. When I run across stories like this, I'm always impressed by the willingness of some Americans, to go that extra mile in showing their appreciation for our Troops. People like Mr. Wheeler, are one of the reasons, why the men and women of our country's Armed Forces, continue to do the job they do, despite the hardships it often brings to them and their families. From a proud American, who is part of a retired military family, I wish to say "Thank YOU!" to Mr. Wheeler for your support of our Troops.
http://www.defenselink.mil/news/newsarticle.aspx?id=52322 [↩]
http://www.defenselink.mil/news/newsarticle.aspx?id=52322 [↩]
http://www.defenselink.mil/news/newsarticle.aspx?id=52322 [↩]
When the life of a Soldier is lost in combat, their untimely death leaves a huge gaping hole in the lives of their loved ones. Many of our fallen, are very young and have just began to experience the joys that life can bring. Recognizing this, Texas artist Phil Taylor has taken on the tremendous task of creating a portrait of fallen Texas heroes. His unique style of utilizing pastels, pencil and acrylic on canvas, creates a lasting memory of the fallen warrior for their loved ones. Using his talent, he is able to capture the personality of the fallen warrior. His hope is that by doing so, he can bring some solace and peace to the grieving families of these fallen Texas Heroes.
Phil began his labor of love, shortly after his youngest daughter attended prom in May 2007. Her prom date was killed in a motorcycle accident, just a few days short of graduating from high school. Knowing that his daughter was grieving the loss of this young man, and to honor him and his family in their time of loss, Phil painted throughout the night and the next day to create a portrait of the young man and have it ready to present to the family before his funeral. This was a life changing event for Phil.
Shortly afterwards, he contacted a friend of his, who's brother was killed in Iraq the year before. He had attended the funeral and was able to witness the incredible way that Americans come together in an outpouring of patriotism and support for the family. Phil created a portrait of this young man, Captain Blake Russell for the family. The family's reaction confirmed his belief that the portraits somehow were able to bring a small token of comfort and peace to the families. Consulting with his wife Lisa, Phil created the Texas Fallen Soldiers Project, as a way to provide this same gift of healing and love to as many families of Fallen Warriors, as possible.
On Friday, one of our readers, Haole Wahine, was able to attend the ceremony to present the family of SSG Christopher (Chris) Zimmerman, with a portrait of Chris that had been painted by Mr. Taylor. Present at the ceremony were Chris's mother Faith, his father Michael Zimmerman and his sister. Mr. Taylor presented the portrait and had poster sized copies for Chris's father and sister. Mr. Taylor took the time to autograph posters for anyone in the audience who wanted one.
I urge everyone to visit the Texas Fallen Soldiers Project and view photos of some of the portraits that Mr. Taylor has completed thus far, since the inception of this wonderful project. He does a tremendous job of capturing the essence and spirit of the Fallen Heroes that he has created portraits of. His work is simply amazing. If you'd like to make a donation, to ensure that Phil Taylor is able to continue this worthwhile project, to honor our Fallen Warriors, please follow this link and find out what you can do to ensure that Phil Taylor can continue to bring comfort to the families of the fallen.
I'd like to express my gratitude to Phil Taylor for his dedication to ensuring that the families of our Fallen Warriors know that their Hero is not and will not be forgotten.
     Ladies and Gentleman, it is an honor to be able to share a wonderful story with you here on A Soldier's Mind.  As you know, there are great people among us, who want to show their love and support for our troops.  One way they're doing this is by supporting a local cause.  Please allow me the honor of introducing this admirable young American woman.
Raquel Cunningham, is a dedicated individual who herself, has served in the United States Army Reserve as an officer (Nurse) for the 256th Combat Support Hospital in Cleveland, Ohio.  Raquel also worked on IMA status with Evans Army Hospital in Colorado Springs, Colorado.  She is now working as a volunteer for a Houston-based admissions representative for the US Military Academy at West Point.
Raquel; from Cypress Texas, has founded a group called Cypress Cares, a non profit organization dedicated to the support of our troops overseas, and back at home.  Her goal is to generate more interest in supporting their efforts to provide more support for the troops. "I have friends currently deployed to Iraq and Afghanistan.  I started just by supporting them, and decided that I was able to do more.  Thus Cypress Cares was born!"  Raquel said. 
I myself am proud to know that there is support out there and you at ASM should know of the hard work that these people go through to make the support of our troops happen.  "We are an open and honest group of about 5 volunteers and every bit of what we receive is used for the support of our soldiers/sailors/airmen and Marines."  Raquel is to be commended for her efforts,  It is people like Raquel, who makes soldiers as motivated as ever to serve their country, regardless of whatever they may find themselves in.
I would personally like to invite you to check out her website.  please go to www.cypress-cares.org to help support her cause.  If you know anyone else who wants to come forward with their tributes to our service men and women, then feel free to send them my way.  This is why we are "A Soldier's Mind", we are here for the soldiers, never forget that.  I hope you enjoy, and never forget to support our troops.  Hats off to my friend, Raquel, a job well done!

The key to the future of any nation is it's children. Iraq is no different in that respect. Just like here in the United States, the children of Iraq will be instrumental in ensuring that their nation continues to progress and thrive, making it a better place for their children. That fact isn't lost on our Troops, as they continue to interact with Iraqis.
On May 31st at the Radwaniyah Palace Complex Civil Military Operations Center at Camp Stryker, Iraq, more than 100 Iraqi families showed up to receive items that will help to ensure that the needs of their children are met. Items such as diapers, formula and cereal were given to the families to meet that need.
"Rakkasan" Soldiers of the 101st Airborne Division's 3rd Brigade Combat Team distributed 2 packages of disposable diapers, 2 cans of powdered formula and 2 cans of cereal mix for each child who was under the age of 3 years old. All told, more than 180 children received assistance that day. The initiative to reach out to Iraqi women and their children began in February, following a series of meetings with professional Iraqi women and from a series of visits to women in different areas. Their needs were revealed and the Troops were more than willing to ensure that their needs were met. Read more
Geraldine Marquez was a retired Air Force Sergeant and serving in Afghanistan as a civilian contractor with Lockheed Martin Corporation, when she was killed in a suicide bombing attack February 27, 2007. On Friday, Marquez's family received a posthumous award of the Defense of Freedom Medal from the Department of Defense.
"It doesn't replace her departure, but it does recognize her commitment," said her sister Jeanette Marquez at the ceremony. "It's comforting to know her sacrifice did not go unrecognized."
Marquez worked as a civilian military-operations analyst for Lockheed Martin and was serving at Bagram Air Force Base in Afghanistan. The medal that was awarded to Marquez's family, is the civilian equilivant of the Purple Heart.
The bombing in which Marquez was killed, was believed to have been targeting Vice President Dick Cheney, who was visiting the base at the time of the bombing. Twenty-three people were killed in the blast. According to information provided about the bombing, Marquez had escorted several Afghan trucks inside the main gate of the base, when the bomb exploded, only 30 feet away from her. According to officials from Lockheed Martin, the death of Marquez was the first for the company in two years overseas.
Prior to the ceremony, the Defense of Freedom Medal was displayed on a table next to the certificate that was signed by Army Secretary Pete Geren. Also displayed was the American Flag that was flown at Bagram Air Base in honor of Marquez. Rev. Jim Parris of Calvary Chapel Golden Valley Church spoke, before the ceremony in honor of Marquez.
"God bless all the Soldiers like Geraldine, who fight so we have the right to have freedom," Parris said to the crowd of more than 50 family and friends of Geraldine Marquez.
It's important to recognize the service and sacrifice of the civilian workers, who alongside our Troops, put themselves in harms way, in order to ensure our freedom and the freedoms of those in other countries such as Afghanistan and Iraq. It only makes sense to honor Geraldine Marquez and other civilian workers who lose their lives as they provide vital support to our Troops in the warzones.
When Soldiers are deployed, one thing that helps to make their deployment easier is being able to connect with their families and friends back home. Morale is very important to Troops in the warzone and having that connection with loved ones, helps to improve their morale, making it much easier for them to continue in their mission. A partnership between AT&T and Cell Phones For Soldiers understands that importance and are doing something about it.
Recently, AT&T, The Navy Exchange and Cell Phones For Soldiers celebrated Fleet Week 2008, with members of the Navy, Marines and Coast Guard in New York City. Working together, they donated 7,000 land and sea based prepaid phone cards to the members of the Armed Forces who were in New York City last Thursday for Fleet Week 2008. Other efforts that the partnership have going is the Earth Day Challenge, where AT&T and Cell Phones For Soldiers have pledged to work together and collect more than 1.8 million recycled cell phones by Earth Day 2009.
AT&T and Cell Phones for Soldiers Launch Earth Day Challenge: Double Cell Phone Recycling by Next Earth Day to Support the Environment and Military Families

Recycling Program That Sends Phone Cards to Troops Has Helped Avoid 125 Tons of E-Waste; AT&T's Support for Program Expands to Add 'Helping Hands' From a Network of more than 300,000 AT&T Volunteers

San Antonio, Texas, April 21, 2008

AT&T Inc. (NYSE:T) announced today that the company will work with Cell Phones for Soldiers (CPFS) to drive recycling and reduce e-waste through the next year with a goal of doubling the number of cell phones the charity recycles by next Earth Day. CPFS collects and recycles mobile phones and uses the proceeds to buy free phone cards for U.S. military members and their families.

Since Earth Day 2007, CPFS has collected more than 900,000 cell phones for recycling. AT&T and CPFS have pledged to work together to help the charity collect more than 1.8 million devices by Earth Day 2009. AT&T currently supports the charity's recycling through more than 2,000 AT&T stores in more than 1,100 cities across the U.S. AT&T is expanding that support to include a network of more than 300,000 community volunteers, a national donation drive running through July 2008 and a new online starter kit for donations.

According to the U.S. Environmental Protection Agency, e-waste is accumulating three times faster than household trash. Since 2004, CPFS has collected more than 1.25 million mobile phones. The charity's recycling partner, ReCellular, estimates that this has prevented more than 125 tons of e-waste from entering landfills, including the environmental equivalents of:

Saving enough energy to power nearly 4,000 U.S. households for a year. Avoiding the same amount of greenhouse gas emissions as removing more than 2,800 passenger cars from the roads for a year. Keeping more than two tons of toxic materials out of landfills. "With Earth Day and Cell Phones for Soldiers, we're turning up the volume on cell phone recycling," said Paul Roth, president of Marketing and Sales for AT&T's wireless unit. "So far this year, our weekly in-store recycling averages are five times what they were in 2007 and 28 times more than the same time in 2006. AT&T is proud to support both of these worthwhile programs."

AT&T Adds New People Power: The AT&T Pioneers
One way AT&T is supporting the recycling challenge is through the added support of the AT&T Pioneers. Beginning Earth Day on April 22, a network of more than 300,000 volunteers will begin helping expand the charity's cell phone donation drives into communities across the U.S. Roughly 100 new donation locations will be established, and volunteers will work to collect phones in corporate offices and community locations from the days surrounding Earth Day through July 4 to support the environment and to help keep military families connected with free phone cards.

New Free Online Donation Drive Tool Kit
AT&T and CPFS are also launching a new online tool designed to support community groups and help individuals launch and conduct their own donation drives with a new electronic "starter kit," available at AT&T Recycle Wireless. The tool is available to anyone who would like to run a donation drive with CPFS, and it includes environmental tips, planning tools, camera-ready artwork for recycling bins and other relevant materials.

"We're excited to have the support of the AT&T Pioneers and a new free tool to offer our supporters," said CPFS co-founder Brittany Bergquist. "We run our charity from home, and we rely on volunteer support to collect phones for recycling. Having more helping hands to drive our mission to recycle for the troops — and reduce e-waste — is something that makes a huge impact on our ability to reach people and, in the end, send more free calls to the troops. Having a new free tool that anyone can use is one more way we're making it simple for people to join us."

Since AT&T launched its support, the company has also donated more than 60,000 prepaid phone cards — valued at more than $500,000 — to CPFS to help the charity connect more military families. In the past two years, AT&T has donated more than $4 million worth of prepaid phone cards to help support U.S. military members and their families. These donations include direct distributions to troops serving in Iraq, Kuwait, Afghanistan, South Korea, Japan and Europe. The company also has built 70 calling centers in Iraq, Kuwait and Afghanistan.
Both of these programs are great initiatives to provide our Troops a way to keep in touch with their families and friends during their deployment and goes a long way towards showing our Troops how much corporations such as AT&T and citizens support them, while they continue their jobs in the Global War on Terror. If you'd like to participate in the programs or perhaps read more about ways that AT&T supports the Troops, please visit their website, via the link provided below.
Today is Memorial Day, a National Holiday, that has been set aside for many years to honor our fallen Warriors for their service and sacrifice for our country. I hope that as you go about your day, you'll pause often to think about the freedoms that these men and women sacrificed their lives for … freedoms that you and I haven't earned ourselves, but instead were paid in full for us, with the blood of these brave and honorable men and women. They paid the ultimate sacrifice, so that we might continue to enjoy our way of life here in the United States.
Regardless of what you plan to do today, whether it be attending a ceremony in honor of our fallen Warriors, decorating the graves of fallen Warriors or spending time with your family and friends, I ask that you please take part in the National Moment of Remembrance to be observed at 3pm local time across the nation.
NATIONAL MOMENT OF REMEMBRANCE ON MEMORIAL DAY

Pause and unite at 3 p.m. in honor of our fallen.

Monday, May 26, at 3 p.m. local time, Major League Baseball games will stop, Amtrak train
whistles will blast across the country and hundreds of other nationwide participants will encourage Americans to pause for the Memorial Day National Moment of Remembrance. The 'Moment' was established by an act of Congress, to honor those who died in service
to our country.

All citizens, alone or with family and friends, wherever they may be at 3 p.m., local time, are asked to pause for a moment of reflection and rededication to give something back to our country in memory of our Nation's fallen. The goal is to put "Memorial" back into Memorial Day.
A Gallup poll revealed that only 28 percent of Americans know the meaning of this noble holiday.

"We want Americans to contemplate those things that bind us together. The legacy of those who died to make this country better - from the Revolutionary War to the present - is something that strengthens and unites us. We want every child to say 'I know why I am free and I know who died for my freedom.' " said Carmella LaSpada, Director of the White House Commission on Remembrance. The White House Commission on Remembrance was established in 2000 by Congress in Public Law 106-579. Its purpose is to promote the 'Moment' and the values of Memorial Day by acts of remembrance throughout the year.

The Department of Veterans Affairs has partnered with the Commission to bring recognition to the National Moment of Remembrance and encourages every American to attend Memorial Day events and to participate in the Moment. When we honor those who have made the ultimate sacrifice, we are honoring those who have served and those still serving.

Other participants in the Moment include, NASCAR, the National Constitution Center, Liberty Bell, Pennsylvania Turnpike Authority, schools, universities, hospitals, United Spinal Association, retirement communities, shopping malls, National Parks, National Grocers' Association, airports, bus lines, and the International Space Station.
White House Commission on Remembrance
Memorial Day 2008
For many people in the United States, Memorial Day signifies the official start of the summer. Many spend that weekend at the lake, hosting barbecues or partying with friends. Schools are either already out for the summer, or will be, soon after the Holiday. Over the years, the meaning of Memorial Day has become bastardized and many people don't even know or recognize the history or meaning behind this special day.
Memorial Day for me, has always been one of family tradition. Each year, our family gathers in my dad's hometown of Kiowa, Kansas, to pay our respects to family members who are no longer with us. A large portion of those we honor on Memorial Day served proudly in our country's Armed Forces. My family has a long and honorable history of serving in our military, many of them serving during times when our country was at war. Many of those relatives are no longer with us. While some didn't fall during the war, many of them carried scars of their service and some died as a result of the injuries they received during their time of service. They've always had my respect and utmost appreciation for the part they played in ensuring that I had the freedoms that I enjoy today.
My Memorial Day weekend this year, will be spent much like it has been for as long as I remember, honoring family members of many generations who have proudly served in our country's Armed Forces in the different battles that American Soldiers have taken part in. From my great-grandfather who proudly served during the Civil War as part of the 122nd Regiment of the Illinois Infantry. My grandfather who served in the 353rd Infantry Regiment, 89th Division, American Expeditionary Forces, during World War I. Several great-uncles who proudly served during World War II and the Korean War. Uncles and cousins who saw combat in the jungles of Viet Nam. I'll stop at each of their graves, take a moment to pay my respects and give my thanks for their service and sacrifice.
Memorial Day was originally known as Decoration Day and was set aside as a time to honor the nation's Civil War dead. The day was first widely observed on May 30, 1868 in order to commemorate the sacrifices that were made by Civil War Soldiers. General John A Logan of the Grand Army of the Republic, an organization of former Soldiers and Sailors declared in General Order No. 11 that:
The 30th of May, 1868, is designated for the purpose of strewing with flowers, or otherwise decorating the graves of comrades who died in defense of their country during the late rebellion, and whose bodies now lie in almost every city, village, and hamlet churchyard in the land. In this observance no form of ceremony is prescribed, but posts and comrades will in their own way arrange such fitting services and testimonials of respect as circumstances may permit.
At the fist celebration of "Decoration Day", then General James Garfield made a speech at Arlington National Cemetery. Following his speech, around 5,000 participants helped to decorate the graves of more than 20,000 Soldiers of both the Union and Confederacy, who are buried at the cemetery. This event in 1868 inspired communities in several states of the US to hold observances of their own. Several cities claim that their community is the birthplace of Memorial Day.
By the late 1800s, Memorial Day was being celebrated in many communities across the country. After World War I, observances began to honor not only those who fought in the Civil War, but those who had fought and died in all American Wars. In 1971, Congress declared Memorial Day as a National Holiday and that it would be celebrated each year on the last Monday in May.
Currently, our country is involved in two wars, one in Iraq and one in Afghanistan. This generation of American Soldier has bravely stepped up and willingly given so much in the name of Freedom. Currently over 4,000 American Soldiers have given their lives and countless others have been injured. It's imperative that we as Americans remember the sacrifices our Soldiers long gone and our Soldiers of today, have and are making for our Country and the freedoms that we enjoy.
I ask that each of our readers, while you're spending this Memorial Day weekend with your families and friends and hopefully paying respect and honoring Soldiers no longer with us, that you really stop and think about the sacrifices these men and women made for our country and for our freedom. While you're at it, please take a moment to stop and remember the men and women who are still defending our right to freedom, as well as our wounded warriors, as they face the battle of a lifetime to overcome their injuries.
Last year, we highlighted a partnership between Best Buy and Fisher House to benefit our Troops and their families. Once again, they're joining forces to equip Fisher House's national network of "homes away from home" for service members receiving medical care and their families. Their goal is to equip the homes with even more technology, to allow them to stay in touch with their families and friends, while they're away from home during hospital stays.
From May 25th to June 14th, Best Buy is launching a campaign nationwide, in order to generate support from their employees, customers and partners. Best Buy customers are able to donate to Fisher House at any Best Buy location, from the Best Buy website. Partners of Best Buy, including Samsung, Toshiba, Gateway and LG are donating flat screen televisions, lap top computers and appliances to the campaign.
This year, Fisher House has been designated as the Indy 500 charity. Proceeds from branded t-shirts and dog tags that will be sold during race week will benefit the charity. Best Buy employees will be on hand to staff the sales areas throughout the race. Best Buy employees will also be at the Fisher House in Richmond, Virginia in June to install newly donated computers and appliances. The Fisher House logo will also be featured on the Best Buy NASCAR car for the Coca Cola 600 to be run on May 25th.
As many of you are aware, Fisher House is a not for profit organization that builds and donates to the government homes on the grounds of military medical centers to ensure that the families of service members receiving treatment at these facilities can have their families close by during their hospitalization and recovery. Fisher House began that program in 1990 and in 1994 a similar program at VA medical centers began. Currently there are 38 Fisher Houses across the United States with 5 more under construction. Over 110,000 families have been served to date.
If you'd like to take part in this worthwhile campaign, please visit the Best Buy website. If you're going to be attending the Indy 500, consider purchasing some of the merchandise that will be on sale to benefit the Fisher House Foundation. Everything that you contribute will go to benefit the men and women of our Armed Forces who are patients at a military medical center. You CAN make a difference for our Wounded Warriors and their families!
Best Buy Online Fisher House Donation
Next Page »