Just wanted to post a quick announcement. Today marks the forth year of operation at A Soldier's Mind. It amazes me every time we pass a new milestone. I would like to personally thank all of our readers for keeping us around. Because of you it is possible that we continue to publish.
Merry Christmas From A Soldier's Mind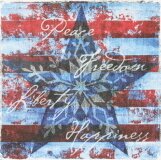 I'd like to take this time to wish all of our readers, near and far, a very Merry Christmas. Thank you for all of your support over the past year. We hope that you'll continue to find what we have to say here at A Soldier's Mind, both interesting and relevant, in regards to our Troops and the issues that confront our Troops.
As you spend time with your friends and loved ones this Christmas, please don't forget the thousands of your fellow Americans who are serving in harm's way, defending our country. Remember that while you're home celebrating the season with your loved ones, they're thousands of miles away from home, unable to spend time with their family and friends this year. Keep them in your thoughts and prayers.
I can honestly say that those of you who weren't able to join us in Vegas for the 2008 Milblog Conference, missed out on not only the conference, but a chance to spend time with a great group of people. Over at A Soldier's Perspective, Marcus has a great write-up on just one of the "incidents" that occurred when we weren't at the conference. Great times and great people. What more can you ask for?
When Soldiers are deployed in a combat zone, they're always on alert and ready for anything to happen in an instant. Depending on their job in theater, they may be involved with situations that are extremely stressful and that has them filled with adrenalin the majority of the time. When they return home, they're often expected to just "flip a switch" and turn that off. For many, it's not that easy to do. Once they're home, they're no longer carrying a weapon with them 24/7, they don't have the risk of IEDs or mortars or RPGs. Everyone they meet isn't a potential terrorist. Because of their experiences in the combat zone, sudden movements and loud noises startle them.
As of October 2007, a total of 186 soldiers had died in accidents within a year after returning from combat. Of those 186 Soldiers, 168 of them died within the first 6 months after they returned. The statistics are staggering. Sixty percent of the accident fatalities are sergeants or below. The overwhelming majority of the accidents involve high speed, alcohol or both.1
When they began seeing this pattern, the Army decided to do something to combat this, before even more Soldiers were lost in similar scenarios. Beginning this weekend, the Army is testing a new program designed to help these soldiers adjust from the high-paced, high-adrenaline combat environment to garrison or "home" life.2
The pilot program, called Operation Warrior Quest, will combine sports that are considered "high adventure sports," such as skydiving, paintball, ropes courses, rock climbing, mountain biking, stock car racing, skiing, and others, with the Army's Battlemind Training. The program is designed to help the Soldiers readjust to the calmer pace of life back in garrison or "at home." The idea is that the high adventure sports will be a way to attract Soldiers to participate in the program, as well as serve as a release mechanism that will allow them to obtain the adrenalin rush they're craving, yet at the same time, do so in a controlled environment.
In the Army's Battlemind Training, which I've written about in the past, the idea is to teach Soldiers to be able to recognize and respond to fear in combat and learn how to deal with those things effectively so that they can easier reintegrate back into the home environment, once they redeploy home. The Army also offers Battlemind training for spouses and couples, so that spouses are more aware of what their Soldiers face in combat and are better able to recognize signs of stress when they return home.
The Warrior Adventure Quest program is being tested in three pilot programs, at Vicenza, Italy; Fort Lewis, Wash.; and Leesburg, Va., involving two active duty and one National Guard brigade combat teams. Over the next year, plans are in place to bring the program to 24 additional installations across the Army, within 90 days of their redeployment out of the combat zone and back to their home environment.
Officials will use survey and assessment tools to evaluate the program's effectiveness, including statistics from the Combat Readiness/Safety Center, the Reintegration Unit Risk Inventory, the Unit Behavioral Health Needs Assessment, and a new online survey, the Warrior Adventure Quest User Survey.3
The Army's hopes are to be able to cycle approximately 80,000 Soldiers through the program in the next year. Officials are hoping that this program will help to reduce the fatality rates. If it can reduce the numbers by 1/2 then the program has paid for itself. However, if the program is able to save the life of even one Soldier, that any monetary costs have been well worth it.
Dealing with Soldiers returning from combat every day, I feel that this program can be very helpful in allowing the Soldiers to still get that "adrenalin rush" that they're craving while doing so in a controlled manner. Hopefully this will give them an alternative to seeking those things on their own, without the controls in place, that this program will allow. I'm excited to see how well this works for the Army and will be watching to see if I can find more information, as the program proceeds in the next year.
http://www.defenselink.mil/news/newsarticle.aspx?id=51096 [↩]
http://www.defenselink.mil/news/newsarticle.aspx?id=51096 [↩]
http://www.defenselink.mil/news/newsarticle.aspx?id=51096 [↩]
I'm sure that the majority of us can remember where we were at and what we were doing, when the news flashed across our television screens, about the terrorist attacks on the United States occurred on September 11, 2001. For myself, I only have to close my eyes and I vividly remember the images I saw on my television screen, as if they were occurring today. It's something that I don't think I'll ever forgot or that will ever fade in my memory. Those images and the feelings I had that day are forever burned in my mind.
Let's not forget what happened in to our country that day, how the events of that day, changed America as we knew it back then. A lot has occurred since that day, we've taken the fight to the enemy, on their soil and our Troops continue to do so today. Please take a moment today to remember. Remember the events of that day, remember the thousands who perished that day and their family members, as a result of the cowardly actions of the terrorists that day. Remember also the men and women who risked their lives that day to save others on that fateful day 7 years ago. Please also remember the men and women of our Armed Forces as they continue to battle the evilness of terrorism and continue to strive to bring peace and freedom to the people of other nations. Most of all …… Never Forget
Greetings,
  As some of you have already heard, Alqaeda has reportably left their fight in Iraq for the more rugged mountains of Afghanistan.  I am here today to tell you that this is a grave trap and a bold new tactic that the terrorists are trying on our troops. Do not believe this for any reason.
  The aim is to allow U.S. and coalition forces to "simmer down" for a while.  If they focus on Afghanistan, the hope is that we here in Iraq will lower our guard and ultimately leave ourselves open for a direct attack.  I want everyone to know this scheme and for all of our forces in both Iraqi and Afghani fronts, "Stay alert".  This could be a very serious outcome if we let ourselves get complacent.
  I don't believe the stories for one second about Alqaeda leaving Iraq.  The truth is, they are just waiting for the right moment to attack with swift and deadly accuracy.  I.E.D.s are becomming less likely here in Iraq, but don't let the lull in fighting fool you,  as I have said before, this is a new tactic that Alqaeda is trying. 
  This is a warning to all friendly forces in O.E.F and O.I.F. theaters of operation, be prepared for a possible sneak attack by Alqaeda.  These people don't just give up, something fishy is going on and I don't like the feeling I have right now.  They are planning something really big, they wouldn't just give up the fight, especially what? 5,6, 7 years later, that would be like taking over a country, then saying ok, we quit, we're leaving.  Don't buy this idea for a minute.  Head my warning, I think something is up. 
  Soldiers on ground, stay alert, stay alive.  Keep your heads up and report any suspicious activities to your local chain of command.  We hav to stay focused if we want to get out of here in one piece.  I want everyone to know this, my feelings on the war.  I'm here in the middle of it, and I know exactly what's going on.  I assure you, things are not what they are being made out to be.  Alqaeda is planning something, I know it, and I can feel it.  Anyways, I just wanted to give everyone a heads up.  Don't believe what is going on.  My gut instinct tells me otherwise. 
  Opsec is the key, do not divulge information that could be detrimental to our forces.  For those of you who are expecting troops home.  Do not, under any unceartain terms, ask them their location and how many troops are with them.  We must stop the enemy, before they can get us.  This is a game of cat and mouse, don't let the cat win. 
  Remember our troops and pray that we can get out of this predicument and get home to our families soon.  I thank you all here on ASM for your support.  Without you, we have nothing.
     Ladies and Gentleman, it is an honor to be able to share a wonderful story with you here on A Soldier's Mind.  As you know, there are great people among us, who want to show their love and support for our troops.  One way they're doing this is by supporting a local cause.  Please allow me the honor of introducing this admirable young American woman.
Raquel Cunningham, is a dedicated individual who herself, has served in the United States Army Reserve as an officer (Nurse) for the 256th Combat Support Hospital in Cleveland, Ohio.  Raquel also worked on IMA status with Evans Army Hospital in Colorado Springs, Colorado.  She is now working as a volunteer for a Houston-based admissions representative for the US Military Academy at West Point.
Raquel; from Cypress Texas, has founded a group called Cypress Cares, a non profit organization dedicated to the support of our troops overseas, and back at home.  Her goal is to generate more interest in supporting their efforts to provide more support for the troops. "I have friends currently deployed to Iraq and Afghanistan.  I started just by supporting them, and decided that I was able to do more.  Thus Cypress Cares was born!"  Raquel said. 
I myself am proud to know that there is support out there and you at ASM should know of the hard work that these people go through to make the support of our troops happen.  "We are an open and honest group of about 5 volunteers and every bit of what we receive is used for the support of our soldiers/sailors/airmen and Marines."  Raquel is to be commended for her efforts,  It is people like Raquel, who makes soldiers as motivated as ever to serve their country, regardless of whatever they may find themselves in.
I would personally like to invite you to check out her website.  please go to www.cypress-cares.org to help support her cause.  If you know anyone else who wants to come forward with their tributes to our service men and women, then feel free to send them my way.  This is why we are "A Soldier's Mind", we are here for the soldiers, never forget that.  I hope you enjoy, and never forget to support our troops.  Hats off to my friend, Raquel, a job well done!
In 2003, board member of the Southeastern Guide Dogs Inc, Bobby Newman, heard about a young Marine who had lost his eyesight in Iraq. Newman who is the executive vice president of the Tampa, Florida based J.C. Newman Cigar Company, heard from a friend from a St. Petersburg cigar shop, that one of it's regular customers had lost his eyesight, after being hit by an IED.
Marine Lance Corporal Michael Jernigan had been on a mounted patrol near Baghdad in August 2004, when his Humvee was struck by 2 IEDs. Jernigan was peppered with shrapnel, which crushed his forehead and damaged the optical nerves in both of his eyes, to the point that they couldn't be repaired. The blast also caused severe injuries to his right hand and left knee and he almost bled to death from a laceration to his femoral artery.
"He was still in the hospital in November 2004, when I called his mother and told her I was so sorry about what happened and that we wanted to get her son a guide dog," Newman said.
After hearing about Jernigan's injuries, Newman found out, from doing research, that the VA doesn't provide guilde dogs for blinded Soldiers. That's when he spearheaded an effort to make military leaders aware of this and let them know that they wished to help these Soldiers. With Newman's leadership, the program Paws for Patriots was established, to provide guide dogs to blinded Soldiers. They have also placed a dog named Troy at Walter Reed Army Medical Center in 2006, to help encourage the Soldiers who were patients there, as they went through the physical therapy that is often grueling and the most challenging thing many of them have ever faced, as they recovered from their injuries.
About a year after his injury, and after an extremely long recovery, that included numerous surgeries, Jernigan was finally able to take Newman up on his offer. He was medically retired from the Marines and received his first guide dog shortly afterwards. After going through the training school at Southeastern Guide Dogs, Jernigan and his dog went home. Unfortunately, that first dog didn't work out, and Jernigan got his current dog, Brittani, about a year afterwards. So far, Brittani, a 3 year old Labrador, has been a perfect match.
"She goes everywhere with me, literally everywhere," Jernigan says. "When I'm on an airplane, she's on the floor in front of me. When I'm on the train, she's with me. If I'm at a public restroom, I open the door and tell Brittani to find the urinal and she leads me right to it. She knows where the ticket counter is in the train station, and once I get my ticket, she'll take me right to an empty chair. She can find elevators, escalators, staircases and different things like that. With Brittani, I have less stress in my life."
Jernigan leads a very busy and active life. He's currently attending the Norhern Virginia Community College in Alexandria, Virginia, studying International Studies. His plans are to attend Georgetown University this fall to continue his studies. His life has changed dramatically, even though he's picked up the pieces of his life and has definitive goals in mind. Brittani makes that change easier. His drive for independence and his courage are boosted by Brittani. She provides the stability and comfort he needs to allow him to be independent.
"You feel that harness at the end of your hand, and you can feel the heat of the dog on your leg and you lean over and her fur brushes up against you, and you know there's somebody there, always with you, and it's very comforting and assurring," he says. "Each successful day builds a deeper bond and you get more confident. And that confidence equates to a lot of other things in my life."
What an amazing display of kindness to another human being. I applaud Mr. Newman for his efforts and would love to see Paws For Patriots grow and expand. It's wonderful that Mr. Newman and the Southeastern Guide Dogs, Inc have made it their mission to ensure that our blinded Veterans are receiving the best of the best. Just like our Wounded Warriors who lose limbs, their injuries are also very life altering. If you'd like to learn more about the Paws for Patriots program at Southeastern Guide Dogs, Inc, please visit their website. There, you'll also find a promotional video about the program.
Salute Magazine, June 2008 Issue
Greetings,
  We are now in Iraq and serving a 15 month tour.  I just wanted to update you and let you know how things are going.  They are well, we still have all our soldiers and no deaths or serious injuries as of yet.  Keep us in your prayers that we may continue to do so. 
     If you want to send me some care packages, you are more than welcome to do so.  My aim is to distribute them to my fellow soldiers, and any soldier who wants them.  Please get in touch with Terri, she has my deployment address and will distribute it accordingly.  I do not want to jeapordise my men by giving out my deployment address on this blog.  Here is a list of things you can donate in support of our troops.
Books, Bath items, Paper (all types), Pens, Pencils, Food (non perrishable), Music CD's, DVD Videos, Blank CD's, Religious Arcticles (All Religions), or if you just want to send letters, pictures, and cards in show of love and support for our troops, you are more than welcome.  Whatever we can get we will take.  Get in touch with Terri for further information on my deployment address, or email me.  I will return your emails relatively quickly.
I also have one huge favor to ask anyone who is willing to send it.  I would like to get music notation software so I can began publishing my works on musical scores.  War and Peace is out, so if you would like a copy, please email me and send me your address, I will mail you my CD free of charge.  
More stories will come soon, I have to prepare for the mission at hand.  My next story will be based on my stay here. Oh, and you'll be happy to know that I went out of the wire on my first mission without any incidences.  Someone was watching over us.  Well, until we meet again, take care and remember to support our troops.  We thank you deeply here on A Soldier's Mind, and I personally would like to thank Terri for her willingness to let me blog here.  This is a real honor and I am happy to write for A Soldier's Mind.  I'm a soldier and will always be proud to serve my country, nomatter what happens, my pride will not waiver, and I will always be thankful for what I have, what we have,,,,  (FREEDOM!!!!)
On July 28, 2004, the world changed for SFC Vince Jacques. After the Humvee he was in hit an IED, he found himself dangling upside down. His legs were trapped underneath the dashboard and the vehicle was a twisted mass of metal. The gunner in the vehicle, PFC Ben Ring was seriously injured and the driver, PFC Kenny Leisten was dead. The first thing on SFC Jacques mind was "his boys." SFC Jacques survived the blast, but the severity of his injuries prevented him from returning to Iraq with his unit, the 2nd Battalion, 162nd Infantry.

SFC Jacques welcoming home his fellow Oregon National Guard Soldiers, at the completion of their tour in Iraq
"Knowing they were over there, and I wasn't, was really hard," he said.
Back home in Oregon, another Soldier was struggling. 1LT Eric McCrae, son of Col. Scott McCrae (retired), who was also a member of 2nd Battalion, 162 Infantry, had died in Iraq only a few short weeks before an IED attack caused the largest loss of life for the Oregon National Guard. Col. McCrae was having a tough time of it.
"He was the kind of person you would have loved to have as a son," said Col. McCrae.
In another part of Oregon, another National Guard Soldier from the same unit was struggling wiht loss. Sgt. Luke Wilson had lost his leg to an RPG in Iraq. Wilson said that after he got out of Walter Reed and back home, he felt like his life had no meaning.
"I pretty much hid in my garage for the first two or three months after I got home, working on my jeep," he said. "There was no place out there looking to hire a one-legged man to kick in dorrs and pull triggers."
These three men, were able to turn their dispair into a mission of hope. All three joined the Oregon National Guard Reintegration Team. They came together to ensure that any Oregon servicemember would be taken care of, once they returned from war. According to Oregon Guard officials, almost 17% of the states returning veterans are under or unemployed, and 90% want college education and job training for their families. The ORNG Reintegration Team works closely with federal, state and local civilian agencies and refers servicemembers to resources where they can receive assistance with any need that might arise.
"We are a highly networked, 'help desk,' acting as traffic cops to direct Soldiers and Airmen to the right place, said McCrae. Among these places is the Oregon Department of Veterans Affairs, where veterans service officers can help them apply for benefits."

"I'm very impressed with the character and commitment of the Soldiers working for the Oregon Guard Reintegration Team," said Jim Willis, director of the ODVA. "By working together, we can make a difference in the lives of our veterans and their families on a daily basis."
SFC Jacques has set a goal for himself. That goal is to reach those servicemembers who might otherwise slip through the cracks. He feels that he can obtain that goal.
"I want to talk to the 'Joes' down to the lowest private," said Jacques. "When I was in Iraq, the guys were the best I'd ever seen. We know they can handle a lot of responsibility. We also need to provide them with the tools they need to be successful here at home," he continued.
The reintegration team has resources to help returning Soldiers locate jobs, counseling and education. The Retintegration Team was formed in February 2005 and they have organized military job fairs, benefits fairs as well as other things that are available to returning Troops. They're on the phone constantly and are committed to never saying No to someone who needs help. They'll find a way to help somehow.
"We have never turned anyone away," said SFC Phillip Maas, who leads the ORNG's Career Transition Assistance Program.
Currently there are 9 states that are involved in reintegration issues for returning servicemembers. Oregon is the only state that has combined their reintegration efforts with the Jobs Program and the Career Transition Assistance Program. According to Col. McCrae, his focus stays on helping veterans get back to living a normal and healthy lifestyle. For some Soldiers, that means being referred to treatment for PTSD. Current Army statistics show that 1 in 5 returning Soldiers are suffering from some level of PTSD. The ORNG Reintegration Team's call center is manned 24 hours a day, 7 days a week, so no matter what day or time of the day a returning Soldier calls, there will be someone there to answer his or her call.
"The phone calls don't always come between 8am and 4:30pm; some of them come at 1am, with someone at the other end saying, 'Here is where I am and here is what is happening to me.' And we have to respond," Maas said. "We had a situation in Portland, a stand-off with one of our servicemembers. The police could not seem to get through to him. But Jacques, with the help of local law enforcement officials, walked up to the guy and said, 'hand me that weapon, you and I are going to leave here together, and we're going to get you some help.' And that's what happened," Maas said. "The individual came into the office the other day, and he's cleaned up and back on his feet," added Maas.
According to McCrae, the guys on the team have personally intervened in 15 suicide attempts and helped to prevent the Soldiers from taking their lives. As Col. McCrae said, "You can't put a price on a life." The goal is that the team will be able to help to break the chain and not allow the returning Soldiers to get to the point where they feel hopeless, helpless, debilitated and dysfunctional. Sometimes, just helping them to find a steady job can make a huge difference.
It sounds like the men and women working in the Oregon National Guard Reintegration Team are doing wonderful things to help their fellow Soldiers, as they return from Iraq and Afghanistan. That's what it's all about …. making a difference in the lives of others. It's an amazingly good feeling to know that you can and have made a difference.
Next Page »