UPDATE 04/25/09: I will be participating in this ride and afterwards, will post a write-up. I hope that I'll see as many of our readers as possible at the ride. This is our opportunity to really help out one of our Heroes. Please join us on May 16th!
In communities across this great country, when our neighbors experience times of need, we rally together as a community to provide support, comfort and aid to those in need. It's something that we do as Americans…. help those who are in need. That American Spirit of helping others in need is seen every day. I'd like to share with our readers about how the American Spirit of helping others is currently taking place in Central Texas.
If you happen to be in the Fort Hood area on May 16th, or perhaps would like to take part in an event that will benefit a Fort Hood Soldier who is currently facing one of the most difficult battles that a person can face in life, please read further for details. First though, I'd like to tell you a little bit about this Soldier, SGT Anson Martin.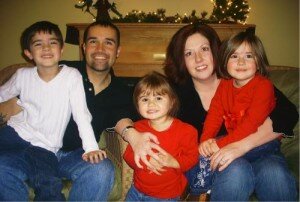 Shortly after he graduated from High School, Anson Martin enlisted in the Marine Corps, where he served for 4 years. While in the Marine Corps he met a young woman named Laurie who became his wife just as soon as his enlistment in the Marine Corps was completed. After they married the first two of their children were born. When they found out that Laurie was pregnant again, Anson enlisted in the Army, for the security that he knew the military could provide for his family. 1
Shortly after enlisting in the Army, the family moved to Fort Hood, Texas, where eventually SGT Martin was deployed to Iraq with the 3rd ACR. SGT Martin returned home early to have surgery to repair an injury to his shoulder. Though that surgery went without a hitch, SGT Martin had some other concerns that he decided to have checked out, and was diagnosed with Stage 4 colon cancer, that has spread throughout his body. The prognosis isn't a good one, but being a true Soldier, SGT Martin isn't giving up. SGT Martin began an intense regimine of chemotherapy, which caused severe reactions that caused him to discontinue those treatments. Other treatment avenues are being explored. As you know, the cost of these treatments is extremely high and SGT Martin travels several times per week to San Antonio for treatments.2 Through all of this, SGT Martin has remained positive and has placed his life in God's hands. The updates on his Caring Bridge page, testify to his strength of character and his belief that this has happened in his life for a reason. Take some time to read the updates and I think you'll be as inspired as I am with this truly amazing Soldier.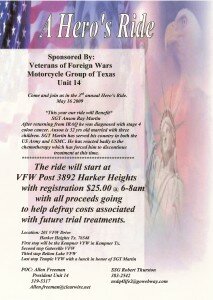 The VFW Post 3892 in Harker Heights and it's Veterans of Foreign Wars Motorcycle Group of Texas Group 14, learned about SGT Martin and what he's currently battling, and they decided to host A Hero's Ride in SGT Martin's honor. SGT Martin's only request was that his children be provided with a vacation to remember him by and that any other proceeds from the ride be used to defray costs of treatment and travel and creating college funds for his 3 children.
If you're in the Central Texas area on May 16th, please consider taking part in this ride to benefit SGT Martin and his family. If you're not in the area, but would like to make a donation, there are several ways that you can do so. You can contact Allen Freeman, who is the President of the VFW Motorcycle Group of Texas Unit 14 by emailing him at or you can donate to a fund set up for SGT Anson Martin. Details about that are listed on SGT Martin's Caring Bridge page by following this link. Please keep SGT Anson Martin and his family in your thoughts and prayers as they continue this battle.
http://www.caringbridge.org/visit/ansonmartin/mystory [↩]
http://www.caringbridge.org/visit/ansonmartin/mystory [↩]
With our country at war on two fronts, we often hear about valorous actions that have occurred during a particular battle. Or, like my previous story, we hear about things our Troops do to help those less fortunate than us, in the countries they're serving in. When our Troops are at home, it's not often that we hear about their accomplishments or things that they do, that are considered extraordinary or above and beyond the call of duty. Those types of things happen much more often then what we even realize, often because our Troops don't feel that they need recognition or acclaim for the things that they do, that to us, might seem heroic. These are just the types of things, however, that the American public does need to know about. We as Americans should be aware of the courage and bravery of our Troops, both on and off of the battlefield.
Because of the actions of one young Soldier at Fort Lewis, Washington, a 7 year old girl is alive today. Had it not been for his quick reaction to things that unfolded around him, the little girl is alive today. It was a typical March afternoon as PFC Seth Manderscheid of 3rd Brigade, 2nd Infantry Division drove down the streets of Lacey, Washington. Ahead of him, he noticed the familiar site of a school bus pulled over at the side of the road with it's red warning lights flashing and stop sign out, indicating that children were either getting on or off of the bus. Something that each of us probably see every day. In all states, drivers are to stop to allow for the children to safely cross streets as they board or get off of the bus at their stops. As is normal for children, they jumped from the bus and made their way across the street, in front of the bus.
Suddenly, PFC Manderscheid noticed the car in front of him pulling out and accelerating to pass the bus. Manderscheid watched as the driver, whom he estimated at going approximately 30 MPH, struck a young girl, tossing her body into the air. She landed about 30 feet from where the car struck her. Having just recently earning his Combat Lifesaver Badge, PFC Manderscheid quickly got into action, jumping from his car and running to the unconscious child lying in the roadway.
"I checked for a pulse," Manderscheid said. "There was no pulse. I looked to see if her chest was rising up and down. That wasn't happening either. So I did CPR. I was just reacting, using what I've been taught."1
While PFC Manderscheid performed CPR on the young girl, someone else called 911 and summoned paramedics. Others calmed the young girls mother, who was understandably hysterical and keeping her back while Manderscheid continued CPR on her daughter, for about 5 minutes, until the paramedics arrived. I don't know how many of our readers have had to perform CPR for real, but I have and I can tell you that 5 minutes seems like an eternity, when you're trying to save someone's life. When Paramedic Michael Theriault arrived, he found the young girl breathing with Manderscheid keeping her calm. The Emergency Medical Crew took over for Manderscheid.
"Seth assisted me with getting the child on a back board and getting her into the ambulance," Theriault said. "The child only has a mild concussion with two broken ribs. Needless to say, that if it were not for the actions of Seth Manderscheid, the child would not have survived."2
Manderscheid didn't think a whole lot about what had happened. After the ambulance drove off towards the hospital with the young girl inside, Manderscheid proceeded to his home, where he told his wife what had happened. Imagine his surprise and probably a bit of suspicion when he was told on April Fool's Day (of all days) that he would be receiving the Army Commendation Medal for his actions that day. PFC Manderscheid was told that Army Chief of Staff General George Casey would be coming to Fort Lewis and would be pinning on his medal. On April 7th, General Casey awarded PFC Manderscheid with the Army Commendation Medal.
"It's pretty cool," Manderscheid said. "Pretty exciting."

"Seth is a hero," said Theriault. "I believe that you have one unbelievable Soldier."3
I couldn't agree more. So often in situations like this, people just pretend that they don't what happened, or just ignore what they saw. PFC Manderscheid could have done just that, but instead chose to react to the situation he saw unfolding in front of him and thus saved the life of a young girl. I'm sure that this little girls parents are eternally grateful to the American Hero who saved their daughters life.
http://www.military.com/news/article/army-news/gis-quickthinking-saves-young-girl.html?wh=news [↩]
http://www.military.com/news/article/army-news/gis-quickthinking-saves-young-girl.html?wh=news [↩]
http://www.military.com/news/article/army-news/gis-quickthinking-saves-young-girl.html?wh=news [↩]
The media has filled our television screens with visions of war in Iraq. Most of the times, what they show us isn't pretty, nor is if very often favorable to our Troops. Often our Soldiers are portrayed in a less than favorable light and made to appear as if they're nothing more than a rag tag bunch of blood hungry hoodlums. They never tire of telling us about the bad things that happen and often seem to be attempting to portray all of our Troops in a bad light, when in reality it's only a few who do bad things. The media never fails to pick up on the occasional instance of one of our military members doing the wrong thing while they're deployed, yet they rarely tell us about all of the wonderful humanitarian things that our Troops accomplish on a daily basis. In fact, I'd venture to bet that those instances far outweigh the instances of wrong doing by our soldiers. I'd like to introduce our readers to one Army Reserve Soldier who is going above and beyond to help an Iraqi citizen who is in desperate need of a lifesaving operation.
Shadia is a 30 Iraqi female who serves as a security guard at the entrance to the Abu Ghraib warehouse. Because of fears that her life might be in danger, her last name and photos can't be released. Shadia is employed by a security company and her job is to search any women who come to the entry point of the 58 acre warehouse site. Her job is an important one, as she and others like her work hard to ensure that the 1500 people at the site are safe form suicide bombers and others who would possibly attack them. Shadia works hard to provide for her family. Out of 8 children, she is the only one working. Without lifesaving surgery though, Shadia may not be able to continue to support her family.
Shadia has a tumor that is pressing against her brain and the optical nerve. When the tumor was diagnosed, Iraqi doctors said that they were unable to perform the surgery she needed. One man, Col. Thomas Cain, commander of the warehouse site couldn't just sit back and do nothing, allowing her to die. So he began searching for someone who was willing to help.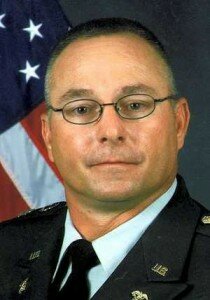 Col. Cain was very determined that he was going to do whatever he could to ensure that Shadia got the surgery she needed. After making hundreds of phone calls and more than 40 requests, he finally got an affirmative answer from a hospital in Tennessee. Once she has obtained her medical visa, then a neurosurgeon in Tennessee will remove the tumor.
"She is my first line of defense," said Col. Cain. "She was brave enough to come out here every day. There's huge risks."1
Unfortunately, in Iraq, those who work with American and coalition forces, often find themselves in danger from al Qaida and others in their country. Because Shadia is a woman, she's at even greater risk. Many of their fellow Iraqis have been killed when it was discovered that they were working with or for the coalition forces.
Col. Cain explained how it was discovered that Shadia had the tumor in her brain. One day about 6 months ago, she collapsed at work. The Iraqi doctor wasn't there that day, so US military doctors checked her instead. They discovered a tumor that was at the time, about the size of a quarter. She's apparently suffered symptoms from this tumor for about 6 years. The tumor is located in such a place that it's crushing her optic nerve and has caused blindness in one of her eyes. Now she's also losing sight in her other eye.
"Every day this thing is growing. It's putting pressure on her brain," said Cain.2
While the danger from the tumor wasn't immediately life threatening, the news nonetheless, wasn't good news. Doctors said that in order for Shadia to survive, she would need brain surgery. If left in place, blindness is inevitable and death is probably. Appeals to the Iraqi government did no good.
"Her government said they didn't have the budget," Cain said. "The problem is, this girls out of time. Something has to be done right now or she's going to lose her life."3
Not willing to just sit back and watch Shadia die, col. Cain decided that he would do everything within his power to find someone who was willing to help Shadia. He immediately started calling doctors in the US and other countries. Surprising to Cain, was the fact that almost every doctor that he talked to said they were wiling to do the surgery free of charge. Finding a hospital that was willing to do the same, wasn't near as easy and on the approximately $800 a month that Shadia makes, she wouldn't be able to pay those hospital bills anytime soon, considering she's supporting her entire family. Col. Cain estimated that hospital fees for the surgery and aftercare, could top a half million dollars.
Needless to say, when the hospital in Tennessee agreed to do the surgery free of charge, Cain was excited. So much so that he did a touchdown dance in his office. Since then, there have been offers from 3 other hospitals in the US. While she waits for the paperwork that will enable her to fly to the US for her surgery, Shadia keeps busy learning English so that she'll be able to communicate more easily with staff during the 15 hour flight as well as staff at the hospital.
Cain and his wife Deedy planned to pay for Shadia's flight out of their own pockets, but they won't have to do so, as the company that Shadia works for, has agreed to pay for her air fare, as well as her salary while she's recovering from her surgery. Though the surgery is risky, Shadia is excited at the prospect at the second chance on life that she's being given.
"She knew she was in bad shape. She knew she was really sick and nobody was helping her," Cain said. "Through an interpreter, she told me, 'You're the only one who cares. Period.'"4
Deedy Cain is of course, extremely proud of what her husband has done to help Shadia. I think that Mrs. Cain summed it up best, when speaking about our Troops and the job that they're doing in Iraq, Afghanistan and other countries around the globe.
"They're not just over there at war. They're over there trying to help," she said. "American soldiers are trying to better the lives of people who are over there, and make their lives better."5
As I researched this story, I was amazed to find only a few small references to it in the media. While that doesn't surprise me, it does upset me that our Troops aren't given the credit for the positive things that they're accomplishing, sometimes at their own expense.
Since the wars in Afghanistan and Iraq began, more amputees than from any other war, have opted to continue their career in the military and proven that their amputation didn't prevent them from performing their duties and doing so very well. Take Captain David Rozelle, who lost his foot in Iraq to a roadside bomb. He remained in the Army, went back to Iraq leading a combat team and has competed in many marathon and triathlon competitions. Or, US Navy Petty Officer Casey Tibbs, who lost his leg in a motorcycle accident, remains in the Navy today and competes in the Paralympics in running events. Or perhaps you remember the story awhile back about Army 1LT Juan Castro who was blinded in Iraq and has ran the Army 10 Miler. All Soldiers that we've featured here at A Soldier's Mind and all of these men have overcome their injuries and continued to serve our nation. A few years ago, this would have been a very rare occurrence. Today however, with the advances in prosthetics, many have been able to return to active duty and remain in the Army. I don't have exact numbers, but know that about a year ago, the number was in the 60s. They have to basically prove that they can still pass the military physical standards.
Yet another Hero has overcome injuries he received in Iraq, and in doing so, has become the first ever amputee to be accepted into Warrant Office School. This spring, he'll join his fellow students at the school and from what I've read about SSG Johnathan Holsey, he'll be a darn fine Warrant Officer. He's to report to the school in Fort Rucker, Alabama in April. Currently he is assigned to the Human Resources Command in Alexandria, Virginia.2
Hosley was injured in November 2004 when a roadside bomb detonated. At the time he was assigned to the 1st Battalion of the 503rd Infantry Regiment. The bomb caused severe damage to his left leg. His leg wasn't amputated right away. About two weeks after he arrived at Walter Reed Army Medical Center, he was fighting a severe infection in his leg, when doctors told him that they would need to amputate, due to that infection.
"I remember the day when the doctor came in," he recalled. "I remember the doctor coming in on the 22nd of November and … he told me that it was best that we amputate, but it was my choice."3
Imagine having to make a decision like that after two weeks, post injury. I'm sure that there was a lot of hope that the doctors would be able to save his leg, so I can just imagine how devastating and difficult it was to have to make that decision. Through the support of his family and his faith, SSG Holsey made the decision to follow the doctors advise and go ahead with the amputation.
"Family is very important to the recovery process," he added.4
Holsey persevered and decided that he wanted to continue to serve in the Army. Throughout his recovery, he thought hard about he could continue to meet the challenges that come with being an amputee. Almost 5 months after his injury, he was fitted for his first prosthetic leg. He learned how to manage the challenge of not having a leg, by participating in some of the activities that Walter Reed has for patients, such as skiing and fishing.
"I'm blessed in my recovery, and I try to challenge myself to figure it out," he said. "Even though you might have lost your leg, it doesn't mean you can't do … things. You just have to figure out how to balance it or figure out how to do it. You have all these questions … things you probably never thought of," he added. "Before I became an amputee, I can honestly say I never met one and probably never knew one."5
Holsey has always been a person who meets challenges put in his way, head on. He knew he wanted to continue to serve his country and never let anything stop him. In March 2006, shortly after he completed his rehabilitation, he attended Basic Noncommissioned Officer Course (BNCOC). He was on his way to becoming the first amputee ever to be accepted to Warrant Officer School.
"It was an interesting thing for me, because I was one of the first human resources soldiers to go as a amputee," Holsey said. "I felt that even though I wanted to stay - I wanted to be a Soldier regardless - this is what we do. I wanted to go the next rank and knew this was something I had to do."6
For Holsey, BNCOC was interesting. The instructors questioned whether he could complete the annual physical fitness test. That didn't stop him and he sought guidance on how he could perform and complete his annual test. Just like those amputees before him, who blazed the trail and showed that an amputee could perform their duties as Soldier, Holsey is blazing new trails of his own. Hopefully his example as a Soldier and a leader will inspire other young Soldiers who might face similar hurdles in their path, to never give up and continue to reach for their dreams.
From the first day they enlist in the Army, a Soldier is taught the 7 Core Values of the Army. The Army Core Values are everyday guidelines for living. They are guidelines that not only should be taught in the Army, but should be taught in every public school in the United States. Those 7 Core Values are:
Loyalty: The faithful adherence to a person, unit or Army. It is the thread that binds our actions together and causes us to support each other, our superiors, our family and our country.
Duty: The legal or moral obligation to accomplish all assigned or implied tasks to the fullest of your ability.
Respect: Treating others with consideration and honor. It is the ability to accept and value other individuals.
Selfless Service: Placing your duty before your personal desires. It is the ability to endure hardships and insurmountable odds because of love of fellow Soldiers and our country.
Honor: Living up to the Army Values. It starts with being honest with oneself and being truthful and sincere in all our actions.
Integrity: To firmly adhere to a code of moral and ethical principles. Every Soldier must possess high personal moral standards and be honest in word and deed.
Personal Courage: Physical courage is overcoming fears of bodily harm while performing your duty. Moral courage is overcoming fears of other than bodily hard while doing what is right, even if unpopular.
Honestly, these 7 Core Values, should be something that each of us adheres to every day, regardless of whether we're Soldiers or not. These values should be something that we should strive to live up to in our personal lives every day and something that should be taught to our children in every school in America. For me, those values are guidelines to what it means to be a good, honest and decent human being.

In June 2008, one former Soldier displayed publically how he lives the Army Core Values in his daily life. Even though he's no longer in the Army, this former NCO courageously displayed these values when he took actions that more than likely saved the lives of several people. That day in June, started out as a normal summer day in Fort Worth, Texas for former MSG Donald Murrah, who was running a routine errand when he day suddenly went from routine to extraordinary.
Retired MSG Donald Murrah, who is now serving as the JRTC instructor at Haltom High School in Haltom City, Texas had made arrangements with a friend to meet at the parking lot of the Wells Fargo Bank in Fort Worth to exchange items that his friend was borrowing from him. After exchanging the items, the two sat and visited for awhile, when they noticed something strange.
"I had seen him get out of a taxi cab and walk up to the bank – this guy," said Murrah. "And he was wearing a jacket, long pants and a hat. But in Texas in June, it's real hot outside."1
It's not often in the summer in Texas, with the sometimes sweltering heat, that you'll see someone walking around with a jacket on. Something just wasn't right about this man and Murrah was instantly on alert.
"We have to keep an eye on this guy, something is not right here," Murrah said to his friend. "As we stood outside and were talking, we saw a lady walk out real quick. Then I was telling the first sergeant that I think the guy robbed the bank. I said we'd watch and see what he does when he came out."2
Just as he suspected, the man, 57 year old Larry Don Enos, had robbed the bank, using a .32 caliber semi-automatic pistol. According to later police reports, Enos had been wearing a disguise, that consisted of sunglasses, a wig, false beard and mustache. When he entered the bank, he pointed the gun at the manager of the bank, demanding money. After that demand was complied with, he then demanded that the bank manager drive him away from the bank. The manager instead gave the robber the keys to his vehicle and provided him with instructions as to where the car was parked.
"So he came out and he was trying to open a car," Murrah said. "I was on the south side of the building and he walked out on the north side and I could see him after he passed the building, he was trying to get into the car."3
He watched as the man appeared to be struggling to get into the car. Later he found out that the bank manager had directed the robber to the wrong car – more than likely to provide enough time that the police could arrive. After struggling for a few minutes, the robber gave up and sought a different means of escape from the bank parking lot. He headed towards the line of occupied cars waiting for the drive through window and ATM machine. As the robber approached a woman at the ATM, in an attempt to car jack her, Murrah headed towards him.
"He tried to carjack her, but she drove off," Murrah said. "At that time I was just about up to him. After that, he went to the next lane of vehicles."4
The robber saw Murrah approaching as he attempted to car jack the first lady and pointed his gun at him. Murrah ducked behind a concrete pillar. The robber then went on to another vehicle, this one being driven by a woman who had children in the car with her. The robber pointed the gun at the lady driving, holding it about 12 inches from her face and told her to get out. The woman tried to stall him, telling him that she had children in the car. He told her he didn't care. Murrah knew that he had to act, before someone got hurt.
"He got to the van and was about to carjack a lady and her two kids," Murrah said. "He kind of had his body halfway in the van and I grabbged him by the collar. You know in Judo how you do a hip toss? I knew I had to get him off his feet and that's the only way I'd have any leverage, because he had a gun. I grabbed him by the collar, one hand on each side of his collar and tossed him over my left side. He landed on the ground, the money fell out of the bag, and I held him down and held his right hand down that had the gun in it and I pried his fingers loose. We just waited for the Fort Worth police to get here then –it seemed like a matter of seconds." 5
Murrah credits his Army training and his martial arts training that he took while stationed in Korea, for his quick actions that day. Actions that likely saved the life of the driver of the van and her two children. While he reacted as he'd been trained to react, Murrah is still in disbelief about the events that occurred that day, and his actions.
"After it happened, I couldn't believe what I did," he said. "I thought that was kind of stupid – a guy had a gun and I chased after him and I didn't have a gun. My adrenaline was going so bad – it took a couple of hours to calm down before I could write my police statement."6
The robber pled guilty to bank robber, two counts of using or carrying a firearm during a crime of violence and one count of carjacking. Enos faced a maximum sentence of life in prison and a fine of $1 million dollars. While he was awaiting sentencing for his crimes, he died on October 14th. MSG Murrah received recognition from the Fort Worth Police Department and received the Soldier's Medal during a ceremony today at Haltom High School.
Retired MSG Murrah is someone who exemplifies the Army Core Values. He willingly put himself in danger from an armed gunman, to do what was right and to ensure the safety of others. He did so without hesitation. Even after retiring from the Army, he continues to live the Army Core Values. We should all look at him as a fine example of the men and women who put their lives on the line daily to protect and serve our country and we should all attempt to live our lives in his example.
From 1948 to 1973, young men were required to register for the draft when they reached the age of 18 years of age, during both peacetime and times of conflict. The idea was that these men would be drafted into the military, to fill the positions that couldn't be filled through voluntary enlistment. In 1973, the draft ended and the registration requirement was suspended in April 1975. Men who were drafted into the military during that time period, saw combat in several combat situations that our country was involved in. In 1980, the registration requirement was reinstated by President Carter and it continues today. However, since the draft ended in 1973, no men have been called to duty through the system. 1
2
The military has been steadily working towards an 'all volunteer' military. They neglect to remember that there is still one Soldier serving on active duty, who was drafted. That Soldier, CSM Jeffrey Mellinger still serves today, as the CSM in charge of the US Army's Materiel Command. He was recently interviewed by Time Magazine. Mellinger was drafted in 1972 and first donned his uniform on April 18, 1972. It's now almost 37 years later and Mellinger still proudly serves his country in the Army.
"I'm a relic," Mellinger concedes." He recounts how he still impresses the young volunteers that are currently enlisting in the Army. "Most of them are surprised I'm still breathing, because in their minds, I'm older than dirt. But they're even more surprised when they find out this dinosaur can still move around pretty darn quick."3
Mellinger recalls the day that he came home to find a draft notice in the mail. At the time he was 19 years old and working as a drywall hanger in Oregon. He remembers going to the draft office and asking if the draft notice was really serious. He quickly found out that indeed it was serious and soon reported for active duty. Initially his military career started as a clerk in Germany. His plan was to serve for two years and then get out, but his company commander talked him into reenlisting. According to Mellinger, the thing that convinced him was the opportunity to join the Rangers.
"Reenlisting was the best decision of my career," Mellinger said.4
His career in the Army has allowed him to travel all over the world, visiting many countries. One of his last tours was in Iraq, where he spent the last three months of the tour working directly for General David Petraeus, who kept the General informed of battlefield morale.
"We lost count of how many times his personal convoy was hit," Petraeus said. "Yet he never stopped driving the roads, walking patrols and going on missions with our troopers."5
Mellinger spent a total of 33 months in Iraq, going out in the trenches, so that he was able to give a true and accurate account of morale to General Petraeus. He encountered some 27 roadside bombs, including two that destroyed his vehicle. Luckily he was able to escape injury both times
.
Mellinger is a military brat, his father having served as a Marine. He recalls how he attempted to enlist in the Army and the Marines prior to being drafted, but was turned down by both branches of service. He still finds it strange that the Army he was drafted into doesn't exist any longer.
"You get people who want to do this work," he says of today's nearly all volunteer force. "Until the time comes that we're in danger of losing our capabilities to do our missions, then we ought to stick with what we have — there is no need for the draft."6
One thing sure to anger Mellinger is when someone mentions that they feel the Vietnam era Army was filled with misfits and druggies. He counters that argument by referring to the many who avoided the draft by heading to Canada.
"We didn't run off to Canada," he says. "While it makes great rhetoric to stand up and say 'We don't want a draft Army because the draft Army was bad,' the facts don't support it," Mellinger said. "Just because they didn't run down and sign up doesn't make them less deserving of respect for their contributions. I'm proud to be a Soldier and I'm proud to be a draftee," he said. "I took the same oath that every other enlistee who came in the Army – there wasn't a different one for draftees."7
Thinking over the years of service he has given the Army, he proudly thinks about Soldiers that he let, who've went on to take on key leadership roles in the Army. At this time, Mellinger has plans to retire from the Army next year, making his last duty station the Army Mareriel command in Virginia. Of course, he's quick to mention that he's told his wife 6 other times that he was going to retire, yet something has always compelled him to reenlist.
CSM Jeffrey Mellinger is a fine example of a leader, a warrior and a Hero. He's someone that our young Soldiers can look to for guidance and someone they can strive to emulate. Good luck CSM Jeffrey Mellinger in everything you do and thank you for your stellar service to our country.
With the wars simultaneously occurring in Iraq and Afghanistan, our Troops, including our National Guardsmen are constantly training and preparing for deployments. Almost as soon as Troops return home from one deployment, they begin preparing for their next deployments. One Army National Guardsman in Alaska is currently preparing to face another kind of challenge.
Currently Guardsman SSG Harry Alexie is one step closer to competing in the famed Iditarod. The Idiarod is Alaska's famous 1,150 mile sled dog race. The climate at this time of year in Alaska in grueling with temperatures reaching well below freezing. SSG Alexie just finished 9th with a time of 59 hours and 8 minutes in the Copper Basin 300 Dog Sled Race last week. In that race he was also named "Rookie of the Year." The Copper Basin race is the 2nd qualifying race that he has competed in. The 300 mile race is considered to be the toughest mid-distance sled dog race in the world.
The National Guard is sponsoring SSG Alexis in the 2009 Iditarod, that is slated to be held in March. As a part of the sponsorship, Alexie has asked veteran musher Lance Mackey, who is a two time winner of the Iditarod, to be his trainer. He will also be using one of Mackey's dog sled teams to run in the upcoming race.1 SSG Alexis has been training since October at Mackey's training facility in Fairbanks, Alaska.
"Up to his point, SSG Alexie has been doing quite well," Army Sgt. Maj. Clinton Brown II of the Alaska Army National Guard's Recruiting and Retention office said. "Given the experience that he has accumulated and the trainer that is preparing him, SSG Alexie has the ability to finish in the top 20 of the Iditarod." Anything can happen on the trail, but SSG Alexie is determined to show that he has what it takes to compete in the 'Last Great Race.'"2
SSG Alexie has been mushing since 1990. He's competed in quite a few races and in several sprint races as well. He first became interested in running in the Iditarod when he was contacted by the Alaska National Guard Recruiting. His goal is that by running in the race, to spread the world about the Army National Guard. 3
What exactly is the Iditarod you might ask and why is it such a big deal? I'll explain a bit of it's history. Known as the 'Last Great Race on Earth', the Iditarod cannot be compared to any other competitive event in the world. The race covers over 1150 miles of some of the roughest terrain that can be found in the world. On that 1150 miles journey, mushers are challenged with rugged mountains, frozen rivers, dense forests, desolate tundras, along with miles of coastline swept by harsh winds. What makes it even more of a challenge is that mushers and their dog teams compete in this race when the temperatures dip dangerously below 0 degrees, with winds that can cause loss of visibility due to blowing snow. Many hazards await the mushers and their dog team, including overflow, long hours of darkness (remember Alaska doesn't have the same night and day schedule we do) climbs up treacherous mountains and hills. 4
To give you an idea of the route and distance that mushers and their teams have to take, I've included a map that was on the Iditarod website.
As you can see, the mushers and their team cover a huge distance and they do so in 10-17 days. To give you another perspective on just how far that is, it would be like driving from Dallas, Texas to Green Bay, Wisconsin. Keep in mind that these folks aren't driving in a car, but instead exposed to the elements on a sled being pulled by a team of 12-16 dogs. That's a long way in a car, let alone on a sled being pulled by dogs, folks. Each of the mushers and their team typically cover that distance in 10 to 17 days. That's a long time out in the elements. Especially in the type of weather they have to endure in Alaska in mid-March. I don't think I could do it.
The trail that the Iditarod is run on is now considered a National Historic Trail. In the early days, it began as a mail and supply route from the coastal towns of Seward and Knik to mining camps on the interior of Alaska, such as Flat, Ophir, Ruby and beyond. Mail and supplies went in to the interior of the state and gold was brought out. Everything was done via dog sled. In 1925, a portion of the trail also became a lifesaving highway for people in Nome who were stricken with a Diphtheria epidemic. Medication had to be brought in to the city, by dog sleds. The Iditarod is a commemoration of those days and one that Alaskans are very proud of.5
Each year, the race route is alternated. On even years, the race goes North through Cripple, Ruby and Galena. On odd years, the route goes through Iditarod, Shageluk and Anvik. Once they reach the coast, the route remains the same. The race winds through large cities and small ones. Everywhere along the way it encourages a yearly increase of activity. Everyone gets involved in the event, from school age children to the old timers, who can tell stories of Iditarod's of days gone past. Not only is the race a learning experience for the children, but it provides an economic boost to the communities it passes through.
As much as I hate the cold weather, I couldn't even imagine the endurance and stamina it would take to participate in a race such as this. I'm amazed at each of the people who are competing in this race. My best goes out to all of them. Please join me in wishing SSG Alexie good luck on his endeavor.
When most of us think about the Army's Army Strong campaign, we think often think of mental and physical toughness. We picture in our minds what is portrayed in the Army commercials we see on television, seeing trainees being put through the paces of Army training. One recent graduate at Aberdeen Proving Ground's AIT, gives a whole new meaning to the term.
PFC Siobhan Healy is a 39 year old German native who graduated at the top of her AIT class on Friday December 5th. That accomplishment definitely makes her Army Strong, but there's even more reasons that she redefines that term. PFC Healy just completed the 63B Wheeled Vehicle Mechanics Course and also scored 350 points on her physical fitness test. She's also the mother of 13 children.
"I started working out about six months before I went to basic training," she said. "I was afraid that the younger people would outrun me."1
Healy is a native of Germany and has always had the desire to join the military, according to her husband, Christopher Healy. She was not allowed to serve in the German military, partly due to the fact that she's a woman, but also because of her height. She's 6′1″ tall. Healy had almost given up on her dream to serve in the military, as she figured that at 39, the opportunity to serve had already passed her by. She found out after talking with a Maryland National Guard recruiter that she was still able to enlist. While she was extremely excited about the prospect of being able to serve in the military, as a mother she was a bit apprehensive because she knew that doing so, could mean that she'd have to be away from her children on a deployment.
Healy is proud of her adopted country and because of her appreciation and desire to give back, she put her apprehension aside and decided to join the National Guard. Because she didn't sign up for any monetary gain, but instead a desire to serve her country, she declined the sign on bonuses that she was eligible for.
"It was the right thing to do for me," she said.2
PFC Healy is now a proud member of the 200th Military Police Company, a Maryland National Guard unit that is located in Cantonsville, Maryland. Beyond her new military career, Healy has other goals that she wishes to achieve in her adopted country. She also has the desire to become a police officer. Currently she is attending college, majoring in Criminal Justice and she eventually wishes to work as a police officer for Baltimore City Police Department.3
I was quite impressed when I read about PFC Healy. She is a great role model for our children, as they make their way through school and decide what they want to do with their lives. I find it very inspirational that she has the desire to give back to the United States, her adopted country and is doing so in the National Guard and eventually by working in Law Enforcement. PFC Healy most definitely embodies what it means to be "Army Strong."
http://www.army.mil/-news/2008/12/09/14945-mother-of-13-brings-new-meaning-to-army-strong/ [↩]
http://www.army.mil/-news/2008/12/09/14945-mother-of-13-brings-new-meaning-to-army-strong/ [↩]
http://www.army.mil/-news/2008/12/09/14945-mother-of-13-brings-new-meaning-to-army-strong/ [↩]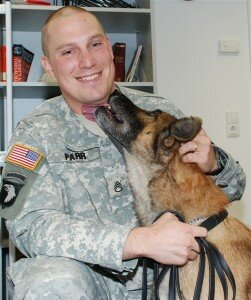 Currently a military working dog team in Stuttgart, Germany is waiting to see if the canine warrior will be awarded the Combat Action Badge. That team, Army SSG Cully Parr, a dog handler with the 554th Military Police Company, Military Working Dog Section and his dog Rex, were deployed to Afghanistan and were attacked by insurgents.
"We were caught up in a two-hour firefight – where we were engaged by the enemy with indirect fire and small arms fire – during a town hall meeting for the local Afghan community," Parr said. "For over a week we went out to villages and informed the people about the meeting. We had humanitarian aid, such as rice and other supplies, for them at the meeting to take back to their villages."

But during the meeting, enemy fighters attacked. "The first thing I did was get Rex behind a pillar, and I took up a position next to him," Parr said. Despite the ensuing chaos, Rex, a patrol and explosive detection dog, never budged. "That's where obedience training comes into play," Parr said. "He's got to stay there, so he doesn't risk getting injured."1
They're back in Germany now and settling into a much less exciting and less stressful routine. Their day begins every morning at 0530, with feeding and then training. The handlers are responsible for training their dog, as well as responsible for their care and the care of at least one other dog. Currently at the kennels in Stuggart, there are 11 dogs and two Soldiers and their dogs are currently deployed.
For the dogs, they don't consider their training work. Instead to them, it's fun and time that they're able to spend with their handler. Each dog has a toy they're working for, while they're training. They're not only obedience trained, but trained on a particular odor. Handlers set up difficult scenarios for their dogs. Some are trained to detect narcotics, others explosives or cadavers. Regardless of their specialty, their constantly training to go downrange. Currently, the MP Company in Stuttgart has handler and dog teams going downrange about every six months.2
Regardless of what's going on with the dogs, dental appointments, veterinary appointments, their handlers are right beside them, continuing to build the bond that makes them a strong working team. The handler knows how his or her dog will react and the dog knows how their handler will react. That emotional bond between the Soldier and their dog is a strong one. Often after the dog retires, the handler will attempt to adopt them.
Military Working Dog teams do great work during deployments, work that saves the lives of many Soldiers. It's only fitting that Rex should be awarded a Combat Action Badge, just like any other Soldier would. Military working dogs do their jobs without question and will fight to the death to save the life of their handler and other Soldiers. They're right there on the frontlines just like their human counterparts.
http://www.defenselink.mil/news/newsarticle.aspx?id=51700 [↩]
http://www.defenselink.mil/news/newsarticle.aspx?id=51700 [↩]
The last few days at Fort Hood, have been inspiring to many of our current warriors, as they were able to meet and spend time with two decorated warriors from the Vietnam era. Often, when young men and women make the choice to enlist in the military, they're inspired by stories they've heard of warriors from past wars, those who's names are engraved upon the memories of many Americans, because of their brave acts. Two of those warriors recently visited Fort Hood and their visits made a huge impact on the Soldiers serving there.
One of those warriors, Lt. Col. (retired) Bruce Crandall's name is one that is known by many. His actions, which 32 years after the fact earned him the Medal of Honor, which I wrote about almost two years ago, spent two days at Fort Hood, visiting with 1st Cavalry Soldiers, touring the post and attending a meeting of the Phantom Corps Chapter of the Army Aviation Association. Crandall's heroics were also portrayed in the book by then Lt. Col. (retired) Hal Moore, entitled "We Were Soldiers Once … And Young" as well as in a major motion picture by the same name. Crandall was able to also spend time with currently serving aviation Troops as well as other Troops at Fort Hood. The highlight for Crandall was when he visited the aviation Troops at Hood Army Airfield and was able to do something that will always be in his blood …. fly a UH-1 Huey helicopter, once again. This is only the 2nd time, since 1968, that Crandall has flown. The rest of his flight time was during combat. Crandall's visit made a lasting impression on the Soldiers and Veterans who had the opportunity to meet him.
""Mr Crandall's visit was nothing short of superb in all aspects. Just being around him and his wife, Arlene, was like walking with royalty," Bill Mobley, a retired Army Aviation major said.1
"Flying with Lt Col Crandall was an experience that I'll never forget," CWO2 David Facio said. "I got to teach a legend about current aircraft and the advances that have happened since Vietnam. A few more flights in the simulator and he would have been ready for the real thing."2
Facio had the pleasure of meeting with Crandall and taking him through the AH-64D Longbow Apache attack helicopter simulator and the Longbow Crew Trainer as well as the CH-47F Chinook Tranportable Proficiency Simulator. Following the simulator training, Crandall was able to go to the airfield and fly a Huey. He donned a flight suit and helmet and climbed behind the controls, alongside CWO5 Rolf Giesler, the UH-1 Huey Instructor pilot with 21st Aviation.
Fort Hood Troops, had the pleasure of meeting yet another warrior from the Vietnam era, former Sgt Jim Greenwalt. His story is one that hasn't been in the media, yet, his actions in Vietnam saved the lives of the men serving beside him and earned him a nomination and eventual award of the Bronze Star Medal with V device.
Greenwalt was a Sgt and light weapons advisor on a Military Assistance Command, Vietnam mobile advisory team in January 1970. The teams were supposed to have 5 members but Greenwalt's team included himself, a 1 Lt and a medic. On one mission, his team was attacked by the Viet Cong at Rach Ban outpost. Greenwalt defended his team with a .50 calibre gun that his team had borrowed from the Navy. Following the incident, his 1Lt nominated him for the Bronze Star with V device for his actions in battle. Greenwalt wasn't aware of this and ultimately the paperwork got lost. In 2003, he found his former 1Lt Gary Findlay, who asked if he'd ever received his medal. When Greenwalt told him that he hadn't, they resubmitted the paperwork in 2004. Eventually, with the help of Greenwalt's congressman, he was approved for his medal. On Tuesday, September 30th, Greenwalt was awarded his Bronze Star with "V" device at Fort Hood.
"Ordinary men find themselves in extraordinary circumstances, in the worst of conditions doing what our nation has asked them to do … and then doing something more," said Lt. General Rick Lynch, commanding general of III Corps and Fort Hood, at the award ceremony. "In the heat of battle, men are not fighting for lofty ideals. When the bullets are flying, the mortars are landing and people are dying, what Soldiers fight for are their buddies on their right and left."3
Greenwalt agreed with what General Lynch said and said that's exactly what he was doing, fighting to ensure that his buddies survived the attack.
"I was more than scared," he said. "I was terrified. I really didn't think we'd survive that attack."4
Greenwalt's only regret, when he was presented with his award, was that his father was not still alive to see it happen. He says that his father would have really been proud of him.
Soldiers like Crandall and Greenwalt and the type of men, ordinary men, who inspire today's generation of Soldier and who will continue to inspire the Soldiers of the future. As Lt. General Lynch said, ordinary men who found themselves in extraordinary circumstances. Men who were willing to do whatever it took to ensure that their buddies survived. Both men were an inspiration to everyone they met and they will continue to be so. Many of our Soldiers now serving, will one day be looked upon like Bruce Crandall and Jim Greenwalt, as people that future Soldiers hope to emulate. Unfortunately I was unable to meet either of these men, wish I had.