Christmas Tree Farm Shows It's Appreciation For The Troops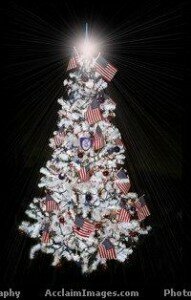 Ever since the wars in Afghanistan and Iraq began, one Christmas tree farm in Whitehouse, Ohio has showed their appreciation in a very special way. This year, they've given away 100 trees to military families, as their way of letting them know that they appreciate the sacrifices that they've made for our country.
"We've been giving trees to military since the war started," Duke Wheeler, owner of Whitehouse Christmas Tree Farm said. "We feel it's important to let these families know that we appreciate their sacrifices … We're grateful for all that they do."1
The business will be giving seven foot Christmas trees to military families who have family member currently deployed or one who just returned from deployment, until December 20th. The family member may cut down their own tree, or employees of the tree farm will do it for them, while they wait. Mr. Wheeler also participated in the "Trees for Troops" weekend. This is an annual event, where for each Christmas tree that is purchased at Christmas tree farms that participate in the program, one is donated to a military family. This year's "Trees for Troops" event took place from December 5th through December 7th.
"Trees for Troops," a Christmas Spirit Foundation and FedEx Corp. program, has delivered more than 34,000 real Christmas trees to military families since it began in 2005. The program has grown from about 400 Christmas tree farms and retailers participating to more than 850. Nearly 17,000 families at more than 40 military bases received a Christmas tree in 2007 through this program.2
These two events are just a couple of things that Mr. Wheeler participates in. He's also a member of the Ohio Christmas Tree Association. His Christmas Tree farm also participates in "Operation Evergreen." Operation Evergreen is a program that has been in existence for 12 years, that allows servicemembers to celebrate their Christmas with a live Christmas tree from Ohio. Each year around Veteran's Day, trees are cut and collected from several Christmas tree farms in Ohio and then transported to the Ohio Department of Agriculture, which inspects the trees and then packs them into boxes which will be shipped overseas by FedEx.
"This year alone, with 20 growers, we had 30 high school and middle school students come and help us pack 325 trees," Amy Galehouse, Operation Evergreen coordinator for OCTA, said.3
Mr. Wheeler is pretty modest about his willingness to participate in the three programs that benefit our military at Christmas. He feels honored to be able to participate in the programs and be able to share a small token of his thanks with the Troops and their families. When I run across stories like this, I'm always impressed by the willingness of some Americans, to go that extra mile in showing their appreciation for our Troops. People like Mr. Wheeler, are one of the reasons, why the men and women of our country's Armed Forces, continue to do the job they do, despite the hardships it often brings to them and their families. From a proud American, who is part of a retired military family, I wish to say "Thank YOU!" to Mr. Wheeler for your support of our Troops.
http://www.defenselink.mil/news/newsarticle.aspx?id=52322 [↩]
http://www.defenselink.mil/news/newsarticle.aspx?id=52322 [↩]
http://www.defenselink.mil/news/newsarticle.aspx?id=52322 [↩]
Comments