"United In Strength" Armed Forces Day 2009
The Armed Forces of the United States of America, have always stood ready to defend this country and the ideals that we live by, as long as this nation has been in existence. They've stood ready to respond at a moment's notice, to do what is necessary to ensure we remain free. Men and women have willingly made sacrifices to ensure that we as American citizens are able to continue living the life that we do in our country. They've often sacrificed by giving their very lives, so that we can continue to live our lives as we chose. It's only fitting that we as American citizens take this day to show our appreciation for all that these brave men and women have made possible for us.
Tomorrow, Saturday May 16, 2009 we celebrate Armed Forces Day, a day that has been set aside for us to give thanks and show our appreciation to our brave servicemembers. Initially, each branch of the military celebrated their own separate day. However, on August 31, 1949, then Secretary of Defense Louis Johnson announced the creation of an Armed Forces day to replace the separate days that each branch of the military celebrated. This stemmed from the unification of all the branches of the Armed Forces underneath once department, the Department of Defense. All branches of the military, except for the Marine Corps dropped the separate day, however the Marine Corps still supports Armed Forces Day.1
President Harry S. Truman announced the formation of Armed Forces Day and praised the hard work of each branch of the military, both at home and overseas. Similar to the tensions and uncertainties we face today with terrorists worldwide, in 1950 the country was facing uncertainty, and tensions worldwide, due to communist aggressions. Below is an excerpt of the speech he gave on February 27, 1950:
"Armed Forces Day, Saturday May 20, 1950, marks the first combined demonstration by America's defense team of its progress, under the National Security Act, towards the goal of readiness for any eventuality. It is the first parade of preparedness by the unified forces of our land, sea and air defense."2
This year, the theme of Armed Forces Day is "United In Strength." With members of all branches of this country's Armed Forces currently fighting side by side in the wars in Afghanistan and Iraq, this theme could not be more fitting. This team signifies the team work that is evident as our Troops continue their mission in those countries as well as many others across the world. It signifies the unified effort that these conflicts require. In the midst of the war, they're not looking at each other as members of different military branches, but instead as brothers and sisters in arms.
On this day, across the country, many communities will show their appreciation for our Troops with parades, special activities honoring them, open houses on military installations and even special ceremonies and receptions. Check your local area to see what activities are taking place and take part in them if at all possible. Take some time out of your day to let our Troops know how very important they are to the continued existence of our country, and how much you appreciate the sacrifices that they make.
http://www.defenselink.mil/afd/military/history.html [↩]
http://www.defenselink.mil/afd/military/history.html [↩]
Strong, independent, resilient, innovative, intelligent, determined, courageous, multi-tasker, caregiver, supportive, capable, patriotic, loyal, tough, graceful, humble and selfless. All of those words, are one that can and does describe that very special person, who is a military spouse. Just like their service member spouse, they come from all walks of life, are of different sizes and shapes, different colors, religious affiliations. Some have careers of their own, while others chose to stay at home. While many military spouses are women, that isn't always the case, as there are many men as well, who are married to a service member. They're not issued a uniform, yet they serve this country as proudly as their spouse who does wear the uniform and you'll rarely hear them complain about the life that they have chosen to live.
A military spouse is a unique breed of human being. Just the fact that they are married to a service member, means that they've chosen to accept a very special role in life. Most of them know going in, that their life will be a nomadic one, moving every 3 or so years, when their spouse is PCSd to a new duty station. They also know, given the state of the world, that their spouse is likely to be gone for long periods of time on various deployments around the world. Even knowing these things, they have made the choice to take on a very special role, that of the military spouse.
In 1984, then President Ronald Regan declared that the contributions of military spouses should be honored. Since that time, the military has designated the Friday before Mother's Day each year to be Military Spouse Appreciation Day. Each year, all branches of the military hold events to honor these very special people who's role in this country's defense is so very vital. On May 5th, Navy Admiral Mike Mullen, issued a message to military members and their spouses around the world.
"Each May, our nation pauses to pay tribute to our past, present and future military spouses. Nothing could be more right, or more honorable, than this. Without our families, those of us in uniform cannot serve. And truly, our spouses serve just as much as we do.

"Despite the strain of nearly eight years of war and numerous critical engagements around the globe, America's military is stronger and more capable than ever. From personal experience, I know that much of that strength comes from our spouses. They are vital to our success. And they make the journey of service - -truly one we choose together - so much richer, rewarding, and satisfying.

"Military spouses bear great burdens, but they also know the tremendous difference they are making. That resilience is due not just to the rewards of service - which are great - but also by means of a critical network of support, one that many spouses themselves create.

"Deborah and I have seen and experienced this network ourselves - and believe us - it makes a big difference.

"On behalf of the Joint Chiefs and their families, we are proud to honor this occasion on the eighth of May. The unending service and sacrifice of our military spouses are worthy of both praise and an equally continuous commitment from a grateful nation."

Sincerely,

M.G. MULLEN
Admiral, U.S. Navy1
If you know a military spouse, please take the time today, to Thank them for their service to our country. Thank them for their contribution to our country and our country's safety. Or why not do something special for a military spouse? Not only will it be greatly appreciated by them, but it will also know that people truely do care about our Troops and their family members.
http://www.defenselink.mil/news/newsarticle.aspx?id=54202 [↩]
They come from all walks of life. They are of different races, different genders, different religious backgrounds, different shapes and sizes, have different educational backgrounds, different socio-economic backgrounds and sometimes even from different countries. They all however, have one thing in common - their service in the United States Armed Forces. Each year, for the past 11 years, the month of May has been set aside as National Military Appreciation Month.
How it all began…

National Military Appreciation Month started as a simple idea; to gather America around its military family to honor, remember, recognize and appreciate those who have served and those now serving and to know the history behind it all. This idea was then legislated twice to achieve greater national attention and recognition.

The first legislation was in the United States Senate in 1999 designating May as National Military Appreciation Month. With the support and sponsorship of Senator John McCain, (R-AZ) and Representative Duncan Hunter, (R-CA) of San Diego and over 50 veteran service organizations, this important and timely legislation tells our service members that their country has set aside an entire month to honor, remember and appreciate them. In April of 2004, more comprehensive legislation was passed by unanimous consent of both Houses of Congress, H. Con. Res. 328, that May is National Military Appreciation Month and urges the President to issue an annual proclamation calling on the American people to recognize this special month of May through appropriate ceremonies and events.

A group of volunteers has been working for 10 years towards preserving May as National Military Appreciation Month; from Washington D.C. to California and even Iceland, people came forward to help support this goal. Instrumental to achieving these results from early on is Duncan Munro, MSgt USAF (Ret) who has served as National Events Coordinator and supported the website for all these years. Michael Fleming from Los Angeles works diligently as the Public Relations and Media Contact to promote and encourage participation worldwide; Alice Wax worked for passage of related legislation and Shauna Fleming is serving her fourth year as National Spokesperson. She continues to appear on radio and television shows and has visited to the Oval Office while working on her own goal of collecting 2.6 million letters of appreciation for our troops through A Million Thanks. Other military support organizations have also embraced NMAM to include Rebels With A Cause, Armature Radio Military Appreciation Day (ARMAD) and The Thank You Foundation.

Most intriguing to National Military Appreciation Months success is that it's built from the ground up by a handful of volunteers with a genuine desire to build public patriotism and support for our troops and veterans.

Our military has played a major role in the development of our country chronicled through their unbending honor, their dedication to duty and their love of country. Unfortunately, it is common for many families to be neither aware of nor value and understand the service given by those in their own families, many of whom are of the "Greatest Generation" or even the call to duty, honor and country we see now. Schools no longer teach those military events that turned the course of history. We are slowly losing our connection to our own American history. Names like Pearl Harbor, San Juan Hill, Civil War, Belleau Wood, Continental Army, 38th Parallel, Berlin Airlift, Tet Offensive and Normandy are rapidly losing their significance to the general American population, particularly our future generations – our youth.

Because most holidays commemorating historical military events have become little more than three-day weekends lacking focus on their original purpose, this month is needed to remind us of the sacrifices and the history we as Americans have been privileged to participate in throughout the past 230 years.

Through appropriate means and incentives, Federal, State, and local governments and private sector entities are invited to participate in this special month and to encourage everyone to sponsor and participate in programs via multiple venues, giving the nation a time and place upon which to focus, draw attention, and express our appreciation and thanks to our military family.

Due to military deployments worldwide protecting our national interests, Americans are being asked to serve. Employers are being asked to accommodate lengthy absences by key employees. Our military represents the highest caliber of professionalism and technology. We ask them to willingly risk their lives on a moments notice; should we not willingly and openly recognize their contributions and their sacrifices as well.1
Throughout the month of May, there are several very significant dates to remember, though any day should be a day that we give thanks for our military members and show our appreciation to them. Specific events across the country, have been scheduled to coincide with these dates:
May 1 is Loyalty Day.
May 8th is VE Day
May 9th is Military Spouse Appreciation Day
May 16th is Armed Forces Day
May 25th is Memorial Day
You may ask what you can do to show your appreciation for our military members throughout this month. Many events have already been scheduled, so by checking your local community events calendar, you can find out what's been planned in your local area. If there is nothing planned for your area, why not plan something yourself?
Another place that you can check to find out what activities are scheduled in your local area, is the National Military Appreciation Month website. On the website, you'll find suggestions for events, a map of the US which you can click for your state, to find out what events are happening there, as well as photos and information about National Military Appreciation Month. I encourage you to visit the site.
As a nation, we observe and participate in various national cultural and social awareness events through mass media attention and educational curriculum. However, we have not allocated appropriate recognition of the most important presence in the world today, an entity that impacts each and every American in a significant way, the Armed Forces of the United States of America.

National Military Appreciation Month (NMAM), as designated by Congress, provides a period encompassing both the history and recognition of our armed services with an in-depth look at the diversity of its individuals and achievements. It allows Americans to educate each generation on the historical impact of our military through the participation of the community with those who serve encouraging patriotism and love for America.

This month gives the nation a time and place on which to focus and draw attention to our many expressions of appreciation and recognition of our armed services via numerous venues and also to recall and learn about our fast American history.

National Military Appreciation Month (May 2009) includes Loyalty Day (1st), VE Day(8th), Military Spouse Appreciation Day (8th), Armed Forces Day (16th), and Memorial Day (25th). This very important month honors, remembers, recognizes and appreciates all military personnel; those men and women who have served throughout our history and all who now serve in uniform and their families as well as those Americans who have given their lives in defense of our freedoms we all enjoy today.

It recognizes those on active duty in all branches of the services, the National Guard and Reserves plus retirees, veterans, and all of their families - well over 90 million Americans and more than 230 years of our nation's history. Let us celebrate them just as we celebrate the other important entities that make up this wonderful country of ours.2
The Defense Department is participating in various events, along with America Supports You, such as the McDonald's Air & Sea Show in Fort Lauderdale, Fla, the Joint Services Open House at Andrews Air Force Base, Md, as well as the Professional Golfer's Association events across the country. ASY will also hosted a concert featuring singer Jenny Boyle at the Pentagon on May 4th. NASCAR is planning to unveil an ASY car at Lowe's Motor Speedway in Charolotte, NC on May 8th. The Discovery Channel is also producing a series of "Thank You's" for the Military Channel, in which people from across the country will be "thanking the troops" for their service.3 I'm excited to see these spots.
I encourage you to get involved and really let our military members know how much they're appreciated. Appreciating our military members, is more than just slapping a $2-3 magnet on the bumper of your car or a bumper sticker that states "I Support Our Troops." Show them something more tangible. There are tons of ideas at the NMAC website. Be creative and do something that will send the message without a doubt, that you appreciate what our Troops do for our country. Below, is a video tribute that I did a couple years ago, to Hank Brake's song "Thank You."
http://www.nmam.org/about2.htm [↩]
http://www.nmam.org/about.htm [↩]
http://military.com/features/0,15240,134360,00.html?ESRC=marinenews.RSS [↩]
Troops In Korangal Valley Turn The Tables On The Taliban
The Korangal Valley is one of the most volatile areas in Afghanistan. Korangal's high mountains, densely wooded and riddled with caves, are used by militants to launch near-daily attacks on remote U.S. bases. More than 1,000 people, mostly militants, have been killed in insurgency-related violence in Afghanistan this year, according to an Associated Press tally of figures from Afghan and Western officials.1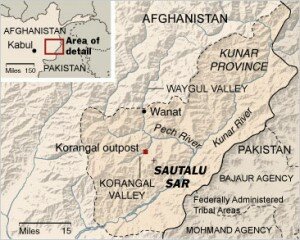 This particular area in Afghanistan is one that readers of this blog should be very familiar with. It's the scene of a battle that claimed the lives of 19 brave American warriors, and a place that retired Navy SEAL Marcus Luttrell will never forget. On a mountainside in that region, Marcus and his 3 fellow SEALS battled terrible odds against hundreds of Taliban fighters. Marcus was the only survivor and he carries the physical and emotional scars of his time on that mountain with him even today. Marcus relives those days everyday and has made sure that everyone knows of the heroism and bravery of his fellow SEALS who lost their lives on that mountain, in his book, Lone Survivor, The Eyewitness Account of Operation Redwing and the Lost Heroes of SEAL Team 10, which is dedicated to the memories of his three teammates and the 16 men who lost their lives attempting to rescue them. You can read the story I posted about Marcus's book by following the link above.
Recently, on Good Friday to be exact, the very same mountainside was the scene of a different battle. One that has become an emotional rallying point for Soldiers in the region and is seen perhaps as a payback of sorts, retribution if you will, for the American lives that were lost in Operation Red Wing in June 2005. The terrain in the region is treacherous and unforgiving. Unfamiliar terrain for our Troops, which makes it a safe haven for the Taliban fighters hiding amongst the mountains there. American Troops walked away victorious without any casualties.
On that day, 30 Soldiers from 1st BN, 26th Infantry left the Korangal Outpost before Noon. They spent a good portion of their day climbing a ridge located on the opposite side of the Korangal River. Once they reached the summit, almost 6,000 feet above sea level on the top of Sautalu Sar, the same mountainside that Operation Red Wing took place, they discovered footprints on the trails … fresh footprints. The platoon leader of the group, 2LT Justin Smith found a spot where the trails crossed and his team set to work digging fighting holes before it turned dark. They also placed claymore antipersonnel mines among the nearby trees. As sunset approached, Lt. Smith gave orders for complete silence until complete darkness. He then sent 3 scouts about 100 yards away in a listening post, located about 10 feet from the trail.2
Shortly after the scouts got into place, they observed a group of Taliban fighters, walking quickly towards their location. Sgt. Zachary Reese, a sniper with the group of scouts, whispered an alert to the others, telling them that the enemy fighters were approaching them very quickly. He counted 26 Taliban fighters as they passed by. The American Troops where in a place where no Americans had spent the night for several years. The Taliban apparently didn't expect American Troops to be there, and weren't watching for danger. The Soldiers waited, I'm sure impatiently for the signal from their platoon leaders, ordering them to fire. They'd learned long ago, that once that order was given, they must all fire at once. Lt. Smith didn't want his Troops to fire too soon, to ensure that they were able to take the Taliban fighters completely by surprise, even after the 3rd Taliban fighter in the column quickly switched his flashlight on and then back off. Instead he allowed the column of enemy fighters continue on, as his Troops readied themselves, with weapons trained on the column of Taliban fighters.3
As the group of enemy fighters continued on the trail, quickly approaching where the main body of the Platoon was in place, PFC Troy Pacini-Harvey moved the selector switch on his rifle, from safety to semi-automatic. As with most mechanical components, when he did so, it made a barely perceptible click. Apparently the lead Taliban fighter heard the click and froze about 6 feet from where PFT Pacini-Harvey was located. Lt. Smith signaled his platoon to fire, softly speaking the words over the radio.
Simultaneously, the platoon began firing. Thunderous noise and flashes of light erupted. Bullets found their mark, striking the leading line of Taliban fighters, who fell where they were hit and without returning a single shot. Five other Taliban fighters attempted to run towards the Soldier's left, right into the path of more gunfire and mines. The Soldier's heard a rustling in the brush and detonated a claymore mine. The movement stopped.
While the firefight lasted only a few minutes, I'm sure to the Troops involved, it seemed like an eternity. The Taliban fighters who survived the ambush and managed to escape ran back up the hill. The Troops could hear them shouting to each other as they ran. The three scouts were called back in to join the rest of the Troop, as two Apache attack helicopters arrived, dropping a bomb on the escape route taken by the Taliban fighters.
The team then began to search the fallen Taliban, and retrieve any weapons, papers and equipment. The bodies were photographed as well for identification purposes. As they approached one group of bodies, Sgt. Reese handed his rifle to another Soldier, as he cut away ammo pouches from the bodies. One fighter was apparently "playing dead" as he lunged for Sgt. Reese as he approached. Defending himself, Sgt. Reese stabbed the insurgent with the knife he was using to cut away the ammo pouches. All told, at least 13 Taliban fighters were killed, possibly many more.4
As they made their way back to Korangal Outpost, word of the ambush was already spreading throughout the terrorists network. One of the items secured from the body of a terrorist was a cell phone. As the platoon headed back, the phone began ringing. It continued to ring….
I hope that in some small way, this event has helped Marcus to have at least some closure to the trauma he endured in those mountains. Having met Marcus, I'm sure that he was pleased in hearing about this battle and probably wished he could have been there as well. I'm sure that if he'd been able to, Marcus would have gladly stood on that mountainside with these Soldiers and fought bravely alongside of them. I'm sure, as the Soldiers of 1st BN, 26th Infantry were planning and executing this mission that the names of the brave warriors who lost their life in Operation Red Wing in June 2005 were in their thoughts and close to their hearts as they planned and executed this mission.
http://www.aawsat.com/english/news.asp?section=1&id=12581 [↩]
http://www.nytimes.com/2009/04/17/world/asia/17afghan.html?_r=1&ref=asia [↩]
http://www.nytimes.com/2009/04/17/world/asia/17afghan.html?_r=1&ref=asia [↩]
http://www.nytimes.com/2009/04/17/world/asia/17afghan.html?_r=1&ref=asia [↩]
IEDs or Improvised Explosive Devices are one of the biggest dangers that our Soldiers are facing in the battlefields of Afghanistan and Iraq. IEDs are something that injure or kill more Soldiers in these wars. Because of this, the Joint Improvised Explosive Devise Defeat Organization (JIEDDO) was created. Now the JIEDDO is studying why some Soldiers are better able to identify and recognize an IED that has been implanted on a route they are traveling, than other Soldiers are. What special sense or inate ability do these Soldiers possess, that others don't? Is it something that can be taught to other Soldiers? Because of these questions, the JIEDDO, for the past 18 months has been conducting research into why this is, to identify what particular skills, abilities and characteristics possess that others do not.
The director of the study, Jennifer Murphy, PhD said that the leadership of JIEDDO had been hearing stories coming from the front lines, that some Soldiers were able to identify IEDs and thus help others in their convoys avoid these deadly traps. The JIEDDO and the Army Research Institute for the Behavioral and Social Sciences joined forces to research and study this phenomenon.
"Wouldn't it be great if there was a way we could identify people who have this skill before they deploy, because it would save so many lives," she said. "Because right now the way it is, we have to wait for the tour to unfold to see who is good and who's not."1
According to Murphy, as her team heard more and more of these stories about certain Soldiers who just seem to be able to 'sense' that an IED had been implaced, the more they began to question the reasons why those Soldiers were so good at finding IEDs. If the Army were able to identify those particular Soldiers prior to a deployment, they could then strategically place them in various locations throughout convoys. The end result could be many lives saved. According to statistics, most IED casualties occur either at the beginning or at the end of a Soldier's tour in combat. Those occurring at the beginning, because Soldier's aren't yet familiar with their surroundings and those occurring at the end, because Soldiers begin focusing on returning home.
"If you talk to a Soldier about what he thinks makes him good, he'll say, 'I've got a spidey sense, a sixth sense and I can just feel something is wrong. I don't know ath it is, but something is out of place, not quite right," she said. "Obviously we can't measure 'spidey sense' but I can tell you that we can determine to a large degree how eyes and certain cognitive functions work together."2
As more and more of these reports come in from the front lines, the research team began studying certain human factors that might impact why some Soldiers are more able to detect IEDs than others. Things such as the way the light enters the eyes, to the way the information is passed along to the brain, as well as personality factors were measured. This was done through several different tests as well as finding out different experiences that each Soldier experienced in the field or perhaps had earlier in their life. Questions were asked of the Soldiers, like, were they avid hunters and fisherman, was the terrain they were traveling in familiar to them? So many factors can come into play and the JIEDDO team felt it was important to study how these factors interrelate to make someone good at detecting IEDs.
After identifying certain core components, the researchers then broken them down into basic processes and determined ways in which they could measure them. To date, 800 service members from all branches of the military have been accessed, given a battery of 15-16 tests. The data was then analyzed and researchers were able to filter out the most important predictors of persons who could do well at finding IEDs.
"We're not just looking for an ability in someone, we're looking for differences between people, because that's how we identify the ones who are going to be best at this task," said Murphy. "Most Soldiers have vision that has been corrected, but there are some people who can see above and beyond that. I'm not going to know what above and beyond is, unless I know how everyone else performs."3
Besides visual acuity, researchers are also looking at other traits which seem inherent in Soldiers who are good at detecting IEDs. Murphy said those are things such as certain cognitive capacity characteristics, working memory spatial representations, Soldiers keep in their brains. While these are traits that can be measured, Murphy stressed that these traits can't be taught.
"Some of the things we're looking at are skills that actually can be trained," Murphy said. "Things like the ability to pay attention for a long period of time. We can train vigilance, that's something research has shown we can actually do to improve performance."4
Ms. Murphy was able to identify that certain Soldiers who are sensitive to various subltities are often the same Soldiers who are making the treks down the same route every day and are able to see and sense that something is wrong, or that something is missing or there that wasn't before. Often, these are the same Soldiers who are able to detect IEDs.
"These are people who notice extraordinary subtle changes in the environment," Murphy explained. "They can recognize the treat marks of their vehicles and they can see where another vehicle has gone over and down the road that's not theirs. The one thing that you'll find is that the good route-clearance guys understand this and they'll set themselves up so they can notice changes," she said. "In their minds, they'll proactively clear the area. It's called desanitization, which is where they are able to get rid of all the trash, all the garbage, all the foliage, virtually everything along the side of the road and in the process they minimize IED hiding places. They're able to segregate items from the background."5
I'm looking forward to hearing and reading more about this research and their findings and if the team is able to identify ways in which these skills can be taught to other Soldiers. In my opinion, if being able to do so can save the lives of our Troops, then it's worth whatever cost goes along with it. I'm all for anything that is able to protect the safety and wellbeing of our Troops.
One of the most unpopular programs that has been implemented after the wars in Iraq and Afghanistan began, was the Stop-Loss Program. The stop-loo program was put in place to ensure that deploying units had enough Soldiers for their mission. In the program, a Soldier who was nearing the end of his or her term in service, or one who was preparing to retire, could have their active duty status extended, so that they could deploy with their units. Currently, the Army is the only branch of the military that has been using the program and it's been a very unpopular and controversial one. The Marines used stop-loss in the early days of the wars in Iraq and Afghanistn, but stopped utilizing it on May 12, 2003. The Air Force used the program very sparingly and quit using it on June 23, 2003. In the Navy, the program wasn't used at all since the spring of 2003. Even then, it was only for medical corpsmen who would serve with Marines.
On Wednesday, Secretary of Defense, Robert Gates announced that the stop loss program would be phased out between now and next January. That news I'm sure will receive much support from Soldiers in the Army, as they no longer will have stop-loss hanging over their head. Currently in the Army, there are approximately 13,000 Soldiers whose active status was extended through the program.
"We have the legal authority to do it," Gates said during a Pentagon news conference. "But … I felt, particularly in these numbers, that it was breaking faith. It wasn't a violation of the enlistment contract. But I believe that when somebody's end date of service comes up, to hold them against their will, if you will, is just not the right thing to do."1
According to Mr. Gates, while there will always be a need to perhaps hold some people in service, the numbers should be much smaller. I'm sure that those who would continue to be affected by this, would be Soldiers who are in critical MOSs in which there is a shortage of personnel. I'm sure that this news will be cheered by Troops and will go a long ways towards helping increase the morale of Soldiers.
"Effective this August, the US Army Reserve will no longer mobilize units under stop-loss," Gates said. "The Army National Guard will stop doing so in September, and active Army units will cease employing stop-loss in January."2
The hope is that by June 2010, the number who have been stop lossed, will be cut by 50 % and hopefully by March 2011, the numbers will be near zero. Mr. Gates did emphasize however, that the military will retain the authority to be able to utilize stop-loss in extraordinary circumstances.
Instead of stop-loss, the Army will implement several incentives that will hopefully encourage Soldiers to volunteer to extend their enlistments. Beginning this month, the Army will be paying stop-lossed Soldiers $500 additional per month. According to Mr. Gates the program is retroactive to October 1 of last year, which was when such payments were authorized by Congress.
According to Army officials, the Army is able to make this move, to end stop-loss because of several factors. Those factors are: Conditions have changed in Iraq, a new unit rotation schedule has been implemented and the size of the Army has increased. During the next 18 months, the drawdown in Iraq will continue. According to Mr. Gates, the drawdowm will far outnumber the increases to Troop levels in Afghanistan.
I think this is a great move by the Department of Defense and one that will impact troop morale, attitude and willingness to serve in a positive way. I'm sure that many who are serving will be happy to hear this news. In the end, I think it will better serve our country and the military to end this policy at this time.
http://www.defenselink.mil/news/newsarticle.aspx?id=53543 [↩]
http://www.defenselink.mil/news/newsarticle.aspx?id=53543 [↩]
Sexual Assault is a horrible crime that leaves many victims in its wake. Sexual assault is a increasing problem throughout American society and the world. Victims are often reluctant to come forward to report the assault for varying reasons. They feel that no one will believe them, they don't want to go through the emotional trauma of reliving the assault by being interviewed by law enforcement and having to testify in court, or perhaps they feel that the assault will somehow be blamed on them instead. That's why sexual assault is one of the most under reported crimes in America today. The US Army Sexual Assault Response and Prevention program was put into place to make it easier and more comfortable for a sexual assault victim to report the crime and receive services and treatment that they deserve. By allowing the victim to choose between restricted and unrestricted reporting, the Army makes it possible for the victim to have some control over the outcome of their case. Because of this policy, more victims are coming forward to receive medical treatment and counseling services, even if they don't chose to report the assault to the police. This reporting option allows the victim to regain the one thing that the perpetrator has taken away from them ….. their own free choice. While no system is entirely perfect, I do feel that by allowing the victims to have the choice, has encouraged more sexual assault victims to come forward and receive help.
As I've written before, the US Army and the military, have a goal to eradicate sexual assault from amongst its ranks. While that's a lofty goal and one that most likely isn't obtainable, it's encouraging to see that the Army is attacking the problem of sexual assault from many different angles. Installation Victim Advocates and Unit Victim Advocates are in place to assist victims in navigating the system, obtaining the counseling and resources they need and advocating for the victim throughout the entire process, from the reporting of the crime to the culmination in court proceedings. New educational campaigns have been launched in the effort to educate and empower Soldiers in spotting potential problems and taking actions to prevent a sexual assault from occurring. Interactive training, like the Sex Signals tour, are happening across the Army in an effort to educate Soldiers in what constitutes a sexual assault, especially in those "gray areas" that sometimes occur in dating scenarios. Now the Defense Task Force on Sexual Assault in the Military is reaching out to victims of sexual assault and asking for their input. Not only are they wishing to speak with Soldiers who have been sexually assaulted, but to civilians who have been sexually assaulted by a servicemember as well.
The idea behind the new initiative is to gain a better understanding about the experience a sexual assault victim has had, with the military's response to the incident. Did they receive the services they needed? Did they receive services in a timely manner? Were the services in place, on the installation or did they have to go off the installation to receive services? Was command response appropriate, if they chose unrestricted reporting? Because victims of this horrific crime often feel more comfortable talking confidentiality, names of individuals or their installation will not be released in the Task Force's final report to Congress.
"We need to maintain their privacy and their confidentiality in order for them to have enough confidence in us to come talk to us," said Jenny Hobert, Task force Spokeswoman. "It's their choice. It's their option. They are in control and they decide how they want to do this."1
During the interviews, three specific areas will be focused on. Those areas are:
1. Prevention of sexual assault: One of the best ways to eradicate sexual assault is to train people and make them aware of what sexual assault is and what actions they can take to stop sexual assault.
2. Response to reports of sexual assault: What resources are in place to assist victims? Are there counseling, medical, legal and spiritual components in place for the victim and how exactly does the response to a report of sexual assault take place?
3. Offender accountability: The task for is also wanting information on whether the victim feels that the judicial process is working. That starts from the investigation of the assault through a courts-martial or trail in a civilian court. How did command respond to the incident if the perpetrator is a Soldier? 2
The military has the opportunity to make a huge impact on how sexual assaults are handled, and thus how victims of sexual assault are able to access the services that they need. The opportunity is ripe for the military to take the lead in this country on how a sexual assault is handled from beginning to end, how victims are taken care of and advocated for, how the perpetrators are dealt with and ensure that the resources available to military victims of sexual assault are they best possible.
"They've led the nation, they've led our culture, in changing the way people deal with each other," Hobert said. "I think this is another opportunity for the Department of Defense to take care of one of this nation's greatest assets, and that's our military personnel."3
Once the assessment is completed and compiled by the end of June, the report of the task force will then be presented to Defense Secretary Robert Gates. He'll evaluate the report and make his comments. The report will then go to the House and Senate armed services committees.
If you are a victim of military sexual assault and wish to take part in this important study, there are several means for you to do so. You can call the toll free number set up for this purpose, 888-325-6640 or you can email . By either method, someone will contact you from the task force and schedule a time for an interview.
I'm impressed and encouraged that the Department of Defense is taking this problem seriously and are willing to allow the victims of this horrible crime, to have a voice. By doing so, I feel that better policies can be put into place to take care of sexual assault victims and ensure that they receive the services they are entitled to, but ultimately to ensure that the perpetrators are prosecuted to the fullest extent of the law, so that they can't victimize another person.
http://www.defenselink.mil/news/newsarticle.aspx?id=53311 [↩]
http://www.defenselink.mil/news/newsarticle.aspx?id=53311 [↩]
http://www.defenselink.mil/news/newsarticle.aspx?id=53311 [↩]
Nothing is more solemn and heart wrenching, than the task of preparing the remains of a US Service Member for burial. In the United States, all remains are first taken to Dover Air Force Base in Dover, Delaware, prior to the remains being released to the family for burial. For years the media has been banned from filming the flag draped caskets as they arrive at Dover, for the final preparation. After he was inagurated, President Barrack Obama and his administration proposed a review of the 1991 ban. The media of course is all for allowing them to be present when the remains of our fallen arrive at Dover, but they're facing tough opposition from Veterans groups, such as the American Legion. Currently the media will often film parts of the funerals of our fallen warriors, but they're not allowed at Dover. I feel that's the correct thing, that the family members and our fallen deserve the respect and honor, without interference from the media. Too often the media tends to make the situation even harder on the families of the fallen.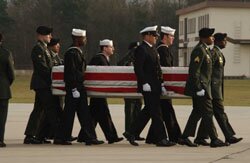 Family members who've had to bury their loved ones after they lost their life in the Global War on Terror have mixed feelings. Some are vehamently opposed to the idea of media being present at Dover when their loved ones remains arrive, others have mixed feelings, while others feel that it's okay as long as it's done in good taste. The feelings of many veterans groups and military supporters is strongly opposed to lifting the ban.
"The practice would be intrusive and hurtful to the warriors' families," David K. Rehbein, American Legion national commander stated in a news release.1
Myself, I'm very opposed to the idea. Unfortunately many of the members of the national media today, don't ever stop and think how their actions may affect the family members. So many times, the media has tended to sensationalize anything to do with the wars in Iraq and Afghanistan, often to the point of actually causing much more harm than good. I honestly don't feel that allowing them to film our fallen soldiers remains being returned from the war zone will be any different. I feel that in doing this, all it will do is inflame people and denigrate the solemnity of the situation. The return of our fallen heroes should be dealt with in a professional and sensitive manner. I don't feel that the media has the right to have any part in that.
If by change, this ban is rescinded, I feel that there should be extremely stringent guidelines. Prior to any photographs being published, they should have to be approved by the family of the fallen service member as well as by the military. I fear that if we allow the media free reign on this subject, that these photographs will be used in a negative light, in a way that is disrespectful to our fallen warriors and their families.
There are plenty who disagree with my thoughts about this. Take for instance, the president of the National Press Photographers Association, Bob Carey, who feels that "the ban on media coverage goes against the very principles of free speech and free exchange of ideas for which these very heroes have died."2
The final outcome of this controversial subject, will continue to stir debate, sometimes very angry debate. I know for myself, had Marty or my son died in combat, I would be outraged if the media were allowed to film the return of their remains to Dover. I do feel, if changes are made, that it should be the sole decision of each individual family, whether the media is allowed to film the return of their fallen warrior. It's definately something that should NOT be up to the politicians. I'm sure many people will be watching, to see what is decided and I'm sure it will continue to stir sometimes heated debate. Please feel free to share your thoughts on this subject.
http://www.military.com/news/article/quarrel-stirs-on-flagdrapped-coffins.html?wh=news [↩]
http://www.military.com/news/article/quarrel-stirs-on-flagdrapped-coffins.html?wh=news [↩]
As promised, I'm doing a follow-up on the sexual assault article from a few days ago. Hopefully, with this post, our readers will better understand what options are available to victims of sexual assault in the military and be able to better understand the steps that have put into place to ensure that victims of sexual assault not only receive the treatment that they are entitled to, but the steps that the military has taken to ensure that the victim of a sexual assault is treated with fairness and respect and given options on how their case will be handled. While the system is never perfect and there are cases in which the victim isn't treated with fairness and respect, in most instances, the system has been created to ensure the safety and care of the victim.
According to Army Policy, Sexual Assault is a criminal offense that has NO place in the Army. It degrades mission readiness by devastating the Army's ability to work effectively as a team. It has a devastating and often lasting impact on the victim, a fellow Soldier. The Army is serious about this program and about doing everything possible to prevent sexual assaults from occurring within it's ranks. The goals of the Army's Sexual Assault Response and Prevention Program are:
Create a climate that minimizes sexual assault incidents, which impact Army personnel, Army civilians, and family members, and, if an incident should occur, ensure that victims and subjects are treated according to Army policy.

Create a climate that encourages victims to report incidents of sexual assault without fear. Establish sexual assault prevention training and awareness programs to educate Soldiers. Ensure sensitive and comprehensive treatment to restore victims' health and well-being.

Ensure leaders understand their roles and responsibilities regarding response to sexual assault victims, thoroughly investigate allegations of sexual assault, and take appropriate administrative and disciplinary action.1
Sexual Assault is a CRIME both in the military and in the civilian sector. Sexual assault is defined as intentional sexual contact, characterized by use of force, physical threat or abuse of authority, or when the victim does not or cannont consent. Sexual assault can occur without regard to gender, spousal relationship or sexual orientation. Sexual assault is not about romance or passion, but instead it's about exerting power and control over someone else. Sexual assault is a crime that the Army takes very seriously, as well they should.
In the Army, victim's of sexual assault are given two reporting options. Those options are Restricted Reporting or Unrestricted Reporting. I'll explain the difference.
Restricted Reporting
* A restricted report does not trigger the investigative process.
* A restricted report allow the service member who is sexually assaulted to disclose the incident to the following people:
The Sexual Assault Response Coordinator.
A Victim Advocate (This can be an Installation Victim Advocate or a Unit Victim Advocate.
A Healthcare Provider
A Chaplain
* A restricted report allows the victim to receive medical treatment, a forensic examination, victim advocacy services and counseling assistance.
* A restricted report allows only non-identifying information to be provided to the installation commander, for statistical purposes.2
A restricted report has both benefits and limitations. The benefits of utilizing the restricted reporting option are that the victim is able to receive medical treatment, advocacy services and counseling. The victim is provided with personal space and time to consider their options without pressure. The victim is in control over the release and management of his or her personal information. The victim can change to an unrestricted report at any time. The disadvantages of restricted reporting are: The victim's assailant remains unpunished. The victim cannot obtain a military protective order. The victim may continue to have contact with their assailant. The victim will not be able to discuss the assault with other service members without initiating the obligation for them to report the crime.
Unrestricted Reporting
* Allows the investigative process to begin.
* Law enforcement and command structure are notified.
* Actions are taken to protect the victim from further acts of violence.
* The victim can obtain both a military and civilian protective order against their assailant.
* The victim can receive medical treatment, including a forensic examination, counseling and the victim is able to inform the appropriate legal and command authority.
* The offender is held accountable.3
As in restricted reporting, there are both advantages and disadvantages to an unrestricted report. The advantages are that the victim is ensured the widest range of rights and protections that is available. Commander support (Military protective orders and separation from the offender. A full investigation is conducted which enhances the opportunity to hold the offender accountable for the crime. This may encourage other victims to come forward. Enhances community safety. The disadvantages to unrestricted reporting are: Once a victim has chosen unrestricted reporting, they cannont change back to a restricted report. The victim may consider the investigative process and court proceedings too intrusive. Other people will become aware of the incident. The investigative process and court proceedings may be lengthy.
On every Army Installation, there are civilian Installation Victim Advocates who are there to meet with victims of sexual assault. The role of the victim advocate is to provide essential support and care to the victim to include providing non-clinical information on available options and resources to assist the victim in making informed decisions as they progress through resolution and healing. The VA maintains communications and contact with victim as needed for continued victim support. As well, each Army unit has Unit Victim Advocates who are military counterparts of the Installation Victim Advocate. Their role, is the same as the Installation Victim Advocate. Unit Victim Advocates are also deployed, to ensure that if a Soldier is sexually assaulted during a deployment, that they receive the same treatment and services that are available to them stateside.
To read more about the Army's commitment to responding to and preventing sexual assaults, please visit The Army Sexual Assault Response and Prevention website. There you will find information on various prevention strategies that are in place, Army regulations about Sexual Assault and the punishments for committing this horrendous crime, guidance for leaders, as well as links for training and further information.
policy_reg.cfm [↩]
what_to_do.cfm [↩]
what_to_do.cfm [↩]
One of the most under reported crimes in the United States and most likely the entire world is sexual assault. Sexual Assault is also one of the most horrendous crimes to be committed against a person and one that can have lasting and devastating effects on it's victim, and often their family members and friends as well. This holds true in the military as well as the civilian world. On Monday, a Blogger's Roundtable was held to announce some of the initiatives the Army is aggressively putting out there, to combat and hopefully reduce or eradicate the crime of sexual assault amongst its ranks. I'll explain some of the new initiatives that the Army is doing to combat this horrific crime amongst it's ranks. Victims of Sexual Assault often don't report the crimes, for many reasons. Those reasons include but aren't limited to, fear of reprisal from their attacker, fear of not being believed, the fear of having to relive the crime during the investigation and in court, etc. The list could go on and on. In the military, just like in the civilian sector, victims of sexual assault often don't report these crimes committed against them. The statistics in the Army alone are staggering. In the years since 9/11/2001, 1,800 Soldiers have been punished for sexually assaulting their fellow Soldiers. That's only the ones who were punished. That number doesn't include those crimes where they may have not been enough evidence to prosecute, or those crimes that weren't reported.
These are numbers that I know well, as my job involves working with victims of Sexual Assault as well as victims of Domestic Violence. Those numbers, as high as they may seem, are just the tip of the ice berg. I can say with absolute certainty, that many more sexual assaults occur in the military and in the civilian sector. Crimes that are never reported to authorities. That means that there are many victims out there, who are suffering in silence unnecessarily.
What do we generally think of when we hear the words sexual assault? I've asked that question of people many times and almost unanimously they say that when they hear those words, they picture a evil looking stranger breaking into a home or approaching a woman on the street, and forcibly raping her. Unfortunately, movies and television play a huge part in our perception of what we think of when we hear the words sexual assault. While there are sexual predators out there, who commit that type of sexual assault, that's by far the minority of crimes that are reported. Instead, in a large majority of cases, the perpetrator is someone that the victim knows. Often it's someone that they believed they could trust.
On Monday, I participated in a media roundtable event via teleconference, in which Army Secretary Pete Geren, Carolyn Collins program manager of the Army's Sexual Assault Prevention and Response Program, Brig. Gen Rodney Johnson, the provost marshal general of the Army and Lt. Gen. Michael Rochelle, the Army's deputy chief of staff and Lt. Gen Black of the Army's Judge Advocate General talked to the media about what the Army is doing to combat and hopefully eradicate this horrific crime amongst it's ranks.
Secretary Geren announced that he has approved the addition of legal personnel to help combat sexual assault amongst the ranks, a crime which he deems is "repugnant to the core values of the Army. In the Army's Judge Advocate General Corps, 15 new prosecutors will be hired and a dozen or so trainers who have experience in prosecution or sexual assault litigation experience in one of many attempts to more effectively prosecute sexual assault and harassment in the Army.
"Since Sept. 11, 2001, we've had 1,800 Soldiers that have been punished for sexually assaulting a fellow Soldier," Geren said. "Soldier-on-Soldier violence, blue-on-blue — sexual assault is a crime everywhere, but in the Army it is a crime that is more than just a crime against the victim. In the Army it is a crime against the core values that bind our Army together."1
The new positions in the JAG corps will be filled from within the JAG corps by prosecutors who have proven themselves as especially effective prosecutors and those who also have experience prosecuting sexual assault. They will focus exclusively on sexual assault cases as well as on training the rest of the prosecutorial and defense staff on this type of criminal case. Each person chosen for these positions will have experience in prosecuting sexual assaults and they will have received specialized training as well. Each person picked for these positions will serve in that capacity for a minimum of 3 years. Many will be focused on the larger military installations, such as Fort Bragg, North Carolina and Fort Hood, Texas, where there are large concentrations of Soldiers. For example, at Fort Hood, the largest military installation in the Armed Forces, there are approximately 53,000 Soldiers stationed there.
Other measures that the Army is putting into place, are the hiring of an additional 30 special investigators for the Army's Criminal Investigation Division. These 30 new agents will be assigned at 22 of the Army's largest installations. Their primary focus will be to assist the Army's CID agents in investigating the crime of sexual assault. According to Brig. Gen. Rodney Johnson, those new agents would provide insight into how civilian juries look at sexual assault cases and what kinds of evidence is needed to successfully prosecute a sexual assault crime. Those investigators would also be able to look at statistical data to identify sexual predators, as well as to get information on victim behaviors to aid in the investigative process. There will also be 7 highly qualified experts coming on board to assist in training and provide other assistance to the CID investigators.
"We at CID already have highly skilled agents investigating these crimes," Johnson said. "But bringing the civilian expertise onboard will simply be a valuable tool to glean insight and a fresh perspective in many areas. Our special agents and supervisors will be working shoulder to shoulder with those highly qualified experts on our most challenging and complex cases."2
Mrs. Collins mentioned a pilot program that the Army has started, where improvisational actors from Catharsis Productions are brought in to provide training. This new approach is called "Sex Signals." The two pilot sites were Fort Hood, Texas and Fort Bragg, N.C. Each production lasts about 90 minutes, during which time the actors will act out various "dating' type scenarios. The audience is very involved in the interactive training and walk away with a much different view on what may or may not be considered sexual assault. The production was so effective at Fort Hood, that the Fort Hood and III Corps Commander, Lt. Gen Rick Lynch has arranged for actors to come to Fort Hood each week to present the program to incoming Soldiers at Fort Hood. The program addresses different situations that a person might become involved in while dating and how it can easily turn from a consensual encounter to one of sexual assault. To further increase awareness about the problem of sexual assault in the Army, commanders will be receiving sexual assault prevention kits. Those kits are composed of DVDs, posters and other relevant information that can be distributed to their Soldiers.
With all of the new initiatives that are forthcoming, it's hoped that sexual assault in the Army will dramatically decrease and eventually be totally eliminated. While that may seem like lofty and unreachable goals, it tells me that the Army is very serious about doing everything possible to eradicate this horrific crime from within its ranks. I'm excited about how proactive the Army is being when it comes to Sexual Assaults and my hope is that the other branches of the military will also be as proactive.
http://www.army.mil/-news/2009/01/27/16130-army-striving-to–decrease-sexual-assault-increase-reporting/ [↩]
http://www.army.mil/-news/2009/01/27/16130-army-striving-to–decrease-sexual-assault-increase-reporting/ [↩]