A week or so ago, I wrote this article on the new album by the band Queensryche. An album that tells the story of the American fighting men and women, aptly titled American Soldier. I told you that I was working on setting up an interview with the band and if I was able to arrange it, I would write a follow-up article based on the interview. While I wasn't able to interview the entire band, Queensryche front man Geoff Tate did take some time out of his day on March 31st, the release date of American Soldier to speak with me on the phone about the album, and what inspired the band to delve in a new direction.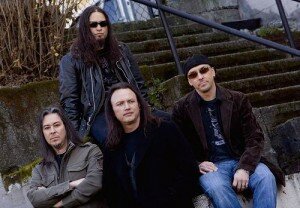 Queensryche is known for their concept or theme albums, where all songs on the album remain with a central theme. This album is no different, remaining in true Queensryche form a concept album, with one notable difference. Past albums have told the story of the bands experiences, in their words, their thoughts and their feelings. American Soldier is different, with the band telling the story of American Soldiers in combat from the perspective on the American Soldier themselves. I wanted to find out what inspired the band to go in this direction and why they chose American servicemembers as their topic.
When Geoff called me, I let him know that because I was talking to him, that I officially suck. He got a kick out of that and asked why that was. I told him that my fiancée Marty and my oldest son Corey are huge fans of Queensryche. While I've listened to some of their music over the years, I tend to gravitate towards things like Lynyrd Skynyrd and some of the classic rock bands I grew up listening to. When I told Marty and Corey that I was going to be conducting an interview with Geoff, they both immediately told me that I sucked. Ahhhhh, such is life!
Because this was a bit different for Queensryche, I asked Geoff how idea for American Soldier came about. Geoff shared that his father is a veteran of the military, having served in Vietnam and Korea. His father had never talked about his experiences before. One day he did, and Geoff was so moved that he video taped the conversation. That conversation sparked the idea for American Soldier.
"He never wanted to talk about his experiences. Whenever I asked him about it through the years, he would just say that it was something I didn't want to hear about. I thought he just wasn't comfortable talking about it". Geoff shared that his father had retired to Oklahoma, where he's currently busy building a home with his own two hands. "During the summer of 2006, while I was visiting my dad in Oklahoma and we were sitting on his porch drinking tea. Out of the blue, he started talking about his experiences. I got to know him in a way that I've never known him before."
Geoff shared that his dad retired from the military, so I asked him what branch his father served in. Geoff shared that his dad was in the Marines during the Korean War. He was injured in Korea and spent approximately 9 months recovering from his injuries. After the Korean War, Geoff's dad enlisted in the Air Force, where he served for 20 years. Born in Germany, Geoff grew up a military brat and thus traveled in several states, before the family finally settled in Washington state, where his father retired.
Growing up a military brat, Geoff stated that while his upbringing was strict and disciplined, his father taught him to never be afraid of hard work and to follow through with your word. According to Geoff, Perry Tate, was a good dad and always encouraged his children to follow their own path in life. For Geoff, military service never crossed his mind, instead, music had been a part of his life from a very young age and his father encouraged him to excel in his chosen path and has supported him as he's followed his chosen career of music. Geoff shared that he tries to use his dad's philosophies in raising his 4 daughters. I asked if any of the other band members were military brats or had served themselves.
"None of them have served and none had family members in the military. I'm the only one."
Once the idea of American Soldier was born, Geoff started on a journey that would be a very rewarding one for him. Interviewing close to 350 Soldiers and Veterans, spanning a time period from World War II Veterans to Soldiers currently serving, he was able to get a peek into the thoughts and feelings of the men and women who serve in the military. Not only did those stories touch Geoff, but when he played the interviews for the rest of the band to introduce his idea to them, they all walked away very moved. Within a few days of seeing the videotaped interviews, the band met again, with each of them sharing ideas they had for songs, based on the interviews. Geoff shared one thing that he learned about our Troops through the interviews he conducted. To further show their appreciation for our Troops and the sacrifices they make, Queensryche is working with National Military Family Association, which is a non-profit organization that is dedicated to providing assistance to military members and their family. Geoff explained that on their website, listeners can purchase specific merchandise and the band will make a donation to National Military Family Association. That's fantastic and yet another way that Geoff and the band can make a difference for our Troops!
I asked Geoff if the band has had the opportunity to perform for the Troops in Iraq and Afghanistan. Up to this point, they have not, however, he's hoping that they'll be able to do so, with their upcoming tour, which encompasses touring 28 countries. The tour kicks off on April 16th in Seattle. The hopes are that they'll be able to visit military installations around the world as the tour progresses. Good news for those of you in the Fort Hood area, Queensryche will be making a special stop at the Fort Hood Clear Creek PX on Monday May 25th at 4pm, after shows in San Antonio and Dallas. If you're in Fort Hood, stop by and say hi to Geoff and the band. I'll be there for sure!
Geoff shared that after the album was completed, a process that lasted from the summer of 2006 to January 2009, the album was played for some of the Soldiers who Geoff interviewed. Their reaction is one that will likely stick with Geoff for a long time.
"It was a very amazing experience. A very emotional one for the Soldiers and many of them had tears in their eyes. For them, coming back home and the extremes they experience, is very hard. Soldiers feel really alone with their life. What they think and what they do. They feel that most Americans don't really understand them or understand what they go through. With this album we hope that our listeners will be able, to for an hour, walk in their boots. I learned that our Soldiers are very thoughtful about their reasons for serving. All of them have an innate sense of duty, service to country and honor."
Throughout the album, American Soldier, you'll hear the voices of some of the Soldiers that Geoff interviewed, including his dad. On some tracks, you'll hear the vocals of some of the Soldiers as well. I wondered what reaction Geoff had gotten from his dad, towards the album. Geoff said he'd sent the album to his dad and spoke with him on the phone a short time later.
"He told me, you know you've been waiting for me to talk about the war for 40 years now and then when I did, you only used 19 seconds of the interview."
I hope that I was able to convey to Geoff, the depth of my appreciation for Queensryche's undertaking of this project, this tribute to the Troops. I know I told him so several times during the almost hour that we spoke on the phone. As we ended our conversation, I asked what message Queensryche hoped to send with American Soldier.
"For the Troops, this album gives the listeners the chance to walk in their boots – to see their perspective. I hope that it will spark a dialog between people and our Troops. Through this album, I'm hoping that they'll definitely get into contact with each other. So many of us, me included, take for granted what we have. We don't think about the men and women who make that possible or how many of them have sacrificed for us, to allow us to live like we want in this country. We don't think about the fact that they're willing to sacrifice their lives for people they've never met. I'm hoping this will help to open those lines of communication."
(Photos and video from the Official Queensryche website)
What does the rock band Queensryche and the US Military have in common? If you're not a fan of Queensryche or perhaps even if you are, you'd probably say not a thing. But that couldn't be further from the truth. Queensryche is an American Heavy Metal band that was formed in 1981 in Bellevue, Washington. The band is comprised of the following members, lead vocalist Geoff Tate, Michael Wilton lead and rhythm guitars and backing vocals, Eddie Jackson, bass guitar and backing vocals, Scott Rockenfield drums, percussion and keyboards and Parker Lundgren on guitar.1
Their newest album is a special album for the band and one that is in honor of the American Soldier and one that is completely different from what Queensryche usually produces. In the past, the majority of their music has been based on personal experiences of the band members. For this album, lead singer Geoff Tate actually interviewed Soldiers, to provide basis for the lyrics of the songs on American Soldier. Queensryche's album, American Soldier will tell their stories and you'll actually be able to hear some of their voices, on the album, as they talk to Tate. Visit the band's website and find out how you can support our Troops by purchasing American Soldier. I'll include a link at the end of this post.
Queensrÿche, Rhino Entertainment and JamsBio.com have joined together in a special project honoring the AMERICAN SOLDIER. Whether you're an active duty soldier, a reservist, a veteran or a loved one, help us celebrate the strength and courage of those who serve our country by sharing (1) stories of service and sacrifice, (2) song dedications to military personnel at home and abroad, and (3) your list of top-5 songs related to war and life on the frontlines.

You can now enjoy early access to HONORING THE AMERICAN SOLDIER. As an important member of the military or metal community, we're letting you know first about this exciting opportunity for your community to contribute to this unique project and pay tribute to our servicemen and woman by sharing music memories, song dedications and top-5 lists.

JamsBio.com is already host to dozens of touching memories and dedications to soldiers, from servicemen and women and their loved ones about service, sacrifice, life on the frontlines and home front. Here are just a few:

My Soldier, a memory from armywife704 of Fort Bragg, NC
My Brother Comes Home, a memory from kwalz of Kansas City, MO
Radar Love, a memory from wedge of Redmond, WA
3-9-66, a dedication from Dave030966 of Inverness, FL
Far Away in Korea, a dedication from lovelogan of Olney, IL
Songs about Soldiers & Service, a JamsBio user-generated top-5 list
Songs about Freedom, a JamsBio user-generated top-5 list
The project officially kicks off on March 31st and will run for two weeks. At that time, we'll be adding exclusive multimedia editorial tributes, including videos on the making of Queensryche's epic concept album, American Soldier, featuring voices from actual soldiers interviewed by lead singer Geoff Tate.

Take a sneak peek and add your tribute now at JamsBio. Then help us spread the word about HONORING THE AMERICAN SOLDIER by:

Informing your community about this special tribute by posting an image, writing an article, blog post or through an email inviting them to contribute,
Forwarding to any active military, veterans or others who will be interested, and
Emailing us with any suggestions at !
About JamsBio

JamsBio offers a rich platform on top of a database of over 4 million songs to share your memories of music; review albums, songs and concerts; dedicate music to that special someone; create and debate Top-5 music lists; play games to test your knowledge of music; and keep a pulse on the world of music through our Magazine's original columns, podcasts, and news articles from our contributors around the globe. Already the site has hundreds of thousands of posts, lists and games played by people sharing great music and profound life experiences that we can all relate to.

JamsBio is a property of Mouth Watering Media, LLC.2
Singer Geoff Tate recently wrote an editorial, that was featured on Military.com . In the article, he explains his motivation behind the album American Soldier and his dedication to telling their story through the band's music. I'm currently trying to see if I can arrange an interview with Geoff Tate via telephone. If I'm able to do so, I'll make sure and provide a follow-up to this story. I'd like to share what Geoff had to say.
Over the last few tumultuous years, things have become very political. War brings that out. People agree and disagree, and we Americans find it comfortable to debate politics with clever bumper stickers. One sticker slogan that pushed my buttons was one that declared, "I support our troops!" For months I asked myself what it meant. Was I missing something? Wasn't this statement obvious? Isn't this one thing that most of us can agree on?

The more I thought about it the more I thought of my own meanings for this ambiguous statement. Of course I support our troops … or do I? What is it that I do support? What do I even know about our troops? Even though I was raised in a military family I had never been a Soldier and I've certainly never been in combat.

I felt compelled to understand what a Soldier is. Just what is the soldier's perspective? What does the Soldier experience before, during and after war. The only way to do this was to ask them and to listen to what they had to say.

I started by asking my dad who is a veteran of Korea and Vietnam about his experiences. This was new territory for us as we had never talked about such things and as he spoke about the challenges that he had faced as a young man I began to understand him differently and see how he became the person he had become. As we were talking, I grabbed my video camera and filmed our time together so I could share his thoughts with my wife and children.

After seeing the taped conversation with my dad, my wife said, "You need to write a song about this. You need to share this with other people." As we spoke further about it we both realized that with more interviews with more Soldiers from different conflicts, we might then begin to understand the meaning of supporting the troops.

I didn't realize the depth of the journey I would take and how much I would learn. Throughout hundreds of hours of conversations with soldiers from WWII to the present conflict in Iraq, I found myself humbled and awed by their dedication, loyalty and supreme willingness to give everything and anything for our way of life. They lay their lives on the line and live through things that most of us can't even imagine. They stand in the "Gap" so that the rest of us can live our lives and pursue our dreams. We sleep easy because they are watching our backs.

As one of the Soldiers states in the opening line of the song "Unafraid" on Queensryche's new album, "People sometimes lose the vision of where it all came from … they're living in the laps of luxury in a country that was built on over three and half million deaths. "Our military men and women make sacrifices, and I for one never stopped to realize just how enormous these sacrifices are. I took it all for granted.

"How can you know me until you've walked in my boots?" This is a very old saying and I think a very appropriate description of this album of music. These are Soldier's stories, their words and even their voices. This hour of music is a walk in a Soldier's boots.

As you listen to the record and hear these songs and stories, I hope you will be moved. I urge you to not stop there but to talk to the people in your life, the people you know that have served our country. Ask them to share their stories. Then thank them.

Sound Off…What do you think? Join the discussion.

Copyright 2009 Geoff Tate. All opinions expressed in this article are the author's and do not necessarily reflect those of Military.com3
Take some time and visit Queensryche's website. Listen to the songs, participate in the discussions, and read what you can do to be a part of donating to the National Military Family Association. Portions of album proceeds will be donated to the above charity, to help military members and their family members. My hats off to Geoff Tate and Queensryche, who have put their money where their mouth is. Their actions speak volumes!!! Thank You for what you're doing to support our Troops!
National Military Family Association
http://en.wikipedia.org/wiki/Queensr%C3%BFche [↩]
http://www.queensryche.com/2009/03/17/honoring-the-american-soldier/ [↩]
http://www.military.com/opinion/0,15202,187049,00.html?wh=news [↩]
USO Artists Continue To "Rock The Troops"
They're used to playing in front of huge crowds in sold-out arenas around the world. They're used to their every whim being catered to, at those performances. They're used to hearing just about anything at one of their shows, except for this warning….
"In case of a rocket attack, let's do what we always do – hit the ground and count to 100," Army Brig. Gen. John Nicholson, deputy commanding general for stability at Regional Command South, told the audience here. "If it continues, the performers will leave, and you will leave to take shelter. But when the all-clear sounds, they will come back and you will come back, and they'll pick up where they left off."1
That warning was given prior to the latest Joint Chiefs of Staff USO Holiday Tour show in Kandahar, Afghanistan, prior to performances by Kid Rock, Kellie Pickler, Lewis Black, Tichina Arnold, Zac Brown, Kathleen Madigan and John Bowman. They didn't join the USO Tour for fortune or fame, but instead to show their appreciation for our Troops and the job they're doing. Some of the artists, such as Kid Rock, have participated in USO tours in the past. Kid Rock made it a point to let the Troops know that as long as they're out there on the front lines, they can count on him to come back and entertain them.2
I'm always impressed when performers such as Kid Rock, Ted Nugent, Toby Keith and others, make it a point to take part in the USO Tours and entertain our Troops, when they could just as easily and a lot more comfortably, tour back home, where they'd be a lot more comfortable, a lot safer and make a hell of a lot more money. But they don't do it for any of that. Instead, they join these tours to entertain our deployed Troops, out of a sense of responsibility to these brave men and women, as they're way of saying "Thanks for all you do for our Country." It's a shame that more performers don't make it a point to give back just a little bit to our Troops, by touring with the USO shows. Hats off to Kid Rock,
Kellie Pickler, Lewis Black, Tichina Arnold, Zac Brown, Kathleen Madigan and John Bowman, for taking time away from their families, and away from the comforts of home, to entertain our Troops.
http://www.defenselink.mil/news/newsarticle.aspx?id=52376 [↩]
http://www.defenselink.mil/news/newsarticle.aspx?id=52376 [↩]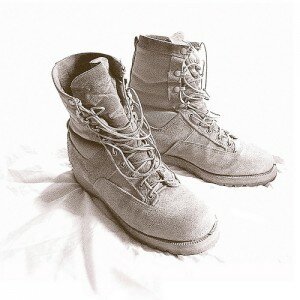 Here at A Soldier's Mind, we've tried to make sure our readers were able to read the stories of our Troops. Be it the stories of heroic actions that our Troops have taken in the combat zone, to struggles they've faced when they've returned home from combat. We've attempted to keep our Troops abreast of the many accomplishments our Troops have made in the places they're deployed, as well as the many things they've accomplished here at home. The media, unfortunately has made our Troops out to be robotic-like individuals, who do nothing but follow what they often term "illegal orders" and have no mind of their own. Because of that, we've tried very hard to tell our Troops stories, to show the people who chose to wear our country's uniform in a much more accurate light than they're usually portrayed in the media.
Yesterday, I stumbled across a website of documentaries that are streamed online, that portray our Troops, in their own words. These documentary clips are in their own words, told by the servicemember who is being portrayed. Their stories are very real. Stories that everyone in our country should make it a point to hear. The stories being told aren't always pretty, but I promise you, they're very real. The stories will make you really think about some of the issues that our Troops face, when they go to combat and then return home. How the experiences they face in combat, can change how they interact with the world, with their family and friends. You'll also hear the stories from family members who've had to cope with some of the challenges that come with war.
Will these stories, these true stories change the way you look at our Troops? Will these stories change the way you feel about our Troops being sent into combat in Afghanistan and Iraq? Will these stories change the way you interact with our Troops? Those are questions I can't answer, but I can tell you that these stories should provide you with a much better understanding of the issues that face these brave warriors, their families and their friends.
When I first heard about this website, I was a bit hesitant, because of the background of the group that is behind the project. However, I decided that it was worth checking into and I was quite impressed. The stories told aren't done in a judgmental way. They're apolitical in nature, which was a condition of the grant that the Brave New Foundation received from the financial backer of this project, the Iraq Afghanistan Deployment Impact Fund.1
I urge you, to take the time to visit the In Their Boots website and view the documentaries that are there. The films are relatively short, lasting around 20 minutes, but compelling and a look at our returning Troops that is rarely seen in most projects that have been in the media thus far. I really think you'll walk away with a much better understanding and appreciation for our Troops and what they deal with, both downrange and when they return home.
http://www.armytimes.com/news/2008/11/ap_documentary_111908/ [↩]
We're all well aware of the impact that the wars in Afghanistan and Iraq have had on our Troops and their families, the difficulties those wars have caused, as fathers and mothers, sons and daughters go off to war, multiple times and leave their loved ones behind. We're aware of the scores of wounded as a results of these wars, as well as the number of young men and women, who's lives have been lost in the fight against terrorism in those two countries.
Tonight on HBO at 9pm Eastern time, the premiere of Section 60: Arlington National Cemetery will air. Section 60, is the section of Arlington National Cemetery, that is the final resting place of hundreds of men and women who have lost their lives in Afghanistan and Iraq. The focus of the film is not as much the men and women who have been buried there, but instead their family members and loved ones who've been left behind.1
On Sunday night, those family members were honored guests at the US Navy Memorial in Washington DC for a private screening of the film, which lasts an hour. Following the private screening, one family member called for a round of applause for the film makers. That drew a sustained standing ovation. The film was produced by the same team of people that produced the documentary "Baghdad ER," and they've worked hard to take a noncommercial focus on the cemetery plot and the family members they've left behind. The film takes the viewer from one mourner to another, providing them with a view of very private moments in the lives of the people who are portrayed.
"I doubt it will be particularly popular," said Mary Neiberger, whose son Army SPC Christopher Neiberger, was killed in Baghdad on August 5, 2007. Neiberger said the film was well done, but added, "It's too close to real … and I don't think many people feel very comfortable or very entertained by that."2
The film makers are well aware of the impact the film may have, both positive and negative, but feel that it's a story that needs to be told. It's a story that is often overlooked, especially in the political arena, when the deaths of our Troops are reduced to mere numbers to make political points, without concern about the lives of the fallen warriors or the lives of those left behind.
"It was very powerful," said Laura Cowherd, whose brother Leonard, and Army second Lieutenant, was killed May 16, 2004 in Karbala, Iraq. "Sort of what we go through every day. The tears. The emotion. I think they did a good job."3
The film strives to remind the viewer, that the lives of those left behind, go on, regardless of the gaping hole that is caused by the death of their loved one. There are still young children to raise, jobs to go to every day. They continue to live life. The film emphasizes the struggle the families have as they have to continue their lives.
Knowing the calibre of men and women who serve in the armed forces of this country, I also know the calibre of the men and women whose lives have been affected by their loss, the strength and tenacity it takes to go on after such a devastating loss. This is just a small way that the films producers can take the time to remind America that their families are still out there, still mourning and yet, still living their lives. Take some time to watch this film this evening. I think it will open a lot of eyes to the lives of military families who've lost their loved one in service to our country.
http://www.armytimes.com/news/2008/10/military_section60film_101308/ [↩]
http://www.armytimes.com/news/2008/10/military_section60film_101308/ [↩]
http://www.armytimes.com/news/2008/10/military_section60film_101308/ [↩]
This panel was moderated by Greyhawk of Mudville Gazette. Bloggers on the panel were JP of Milblogging.com, Troy of Bouhammer.com, Toby Nunn of Toby Nunn's Briefing Room, and Christian Lowe of Defense Tech. All members of the panel are military except for Christian, who has served as an embedded reporter three times.
Christian said when the GWOT began, he just wanted to get over there. It was the biggest story in history and he wanted to be a part of it. He shared his frustration when he wasn't chosen for one of the first embed slots. Now that's he's been able to experience the GWOT as an embedded reporter, he tries to get back at least once a year. Luckily he says, technology has opened up a lot more opportunities for anyone to be a journalist with a little bit of time, technology and experience. He shared that the DoD is currently looking at opening up embed reporting slots for bloggers, but that he believed there was still a law that states you have to be backed by some type of media corporation to do so.
Matt Burden of Blackfive interjected that they'd been able to embed bloggers for the past year. This was confirmed by a DoD PAO representative who was present at the conference. He stated that the biggest stumbling blocks for bloggers to embed would be the liability. He went on to say that credentialling used to be a problem a few years ago, but that's no longer the case.
Toby spoke of an incident, to illustrate the often twisted version of events that the media often portrays, that occurred on Bad Voodoo Platoon's most recent deployment, where they were convoy security, when an IED detonated near the convoy. Instead of hitting the convoy, the IED struck a bus full of women and children. He shared how a Washington Post report came out that they had attacked the bus and how the Milblogging community rallied and corrected the story, basically doing the reporting for Washington Post, by getting the REAL story out there. He shared the frustration of reading about an incident you are involved in, where the media completely twists the story to suit their agendas. (We see that often) Troy stressed the importance of Milbloggers reporting from the combat zone, of making sure that their posts don't violate OPSEC.
Toby and JP both stated that they had a great experience and that their leadership was very supportive of their blogging and filming their missions for PBS, which resulted in the special entitled Bad Voodoo's War. Toby did stress however, that there always was a lot of pressure to make sure you're on the right side of the deal.
Christian stated that as a civilian, he was never censored or pressured into not printing something. He stated that he had his own arbitrary ground rules and the only censorship was his own. He did state that some units he embedded with wanted to read his stuff prior to it being publish. He stated that if he couldn't change the mindset, he generally moved on. The military members of the panel stated that often they censored themselves due to the fact that they knew their friends and family members would be reading what they wrote. Christian stated that he never thought of the effect of what he reported might affect the family members of the Soldiers involved or even that they might read it, when he initially was embedded. However he stated that he began self-censoring when he realized this, especially how he described the other people he interacted with.
All on the panel agreed that reporting from the front lines, provided the American Public and the world at large, with the opportunity to see first hand what was occurring, instead of relying on the media, who often wasn't at the scene and often reported skewed versions of what occurred.
This panel is being hosted by Jack Holt, Office of the Assistant Secretary of Defense. Opening remarks were given by General Cartwright, Vice Chairman, Joint Chiefs of Staff. The live roundtable then started with Pete Geren, Secretary of the Army speaking to the bloggers and then taking questions from the audience.
Secretary Geren stated that in the Army they look at the milbloggers and other forms of new media as opportunities to get information to the public. Secretary Geren was asked how his internet media savvy was. He stated that he uses the internet frequently for research and other things. He stated that until a couple of years ago, he wasn't very aware of the blog, until Dan Rather publically attempted to tear down President Bush and his National Guard service and how the ohas continued to adapt new media to their mission, such as MySpace, YouTube and Facebook. He stated that his interest in the new media forms was spawned, not from frustration with traditional media, but more so because of the fact that the informational technology has so expanded in the past few years. He sees "new media" as a way to reach many more people, especially those that they might not reach through more traditional means. Secretary Geren stated that he feels Blogs and new media helps the Army to share their message with those they wish to reach.
John Donovan of Castle Argghhh! asked Secretary Geren how to some of the O5's and O6's. He stated that he feels part of this may be a generational issue and that it may just take time to get these officers to accept and by into the new media. He did share that he has encouraged the spouses of sizingome of these officers to blog and share their experiences with younger spouses and that many of them really loved the experience. Secretery Geren shared that we definately need to get away from discouraging the members of the Army to tell the Army story, but instead encourage them to tell that story. He said that the Army has no greater embassadors, than Soldiers themselves. The next speaker, was the new Chief of Public Affairs General Bergner. He thanks the bloggers for their input and shared how important the milblog community was to helping the Army move into a realm that isn't the most comfortable with, yet is very important that the Army continues to do. CJ from A Soldier's Perspective asked the General if, because of the Army's stance that milblogging is now becoming an important part of the new Army atmosphere, would they Army leadership considering creating a "greatest volunteer blogger" award. General Bergner stated that one thing he'd always been said as a leader, was that you always listen to what your 1SG has to say.
Troy from Bouhammer.com asked if, now that the Army is recognizing the importance of new media, does the Army plan to point the general public towards blogs, using their media sources. Secretary Geren stated that he had honestly never thought of that, as he was under the impression that many people, especially in the younger generation, that many of them are replacing the television as their primary news source, with the internet.
This Bloggers Roundtable was very informative and we were able to hear what Senior Leaders felt about Milblogging and how they felt it was helpful to the military mission.
A look at how the MilBlogging Community Was Born. How MilBlogs have given a voice to supporters, parents and spouses of service members. Members of this panel are Melinda of Spouse Buzz, Beth of Soldier's Angels and Fuzzilicious Thinking, Mrs. Greyhawk of Mudville Gazette, Karen of Parents Zone and Proud Liberal Army Wife and Sarah of SpouseBuzz and Trying to Grok.
As with the first panels, the panelists emphasized about how they often will write about things that they might not talk about to their friends, families, spouses and neighbors. Beth shared about Valor IT project and how it being a project of Soldiers Angels, and how the blogs have been able to reach beyond the milblog world to the general public to raise money for providing laptop computers to wounded warriors who are hospitalized.
Karen of Parents Zone shared how it different it is for an Army Wife to send her spouse off on deployment, then it is for them to send their child off to war. She stressed how the feelings of a parent are often much difference from spouses in regards to the emotions they go through, as well the fact that they're often not involved with the informational and support circle in the military for spouses. Often the parents are a "forgotten" part of the military family and they often feel left out and unimportant. Her hopes are with Parents Zone are to provide a supportive community for parents of military members and provide a place where they can obtain information about the military. Often military parents may not have ever had exposure to the military, so they have many questions and experience much confusion, because they often are left out of "the loop."
Mrs. Greyhawk shared about Dawn Patrol and how she utilizes that to highlight relevant information from the Troops downrange, as well the military community and sometimes even the mainstream media that might be relevant to the MilBlog community.
Audience memberss were asked to contribute their ideas and suggestions for what they would like to see in the milblog community. One audience member asked what plans there are to extend the support to the veteran community. Panel members share that they feel veterans are still welcomed in the milblog community and that there are numerous organizations and blogs out there still connect and support the veterans and consider them a part of the community. Beth shared how Soldiers Angels are looking at the long term aspect and how the veterans and their needs can be long term and how that support can continue for those veterans who still need that support. One lady in the audience who identified herself as a civilian with no military exposure, she identified that her reason for reading the military blogs, are so she can find out what needs the needs are and what kinds of things she as a citizen can do to support the Troops.
Good Morning! The MilBlog conference is currently underway. Our adventure actually got underway last evening with a pre-milblog conference hosted by the Black Five gang at the Penthouse Club. I'm sure, that many other bloggers will have video up soon, of that adventure. :-)
The conference got underway about 30 minutes ago with an opening welcome from General Caldwell, who encouraged MilBloggers to continue doing what they're doing. Addressing the first panel topic, "Are Milblogs Still Relevant?," General Caldwell stated emphatically that most definately, he feels that they are.
Opening remarks were from Milblogging.com's very own JP Borda. Opening the first panel, was Ward Carroll, editor of Military.com. Panel members include Matt Burden of Blackfive, Phil Carter of Intel Dump, CJ Grisham of A Soldier's Perspecteive and Greyhawk of Mudville Gazette. Following each panel membher introducing themselves, the question was addressed. All clearly spoke about the necessity to get the stories and messages about what our Troops are dealing with, what they're doing in Afghanistan and Iraq to the broader public, since only about 1% of the American public serve in the military and experience wars and the things our military experience when they go to war. Each panel member had difference reasons for beginning to blog Matt spoke about how, as long as he can continue to help others, such as a Wounded Warrior like Sergio Perez, and make an impact in their lives, then blogging remains relevant to him. An audience member asked how "we" as a community, can organize to in fact create an organized community of support for the Troops and how to have a more organized, centralized resource to help each other, in other areas of the country. CJ addressed that not only are these "community" outreach and support enabled through blogs, but also a vehicle for bloggers to help each other through some of their issues by what they read on other blogs.
Stay tuned for more, as we get ready to begin the second panel.
Those words are ones that filmmaker Larry Cappetto has heard over and over again in the 600 plus interviews that he has conducted with US military veterans over the past 6 years. Cappetto is in the process of documenting the words of war veterans for his "Lest They Be Forgotten" series.
Cappetto has traveled around the United States, documenting the stories of World War II, Korea, Vietnam and Iraq veterans for the documentary. On September 11th and 12th, he plans to be at the Hall-Wynne Funeral Service in Durham, N.C. to record even more stories of veterans. While Mr. Cappetto himself is not a veteran, his family has a history of military service. His father and uncle were both in the military. Six years ago, he began the project by interviewing veterans of World War II. To him, the project is a labor of love.
Mr. Cappetto has filmed other documentaries, such as the story of Loyd Lewis, who was a rifleman in the 4th Marine Division. In that documentary, Lewis described his experiences at Iwo Jima. At the time, Lewis's brother Boyd was serving as well, almost literally beside him. Loyd survived, Boyd did not. In the film, Loyd speaks about gathering pieces of his brother's body. As he speaks, he does so with tears in his eyes.
Cappetto also created a documentary about the Korean War. Veterans of that war speak of how much the American flag, the symbol of our country, means to them. Others recall things such as the severely cold winters during the war. In his documentary about the Vietnam war, one veteran describes himself, as a then 21 year old lieutenant, writing letters to the loved one of his men who were killed during the war.
Cappetto is a very patriotic man. He flies the American flag daily outside of his home in Colorado. He often thinks about the veterans he's encountered. He thinks about the World War II veterans, how they're slowly dying, at an average of about more than 1,000 each day. Cappetto is very thankful for the veterans he's met with and the reception that they've given him. He considers it an honor. On his website, he displays portraits of veterans, as well as photographs of more recent veterans. I'll include a link to his website at the end of the story.
"I want to tell their stories. There have been some amazing stories, some telling me things they never told the4ir family members," he said. "I feel like a guardian for their history. When these veterans die, they have a legacy for their families."

"The documentaries are a thank you to the veterans for what they've done," Cappetto said. "When they get recognition, it makes me happy and proud."1
This will be the first time that Cappetto has made a trip to North Carolina. He's looking forward to meeting the veterans and being able to visit with them and hear their stories. Following his trip to North Carolina, he has scheduled a trip to Ohio to attend a Battle of the Bulge reunion.
"It's brought out in me a greater respect for all veterans and the freedoms we have in this country," he said.2
If you're a veteran and are interested in being interviewed by Larry Cappetto, you can call him at (970)254-9262 or you may email him at . Please be aware that the interviews will take approximately 1 hour. If you'd like to order a copy of the documentaries he's made, please visit the website, and do so there.3
This is a fantastic project. One that will enable the stories of our veterans, to live on for many years after they're gone. I wish something like this was available when my grandfather was alive, or my great-grandfather … both veterans of World War I and the Civil War respectively. These are definitely documentaries that I will be obtaining copies of and will probably review later here.
http://www.military.com/news/article/filmmaker-calling-all-war-vets?col=1186032310810 [↩]
http://www.military.com/news/article/filmmaker-calling-all-war-vets?col=1186032310810 [↩]
http://www.military.com/news/article/filmmaker-calling-all-war-vets?col=1186032310810 [↩]