A week or so ago, I wrote this article on the new album by the band Queensryche. An album that tells the story of the American fighting men and women, aptly titled American Soldier. I told you that I was working on setting up an interview with the band and if I was able to arrange it, I would write a follow-up article based on the interview. While I wasn't able to interview the entire band, Queensryche front man Geoff Tate did take some time out of his day on March 31st, the release date of American Soldier to speak with me on the phone about the album, and what inspired the band to delve in a new direction.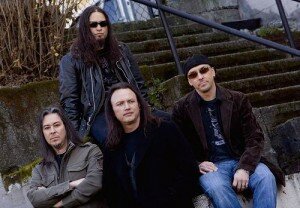 Queensryche is known for their concept or theme albums, where all songs on the album remain with a central theme. This album is no different, remaining in true Queensryche form a concept album, with one notable difference. Past albums have told the story of the bands experiences, in their words, their thoughts and their feelings. American Soldier is different, with the band telling the story of American Soldiers in combat from the perspective on the American Soldier themselves. I wanted to find out what inspired the band to go in this direction and why they chose American servicemembers as their topic.
When Geoff called me, I let him know that because I was talking to him, that I officially suck. He got a kick out of that and asked why that was. I told him that my fiancée Marty and my oldest son Corey are huge fans of Queensryche. While I've listened to some of their music over the years, I tend to gravitate towards things like Lynyrd Skynyrd and some of the classic rock bands I grew up listening to. When I told Marty and Corey that I was going to be conducting an interview with Geoff, they both immediately told me that I sucked. Ahhhhh, such is life!
Because this was a bit different for Queensryche, I asked Geoff how idea for American Soldier came about. Geoff shared that his father is a veteran of the military, having served in Vietnam and Korea. His father had never talked about his experiences before. One day he did, and Geoff was so moved that he video taped the conversation. That conversation sparked the idea for American Soldier.
"He never wanted to talk about his experiences. Whenever I asked him about it through the years, he would just say that it was something I didn't want to hear about. I thought he just wasn't comfortable talking about it". Geoff shared that his father had retired to Oklahoma, where he's currently busy building a home with his own two hands. "During the summer of 2006, while I was visiting my dad in Oklahoma and we were sitting on his porch drinking tea. Out of the blue, he started talking about his experiences. I got to know him in a way that I've never known him before."
Geoff shared that his dad retired from the military, so I asked him what branch his father served in. Geoff shared that his dad was in the Marines during the Korean War. He was injured in Korea and spent approximately 9 months recovering from his injuries. After the Korean War, Geoff's dad enlisted in the Air Force, where he served for 20 years. Born in Germany, Geoff grew up a military brat and thus traveled in several states, before the family finally settled in Washington state, where his father retired.
Growing up a military brat, Geoff stated that while his upbringing was strict and disciplined, his father taught him to never be afraid of hard work and to follow through with your word. According to Geoff, Perry Tate, was a good dad and always encouraged his children to follow their own path in life. For Geoff, military service never crossed his mind, instead, music had been a part of his life from a very young age and his father encouraged him to excel in his chosen path and has supported him as he's followed his chosen career of music. Geoff shared that he tries to use his dad's philosophies in raising his 4 daughters. I asked if any of the other band members were military brats or had served themselves.
"None of them have served and none had family members in the military. I'm the only one."
Once the idea of American Soldier was born, Geoff started on a journey that would be a very rewarding one for him. Interviewing close to 350 Soldiers and Veterans, spanning a time period from World War II Veterans to Soldiers currently serving, he was able to get a peek into the thoughts and feelings of the men and women who serve in the military. Not only did those stories touch Geoff, but when he played the interviews for the rest of the band to introduce his idea to them, they all walked away very moved. Within a few days of seeing the videotaped interviews, the band met again, with each of them sharing ideas they had for songs, based on the interviews. Geoff shared one thing that he learned about our Troops through the interviews he conducted. To further show their appreciation for our Troops and the sacrifices they make, Queensryche is working with National Military Family Association, which is a non-profit organization that is dedicated to providing assistance to military members and their family. Geoff explained that on their website, listeners can purchase specific merchandise and the band will make a donation to National Military Family Association. That's fantastic and yet another way that Geoff and the band can make a difference for our Troops!
I asked Geoff if the band has had the opportunity to perform for the Troops in Iraq and Afghanistan. Up to this point, they have not, however, he's hoping that they'll be able to do so, with their upcoming tour, which encompasses touring 28 countries. The tour kicks off on April 16th in Seattle. The hopes are that they'll be able to visit military installations around the world as the tour progresses. Good news for those of you in the Fort Hood area, Queensryche will be making a special stop at the Fort Hood Clear Creek PX on Monday May 25th at 4pm, after shows in San Antonio and Dallas. If you're in Fort Hood, stop by and say hi to Geoff and the band. I'll be there for sure!
Geoff shared that after the album was completed, a process that lasted from the summer of 2006 to January 2009, the album was played for some of the Soldiers who Geoff interviewed. Their reaction is one that will likely stick with Geoff for a long time.
"It was a very amazing experience. A very emotional one for the Soldiers and many of them had tears in their eyes. For them, coming back home and the extremes they experience, is very hard. Soldiers feel really alone with their life. What they think and what they do. They feel that most Americans don't really understand them or understand what they go through. With this album we hope that our listeners will be able, to for an hour, walk in their boots. I learned that our Soldiers are very thoughtful about their reasons for serving. All of them have an innate sense of duty, service to country and honor."
Throughout the album, American Soldier, you'll hear the voices of some of the Soldiers that Geoff interviewed, including his dad. On some tracks, you'll hear the vocals of some of the Soldiers as well. I wondered what reaction Geoff had gotten from his dad, towards the album. Geoff said he'd sent the album to his dad and spoke with him on the phone a short time later.
"He told me, you know you've been waiting for me to talk about the war for 40 years now and then when I did, you only used 19 seconds of the interview."
I hope that I was able to convey to Geoff, the depth of my appreciation for Queensryche's undertaking of this project, this tribute to the Troops. I know I told him so several times during the almost hour that we spoke on the phone. As we ended our conversation, I asked what message Queensryche hoped to send with American Soldier.
"For the Troops, this album gives the listeners the chance to walk in their boots – to see their perspective. I hope that it will spark a dialog between people and our Troops. Through this album, I'm hoping that they'll definitely get into contact with each other. So many of us, me included, take for granted what we have. We don't think about the men and women who make that possible or how many of them have sacrificed for us, to allow us to live like we want in this country. We don't think about the fact that they're willing to sacrifice their lives for people they've never met. I'm hoping this will help to open those lines of communication."
(Photos and video from the Official Queensryche website)
What does the rock band Queensryche and the US Military have in common? If you're not a fan of Queensryche or perhaps even if you are, you'd probably say not a thing. But that couldn't be further from the truth. Queensryche is an American Heavy Metal band that was formed in 1981 in Bellevue, Washington. The band is comprised of the following members, lead vocalist Geoff Tate, Michael Wilton lead and rhythm guitars and backing vocals, Eddie Jackson, bass guitar and backing vocals, Scott Rockenfield drums, percussion and keyboards and Parker Lundgren on guitar.1
Their newest album is a special album for the band and one that is in honor of the American Soldier and one that is completely different from what Queensryche usually produces. In the past, the majority of their music has been based on personal experiences of the band members. For this album, lead singer Geoff Tate actually interviewed Soldiers, to provide basis for the lyrics of the songs on American Soldier. Queensryche's album, American Soldier will tell their stories and you'll actually be able to hear some of their voices, on the album, as they talk to Tate. Visit the band's website and find out how you can support our Troops by purchasing American Soldier. I'll include a link at the end of this post.
Queensrÿche, Rhino Entertainment and JamsBio.com have joined together in a special project honoring the AMERICAN SOLDIER. Whether you're an active duty soldier, a reservist, a veteran or a loved one, help us celebrate the strength and courage of those who serve our country by sharing (1) stories of service and sacrifice, (2) song dedications to military personnel at home and abroad, and (3) your list of top-5 songs related to war and life on the frontlines.

You can now enjoy early access to HONORING THE AMERICAN SOLDIER. As an important member of the military or metal community, we're letting you know first about this exciting opportunity for your community to contribute to this unique project and pay tribute to our servicemen and woman by sharing music memories, song dedications and top-5 lists.

JamsBio.com is already host to dozens of touching memories and dedications to soldiers, from servicemen and women and their loved ones about service, sacrifice, life on the frontlines and home front. Here are just a few:

My Soldier, a memory from armywife704 of Fort Bragg, NC
My Brother Comes Home, a memory from kwalz of Kansas City, MO
Radar Love, a memory from wedge of Redmond, WA
3-9-66, a dedication from Dave030966 of Inverness, FL
Far Away in Korea, a dedication from lovelogan of Olney, IL
Songs about Soldiers & Service, a JamsBio user-generated top-5 list
Songs about Freedom, a JamsBio user-generated top-5 list
The project officially kicks off on March 31st and will run for two weeks. At that time, we'll be adding exclusive multimedia editorial tributes, including videos on the making of Queensryche's epic concept album, American Soldier, featuring voices from actual soldiers interviewed by lead singer Geoff Tate.

Take a sneak peek and add your tribute now at JamsBio. Then help us spread the word about HONORING THE AMERICAN SOLDIER by:

Informing your community about this special tribute by posting an image, writing an article, blog post or through an email inviting them to contribute,
Forwarding to any active military, veterans or others who will be interested, and
Emailing us with any suggestions at !
About JamsBio

JamsBio offers a rich platform on top of a database of over 4 million songs to share your memories of music; review albums, songs and concerts; dedicate music to that special someone; create and debate Top-5 music lists; play games to test your knowledge of music; and keep a pulse on the world of music through our Magazine's original columns, podcasts, and news articles from our contributors around the globe. Already the site has hundreds of thousands of posts, lists and games played by people sharing great music and profound life experiences that we can all relate to.

JamsBio is a property of Mouth Watering Media, LLC.2
Singer Geoff Tate recently wrote an editorial, that was featured on Military.com . In the article, he explains his motivation behind the album American Soldier and his dedication to telling their story through the band's music. I'm currently trying to see if I can arrange an interview with Geoff Tate via telephone. If I'm able to do so, I'll make sure and provide a follow-up to this story. I'd like to share what Geoff had to say.
Over the last few tumultuous years, things have become very political. War brings that out. People agree and disagree, and we Americans find it comfortable to debate politics with clever bumper stickers. One sticker slogan that pushed my buttons was one that declared, "I support our troops!" For months I asked myself what it meant. Was I missing something? Wasn't this statement obvious? Isn't this one thing that most of us can agree on?

The more I thought about it the more I thought of my own meanings for this ambiguous statement. Of course I support our troops … or do I? What is it that I do support? What do I even know about our troops? Even though I was raised in a military family I had never been a Soldier and I've certainly never been in combat.

I felt compelled to understand what a Soldier is. Just what is the soldier's perspective? What does the Soldier experience before, during and after war. The only way to do this was to ask them and to listen to what they had to say.

I started by asking my dad who is a veteran of Korea and Vietnam about his experiences. This was new territory for us as we had never talked about such things and as he spoke about the challenges that he had faced as a young man I began to understand him differently and see how he became the person he had become. As we were talking, I grabbed my video camera and filmed our time together so I could share his thoughts with my wife and children.

After seeing the taped conversation with my dad, my wife said, "You need to write a song about this. You need to share this with other people." As we spoke further about it we both realized that with more interviews with more Soldiers from different conflicts, we might then begin to understand the meaning of supporting the troops.

I didn't realize the depth of the journey I would take and how much I would learn. Throughout hundreds of hours of conversations with soldiers from WWII to the present conflict in Iraq, I found myself humbled and awed by their dedication, loyalty and supreme willingness to give everything and anything for our way of life. They lay their lives on the line and live through things that most of us can't even imagine. They stand in the "Gap" so that the rest of us can live our lives and pursue our dreams. We sleep easy because they are watching our backs.

As one of the Soldiers states in the opening line of the song "Unafraid" on Queensryche's new album, "People sometimes lose the vision of where it all came from … they're living in the laps of luxury in a country that was built on over three and half million deaths. "Our military men and women make sacrifices, and I for one never stopped to realize just how enormous these sacrifices are. I took it all for granted.

"How can you know me until you've walked in my boots?" This is a very old saying and I think a very appropriate description of this album of music. These are Soldier's stories, their words and even their voices. This hour of music is a walk in a Soldier's boots.

As you listen to the record and hear these songs and stories, I hope you will be moved. I urge you to not stop there but to talk to the people in your life, the people you know that have served our country. Ask them to share their stories. Then thank them.

Sound Off…What do you think? Join the discussion.

Copyright 2009 Geoff Tate. All opinions expressed in this article are the author's and do not necessarily reflect those of Military.com3
Take some time and visit Queensryche's website. Listen to the songs, participate in the discussions, and read what you can do to be a part of donating to the National Military Family Association. Portions of album proceeds will be donated to the above charity, to help military members and their family members. My hats off to Geoff Tate and Queensryche, who have put their money where their mouth is. Their actions speak volumes!!! Thank You for what you're doing to support our Troops!
National Military Family Association
http://en.wikipedia.org/wiki/Queensr%C3%BFche [↩]
http://www.queensryche.com/2009/03/17/honoring-the-american-soldier/ [↩]
http://www.military.com/opinion/0,15202,187049,00.html?wh=news [↩]
USO Artists Continue To "Rock The Troops"
They're used to playing in front of huge crowds in sold-out arenas around the world. They're used to their every whim being catered to, at those performances. They're used to hearing just about anything at one of their shows, except for this warning….
"In case of a rocket attack, let's do what we always do – hit the ground and count to 100," Army Brig. Gen. John Nicholson, deputy commanding general for stability at Regional Command South, told the audience here. "If it continues, the performers will leave, and you will leave to take shelter. But when the all-clear sounds, they will come back and you will come back, and they'll pick up where they left off."1
That warning was given prior to the latest Joint Chiefs of Staff USO Holiday Tour show in Kandahar, Afghanistan, prior to performances by Kid Rock, Kellie Pickler, Lewis Black, Tichina Arnold, Zac Brown, Kathleen Madigan and John Bowman. They didn't join the USO Tour for fortune or fame, but instead to show their appreciation for our Troops and the job they're doing. Some of the artists, such as Kid Rock, have participated in USO tours in the past. Kid Rock made it a point to let the Troops know that as long as they're out there on the front lines, they can count on him to come back and entertain them.2
I'm always impressed when performers such as Kid Rock, Ted Nugent, Toby Keith and others, make it a point to take part in the USO Tours and entertain our Troops, when they could just as easily and a lot more comfortably, tour back home, where they'd be a lot more comfortable, a lot safer and make a hell of a lot more money. But they don't do it for any of that. Instead, they join these tours to entertain our deployed Troops, out of a sense of responsibility to these brave men and women, as they're way of saying "Thanks for all you do for our Country." It's a shame that more performers don't make it a point to give back just a little bit to our Troops, by touring with the USO shows. Hats off to Kid Rock,
Kellie Pickler, Lewis Black, Tichina Arnold, Zac Brown, Kathleen Madigan and John Bowman, for taking time away from their families, and away from the comforts of home, to entertain our Troops.
http://www.defenselink.mil/news/newsarticle.aspx?id=52376 [↩]
http://www.defenselink.mil/news/newsarticle.aspx?id=52376 [↩]
[UPDATE] It was brought to my attention that I failed to provide a link to 1223's website, so here it is! 1223 MySpace Site I was also asked to provide a link to Rhino Digital Media's website, so that our reader's can see some of the awesome work they do. That link is right here. Take some time to browse around both of the sites. I think you'll be impressed.
Many of you who have been readers here at A Soldier's Mind, remember the story I wrote about these artists from San Antonio. You can reread that story here. The group 1223 is composed of two really awesome guys. One, Mr. Sylk is a US Army Medic currently stationed at Fort Sam Houston in San Antonio. The other member of the group, John John is Mr. Sylk's childhood friend. Mr. Sylk has recently changed his stage name to Soldier Disciple. These two men together form 1223. Their goal is to provide a positive image of the hip hop culture through their music. They do just that.
Currently 1223 is working on a Military Album. The album is intended to bless Soldier's and Soldier Supporters around the world. The first 250 copies of the album will be donated to Soldier's Angel to distribute to Soldiers overseas. You can hear some of the music that will be featured on the CD, entitled On Common Ground, by visiting 1223's my space site.
As with many up and coming artists, the members of 1223 work full-time jobs to support their families and work on their music whenever they have the time to do so. Currently financing for this album is rather tight and they're asking for help. But, there's definitely something in it for you. For every person who donates a minimum of $20, they will receive a free numbered copy of the CD when it is pressed. As well, each donor will be listed as an Executive Producer on the inside cover of the album. When this album hits the charts, the world will know that YOU played a key role in the development of this album. The members of 1223 are currently working on 2 videos that are required for them to be able to do an Armed Forces Tour, where they'll travel across the US visiting various military bases and sharing their music and their appreciation for the Troops. So, if you'd like to contribute to the cause, please visit their website and click on the donate button.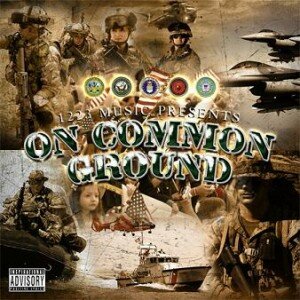 The cover art has already been designed and A Soldier's Mind, is honored to be the first blog to be able to share it with the world. The artwork for the album cover was created by Rhino Digital Media. 1223 would like to say THANKS to Rocky Garcia, the president of Rhino Digital Media. This recording is sure to be a hit, so please help it to become a reality. This CD will be 100% positive, with NO profanity, so the music will be suitable for anyone in your family. Soldier Disciple and John John have a wonderful message of support, that our Troops and their supporters need to hear.
I am happy to be able to share one of the songs that will be on the new album with our readers. The song, "For America" is fantastic. I was lucky enough to be able to see Soldier Disciple and John John perform this song recently, at the Fort Hood Clear Creek PX. They had the entire crowd in the PX participating in this song and I witnessed many people come up to them and thank them for their positive, supportive music. As an added bonus, Soldier Disciple has kindly sent along the lyrics to another song that will be featured on the album, entitled "IF I ain't Saying Nothing, I'm Probably Saying Something. Read more
I absolutely love it when I hear about different bands who take the time to go to Iraq and Afghanistan to entertain the Troops deployed in those places. It really helps morale, when they're able to take some time from the day to day life in the combat zone, to relax and enjoy the music of these artists.
One of the latest groups to perform for the Troops in Afghanistan is the heavy metal band Sevendust, who performed at BAGRAM AIRFIELD, Afghanistan on July 12th as the last stop in their USO tour. They had the crowd of Soldiers rocking as they performed an acoustic set, which they generally don't do. Following the performance, a Soldier was brought up on stage and allowed to smash a guitar. That Soldier was also given one of their guitars. I'm sure he was thrilled. Other Soldiers were given a set of bongos and another guitar. By the time they were through, they'd given away pretty much every instrument they came with.
"I never thought anybody could 'jam out' acoustically like they did," said Army Sgt. Mark Decker, of Company B, 101st Airborne Division Special Troops Battalion.
The Troops who attended the show, couldn't say enough good things about the performance. The band made sure to stick around, ensuring that every servicemember who wanted an autograph, a free copy of their CD or a picture with the group, were able to get one.
"I think they were awesome," said Air Force Capt. Vanessa Mahan, 455th Aerial Expeditionary Wing. "It's been a while since we've had a hardcore band here, so it's kind of refreshing."
Recognizing the importance of the job our deployed Troops are doing, the band members all agree that they'd love to be part of another USO tour.
"If it wasn't for you guys over here, [the Taliban] would be over there, [in the United States]," Lajon "LJ" Witherspoon, Sevendust's lead singer, said during the performance.

"This, to us, has been the best thing that's ever happened in our lives," Witherspoon said. "As soon as you guys will have us back, we'll be back."
It's refreshing to hear about celebrities who understand the importance of our Troops mission. I'm sure that it meant a lot to the men and women at Bagram. Hopefully we'll hear about Sevendust doing another USO tour soon.
I just received word this evening, about Alaska's Operation Gratitude, which will be held on Friday, June 27th in Anchorage, Alaska at Elmendorf Air Force Base. The show will also be streamed live at the AT&T Blueroom site, beginning at 12:30 am Eastern Time (June 28th), 11:30pm Central Time, 10:30pm Mountain Time, 9:30 pm Pacific Time and 8:30 pm Alaska Time. The concert is the Anchorage kickoff, of the statewide celebration of the 50th anniversary of Alaska's statehood. An estimated crowd of 75,000 people are expected to attend the concert, which will be headlined by country music star Wynonna Judd. American servicemembers who are serving in Iraq and Afghanistan will be able to view the show as well AND interact with Wynonna, via video teleconferencing.
The concert was announced by Alaska Governor Sarah Palin, joined by Air Force Brig. General Thomas L. Tinsley, Commander of Elmendorf's 3rd Wing, Anchorage Mayor Mark Begich, AT&T Alascom President Mike Felix and other dignitaries. For those living in Anchorage, the concert will be free and open to the public. AT&T is a proud sponsor of the concert and web casting.
"We are honored to share the gift of music with the many fine men and women serving in uniform," said Governor Palin. "Alaska is blessed with a vibrant military and veteran community and it is a privilege to share with those who have given so much for their fellow citizens. We are excited to have an American music legend, Wynonna Judd, to help us entertain the Troops and celebrate Alaska's 50th year of statehood."

"We are honored to host Wynonna Jude while she's here to thank the American Armed Services with this concert," said Brig. Gen. Tinsley. "This is a great opportunity to partner with the 50th Anniversary Statehood Celebration Committee for a great kick-off to the "We're In!" weekend."

"Anchorage and all of Alaska are proud of the servicemen and women who serve our state and nation," said Mayor Begich. "Sharing this concert as a gift to our military as we celebrate 50 years of Alaska statehood is the least we can do to show our enormous gratitude."

"AT&T is very excited to be sponsoring this concert and web casting it to a worldwide audience," said Mike Felix. "For the last several years AT&T has been streaming community events like high school graduations and sports championships, making them available to people who would otherwise miss out. This event takes this effort to a whole new level, bringing Alaska's statehood celebration and its commitment to the military to audiences everywhere."
I urge each of you, if you get the opportunity, to tune it and watch the concert on Friday. What a great way to celebrate not only Alaska's 50th anniversary of statehood, but to honor our Troops for the contributions that they've made for both the state of Alaska and our country. I know that I won't miss it!
Today, from Noon to Midnight, Fort Hood will be hosting an event that they hold anually, in honor of those who have served, those who are serving, as well as their family members. There will be performances by a host of musical artists, including the rock band Tantric and country singer Mark Chestnut. Fun activities are planned for the event, with a carnival and plenty of food and drink. The event will be streamed online live on Live Sync. I will be working the event during the day, and then attending as a family member of a 1st Cav Soldier, in the evening. I"ll do a write-up on the event this weekend.
I had the pleasure of getting a preview of what's to come last night, when Tantric held a mini-performance and afterwards a meet and greet, at the Clear Creek PX. Tantric has long been a band that I really liked, so when I found out that they'd be there, it was something I couldn't miss. The performance was awesome, with the band performing songs from their soon to be released album, as well as a couple selections from their previous albums. For those who know their music, you'd have loved the performance. Speaking with them afterwards, I found that they're staunch supporters of our Troops and have been looking forward to coming to Fort Hood, to be able to tell our Troops first hand how much they support them. Line up of the performances is as follows:
1 - 1:30 pm Maren Morris/Country
1:40 - 2:10 pm Rissi Palmer/Country
2:30 - 3:05 pm Jennifer Pena/Latin/Pop
3:20 - 3:40 pm Billy Cook/R&B
3:55 - 4:25 pm Kritickill/Rock
4:35 - 5:05 pm Framing Hanley/Rock
5:15 - 5:55 pm Mylin/Pop
6:15 - 7:15 pm El Grupo Mania/Latin/Pop
7:35 - 8:05 pm Wild Horses/Country
8:15 - 9:00 pm Mark Chesnutt/Country
9:10 - 9:30 pm II Face/Hip-Hop
9:55 - 10:20 pm FosterChild/Rock
10:30 - 11:10 pm Tantric/Rock
If you get the chance, watch the events unfold today on Live Sync, and I'll have a first hand report tomorrow. To find out more about the event, vist the Fort Hood MWR website.
They're the hosts of the Morning Show on Waco 100, a popular country music radio station in Waco, which is near Fort Hood. Because Troops with 4th Infantry Division and 3rd ACR can no longer listen to the radio station from where they're deployed, the hosts of the Morning Show, Zack Owen and Jim Cody decided to "deploy" to Iraq and broadcast their program live from the media operations center at Camp Liberty from March 10th through March 21st.
Neither Cody or Owen have ever served in the military, but they wanted to do something to show their support and patriotism. They felt that by taking their radio show to Camp Liberty, they were able to serve their country and allow their fans, deployed from Fort Hood, the opportunity to hear their show once again.
"We've talked for years about wanting to come over here," Cody said. "We knew by virtue of our job, broadcasting, we could come over and be a venue for Soldiers to get in a little piece of home. We said on the air a few times that if anyone knew how to get the ball rolling, we'd appreciate their help."
Those comments on air apparently helped. Towards the end of November, Zack and Jim were attending a fundraiser in central Texas and were introduced to Delena Kanouse, who is the chief of community relations for III Corps. III Corps is the headquarters unit in charge at Fort Hood. With Kanouse's help, they were able to begin the process and eventually "deploy." They had three months to prepare for their trip. Kanouse assisted them in completing the required paperwork and got them scheduled to deploy with Troops from 4th Infantry Division's 1st Brigade Combat Team.
"We wanted to get the whole feel of the thing," Owen said, "so we went through the whole (soldier readiness program) process and everything."
Zack and Jim were more than happy to don ACU's and obtain the standard pre-deployment shots. They boarded the same flight as the Soldiers from 1st BCT. Most generally, when members of the media visit deployed Troops, they stick to civilian attire and fly on commercial flights. Zack and Jim received the same warm send-off that the Troops get, as they boarded the flight which departed from Robert Gray Army Airfield at Fort Hood. According to Owen, they were treated as if they were a part of the 4th Infantry Division family. Army Major David Olsen, 1st BCT public affairs officer, kept them under his wing. in Kuwait and once they arrived in Iraq.
"Olson said there wasn't much going on in Kuwait, but to two guys who have never done this before, it seemed a little scary to have guys with guns all around you on the bus you're riding," joked Owen.

"Honestly, I have full faith and confidence in the ability of these military men and women to keep me safe from harm," added Cody. "I expected to see more of the bombed-out rubble, but you can really see the progress of the past five years. A lot has been rebuilt," Cody said. "People are out shopping, kids are playing. It seems like business as usual out in the streets."
Though both Zack and Jim enjoy this once-in-a-lifetime experience, they remained focused on their primary mission … telling the stories of the Soldiers there. During their time at Camp Liberty, they interviewed almost 200 servicemembers within Multinational Division Baghdad. Each one of those Soldiers had a story to tell and they were able to send their love, over the airwaves to their loved ones back home in Central Texas.
"I think there are lots of ways people can demonstrate their commitment to supporting what our Soldiers are doing," said Army Brig. General Mike Milano, deputy commanding general in charge of support for the 4th Infantry Division, "but there is no more sincere way anyone else can do it than what these two gentlemen are doing."

"They are communicating for us the hardships our Soldiers face daily - and what better way to do that than to come see for themselves?" Army Command Sgt. Major John Gioia said. "You can tell they truly care for, and support, our Soldiers, and what more can you truly ask for? I truly appreciate the smiles they have brought to the faces of our Soldiers and their families."
By sometime this week, I'm sure that Zack and Jim will be back on the Morning Show broadcasting from Waco once again. I'm sure the trip to Camp Liberty was a memorable one, not only for them, but for the Soldiers whose lives they touched while they were "deployed." It's just too bad that others in the media, don't follow the example set by Zack and Jim from Waco 100. Great Job, Zack and Jim!
On March 10th, Troops in Kuwait, who are preparing to go into Iraq, or those who are on their wa home, will be in for a treat. Teaming up with America Supports You and Armed Forces Entertainment, MySpace will launch a 3 hour concert event, called Opertion MySpace that will not only entertain the Troops, but can be seen while it's happening by live streaming at the Operation MySpace website. MySpace has long been a popular social network that is used by many of our Troops, as a way to keep in contact with family and friends, during their deployments.
"For years troops stationed all over the world have utilized MySpace as a lifeline to communicate with their loved ones back home. Many of them have been generous enough to share their unique experiences with me through messages on MySpace," Anderson said. "I'm thrilled to have the opportunity to thank them in person and bring along the entire MySpace community."

"We're incredibly proud to host this one of a kind concert," added DeWolfe. "Unlike past variety shows or concerts of this nature, Operation MySpace will connect people, content, and culture a world apart through the live webcast of the show and interaction on the Operation MySpace profile."
The MySpace founders are excited to be able to provide such a concert for the Troops and have lined up popular entertainers, to do their part in Supporting our Troops. The entertainers, some of the music scene's most popular acts are: Pussycat Dolls, Filter, DJ Z-Trip, Jessica Simpson and Disturbed. Joining them will be comedian Carolos Mencia, as the host of the 3 hour event. The entire concert will be streamed live on the Operation MySpace website, beginning at 2pm Eastern Time on Monday, March 1th.
"This MySpaceLive! concert is an exciting event because it communicates to our troops that people from all walks of life and from all types of companies support their service to our country," said Allison Barber, Deputy Assistant Secretary of Defense. "MySpace is a great medium to connect our military members and their families, who serve in 177 countries, to the folks back home. We are so glad to have MySpace as part of the team working with both America Supports You and Armed Forces Entertainment."
For those who are unable to watch the live streaming of the concert, or who aren't in Kuwait, you can see a condensed version of the concert at a later date. FX television has plans to air a condensed, one-hour version o fht econcert on April 12th. Check your television listings tofind out times for the broadcase.
The musicians, are as excited about performing for the Troops, as the sponsors are. Several of them have expressed their excitement and desire to thank our Troops. Now they'll have that opportunity.
"It's truly an honor to perform for the Troops," Jessica Simpson said. "Through Operation MySpace, I get to serve my country by doing what I love to do in front of thousands of brave men in uniform. It's every girl's dream!"

"We're so excited to be performing for the Troops and supporting our Armed Forces overseas," the Pussycat Dolls said in a statement.
It sounds like this is going to be a great concert and one that our Troops in Kuwait will enjoy attending. Hopefully, other entertainment groups and artists will take the lead of MySpace and the artists participating in this concert and more will be planned. Remember, if you'd like to see the event as it's happening, go to the Operation MySpace website tomorrow at 2pm Eastern Time.
Here at A Soldier's Mind, we've made it a point to highlight the musical works of people who perform their music in support of our Troops. We also love to highlight the musical works of many of our Active Duty Troops, who themselves are extremely talented musicians. Often people think that our Troops know only how to shoot their weapons, kill the enemy and follow orders. That is the furthest thing from the truth, as so many of them are accomplished musicians, artists and scholars. Hopefully as we continue these types of stories, you our readers, will gain much more insight into the men and women who are serving our country. I'd like to introduce you to one such Soldier.
Back in March, I wrote a story about a young US Army Soldier serving in Afghanistan who composed a sonata in honor of two fellow Soldiers who had given their life in the name of freedom. That young Soldier, Brandon Begley has visited A Soldiers Mind several times and left his thoughts here on the blog. Brandon, currently stationed in Hawaii, is preparing for another deployment. One that will take him to the battlefields of Iraq.
Brandon and I have remained in contact since I first wrote the story about him and his music and has told me that he has now finished the sonata and is preparing to release it on CD. Also on the CD will be other musical pieces that Brandon has composed over the course of the past 16 years. I'd like to give our readers a more in-depth view of the person that Brandon Begley is and the incredible talent this young man has.
Brandon's musical ambitions began at a very young age, when at 6 years old, he began playing the piano. Brandon's musical direction leans towards classical music. He composed his first piece of music around the age of 8 years old, a song about his first childhood crush on a girl. According to blog entries on Brandon's MySpace page, he never officially recorded the song, because it was only played with 2 fingers and was what he considers a primative piece.
"The piece portrays a child like crush I had on her back when I first moved to Kentucky many years ago. That was the beginning of the romance period and the first girlfriend I ever had. The mood of the piece is peaceful and soothing. A relaxful meditative piece which was the beginning of my musical career, although at the time I didn't think of it that way."
Brandon has memorialized many events in his life through his music. Events such as marrying the woman of his dreams, to the shock of finding his father deceased, to the joy he felt upon the birth of his daughter, to the pain of learning during his deployment that his wife had miscarried their second child. Brandon's music covers an entire gamut of emotions, as different events have taken place in his life. The new CD will be entitled "War and Peace" and will soon be released. In total there will be 11 and possibly 12 pieces that Brandon has composed and performed. Take some time to visit his MySpace page and listen to some of the songs he has posted there. I think you'll agree with me, when I say that not only is Brandon an extremely talented musician, but that his dedication to his continued service to our country, makes him an asses to not only the US Army, but to our country as well.
Unfortunately, due to file size limits of our blogging software, I'm unable to upload the three movements of The Sonata of War and Peace, from Brandon's CD War and Peace. To listen to all three Prelude To War, Longing For Peace and Fallen Comrade, please follow the link below to The Music of Brandon Begley at MySpace and listen to them. I'd like to personally thank Brandon, for sharing his incredible talent with us.