Boot Camp 101
If you ask children of service members what their parent does for a living, you're likely to get various responses. Some may tell you that their dad/mom is simply a Soldier. Others may tell you that their parent fights 'bad guys' in the Army or whatever branch of service their in. Some may be able to tell you in detail what their parent does for a living. Middle school students in Heidelberg, Germany recently were able to gain first hand knowledge of what it means to be a Soldier, when they attended "Kids Boot Camp" on May 19th. 60 students in the grades 6th through 8th attended the camp, where they ate their meals of MREs at the DFAC, learned how to apply camo to their faces, donned body armor and kevlar and even did PT.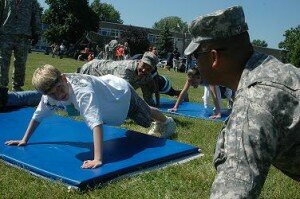 "I think it's really good because it shows the kids, it puts them in an experience that their parents have been through and it really shows them what their parents are doing," said Chelsea Shivers, one of the students who attended. "A lot of times they'll be like, 'I don't know what my dad's doing, but he's out there, just doing something.'"1
Soldiers who made the day possible for children of deployed or recently redeployed parents, were volunteers from V Corps, Heidelberg Medical Department Activity, 529th Military Police Company and US Army Garrison Heidelberg. Their goal, to make the day as realistic as possible for the children, to give them an idea what their parent experiences each day.
"I think it gives them an insight into what their parents do," said Chelsea's mom Cherie Shivers. "Just the food alone is kind of cool that they see how their parents eat."2
The children were also given the opportunity to carry someone on a liter, provide first aid to that person. That allowed them to see that the physical activity wasn't the only thing their soldier parent does during deployment. The children were able to sit inside several different Army vehicles.
According to one the organizers of the event, Lana Barshinger, the event was a huge success. While trying to provide the children with a realistic view of the jobs their parents do, they also hoped to reassure the children that their parents were safe, by focusing on what life was like for their parents, aside from the weapons. Ms. Barshinger said that they entire community pulled together to ensure that the event occurred and went smoothly.
"That was one of the best things about how this worked out," she said. "Lynn Mattingly, the school counselor, called me and had been trying to get this going, so I said of course we'll help. As we started, HMEDDAC came in, ACS or Army Community Services, came in, even Club Beyond. So we were able to draw many people together. There are several different organizations that have been out here. I think it's good for us to do more of these events."3
This is a fantastic idea and one that can only help the children understand more about their parents' chosen profession. At the installation that I work for, they've also held 'boot camps' for the spouses, to help them better understand the role that their spouse has in the military. I think that both of these events only helps to open up the lines of communication and helps them to feel closer to theri deployed Soldier. I hope that more and more installations will follow by offering these types of activities for spouses and children of deployed Soldiers.
http://www.army.mil/-news/2009/05/27/21675-kids-spend-a-day-in-the-life-of-soldier-parents-during-boot-camp/ [↩]
http://www.army.mil/-news/2009/05/27/21675-kids-spend-a-day-in-the-life-of-soldier-parents-during-boot-camp/ [↩]
http://www.army.mil/-news/2009/05/27/21675-kids-spend-a-day-in-the-life-of-soldier-parents-during-boot-camp/ [↩]
Comments