Today is a very special day for mothers. It's a day in which we honor our mothers and let them know how much they are appreciated. Today, as I write this, there are thousands of mothers whose day will mean work as usual, who won't be able to be pampered and catered to, because they're performing a very special job. The job of an American Service Member. The mothers are very special women, as they've set aside their personal needs, given up time with their family on this special day, to serve our country. Thousands of military moms won't be able to spend this special day with their spouses and children, because they're fighting for freedom around the world. I'd like to salute these special ladies, wish them a very Happy Mother's Day and thank them from the bottom of my heart for their unselfish sacrifice for the citizens of this country.
I just wanted to take a few minutes today and wish our great friend CJ Grisham and a proud Soldier, from a very Happy Birthday! CJ I hope that your birthday is a fantastic one! You deserve nothing but the best, my friend.
For those of you who don't know CJ, or have never read his writings, please take a moment to visit his blog. He's always got really interesting and relevant information. I think you'll be pleasantly surprised.
The concept behind the idea of a Veterans Court in Allegheny County, Pennsylvania stems from the military itself …. 'Leave no man behind.' The idea is to provide an alternative court option for veterans accused of certain crimes in the county. According to those advocating for the court, it will save the traxpayers money, by diverting veterans from the corrections system to treatment facilities, that don't use taxpayer money for their operations.
"The purpose of the court is to make sure vets who are incarcerated or suffering from things like addictions or mental health problems are not left behind," said Allegheney County Common Please Judge, Michael E. McCarthy, as he spoke to the state House Subcommittee on Courts during a hearing at Soldiers & Sailors Memorial Hall & Museum in Oakland, Pa.1
According to information that McCarthy provided, the proposed court would be similar to drug, drunk driving and mental health courts that are currently in place in the county, The program if passed, will offer psychological counseling, job placement services and treatment to veterans who commit non-violent crimes in the county, instead of incarceration. This will help veterans who successfully complete the program and follow the guidelines set down by the court, to receive the help they need, instead in a jail cell without receiving help.
According to one of the Judges who preside over the mental health court in the county, the gap between repeat offences with those who go through his court as opposed to those who do not is huge …. about 15 percent compared to 70-71 percent. If plans are approved, it will be the states first Veterans court. If it works in Allegheney County, then state Supreme Court Judge Seamus McCaffery would like to see the program expanded into other counties.
The idea of this type of court isn't a new one. Similar systems are in place nationwide for Juvenile Offenders and often are able to rehabilitate the offender instead of institutionalize them. The veterans court will focus on providing assistance to veterans who come before it, in areas such as mental health care, substance abuse programs, job training and placement. According to statistics that were quoted at the hearing, 3 in 5 veterans in jail have substance abuse problems, as many as 1 in 3 have serious mental health problems and 1 in 5 are homeless. Sobering numbers for sure.
"For incarcerated veterans, 70 percent committed a nonviolent crime," said Michael Moreland, a network director for VA Healthcare in Pittsburgh. "These statistics suggest that there is a significant need for services for veterans who face criminal charges."2
I seriously hope that this program will be successful. I think it's something, that if it works, should be replicated not only throughout Pennsylvania, but across the country. The more services and programs that are out there and available for our veterans, the more chance they have to overcome their problems and difficulties and succeed in life outside the military. Hopefully I'll be able to report later that this program has been a huge success.
http://www.military.com/news/article/county-considers-veterans-court.html?wh=news [↩]
http://www.military.com/news/article/county-considers-veterans-court.html?wh=news [↩]
One benefit that our Troops receive for their military service is educational benefits. The transition from the structure of the military to the college environment can be difficult for some veterans. Recently a new program was launched that is geared to ease the transition, at Cleveland State University in Ohio. The program is open to only veterans and assists them in easing into the college environment, instead of becoming overwhelmed and possibly dropping out. The idea for the program was born in 2006 after creator of the program, John Schupp, who is a Chemistry professor, received a call from one of his students who was having difficulties with the adjustment.
"Listening to her talk about her experiences in Kosovo, then thinking about her having to listen to a teacher and freshmen students discuss their issues and trying to make that kind of adjustment … I thought to myself that this is a problem that's going to happen time and time again, and I wanted to know what can I do about it," he said.1
After giving it some thought, Schupp began doing research about veteran's educational benefits, such as the Montgomery GI bill and speaking with the local and state Veteras Affairs offices. What he found out shocked him. He learned that while these benefits were very appealing to recruits, fewer than 10 percent of veterans ever take advantage of the benefits. Part of his research included speaking with Vietnam and Gulf War veterans and asking them the reason that they didn't use their GI bill. Most of them confided that they had a difficult time concentrating in class.
"So, my experiment was to change the environment," he said. "It's either the building or the people, so let me take the civilians out of the equation."2
He spoke with university officials and convinced them to allow him to conduct a test class. Last spring, a pilot group of 14 chemistry students took the first exam. According the Schupp, the results were remarkable. The learning environment in the program is more comfortable, with the classes being veteran only. The classes are much smaller. Best of all, the students are all veterans, so everyone in the class understands each other and the issues that come with being a veteran.
"It wasn't just circling or matching the answers," Schupp said. "They actually had to know and write out the answers. They handed it in - no one tore it up or walked out … and when I graded them, they had a higher average than my civilian classes."3
According to Schupp, because the classes are composed of entirely veteran's, many feel comfortable opening up and talking about their military experiences. Almost like a mini-counseling session. According to Schupp, students don't take all of their classes as veterans only classes. The first semester, students are offered 12 credit hours of veterans only classes, then 9 credit hours the next semester. Full time students would still have to take 3 credit hours in a civilian class. That way, instead of being thrown head first into the civilian environment, the students are eased into the campus life, setting them up for success instead of failure. Since the program began, Universities, other colleges and Veterans Affairs systems has indicated interest in the program. So far, 23 universities and colleges are considering offering similar programs.
The program at Cleveland State University appears to be successful. Out of the 14 original students, 10 went on to summer semester. The following fall, 25 veterans enrolled and in the current spring semester, there are 41 veterans enrolled in the program.4
I think this is a fantastic idea and a way to slowly ease veterans into civilian college courses. It's great that Professor Schupp has taken enough interest in the success of our veterans that he took the time to create this program and convince University officials to allow him to give it a test run. Hopefully we'll see more colleges adapting this program for our veterans.
Today, the day before Barrack Obama is inaugurated as the next President of the United States, as I sit here contemplating what the future holds for our country, I can't help but feel frightened about that future and what it will hold for our country and for our military. Many of our fellow Americans look to the future with hope, and unfortunately, I don't share that same hope. I know that throughout his campaign, Obama proclaimed, "Change is going to come." I have no doubt that there will be change. I'm just not convinced that it's going to be change that is good for our country and our military. I hope for the sake of our country and the men and women serving in our military, that my sense of foreboding is wrong, but I'm not going to hold my breath.
Over the past few weeks, as Obama has announced his cabinet and talked about changes he's going to make, my sense of dread only grows more pronounced. Many things have contributed to that feeling, over the course of the elections and since Obama won the election. I think first and foremost was his callous and disdainful comments towards the patriotism of people in this country and his refusal to salute the American flag, during his campaign. His actions speak so clearly to me about his character. So many things throughout his campaign struck me wrong on so many levels. The 'spiritual advisor' whom he eventually pushed out of his campaign, for instance. My thoughts on that so called spiritual advisor are that, before he begins to point the finger and call people 'racist' perhaps he should look in his own back yard.
Then we look at some of the proposals towards changes in the military. Take for instance, one of the proposals that he will be considering on military and veterans healthcare. A proposal that I wrote about here. A proposal that will only take more money out of the pockets of our veterans as well as our Troops. Not only does that frighten me, but it makes me damn angry. So many of these men and women have dedicated their adult life to the military and were and have been promised to be taken care of, as far as their healthcare is concerned, for the rest of their lives. This proposal doesn't seem to be taking care of our Troops and our veterans very well, in my eyes. Not only will our Veterans be charged even more for their healthcare, even more of them won't be elgible for that healthcare. As well, our Troops would be charged more, for healthcare for their families. For some, those increased prices, might be what forces them out of the military. Remember, not everyone in the military is paid what a senior NCO or an officer is. You can read the article I wrote about these proposals, by following this link. Obama has also vowed to repeal the "Don't Ask Don't Tell' policy in the military that was put into place during the Clinton Administration. CJ has a write up about that particular issue over at A Soldier's Perspective and addresses it quite well. Take some time to read his article and the resulting comments.
At this point, I don't know, anymore than anyone else does what the next 4 years will bring to this country. Yes, change is going to come, but I'm not so positive that it's going to be a change that is going to be positive change for our country. So, I look to tomorrow with much trepidation, much cynicism and little hope for positive changes. Only time will tell what the new administration will do and how it will affect us as Americans.
Sending A Child To War
I've had the experience of sending my youngest son on a deployment to Kosovo, when that country was fairly stable. I've had the experience of sending Marty off to Iraq almost two years ago now. It wasn't an easy thing to do in either circumstance. This weekend, I spent some time with yet another family member, prior to him deploying to Iraq. This time it was my sister's son, who spent lots of time as he grew up with us. My sisters children are like my own children and visa versa and it was as difficult to know he's going off to war, as it was my own son and Marty.
Even though he's an adult now, I still look at him and see that ornery child who spent as much time as possible with my sons. It's hard to realize that he's grown up and now a man and in the Navy. It seems like only yesterday, that his sister was telling their parents that she didn't want a baby brother and that they should send him back where he came from. It seems like only yesterday, that he decided to make his own fashion statement as a young teenager, blending the punk rock style with the rap style to create his own special look, topped off with a mohawk haircut. I can close my eyes and still see that young man in my mind. How time flies.
My nephew volunteered to deploy to Iraq and is currently training for deployment at Fort Bliss, Texas. He leaves sometime in March. During their Christmas break, he was able to stop here to spend some time with us, before he had to return to Fort Bliss. It was great to see him, yet very hard to drive him to Austin to catch his plane back to Fort Bliss this morning. It was even harder watching him as he went through the security check in preparation to board his plane. I didn't want to let him go.
I explained to him how hard it was for me to see him leave, knowing where he was going and knowing the danger that awaits him, even though things have calmed considerably in Iraq. I explained to him, how my maternal instincts took over, making me want to volunteer to go in his place, to ensure that he was safe. I also made sure that he knew, that even though it was hard knowing he would soon be deploying, that I was so very proud of him and what he was doing. Something that many young men and women his age never do. He spent a lot of time talking with Marty. Marty, having been to Iraq 3 times was able to provide him with some very sound advice. I just hope that with the training he receives and the information that Marty gave him, he'll be able to do his job in Iraq and come home safely, without any mental baggage. Even if he does, he knows that we'll be here to support him as he readjusts to life back home. Please keep my nephew in your thoughts and prayers, as he embarks on his first military deployment.
Happy New Year From A Soldier's Mind
I'd like to take a moment to wish our readers a very Happy and Prosperous New Year. Anthony and I appreciate each and every one of our readers and wish to thank you for your continued support of A Soldier's Mind. I'd like to take this time to promise to you our readers, that A Soldier's Mind will continue to be out here, making sure that our readers are able to read real and relevant information about our Troops and the issues that confront them. I would ask our readers, that you continue to show your love and support of our Troops, as they continue their missions all over the world.
The way ahead, this next year is full of many uncertainties and many changes for our country. At this juncture, we have no clue what lies ahead of us, both as citizens, but as a nation in general. As with changes, there will be rough times and smooth times ahead of us. What we as human beings do, as we encounter changes in our lives, often determines the outcome. My hope is that each of us will make the best of the coming year.
Whatever lies ahead in the next year, as we inaugurate a new President, know that our Troops, regardless of who they voted for during the election, will continue to do their jobs in a professional manner and serve under their new commander in chief, with the same pride and dedication that they have each time our country has elected a new President. That's their job and they do it well.
I hope that the New Year will bring many positive things for each of you. I hope that regardless of the changes that lie ahead of us, that we can continue to rally behind our Troops and make sure they know that they have the full support of a grateful nation.
With Christmas fast approaching, please keep the men and women serving in our country's Armed Forces in your thoughts and prayers. I thought I'd share this video with everyone, as I know that there are many boys and girls who will be asking for this very thing for Christmas this year from Santa.
Every year, we here in the United States, gather together with our loved ones to celebrate Thanksgiving Day, a day that is dedicated to celebrating all of the things that we're thankful for. As we go about our busy lives each day, we often don't give much thought about just how lucky we are to live in the greatest country on the planet. We rarely think about the history of our country and how the United States came to stand for freedom, liberty, privilege, and yes, at times even excess.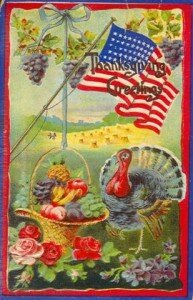 Today is a day to reflect on all of the things that we're thankful for in our lives … and yes we have many things to be thankful for. We live in a society in which we are able to make choices, instead of having someone make those choices for us. We have the freedom to chose where we live. We have the freedom to chose what profession we wish to pursue. We have to freedom to obtain an education in order to help us in our profession. We have the freedom to chose our partners, where our children attend school. We have the freedom in our country to decide for ourselves what religious path we wish to follow or not follow. We have the freedom to speak out against things we don't feel are right and to have a voice in how our government is run. Unfortunately, many times, with these freedoms, comes the habit of taking these things for granted, when they are gifts that have been given to us. Gifts that have been paid for, with the blood, sweat and tears of generations of brave men and women who were willing to pay the price for us, as American citizens, to have these freedoms, even if that meant giving up their own right to these freedoms. For that wonderful, blessed gift, we should be eternally Thankful.
I hope that as each of us gathers to celebrate this special time with their family and friends, that they'll think about the thousands of men and women, our American Soldiers, who are spending this day, far away from their loved ones, to ensure that we're able to spend our Thanksgiving Day with our loved ones. Please take a moment to say a prayer of thanks for these brave warriors and ask for their protection, to whatever God you chose to worship. As you count your blessing and say thanks for them, don't forget that these brave souls and those who came before them, are the very reason that we're able to have such celebrations in our country. As I gather with my loved ones today, and we set down to a delicious Thanksgiving feast, there will be a special place of honor at our table. A place set that no one will be sitting at, but one that is in honor of every man and woman currently serving in our country's Armed Forces, who can't be with their loved ones today. I am so very lucky and so very Thankful for our Troops, not only today, but every day. I hope that you are as well.
To each of our readers, I wish you a very blessed and safe Thanksgiving Holiday. To our Troops and our Veterans, I an so very thankful for you and everything you have made possible in my life and the lives of our fellow Americans. Stay safe and know that you're always in my thoughts and prayers.
Exercise Your Right To Vote
Today is Election Day 2008. There are important decisions that will be decided today, as you cast your ballot, during this election. I'm not going to attempt to convince anyone how to vote. I've made my choice and already cast my ballot. However, I will remind you that our next President is a person who will be the new Commander in Chief of our Armed Forces. Please vote wisely and think about which candidate you feel will best serve in that capacity. Brush aside all the glitz and glamour that have been a part of this campaign and vote for the person who you feel will lead our country with dignity and wisdom and be able to make wise decisions, the difficult decisions, the decisons that might not be the most popular, yet the ones best for our country. Most importantly, remember to VOTE!
Next Page »