SoldiersMind.com is offering the first three milbloggers to contact us the opportunity to host their blog here for free.  This offer includes:
WordPress 2.0.1 backbone
30 pre-installed themes
http://yourblogname.soldiersmind.com
FTP access to your subdomain!
And more…
Please go here for more details.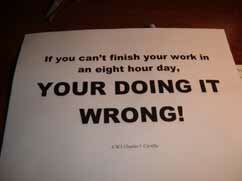 I reported to work today, just like any other day. The only difference is the previous Training NCO, who was teaching me how to do this job, is now gone. A week of training, and now I'm being thrown to the wolves.
Normally this idea doesn't bother me, but I still have no idea what I'm doing. I am buried neck deep in paperwork, and the pile only seems to be getting bigger. Every time I accomplish one task, four more are added to the queue. I hope I get the hang of this soon!
I left work today, rather frustrated and with a slight headache. When I got home I decided to seek the advice of my father, who served 20 years in the Army, and always has some words of wisdom for me. When I told him about my day, he shared some guidance and experiences with me. The comment that stuck out in my head was this, "When you can't finish your work in an eight hour day, your doing it wrong."
I have printed up a few signs with this quote on them, and will place them around my cubicle tomorrow. Hopefully these signs will serve as some sort of inspiration. Maybe when a task just seems to keep going wrong, the sign will remind me to stop, reevaluate my approach, and start again.
Not much to write today. Just upgraded themes from Wuhan 0.3 to 0.4 because I noticed that the website looked like absolute garbage on Internet Explorer 6. Even with the upgrade IE still isn't processing some tables and styles correctly. I'll attempt to fix it, but my suggestion is to use Mozilla Firefox 1.5. Get Firefox 1.5 Here
Wow, I feel alot better today. It all started at about 0240 on the morning of the 24th. I woke up and ran to the bathroom with an unexplained case of diarrhea. After returning to bed, I woke up 20 minutes later proclaiming, "Oh God no!", which woke my girlfriend up. After vomiting, and returning to bed, my girlfriend asked if I was ok. This trend continued until 0555 when my alarm for work went off.
After taking a warm shower, and a few Pepto-Bismol chewables, I decided I felt fine and headed to work. Well, about 30-40 minutes into Sergeants Time, I ran out of the classroom and barely made it to the bathroom without vomiting on myself.
At approximately lunch time, my Platoon Sergeant felt I was too sick to be their and sent me home. I sure am glad for that. I am usually the type of person to come to work sick and "tuff it out". Immediately I began hydrating, popped some Alieve, some Imodium Advanced, and some Nyquil tablets. Next thing I knew, I was waking up at about 2245 that night. I took on another regiment of drugs, and woke up again at abou 0900 today. I feel much better today, a bit of a headache from being dehydrated, but even that is going away now.

Today President George W. Bush was in Golden Colorado visiting the National Renewable Energy Labs (NREL).
"The president chose NREL, the nation's largest research facility for renewable energy and energy efficiency, to further press his State of the Union theme that America is addicted to oil. Following a breakfast with Colorado Governor Bill Owens, President Bush attended a round table discussion at the facility." -Courtesy 9news.com
After returning to from his meeting at NREL, President Bush boarded Air Force One to leave. Before leaving he spent a few moments meeting joint Service Members, who had been freezing their asses off for the past two hours. This was the first time I have ever seen the President up close, well any celebrity for that matter.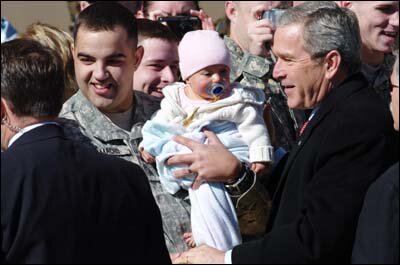 Unfortunately, moments after taking a picture of Air Force One the batteries in my camera died. I will be getting some photographs from friends, so I can share those with you. When the President stepped in front of me, he looked me straight in the eye, thanked me for my service, and gave me a firm handshake. This was one of the proudest moments of my Army career thus far.
Well folks, I'm tired of fighting with the design and function of this website.  I have given in and am relying completely on the built in design and function of WordPress.  That's it for now.
Wow, first of all, what a stupid title! I always see people's blogs with such creative/witty titles, but now I realize I am neither creative nor witty. Oh well…now to the main topic of my blog.
First off, I am a loyal Gillette Mach 3 Turbo user. In the past I have tried the Schick Quattro, four-bladed face destroyer. Gillette just released a new razor, the Gillette Fusion. This son of a bitch has five 'main' blades and a sixth precision blade. I was at the Commissary the other day and saw the Fusion 'Starter Kit', so I decided to drop the $10.50 and give it a try.

When I got this thing home, I realized it was battery powered and vibrated. Needless to say, I was a bit worried to have five blades vibrating on my face, especially after the four bladed Schick ripped all of the skin off my neck. I shaved my head and my face this morning with the new razor, I must say the closest shave I've ever had. Gillette, you really seem to know what your doing with a razor.
The head of the razor is rather large and intimidating. Because the razor head is so large, it is a bit tricky shaving behind my ears. The single 'Precision' blade on the opposite side made short work of cleaning up behind my ears. Thanks to Gillette my dome is shinier than ever!
Just a quick note, the website is undergoing a major redesign.  I got away from heavy graphics and colors.  Making the site more friendly to all users, especially those on slower connections.
I was just watching a show called, Cash Cab, on the Discovery Channel. Has anyone ever seen this show? Very interesting twist on a game show.
The premise is it is normal NYC taxi cab that will pick you up and take you to you desitination. Once you get in the cab, the driver asks trivia questions on the way to you destination. For every question you get correct you receive money, and for every incorrect answer you get a strike. Once you get three strikes, you get booted out of the cab, whereever you happen to be.
I just watched a couple win $1300.00 on their way to their destination 24 blocks away. Why can't I get that type of luck to get into a "gameshow" cab. I have looked it up and their are approximately 12,050 yellow cabs in New York City. This means I have a 1 in 12,000 chance of getting in the "gameshow" cab. Actually, these odds are much better than that of the lottery. I'm moving to New York!
I started my new job today, A Co. Training NCO. When I volunteered to take the job, I thought it would be a good break from the 12-hour shifts I have been working. I though to myself, "Hey, it's only a 9-5 job, can't be that bad, right?" As I found out today, I was incredibly wrong!
My day started at 0630 with PT, holy shit it is cold that early in the morning. The PT wasn't bad, got a decent workout from the two miles of interval training we did. After going home and showering, and returning to work at 0900 I began my training.
Training consisted of my sitting and listening to my PSG as she threw more accronyms, forms, and other various training topics than I have every heard. I thought to myself, "Well, I'll get the hang of it."
After lunch I actually got to sit down and do some work. I was faced with about four different schedules, for five different platoons. Now the challenge was to find all the important data, and make one unified company training schedule. All I can say is, I have the worst headache of my life, I have barely gotten the training schedule projected eight weeks out.
Dear Lord, please make tommorrow a little slower. I'm bringing alot more coffee, and a bottle of asprin with me tommorrow.
Next Page »