Shaking hands with the Commander-in-Chief…

Today President George W. Bush was in Golden Colorado visiting the National Renewable Energy Labs (NREL).
"The president chose NREL, the nation's largest research facility for renewable energy and energy efficiency, to further press his State of the Union theme that America is addicted to oil. Following a breakfast with Colorado Governor Bill Owens, President Bush attended a round table discussion at the facility." -Courtesy 9news.com
After returning to from his meeting at NREL, President Bush boarded Air Force One to leave. Before leaving he spent a few moments meeting joint Service Members, who had been freezing their asses off for the past two hours. This was the first time I have ever seen the President up close, well any celebrity for that matter.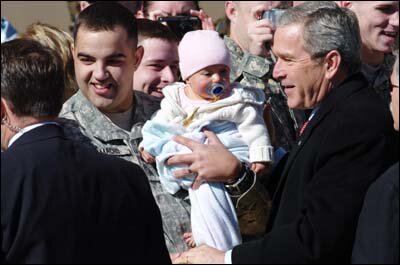 Unfortunately, moments after taking a picture of Air Force One the batteries in my camera died. I will be getting some photographs from friends, so I can share those with you. When the President stepped in front of me, he looked me straight in the eye, thanked me for my service, and gave me a firm handshake. This was one of the proudest moments of my Army career thus far.
Comments