For the majority of our Troops, pride and dedication to our country is a motivating factor in their continuation to serve in our nations Armed Forces. Their commitment to their fellow service members and to our country is utmost in their mind. Even with the wars going on for the length of time that they have, most of our Service Members feel that it's just part of the job, even though after several deployments, it tends to be emotionally and physically draining on them and their family members. Some, however, stand out from the sea of green camouflage in their dedication to the mission.
Meet Cpl. Edward Helzer from Laredo, Texas. Helzer has been deployed continuously since 2006 and he finds satisfaction in that fact. During his first deployment in 2006, Helzer deployed with the 130th Engineer Battalion out of Puerto Rico. Currently he is serving with the 836th Sapper Company from Kingsville, Texas, which is attached to the 890th Engineer Battalion in Gulfport, Ms.
Helzer initially deployed in 2006 and returned home from his first deployment on October 26, 2007. He was only home for 4 short days, before he deployed again. I know many of you are probably thinking, "How can the Army do this to him?" and "I thought they were supposed to have 'dwell' time between deployments?" Helzer, however, volunteered for both of the deployments. By training he's a general construction equipment operator. He's now serving as a Combat Engineer during this tour and learning on the job. He's driving his "Husky" or towing and mine detection vehicle down the same routes he drove down on his first deployment. Routes that are very familiar to him.
"In your mind, you're alone; it can be mentally draining," Helzer said about life as a Husky driver. "Without situational awareness, you can run into wire, holes, etc. You're very mentally drained when coming off a mission." 1
Despite the feeling of being alone, Helzer says that he feels safe when going on missions. He trusts his gunners to watch his back. Army Cpl Patrick Moore, also a member of 836th Sapper Company, said that Helzer is a team player and always concerned abou the safety and well being of his fellow Soldiers.
Helzer said that though things are very similar this deployment, there are some differences. He said that overall, the environment is cleaner and things are quieter now. He's not encountering as many strikes and IED's as he was on his previous mission in Baghdad.
Helzer is married and has been for three years. Often, deployments are very difficult for the family members left behind, especially the children. Helzer says that his wife and children are okay with his decision to deploy all of this time, because they receive a constant supply of support from family members and friends at home. He explains that his father in law is a pastor, so that with the support from family and friends in church, support for his spouse and his children is never ending. Despite missing is family, Helzer is very satisfied in his role as a Soldier.
"It's nice at the end of the day," he said. "There is a satisfaction in knowing you've done well for yourself and others. It's rewarding."2
This young man's dedication and willingness to put his country before everything else is amazing. Our military is made up of many men and women such as this, who put their country before their families and before themselves. People such as this, make me damn proud to be an American citizen.
http://www.defenselink.mil/news/newsarticle.aspx?id=51000 [↩]
http://www.defenselink.mil/news/newsarticle.aspx?id=51000 [↩]
Because of the actions of an Army Reserve Soldier on a busy Texas interstate highway, one man is alive and the Soldier has been awarded the DoD Soldier's Medal. She doesn't feel that she did anything special, however, her actions enabled a victim of an accident to live. The man and his family are grateful for her actions. More often than not, our Troops react to situations with courage, bravery, and valor.
When she saw the body slam into the ground in front of her car on the freeway, the first thing on the mind of SSG Jacqueline L. Hunt's mind was to do what she could to help the man out. As she was driving home from a party with friends around midnight on March 17, 2005, near Fort Worth, a man pulled his vehicle onto the side of the road, stepped out of the car and got hit by a passing truck.
"I was the designated driver … when he landed in front of me," she said. "I put on the emergency brake, and ran to him. Some semis were coming, so I picked him up and moved him to the shoulder," Hunt explained. She further stated that the man was almost twice her size, but she lifted him and carried him to the side of the road. She feels like the adrenalin coursing through her body, was what enabled her to do so. She then began assessing and treating his injuries.1
The man had severe head injuries and wasn't breathing. She told her friends to call 911. A semi driver pulled over to help as well. To protect the scene, he parked his truck to block the scene and erected road barriers. According to Hunt, paramedics who responded told her that the man might have died, had she not been there to render aid. The following day, Hunt contacted the family of the victim, explaining to them what happened and providing support to them.
Hunt feels that because of the training she has received, as well as the experiences she had in Iraq, she was able to have the presence of mind and knowledge of how to treat the man's injuries, which were serious and life threatening. She never thought to keep going, instead of stopping to render aid. Because of her job in a Civil Affairs unit, having a sense of compassion for community, is commonplace to her.
"You must have compassion because your number one priority is the community. You're dealing with people, not numbers. We're always thinking about that and what to do to help."2
On Friday, August 22nd, Hunt was awarded the DoD Soldier's Medal for her actions, by Army Reserve Command, Maj General Alan D Bell and the commanding general for the US Army Civil Affairs and Psychological Operations Command, (Airborne) Maj. General David A Morris, in a special ceremony at the Special Operations Museum near Fort Bragg.
"SSG Hunt has taken to heart her training and combat experience, and has used it in the most positive way to give back to the victim and his family, to her unit and to her community," said Morris.3
Since the accident, Hunt has remained in contact with the victim and his family. She feels that this experience has helped her to teach her Soldiers to do what is right, despite the situation with which they're faced, saying that her priority is to make sure her Soldiers think about what the right thing to do is, and then act on that.
While she is honored to receive the Soldier's Medal, which is the 7th highest medal that can be awarded to US Soldiers, this one given in recognition of actions not involving actual combat, Hunt doesn't want others to forget the fact that there are Soldiers currently still fighting in Iraq and Afghanistan. To her, she was just doing her job, as any other Soldier would in the same circumstancese.
"I really don't want to be called a hero because I don't want to take away from what our Soldiers are doing downrange," she said. "This is my job. This is every Soldiers job."4
This is an award that was and is well deserved. Our Soldiers so often, think about the welfare of others, before they think of themselves. Many of our Troops, do things like this, with no thought to receiving accolades, but instead, because they feel that it's the right thing to do.
While not all of the 13 military members who competed in the Olympic games walked away with medals, they all represented our country in typical military fashion; professionalism, confidence and dedication. Of the 13 who competed, two walked away with medals, Gold medals as they won their event. Both men were members of the US Army Marksmanship Unit based at Fort Benning, Georgia. Army SPC Walton "Glenn" Eller won the first Gold medal in the Double Trap. Army PFC won the second Gold medal in Skeet. Both men performed tremendously and showed the world why they are the best of the best. Below is a list of the 13 military olympians, the sport they competed in and the results of their competition.
Air Force Reserve Lt. Col. Dominic Grazioli competed in Trap and walked away with 23rd Place.
Air Force Reserve Captain Weston "Seth" Kelsey competed in Fencing and didn't medal.
Army SFC Jason Parker competed in 10m Air Rifle and took 23rd Place.
Army SFC Daryl Szarenski competed in 50m Pistol and took 14th Place.
Army SPC Walton "Glenn" Eller competed in Double Trap and won 1st Place.
Army SPC Jeffrey Holguin competed in Double Trap and took 4th Place.
Army Reserve SSG Elizabeth "Libby" Calahan competed in 25m Pistol and took 25th Place.
Army SSG Dremiel Byers competed in Greco-Roman Wrestling and didn't medal.
Army Major Michael Anti competed in 50m Rigle Prone and took 9th Place.
Army SSG Keith Sanderson competed in Rapid Fire Pistol and took 5th Place.
Army PFC Vincent Hancock competed in Skeet and won 1st Place.
Air Force Captain Kevin Eastler competed in the 20km Race Walk and took 43rd Place.
Air Force Reserve Captain Eli Bremer competed in the Modern Pentathlon and took 22nd Place.1
Regardless of the place they finished, each should be extremely proud of their performance. Each of these men and women trained for years to get to the level they are, yet they all continued to serve our Country with pride, dedication and professionalism. I'm proud of each and every one of them and would like to commend them all on a fantastic job and extend my gratitude for their service to our country.
http://www.militarytimes.com/military-olympians/results.php [↩]
It's my honor to be able to tell our readers about a very special group of men, who got on their motorcycles and made a cross-country trip to visit the graves of 4 Soldiers that served with one of them. At each stop, the men also took the time to visit with the families of the fallen, share their grief and their memories. It's been almost two years since the deaths of their friends, yet their memory remains a strong one and for 1SG Paul Alkire, the ride is most likely a therapeutic one, a means of closure and a way for him to say good-bye.
Almost two years ago, on January 20, 2007, a group of paratroopers were ambushed in Karbala, Iraq. One of the Soldiers was killed immediately and four others were taken prisoner and later were executed. 1SG Paul Alkire and three other motorcyclist left Alaska on a cross-country trip last month, to visit the hometowns of the four men who were executed. Alikre was the 1SG of the men. He designed a patch that is in the shape of a US highway sign, with the number 4 circled by the names of the 4 men who were executed … SPC Johnathan Bryan Chism, 1LT Jacob Noal Fritz, PFC Shawn Patrick Faller and PFC Johnathon Miles Millican. They were assigned to the 2nd Battalion, 337th Parachute Field Artillery Regiment, 4th Brigade Combat Team, 25th Infantry Division, that is based out of Fort Richardson, Alaska. Their journey would take them about 5,000 miles, before they were able to visit the hometowns of each of the fallen. Their last stop being Gonzales, Lousiana, where they laid a patch at the grave of SPC Chism.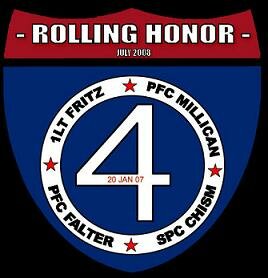 Photo of the patch from Rolling Honor Riders website
"I knew I had to do something to pay my final respects," Alkire said. "I got to thinking about the miles between their hometowns and the highways needed to get there."
While he was still in Iraq, after the deaths of his comrades, Alkire decided that he would visit the hometowns of the fallen personally, as well as make it a point to meet their families. Three of his closest friends, also from Alaska joined him on his journey, leaving Seattle on June 30th. They call themselves the Rolling Honor Riders. The only thing left to do, is to venture back where they began their journey, 3,000 miles away in Seattle. The men accompanying Alkire were Marc Phillips, himself a Special Forces Soldier and father of a son currently serving in Iraq, Laddie Shaw, retired Vietnam Veteran and Navy SEAL, and Todd Bullock, son of a retired Air Force Tech Sgt and supporter of the wounded warrior project.2
While it was comforting to meet the men, Chism's mother said it was also very emotionally draining. She attempts to stay in touch with her sons friends. The Chism family joined the riders, sharing a private moment and remembering PFC Chism, each in their own way.
"To see the grown men crying and to give each other a hug - it was special," said Patsy Meades, Chism's sister. "They have not forgotten."
Please visit the Rolling Honor Riders website, read about the heroes that were lost that day in 2007 as well as read their notes on the trip/ What a great way to honor these fallen heroes. I'm sure that this gesture meant the world to the families of the fallen men, that the riders visited.
http://www.armytimes.com/news/2008/07/ap_rollinghonor_072608 [↩]
riders.html [↩]
http://www.armytimes.com/news/2008/07/ap_rollinghonor_072608 [↩]
Our Troops are an amazing group of men and women and I'm always completely blown away by their resilience and ability to adapt to any situation. Think about the number of deployments many of them have endured, think about the severe injuries many of them have had. Yet they continue to do their jobs to the best of their abilities, with many of them, standing out as shining examples, of why I've always said that our Troops are the 'best of the best' that America has to offer.
Even after they've completed their service in the Armed Forces, many of our Troops tend to continue to exemplify the morals, values and standards that they lived by in the military. They distinguish themselves in their civilian lives and continue to display professionalism, honesty and integrity in everything they do. Many of them, because of the skills and commitment, the morals and values that have become a part of them, are highly sought by civilian employers. There are so many veterans that I could give as examples.
Take Bob Kunkle for instance. Bob is a Vietnam era veteran, who was injured in the jungles of Vietnam. Now as a civilian, Bob continues to display the character that defined him as a Soldier, by sharing his skills as a martial artist, with young men and women, patients at Walter Reed Army Medical Center, who are recuperating from war injuries. Bob has now expanded that mission even more, by starting to provide the same service to the men and women who are patients at Brooke Army Medical Center in San Antonio. Bob doesn't receive any financial compensation for his work with the wounded warriors. Instead, his "payment" is the self-satisfaction of knowing that he's able to help the wounded warriors and perhaps help them to regain some of their self-confidence, despite their injuriese.
Or, how about David Bellavia? David returned from Iraq, after a harrowing hand to hand combat experience there and earned a Silver Star, Bronze Star for Valor and a Conspicuous Service Cross. David has also been nominated for the Medal of Honor. After his time in Iraq, David wrote a best selling book, entitled "House to House," helped to found the Vets For Freedom group and works extensively on various causes in support of our Troops, including ensuring the public and our leaders in the nation's capital are aware of the dangers of pulling our Troops from Iraq, before their mission is complete.
Or Marcus Luttrell? We've featured stories about Marcus quite a few times since his book, "Lone Survivor: The Eyewitness Account of Operation Redwing and the Lost Heroes of SEAL Team 10." I can't say enough about what Marcus has accomplished since he retired from the Navy SEALS and wrote his book. Marcus was later presented with the Navy Cross by President Bush. Marcus too is part of the Vets for Freedom group and has traveled with the group across the country, telling his story and advocating for the mission in Iraq. Marcus is currently working closely with producers on a movie based on his book. Marcus has plans to eventually go to medical school and become an emergency room physician.
"Mighty Joe" Beimfohr is another great example of the resiliency of our Troops, despite the challenges they've been dealt with in life. I met Joe at Walter Reed, in October 2005, a short time after he was injured in Iraq. Joe is a double leg amputee and he hasn't allowed that to slow him down at all. That day in Walter Reed, Joe told me that his plans were to medically retire from the Army and then go to work for the VA, so that he can help other wounded warriors, as they transition from military life to civilian life. Joe has accomplished that and so much more. Joe is working for the VA in the Washington DC area. He also works closely with Bob Kunkle, teaching self defense tactics to wounded warriors.
Another great example is Major David Rozelle. If you recall, I've introduced our readers to him and used him as an example of how he inspires other wounded warriors to drive on and continue. Major Rozelle lost part of his leg when he was in Iraq with the 3rd ACR. Instead of allowing his injury to defeat him, he was determined to remain in the Army and return to Iraq. He did just that, remained in the Army and led his Soldiers on another mission in Iraq. But he's accomplished so much more and is such an inspiration to so many of the wounded warriors. Major Rozelle has competed in numerous Iron Man competitions and running events around the country, including the Army 10 Miler. He was also instrumental in the building and design of the Army rehabilitation center at Walter Reed. Major Rozelle wrote about his experiences in his book, "Back in Action: An American Soldier's Story of Courage, Faith and Fortitude."
These men and so many others have given so much to our country, yet they continue to "give" and don't show any signs of giving up. Something that many of their civilian counterparts might have done under the same circumstances that these men faced. It's these men and women that we should teach our children to hold in high esteem. It's these men and women that we should teach our children to emulate. Men and women like this, are fine example of selfless service, sacrifice, dedication, and integrity. If you do a search on this blog, as well as other MilBlogs, you'll find the stories of these men and many others who've proudly served our country in the Armed Forces. Believe me when I say, you'll not walk away from their stories without being touched. These are the folks we should be encouraging our children to emulate, NOT the celebrities.
Instead, so often in our society, our children are taught that it's okay to emulate and hold in high esteem, people such as Michael Vick, Snoop Doggy Dog, Paris Hilton, Brittany Spears and a myriad of other entertainment and sports celebrities, who always seem to be splashed across the media with details of the latest trouble they've gotten into. Yet somehow, we seem to think it's okay for our children to idolize these people (I've never figured out why). Then we wonder why the values in our country have become so degraded. We often don't spend quality time with our children, and instead allow the television, computer and video games, to be our children's "babysitters" because we don't want to spend the time we should with our kids. Then, we're awfully quick to point our fingers at others when our children do wrong, be it their teachers, their peers ….. anyone but ourselves. Our children learn by the example they're given, their parents and the values we instill upon them, the role models we have them emulate.
The men I've listed above are but a few of the men and women that our children should be taught about. The men and women that we should encourage our children to strive to be like. Perhaps, turn off the television, drag them away from the computer or their video games, and put one of the books mentioned above, in their hands. Have them read the books and learn about courage, bravery, pride and dedication in our country, and the will to survive and excel. Then take the time as a parent to sit down and discuss the book with your child. Discuss what makes these men such special people, as compared to the myriad of celebrities that our Society tells them to worship. Make sure that they understand what these men have did for them, their friends and our country and how their actions are honorable and admirable. I think that you just might be surprised and hopefully impressed with the changes you might see in your children.
Early Saturday morning, my family and I got up early and headed towards Corpus Christi to spend the weekend spoiling our grandbaby. I was pretty excited about the trip, not only because I'd be able to see … errrrr spoil little Kendall, but I was finally going to be able to meet someone who I've featured here at A Soldier's Mind, when I wrote this story and this one. I was finally going to be able to meet Bob Kunkle, as he was in San Antonio to make contact with staff at BAMC and the Center For The Intrepid, so that he could begin his self defense demonstrations there. We had arranged to meet Bob in San Antonio for breakfast and he told me that he was bringing a special guest with him, a Wounded Warrior named Sgt. Manny Herrera. It turned out that Manny and Bob were headed to Corpus Christi as well, so I was able to ride with them and hear Manny's story. It's one I'll never forget. He's definitely someone that I want our readers to know.
He's a quiet and unassuming man. It's obvious when you first meet him that he's a Soldier; a Wounded Warrior, which is obvious as he has to use a cane to walk around. You see it in his bearing and because of the hat he wears, proclaiming him to be a veteran of Operation Iraqi Freedom. His story is a remarkable one.
He grew up in California and by his own admission, he found himself getting into trouble as a teenager. When he was 17, he decided that he needed some direction and his life and enlisted in the Army at the age of 17. He served his country proudly, doing tours in Panama, Desert Storm and Somalia. After 13 ½ years active duty, he got out of the Army. At the time he was living in El Paso, when he was offered a job as a car salesman at Peoria Pontiac GMV in Phoenix, Az. As the market for cars began getting worse, he took a job at Shamrock Towing in Phoenix and continued his life as a civilian.
One day, he received a call to tow a 1967 Corvette. When he arrived, the owner of the car asked him to be very careful with the car, as it had special meaning to him. He had purchased the car right after he returned from Viet Nam. As he pulled the cover off of the car to begin hooking it up for towing, he noticed a tag bearing two stars. He immediately recognized the significance of those two stars. "Sir," he said as he crisply saluted the General. The gentleman returned his salute and then told him that he didn't have to Salute him, because he was no longer in the military. As they visited, the General asked him if he had ever considered coming back in the military, since he had so many years invested and was so close to retirement. The general went on to say that he should consider joining the National Guards. As they parted ways, the general gave him a $20 tip.
He continued doing his job with the towing company, making a living to raise his family. Then 9/11 happened. He began thinking more about what the general told him, especially when he watched the news and saw the reports about the young Soldiers being injured and killed and kept hearing about the multiple deployments. That made him angry. One day, as his job brought him near the National Guard Armory. He stopped and asked to speak with the recruiter. The recruiter wasn't there. He waited for awhile and then finally left and didn't think much more of it.
Time past and he continued working for the towing company. One day, while doing through things at home, he ran across his DD214 (Discharge papers). That got him thinking again about what the General said and the reports he continued to see about Iraq in the news. He stopped at the National Guard Armory, to see what it would take for him to reenlist. This time the recruiter was there and he began the process of re-entering the Army. He went to MEPPS and took his oath of enlistment. He had requested that the General who owned the corvette, swear him in and he was more than happy to do just that. He reenlisted for 6 years. He found out that he had missed a sign on bonus for his MOS by a month, so he was given the option of decreasing his enslistment to 3 years. He declined that offer.
When most of us think of the Army, we think of men and women training to fight enemy forces in wars. Most of us have no clue about the US Army World Class Athlete Program. It is a program that allows outstanding soldier/athletes, the opportunity to train, compete succeed in national and international competitions. That includes the Olympic Games. They're able to do this, while still maintaining their career in the US Military. Soldiers who are chosen for the program, are the best of the best. The training they receive is topnotch, from some of the best coaches and trainers in the country. The selection process for the program is tough and Soldiers must be able to remain at the top of their specific sport to be admitted into the program. I've always said that the men and women who serve in our country's Armed Forces are the best and brightest of our citizens. The men and women who are part of the US Army World Class Athlete Program, should be considered and are the "Best of the Best."
I had the opportunity on Thursday to interview two of these athletes over the phone. SSG Libby Callahan, a member of the US Army Reserves and Major Michael Anti, an Active Duty US Army Soldier currently stationed at Fort Benning, Georgia as part of the Army Marksmanship Unit. Both SSG Callahan and Major Anti, have qualified to represent the United States in the upcoming Olympic Games in Bejing China. Both are members of the US Shooting Team. Both athletes will be competing in their 4th Olympic Games.
Major Michael Anti is currently assigned to the US Army Marksmanship Team at Fort Benning, Georgia as well as the World Class Athlete Program at Fort Carson, Colorado. I was curious what prompted Major Anti to try out for a spot on the Olympic shooting team for the first time. He said that he'd been shooting since he was 10 years old and has been a member of the US shooting team from the age of 17. In 1982, Major Anti enlisted in the Army, graduated college in 1988 and received his commission. Major Anti feels that the Army has the best shooters in the world. Currently he said that there are Army athletes competing in almost every sport in the Olympics. He knew that by becoming part of the World Class Athlete Program, that he would receive all the support in the world that he would need , in order to become successful in his support.
Major Anti feels that competition in the Olympics parallels what he does as a Soldier. Both require dedication, focus, hard work and the motivation to do his best at all times. He feels that he has been successful in his shooting career because of the resources that are available to him as a member of the US Army World Class Athlete Program. The Army has the best facilities, best coaches and the best gun smiths in the country. He receives all the support in the world from the Army, as he competes. Major Anti shared that as a member of the US Army Marksmanship Unit, his job is a multifaceted one. Not only is he training for competition, but the unit's main mission is to train and enhance the marksmanship skills of Soldiers and ensure that they're able to perform that part of their mission as well as possible. Major Anti shared that training for the Olympics, begins just as soon as the last Olympic games are over with. He's been hard at work training, since he won the Silver medal in the 2004 Olympic Games. Training focuses on the shooters skills as well as the mental aspects that go along with it. The training is very intense, with the team training every day, or at least Monday through Friday for 4-6 hours per day minimum.
I asked Major Anti what advice he would give to a young Soldier/athlete, who was hoping to be selected for a spot in the World Class Athlete Program. His advice to aspiring Soldier/Athletes is to remain dedicated. The training is very intense and the Army is very selective when picking up an athlete for the program. Once they're chosen for the team, they need to remain focused and continue training. Major Anti's parting words were that he's very proud and honored, first as a Soldier and as an athlete to be representing not only our country but the US Army in the 2008 Olympic Games.
SSG Libby Callahan joined the US Army Reserves after spending 23 years as a Police Officer for the Washington D.C. Police Department. She retired from the Police Department as a Captain. She has been involved in competitive shooting for 28 years, first competing when she was still working as a Police Officer and later becoming involved in Olympic style shooting after she joined the Reserves. Libby joined the Army Reserves after retiring from the Police Department as a second career. She used to train police officers in shooting and as she trained them to shoot. When she joined the reserves she tried out and was selected for the Army Reserve All Shooting Team. In the last Olympic games, Libby was the oldest member of the Olympic team. She said that she really doesn't think about her being the oldest member, until someone mentions it to her. She doesn't feel that it's that much of a factor. Libby likes to shoot and said that because she often trains by herself, she has to be self motivated. Her advice for other Soldier/Athletes who aspire to make the Army World Class Athlete Team is to remain self-motivated. It requires discipline, hard work and motivation and the competitive desire to succeed and improve. Libby feels that being able to compete in the Olympic Games goes hand in hand with her military career. Both emphasize a person's value system …. The values of honor, duty and respect. Libby feels that you can't be successful without discipline and hard work. She shared that she has seen many extremely talented athletes not succeed, because they relied solely on their talent and didn't work hard to improve and enhance their skills to become the best.
Libby attributes her success to self discipline, her motivation and her desire to excel at whatever she tries to do. Libby really pushes herself and sometimes is told by her coaches that she needs to take a break and not push herself so hard. However, she feels that she wouldn't be where she's at today without her drive to push herself to surpass what she's accomplished in the past. Some of the younger members of the shooting team have told Libby that they look to her as a mentor, that she inspires them and that she's their Hero. Libby's hard work and dedication to success should definitely be a positive example for the younger members, who wish to attain the success she has.
Libby prepares for training, outside her shooting, with mental training exercises. A large part of the competition is mental, staying focused on what she needs to do. She stays focused and on task in the midst of the many stellar athletes that she faces by using techniques to help her remain focused. For Libby, that is visualizing a calming ocean scene. If she becomes nervous or distracted, using that visualization helps to relax her and bring her back on track.
Libby said that a lot of people have made a big deal out of the fact that this is her 4th Olympic games. She said that she's just proud to be a US Soldier, representing our Troops, who by virtue of being deployed to places such as Iraq and Afghanistan, aren't able to represent themselves in such a setting. She said that's she's very honored and proud to be able to represent our country and those men and women who are currently serving in these countries, in the 2008 Olympic Games.
Both of these Soldiers are stellar examples of the men and women who serve in our countrys' Armed Forces. Our military will be very well represented in the 2008 Olympic Games. Each of these athletes are bringing with them, the advantage of the ethos of discipline and hard work that comes with being a US service member. I'm excited to watch the upcoming Olympic Games and cheer our Military members on in their quest for the Gold Medal.
To find out more about the US Army World Class Athlete Program, please visit their website. To read more about Major Anti and SSG Callahan, as well as the other members of the US Shooting Team, please visit . I'm excited to see our Military so well represented in the 2008 Olympics and hope to see many of them coming home with the Gold!
Geraldine Marquez was a retired Air Force Sergeant and serving in Afghanistan as a civilian contractor with Lockheed Martin Corporation, when she was killed in a suicide bombing attack February 27, 2007. On Friday, Marquez's family received a posthumous award of the Defense of Freedom Medal from the Department of Defense.
"It doesn't replace her departure, but it does recognize her commitment," said her sister Jeanette Marquez at the ceremony. "It's comforting to know her sacrifice did not go unrecognized."
Marquez worked as a civilian military-operations analyst for Lockheed Martin and was serving at Bagram Air Force Base in Afghanistan. The medal that was awarded to Marquez's family, is the civilian equilivant of the Purple Heart.
The bombing in which Marquez was killed, was believed to have been targeting Vice President Dick Cheney, who was visiting the base at the time of the bombing. Twenty-three people were killed in the blast. According to information provided about the bombing, Marquez had escorted several Afghan trucks inside the main gate of the base, when the bomb exploded, only 30 feet away from her. According to officials from Lockheed Martin, the death of Marquez was the first for the company in two years overseas.
Prior to the ceremony, the Defense of Freedom Medal was displayed on a table next to the certificate that was signed by Army Secretary Pete Geren. Also displayed was the American Flag that was flown at Bagram Air Base in honor of Marquez. Rev. Jim Parris of Calvary Chapel Golden Valley Church spoke, before the ceremony in honor of Marquez.
"God bless all the Soldiers like Geraldine, who fight so we have the right to have freedom," Parris said to the crowd of more than 50 family and friends of Geraldine Marquez.
It's important to recognize the service and sacrifice of the civilian workers, who alongside our Troops, put themselves in harms way, in order to ensure our freedom and the freedoms of those in other countries such as Afghanistan and Iraq. It only makes sense to honor Geraldine Marquez and other civilian workers who lose their lives as they provide vital support to our Troops in the warzones.
On February 11, 2007, SPC Jake Lowrey was in Fallujah, Iraq when he and a fellow Soldier were hit by an IED that left his fellow Soldier dead and left Lowrey severely injured. Lowrey lost his right eye, sustained a massive head injury from the explosion and suffers from PTSD. Less than a year after being injured, Lowrey, who's been a cowboy all of his life, was back atop a horse and roping steers.
"This pretty much keeps me going - it's the only thing that does," Lowrey said. "Without it, I'd just be hanging out in my room somewhere."
On May 10th and 11th, Lowrey officially launched the US Army Wounded Warrior Sports Program, by participating in a team-roping performance at Denny Calhoun Arena in Las Cruces, New Mexico. The program was designed to provide active-duty Soldiers who have sustained life-altering injuries, the opportunity to compete in a sporting event. The Army Wounded Warrior Sports Program pays for their athletic attire, registration fees, transportation and lodging and per deims. Lowrey traveled from his home in Alaska to El Paso, Texas and joined up with his fmaily for a ride to Silver City, N.M. There, he, his stepfather and grandfather loaded up a trailer with their horses and drove on to Las Cruces to participate in a weekend of roping. All three of them participated in the Troy Shelley Affiliate event.
"This is one of the best things the Armed Forces could have done, because it's just therapy for these guys who feel like, 'I lost that,'" said Retired SFC Pete Escobedo, Lowrey's grandfather. "If you really want to do something with yourself … Jacob is a prime example. He's really trying. We're thankful for the Army for doing everything it can for him."
Lowrey did well in the competition. In the first round he successfully roped two of six steers, in the first round. In the second round, he roped two more and another in the third round. That left him in third place in the event. In the last round, his steer got away. Despite his injuries and the limit it places on his depth perception, Lowrey was encouraged that his roping skills will continue to improve. Since his injury, he's already won an all-around crown in Alaska and teaming with his step-father, he captured a team roping title at the Professional Armed Forces Rodeo Association's 2007 World Finals that were held in Fort Worth, Texas.
"I'm not back where I was, by any means," Lowrey said. "I just keep practicing and hope it eventually comes back."
Since his injury, Spc Lowrey has struggled with coming to grips with his injuries. His step-father, knowing him so well, felt like getting him back on a horse and doing something that he loves is probably the best therapy for him, that he could think of. Over the weekend in Las Cruces, the three generations of cowboys took turns roping steers.
"Jake has done remarkably well in coping with his injury," said his grandfather Pete Escobedo. "Instead of saying: 'Well I'm injured,' he says: 'I'm going to do what I can. The Good Lord handed me this hand, so I'm going to do with what he dealt me the best I can.'"
His step-father and grandfather are both proud of what he's accomplished since his injury, though both are aware that what's happend to him, have changed him. Both feel it's important for him to stay active and not allow him to sink into depression and self-pity. So, they do what they can to keep him active and doing things that he enjoys. By doing so, they in turn teach him that despite his injuries, he can participate in the things he enjoys and excel at them.
"If we can ever get him where he'll just start talking again and intermingling with people and not being paranoid, I think life will be good," said John Escobedo, his step-father. "When he's on horseback or working out, he's a normal guy. But we'll be sitting at the house watching TV or something and it ain't the same buy. We drove six or seven to the world finals - 14 hours of drive time - and he probably said three words. But you stick him on a horse or in the gym, where his comfort zone is, and he's fine."
Jake believes his desire to get back on a horse, get active and participate in what he loves, sets him apart from some of his wounded peers. While some of them were stuck pitying themselves and didn't want to do anything, Jacob couldn't wait to get active again and start doing the things he loves to do.
"Some of the Morale, Welfare and Recreation people told me about it (Wounded Warrior Sports Program) when I was at the Warrior Transition Unit," SPC Lowrey said. "About two days later, I sent in the paperwork. I sent them about four or five events they could pick from."
Army sports specialist Mark Dunivan, feels that this was the perfect venue for Spc Lowrey. He said he expects more applicants to follow and began participating in the program. He's already been contacted by an amputee who wants to run in the USA Triathlon Physically Challenged National Champions, that is scheduled for July in New York. The hopes are, that as the word begins to spread about the program, that more Wounded Warriors will participate.
This is a great way for our Wounded Warriors to begin walking down the path to their recovery. So many of them were involved in different sporting events prior to joining the military, as well as during their time in the military. People like SPC Lowrey, Major David Rozelle and scores of other Wounded Warriors who have not let their injuries stop them from participating in sporting events that they love, serve as fantastic role models to other Wounded Warriors.
To discover more about the Army Wounded Warrior Sports Program, please visit the Army MWR website, or contact Army Sports Specialist Mark Dunivan by email at .
When he was injured in Iraq in September 2007, Army Command Sgt. Major Mark Cornejo was reluctant about being medivaced back to the United States for medical treatment, because that meant he would be leaving his comrades and his mission behind. Throughout his recovery, he never lost his desire to continue to serve his country. On May 13th, he assumed responsibility for the 187th Medical Battalion at Fort Sam Houston, Texas.
"Giving up never entered my thought process," Cornejo said, speaking of his recovery. "It wasn't 'if,' it was 'when' I was going to get back. I just wanted to know how fast I could get fixed so I could get back."
Cornejo was deployed with III Corps out of Fort Hood, Texas in November 2006, as the chief medical NCO for the corps staff. He and 10 fellow Soldiers were injured in a mortar attack on their FOB, September 11, 2007. After returning to the United States for treatment at Brooke Army Medical Center in San Antonio, he underwent 3 months of in-patient treatment and over 5 months of rehabilitation. He's still working on building the strength in his shoulder.
"I suffered shrapnel wounds on the left side of my body and left shoulder," he said.
Last fall, I had the pleasure of meeting CSM Cornejo while he was still a patient at BAMC. I had went to BAMC with 1st Cavalry Division rear detachment personnel on one of their trips to visit the Wounded Warriors at BAMC. CSM Cornejo had just undergone another surgery that day, and was in great spirits when we visited, laughing and joking with us, especially after we presented him various 1st Cavalry Division memorabilia. During his time spent recovering at BAMC, Cornejo found out that his next assignment would keep him there at BAMC. I was quite impressed with his positive attitude, despite the pain he had to have been feeling that day.
"I was very happy. Since I'm a medic, I've come full circle. I'm back where I was trained 20 yeras ago," he said.
CSM Cornejo is now the battalion CSM of the 187th Medical Battalion. He has responsibility for over 450 instructors and nearly 6,000 Soldiers who will be trained at BAMC throughout the year. His battalion is responsible for the logistics and training of 8 military occupational specialties, 8 officer cources and 9 additional skills identifiers. With his experience in Iraq and then as a patient at BAMC, he will be able to bring valuable lessons to the Soldiers that he's in charge of.
"My hope is to shed some light on past experiences to magnify the importance of basic warrior tasks each Soldier needs to know," he said. "My goal is to provide realistic, but safe, training for our Soldiers.
This is a great move for CSM Cornejo and I'm sure that he'll perform his new duties will the pride and dedication that we so often see in the military. He'll definitely be able to share first-hand experience with his Soldiers, from the perspective of a medic, as well as from the perspective of a patient. I'm sure his leadership will be sorely missed at III Corps.