A Hero's Ride
UPDATE 04/25/09: I will be participating in this ride and afterwards, will post a write-up. I hope that I'll see as many of our readers as possible at the ride. This is our opportunity to really help out one of our Heroes. Please join us on May 16th!
In communities across this great country, when our neighbors experience times of need, we rally together as a community to provide support, comfort and aid to those in need. It's something that we do as Americans…. help those who are in need. That American Spirit of helping others in need is seen every day. I'd like to share with our readers about how the American Spirit of helping others is currently taking place in Central Texas.
If you happen to be in the Fort Hood area on May 16th, or perhaps would like to take part in an event that will benefit a Fort Hood Soldier who is currently facing one of the most difficult battles that a person can face in life, please read further for details. First though, I'd like to tell you a little bit about this Soldier, SGT Anson Martin.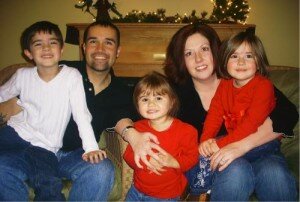 Shortly after he graduated from High School, Anson Martin enlisted in the Marine Corps, where he served for 4 years. While in the Marine Corps he met a young woman named Laurie who became his wife just as soon as his enlistment in the Marine Corps was completed. After they married the first two of their children were born. When they found out that Laurie was pregnant again, Anson enlisted in the Army, for the security that he knew the military could provide for his family. 1
Shortly after enlisting in the Army, the family moved to Fort Hood, Texas, where eventually SGT Martin was deployed to Iraq with the 3rd ACR. SGT Martin returned home early to have surgery to repair an injury to his shoulder. Though that surgery went without a hitch, SGT Martin had some other concerns that he decided to have checked out, and was diagnosed with Stage 4 colon cancer, that has spread throughout his body. The prognosis isn't a good one, but being a true Soldier, SGT Martin isn't giving up. SGT Martin began an intense regimine of chemotherapy, which caused severe reactions that caused him to discontinue those treatments. Other treatment avenues are being explored. As you know, the cost of these treatments is extremely high and SGT Martin travels several times per week to San Antonio for treatments.2 Through all of this, SGT Martin has remained positive and has placed his life in God's hands. The updates on his Caring Bridge page, testify to his strength of character and his belief that this has happened in his life for a reason. Take some time to read the updates and I think you'll be as inspired as I am with this truly amazing Soldier.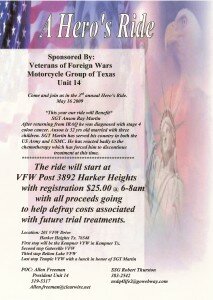 The VFW Post 3892 in Harker Heights and it's Veterans of Foreign Wars Motorcycle Group of Texas Group 14, learned about SGT Martin and what he's currently battling, and they decided to host A Hero's Ride in SGT Martin's honor. SGT Martin's only request was that his children be provided with a vacation to remember him by and that any other proceeds from the ride be used to defray costs of treatment and travel and creating college funds for his 3 children.
If you're in the Central Texas area on May 16th, please consider taking part in this ride to benefit SGT Martin and his family. If you're not in the area, but would like to make a donation, there are several ways that you can do so. You can contact Allen Freeman, who is the President of the VFW Motorcycle Group of Texas Unit 14 by emailing him at or you can donate to a fund set up for SGT Anson Martin. Details about that are listed on SGT Martin's Caring Bridge page by following this link. Please keep SGT Anson Martin and his family in your thoughts and prayers as they continue this battle.
http://www.caringbridge.org/visit/ansonmartin/mystory [↩]
http://www.caringbridge.org/visit/ansonmartin/mystory [↩]
Comments