Veterans Rights is a topic that is near and dear to many of us in the MilBlog world. The issues that our Troops and Veterans face are multi-faceted ones and often they aren't aware of exactly what organizations and agencies they can turn to for help. The issues can be numerous and some are dealing with several issues at the same time. Not knowing where they can turn to, can lead to desperation and despair. We've told you about many of the agencies, those in the government, as well as those in the private sector, who make it their mission to assist our Troops and Veterans in need.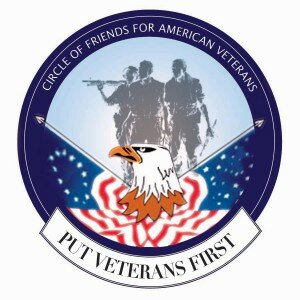 On May 13th and May 14th, one of these agencies, Circle Of Friends For American Veterans will be hosting a National Veterans Convention in Washington D.C. to discuss and advance veterans' issues and hopefully raise more awareness to issues that our Veterans face. This event will feature members of the US Congress, as well as speakers with expertise on the subject of Veterans' Advocacy. Registration for the Convention is free of charge. If you're in the Washington D.C. area or plan to be, during that time period, I highly encourage you to participate in this event. On Wednesday May 13th, convention hours are from 8am to 6pm and on Thursday, May 14th, hours are from 9am to 5:30 pm.
According to the Circle Of Friends For American Veterans website, 14 members of Congress have already expressed interest in the convention and 7 of those have already confirmed that they will be attending. I would hope that even more will recognize the importance of the issues that face our Veterans and that many more will plan to attend. Below, you'll find the details about the convention with instructions on how to register.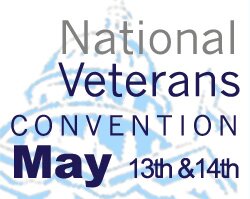 You are cordially invited to attend and participate in the National Convention for Veterans to be conducted in the distinguished Reserve Officers' National Headquarters, a block from the US Capital in Washington, DC, on Wednesday, May 13th & Thursday, May 14th. The Convention will advance a comprehensive veterans' platform and raise the priority for veterans in our nations' agenda. The two day program will feature the following:
Leading Members of the United States Congress
Highly Credentialed and Outspoken Speakers & Panel Members on the Subjects Veterans' Advocacy, National Defense and Budgetary/Spending Reform
Continuous Media Opportunities with National & Regional Outlets, Especially Live National Talk Radio
Complimentary morning and afternoon passes each day are issued until the hall is booked up. Complimentary tickets for Veterans' Leaders Luncheon on Wednesday May 13th, Congressional Leaders' Luncheon on Thursday May 14th and cocktail receptions are available to those with personal and institutional standing in support of American Veterans, a fiscally sound budgeted economy and a strong national defense. Confirmation numbers for all tickets will be issued until all events are filled.
To RSVP For This Event Click Here
Having problems registering online? Contact us at (800) 528-5385 and we will register you personally.
For More Regarding the Circle of Friends for America Veterans Visit Our Website

Circle Of Friends For American Veterans

Our nation is as strong as the core. Veterans are the core. We take care of the veterans and we take care of the core. May God Bless American Veterans and Continue to Bless Our Great Country.
We owe it to our Veterans and our Soldiers to ensure that they are receiving the very best when it comes to services and care, both during and after their time in service. These men and women have sacrificed so much for this country, for you and I, to ensure that we can continue to live our lives as we see fit. If you can't attend the convention, please visit the Circle of Friends for American Veterans website to find ways that you can help to ensure that our country's Heroes receive the very best. They deserve no less than that.
The Boston Marathon is an annual marathon sporting event hosted by the city of Boston, Massachusetts, on Patriots' Day, the third Monday of April. Begun in 1897 and inspired by the success of the first modern-day marathon competition in the 1896 Summer Olympics,[1] the Boston Marathon is the world's oldest annual marathon and ranks as one of the world's most well-known road racing events. It is one of five members of the World Marathon Majors.
Today, the Boston Athletic Association (B.A.A.) manages this event. Amateur and professional runners from all over the world compete in the Boston Marathon each year, braving the hilly New England terrain and varying weather to take part in the race.
The event attracts an average of about 20,000 registered participants each year. In the 100th running of the Boston Marathon in 1996, the number of participants reached 38,000. While there are cash prizes awarded to the winners of the marathon, most of the runners participate for the accomplishment of having run the race at all.1
On April 20th, two Special Forces Soldiers who were both wounded in combat, competed in the race. What makes their participation unique, is that both are single leg amputees and both competed in the race on Hand Cycles. Army Major Kent Solheim who is a member of the US Army John F Kennedy Special Warfare Center and School and Army SSG John Walding from the 3rd Special Forces Group, were injured in different countries. Solheim in Karbala, Iraq and Walding in Afghanistan. Both of these Heroes received the Silver Star for their actions in combat and both Soldiers officially finished the race. Solheim finished with a time of 1hour, 50 minutes and 23 seconds. SSG Walding was right behind him, finishing in 1 hour, 52 minutes and 53 seconds.
Solheim was wounded in Karbala, Iraq, while he was assigned to the 3rd SFG. His team fast-roped onto its target, and in the gun battle that ensued, he was shot four different times. Originally, doctors tried to save his leg, but 20 months later, he made the tough decision to have his right leg amputated. That was seven weeks ago.
Walding was wounded in Afghanistan on April 5, 2008, when a sniper's round instantly amputated his right leg. From there, Walding folded his leg into his crotch and tied it with his bootlace. With the help of his team, he later made it down the side of the mountain.2
Both Soldiers recuperated from their injuries at Walter Reed Army Medical Center. While the rehabilitation process is often a long, tedious and painful one, the team of experienced therapists who work there, provide one of the best places for our wounded warriors to recover from their injuries. Both Soldiers took part in extensive physical therapy, but felt that the support of each other, made their recovery that much better. Their friendship caused them to push themselves harder and further than they may have done alone.
"I really believe God put us together for a reason," Walding explained. "If Solheim had not been here with me, I would have not pushed as hard as I did. I still would have hit the gym, still have done the cardio. I would have still ran and done what I was supposed to do, but we feed off each other. It really has doubled what my intentions are."

"It's huge to have a partner when you are going through something like this," Solheim said. "John and I are able to work out together. We both support each other and have been close friends here. I push him, he pushes me; it's a mutual thing. Both of us have achieved high levels of success and our own goals because we have been able to push each other."

"You have to have that kind of support behind you," Walding said. "We're Green Berets; we're not lazy people. When you take a Green Beret and say you can't walk any more, it's not just the physical aspect, it's the mental aspect of, 'Man I can't go run today,' and it's a lot to take in. I gave three years of my life to get this hat and join the brotherhood, and now I may not have that job anymore."3
Not only do both Soldiers have the support and encouragement of each other, but they have the support of their families as well. That's always important when someone is recovering from an illness or injury and even more so to wounded warriors. The support of their families is essential to their recoveries. Neither Soldier was initially training for the Boston Marathon, but training to enable them to be able to interact and do things with their children, like they always have.
"We were just training so we could play with our kids again," Walding said. "It's not our kids' fault that we got shot and going through this together, it doesn't matter who finishes first. I couldn't have done it without Kent and we will finish together."4
According to SSG Walding, out of 26,385 participants in the Boston Marathon, only 20 of them were using hand cycles. It wasn't an easy thing for them to be able to compete, but with the assistance of Team Achilles – Freedom Team of Wounded Veterans, it was able to happen. The Freedom Team is a program that is operated at Walter Reed. Achilles makes the hand crank cycles available to the wounded warriors. The goal is to get them out of the hospital and back on their feet and exploring the many opportunities that are available to them.
"Having lost a leg, you can't swim because you have sutures in your leg," Walding said. "You can't ride a bike, because you can't wear a prosthetic. You obviously can't run or walk, so any type of cardiovascular activity you want to do is going to come from your upper body."

"I just got tired of the exercises Walter Reed has in the clinic," Solheim said, "so I just decided to try the hand cranks. I took one to a local park … and started riding on a daily basis. I was there with SSG Walding and it was just something we started doing together. It's been a tool for us to get out of the hospital, outdoors everyday," he said, "and now it has led to the opportunity to do the race."5
Prior to competing in the Boston Marathon Solheim and Walding had been riding the hand cranks for only about 7 weeks. What they've both been able to accomplish in such a short time is amazing! Both Soldiers have much bigger goals in mind than the Boston Marathon and I'm sure that with the drive and determination that they've exhibited thus far, that both of them will be able to accomplish anything and everything that they set their minds to.
UPDATE 04/25/09: I will be participating in this ride and afterwards, will post a write-up. I hope that I'll see as many of our readers as possible at the ride. This is our opportunity to really help out one of our Heroes. Please join us on May 16th!
In communities across this great country, when our neighbors experience times of need, we rally together as a community to provide support, comfort and aid to those in need. It's something that we do as Americans…. help those who are in need. That American Spirit of helping others in need is seen every day. I'd like to share with our readers about how the American Spirit of helping others is currently taking place in Central Texas.
If you happen to be in the Fort Hood area on May 16th, or perhaps would like to take part in an event that will benefit a Fort Hood Soldier who is currently facing one of the most difficult battles that a person can face in life, please read further for details. First though, I'd like to tell you a little bit about this Soldier, SGT Anson Martin.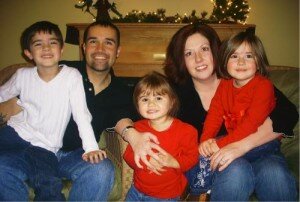 Shortly after he graduated from High School, Anson Martin enlisted in the Marine Corps, where he served for 4 years. While in the Marine Corps he met a young woman named Laurie who became his wife just as soon as his enlistment in the Marine Corps was completed. After they married the first two of their children were born. When they found out that Laurie was pregnant again, Anson enlisted in the Army, for the security that he knew the military could provide for his family. 1
Shortly after enlisting in the Army, the family moved to Fort Hood, Texas, where eventually SGT Martin was deployed to Iraq with the 3rd ACR. SGT Martin returned home early to have surgery to repair an injury to his shoulder. Though that surgery went without a hitch, SGT Martin had some other concerns that he decided to have checked out, and was diagnosed with Stage 4 colon cancer, that has spread throughout his body. The prognosis isn't a good one, but being a true Soldier, SGT Martin isn't giving up. SGT Martin began an intense regimine of chemotherapy, which caused severe reactions that caused him to discontinue those treatments. Other treatment avenues are being explored. As you know, the cost of these treatments is extremely high and SGT Martin travels several times per week to San Antonio for treatments.2 Through all of this, SGT Martin has remained positive and has placed his life in God's hands. The updates on his Caring Bridge page, testify to his strength of character and his belief that this has happened in his life for a reason. Take some time to read the updates and I think you'll be as inspired as I am with this truly amazing Soldier.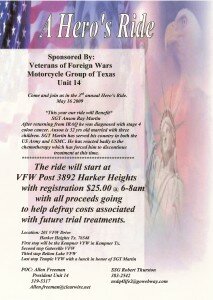 The VFW Post 3892 in Harker Heights and it's Veterans of Foreign Wars Motorcycle Group of Texas Group 14, learned about SGT Martin and what he's currently battling, and they decided to host A Hero's Ride in SGT Martin's honor. SGT Martin's only request was that his children be provided with a vacation to remember him by and that any other proceeds from the ride be used to defray costs of treatment and travel and creating college funds for his 3 children.
If you're in the Central Texas area on May 16th, please consider taking part in this ride to benefit SGT Martin and his family. If you're not in the area, but would like to make a donation, there are several ways that you can do so. You can contact Allen Freeman, who is the President of the VFW Motorcycle Group of Texas Unit 14 by emailing him at or you can donate to a fund set up for SGT Anson Martin. Details about that are listed on SGT Martin's Caring Bridge page by following this link. Please keep SGT Anson Martin and his family in your thoughts and prayers as they continue this battle.
http://www.caringbridge.org/visit/ansonmartin/mystory [↩]
http://www.caringbridge.org/visit/ansonmartin/mystory [↩]
Troops In Korangal Valley Turn The Tables On The Taliban
The Korangal Valley is one of the most volatile areas in Afghanistan. Korangal's high mountains, densely wooded and riddled with caves, are used by militants to launch near-daily attacks on remote U.S. bases. More than 1,000 people, mostly militants, have been killed in insurgency-related violence in Afghanistan this year, according to an Associated Press tally of figures from Afghan and Western officials.1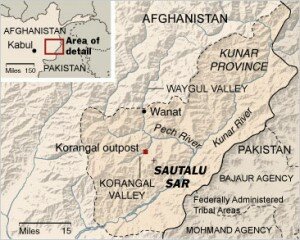 This particular area in Afghanistan is one that readers of this blog should be very familiar with. It's the scene of a battle that claimed the lives of 19 brave American warriors, and a place that retired Navy SEAL Marcus Luttrell will never forget. On a mountainside in that region, Marcus and his 3 fellow SEALS battled terrible odds against hundreds of Taliban fighters. Marcus was the only survivor and he carries the physical and emotional scars of his time on that mountain with him even today. Marcus relives those days everyday and has made sure that everyone knows of the heroism and bravery of his fellow SEALS who lost their lives on that mountain, in his book, Lone Survivor, The Eyewitness Account of Operation Redwing and the Lost Heroes of SEAL Team 10, which is dedicated to the memories of his three teammates and the 16 men who lost their lives attempting to rescue them. You can read the story I posted about Marcus's book by following the link above.
Recently, on Good Friday to be exact, the very same mountainside was the scene of a different battle. One that has become an emotional rallying point for Soldiers in the region and is seen perhaps as a payback of sorts, retribution if you will, for the American lives that were lost in Operation Red Wing in June 2005. The terrain in the region is treacherous and unforgiving. Unfamiliar terrain for our Troops, which makes it a safe haven for the Taliban fighters hiding amongst the mountains there. American Troops walked away victorious without any casualties.
On that day, 30 Soldiers from 1st BN, 26th Infantry left the Korangal Outpost before Noon. They spent a good portion of their day climbing a ridge located on the opposite side of the Korangal River. Once they reached the summit, almost 6,000 feet above sea level on the top of Sautalu Sar, the same mountainside that Operation Red Wing took place, they discovered footprints on the trails … fresh footprints. The platoon leader of the group, 2LT Justin Smith found a spot where the trails crossed and his team set to work digging fighting holes before it turned dark. They also placed claymore antipersonnel mines among the nearby trees. As sunset approached, Lt. Smith gave orders for complete silence until complete darkness. He then sent 3 scouts about 100 yards away in a listening post, located about 10 feet from the trail.2
Shortly after the scouts got into place, they observed a group of Taliban fighters, walking quickly towards their location. Sgt. Zachary Reese, a sniper with the group of scouts, whispered an alert to the others, telling them that the enemy fighters were approaching them very quickly. He counted 26 Taliban fighters as they passed by. The American Troops where in a place where no Americans had spent the night for several years. The Taliban apparently didn't expect American Troops to be there, and weren't watching for danger. The Soldiers waited, I'm sure impatiently for the signal from their platoon leaders, ordering them to fire. They'd learned long ago, that once that order was given, they must all fire at once. Lt. Smith didn't want his Troops to fire too soon, to ensure that they were able to take the Taliban fighters completely by surprise, even after the 3rd Taliban fighter in the column quickly switched his flashlight on and then back off. Instead he allowed the column of enemy fighters continue on, as his Troops readied themselves, with weapons trained on the column of Taliban fighters.3
As the group of enemy fighters continued on the trail, quickly approaching where the main body of the Platoon was in place, PFC Troy Pacini-Harvey moved the selector switch on his rifle, from safety to semi-automatic. As with most mechanical components, when he did so, it made a barely perceptible click. Apparently the lead Taliban fighter heard the click and froze about 6 feet from where PFT Pacini-Harvey was located. Lt. Smith signaled his platoon to fire, softly speaking the words over the radio.
Simultaneously, the platoon began firing. Thunderous noise and flashes of light erupted. Bullets found their mark, striking the leading line of Taliban fighters, who fell where they were hit and without returning a single shot. Five other Taliban fighters attempted to run towards the Soldier's left, right into the path of more gunfire and mines. The Soldier's heard a rustling in the brush and detonated a claymore mine. The movement stopped.
While the firefight lasted only a few minutes, I'm sure to the Troops involved, it seemed like an eternity. The Taliban fighters who survived the ambush and managed to escape ran back up the hill. The Troops could hear them shouting to each other as they ran. The three scouts were called back in to join the rest of the Troop, as two Apache attack helicopters arrived, dropping a bomb on the escape route taken by the Taliban fighters.
The team then began to search the fallen Taliban, and retrieve any weapons, papers and equipment. The bodies were photographed as well for identification purposes. As they approached one group of bodies, Sgt. Reese handed his rifle to another Soldier, as he cut away ammo pouches from the bodies. One fighter was apparently "playing dead" as he lunged for Sgt. Reese as he approached. Defending himself, Sgt. Reese stabbed the insurgent with the knife he was using to cut away the ammo pouches. All told, at least 13 Taliban fighters were killed, possibly many more.4
As they made their way back to Korangal Outpost, word of the ambush was already spreading throughout the terrorists network. One of the items secured from the body of a terrorist was a cell phone. As the platoon headed back, the phone began ringing. It continued to ring….
I hope that in some small way, this event has helped Marcus to have at least some closure to the trauma he endured in those mountains. Having met Marcus, I'm sure that he was pleased in hearing about this battle and probably wished he could have been there as well. I'm sure that if he'd been able to, Marcus would have gladly stood on that mountainside with these Soldiers and fought bravely alongside of them. I'm sure, as the Soldiers of 1st BN, 26th Infantry were planning and executing this mission that the names of the brave warriors who lost their life in Operation Red Wing in June 2005 were in their thoughts and close to their hearts as they planned and executed this mission.
http://www.aawsat.com/english/news.asp?section=1&id=12581 [↩]
http://www.nytimes.com/2009/04/17/world/asia/17afghan.html?_r=1&ref=asia [↩]
http://www.nytimes.com/2009/04/17/world/asia/17afghan.html?_r=1&ref=asia [↩]
http://www.nytimes.com/2009/04/17/world/asia/17afghan.html?_r=1&ref=asia [↩]
With our country at war on two fronts, we often hear about valorous actions that have occurred during a particular battle. Or, like my previous story, we hear about things our Troops do to help those less fortunate than us, in the countries they're serving in. When our Troops are at home, it's not often that we hear about their accomplishments or things that they do, that are considered extraordinary or above and beyond the call of duty. Those types of things happen much more often then what we even realize, often because our Troops don't feel that they need recognition or acclaim for the things that they do, that to us, might seem heroic. These are just the types of things, however, that the American public does need to know about. We as Americans should be aware of the courage and bravery of our Troops, both on and off of the battlefield.
Because of the actions of one young Soldier at Fort Lewis, Washington, a 7 year old girl is alive today. Had it not been for his quick reaction to things that unfolded around him, the little girl is alive today. It was a typical March afternoon as PFC Seth Manderscheid of 3rd Brigade, 2nd Infantry Division drove down the streets of Lacey, Washington. Ahead of him, he noticed the familiar site of a school bus pulled over at the side of the road with it's red warning lights flashing and stop sign out, indicating that children were either getting on or off of the bus. Something that each of us probably see every day. In all states, drivers are to stop to allow for the children to safely cross streets as they board or get off of the bus at their stops. As is normal for children, they jumped from the bus and made their way across the street, in front of the bus.
Suddenly, PFC Manderscheid noticed the car in front of him pulling out and accelerating to pass the bus. Manderscheid watched as the driver, whom he estimated at going approximately 30 MPH, struck a young girl, tossing her body into the air. She landed about 30 feet from where the car struck her. Having just recently earning his Combat Lifesaver Badge, PFC Manderscheid quickly got into action, jumping from his car and running to the unconscious child lying in the roadway.
"I checked for a pulse," Manderscheid said. "There was no pulse. I looked to see if her chest was rising up and down. That wasn't happening either. So I did CPR. I was just reacting, using what I've been taught."1
While PFC Manderscheid performed CPR on the young girl, someone else called 911 and summoned paramedics. Others calmed the young girls mother, who was understandably hysterical and keeping her back while Manderscheid continued CPR on her daughter, for about 5 minutes, until the paramedics arrived. I don't know how many of our readers have had to perform CPR for real, but I have and I can tell you that 5 minutes seems like an eternity, when you're trying to save someone's life. When Paramedic Michael Theriault arrived, he found the young girl breathing with Manderscheid keeping her calm. The Emergency Medical Crew took over for Manderscheid.
"Seth assisted me with getting the child on a back board and getting her into the ambulance," Theriault said. "The child only has a mild concussion with two broken ribs. Needless to say, that if it were not for the actions of Seth Manderscheid, the child would not have survived."2
Manderscheid didn't think a whole lot about what had happened. After the ambulance drove off towards the hospital with the young girl inside, Manderscheid proceeded to his home, where he told his wife what had happened. Imagine his surprise and probably a bit of suspicion when he was told on April Fool's Day (of all days) that he would be receiving the Army Commendation Medal for his actions that day. PFC Manderscheid was told that Army Chief of Staff General George Casey would be coming to Fort Lewis and would be pinning on his medal. On April 7th, General Casey awarded PFC Manderscheid with the Army Commendation Medal.
"It's pretty cool," Manderscheid said. "Pretty exciting."

"Seth is a hero," said Theriault. "I believe that you have one unbelievable Soldier."3
I couldn't agree more. So often in situations like this, people just pretend that they don't what happened, or just ignore what they saw. PFC Manderscheid could have done just that, but instead chose to react to the situation he saw unfolding in front of him and thus saved the life of a young girl. I'm sure that this little girls parents are eternally grateful to the American Hero who saved their daughters life.
http://www.military.com/news/article/army-news/gis-quickthinking-saves-young-girl.html?wh=news [↩]
http://www.military.com/news/article/army-news/gis-quickthinking-saves-young-girl.html?wh=news [↩]
http://www.military.com/news/article/army-news/gis-quickthinking-saves-young-girl.html?wh=news [↩]
The media has filled our television screens with visions of war in Iraq. Most of the times, what they show us isn't pretty, nor is if very often favorable to our Troops. Often our Soldiers are portrayed in a less than favorable light and made to appear as if they're nothing more than a rag tag bunch of blood hungry hoodlums. They never tire of telling us about the bad things that happen and often seem to be attempting to portray all of our Troops in a bad light, when in reality it's only a few who do bad things. The media never fails to pick up on the occasional instance of one of our military members doing the wrong thing while they're deployed, yet they rarely tell us about all of the wonderful humanitarian things that our Troops accomplish on a daily basis. In fact, I'd venture to bet that those instances far outweigh the instances of wrong doing by our soldiers. I'd like to introduce our readers to one Army Reserve Soldier who is going above and beyond to help an Iraqi citizen who is in desperate need of a lifesaving operation.
Shadia is a 30 Iraqi female who serves as a security guard at the entrance to the Abu Ghraib warehouse. Because of fears that her life might be in danger, her last name and photos can't be released. Shadia is employed by a security company and her job is to search any women who come to the entry point of the 58 acre warehouse site. Her job is an important one, as she and others like her work hard to ensure that the 1500 people at the site are safe form suicide bombers and others who would possibly attack them. Shadia works hard to provide for her family. Out of 8 children, she is the only one working. Without lifesaving surgery though, Shadia may not be able to continue to support her family.
Shadia has a tumor that is pressing against her brain and the optical nerve. When the tumor was diagnosed, Iraqi doctors said that they were unable to perform the surgery she needed. One man, Col. Thomas Cain, commander of the warehouse site couldn't just sit back and do nothing, allowing her to die. So he began searching for someone who was willing to help.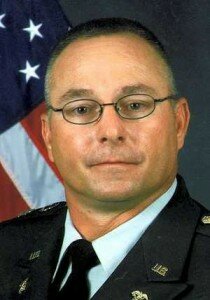 Col. Cain was very determined that he was going to do whatever he could to ensure that Shadia got the surgery she needed. After making hundreds of phone calls and more than 40 requests, he finally got an affirmative answer from a hospital in Tennessee. Once she has obtained her medical visa, then a neurosurgeon in Tennessee will remove the tumor.
"She is my first line of defense," said Col. Cain. "She was brave enough to come out here every day. There's huge risks."1
Unfortunately, in Iraq, those who work with American and coalition forces, often find themselves in danger from al Qaida and others in their country. Because Shadia is a woman, she's at even greater risk. Many of their fellow Iraqis have been killed when it was discovered that they were working with or for the coalition forces.
Col. Cain explained how it was discovered that Shadia had the tumor in her brain. One day about 6 months ago, she collapsed at work. The Iraqi doctor wasn't there that day, so US military doctors checked her instead. They discovered a tumor that was at the time, about the size of a quarter. She's apparently suffered symptoms from this tumor for about 6 years. The tumor is located in such a place that it's crushing her optic nerve and has caused blindness in one of her eyes. Now she's also losing sight in her other eye.
"Every day this thing is growing. It's putting pressure on her brain," said Cain.2
While the danger from the tumor wasn't immediately life threatening, the news nonetheless, wasn't good news. Doctors said that in order for Shadia to survive, she would need brain surgery. If left in place, blindness is inevitable and death is probably. Appeals to the Iraqi government did no good.
"Her government said they didn't have the budget," Cain said. "The problem is, this girls out of time. Something has to be done right now or she's going to lose her life."3
Not willing to just sit back and watch Shadia die, col. Cain decided that he would do everything within his power to find someone who was willing to help Shadia. He immediately started calling doctors in the US and other countries. Surprising to Cain, was the fact that almost every doctor that he talked to said they were wiling to do the surgery free of charge. Finding a hospital that was willing to do the same, wasn't near as easy and on the approximately $800 a month that Shadia makes, she wouldn't be able to pay those hospital bills anytime soon, considering she's supporting her entire family. Col. Cain estimated that hospital fees for the surgery and aftercare, could top a half million dollars.
Needless to say, when the hospital in Tennessee agreed to do the surgery free of charge, Cain was excited. So much so that he did a touchdown dance in his office. Since then, there have been offers from 3 other hospitals in the US. While she waits for the paperwork that will enable her to fly to the US for her surgery, Shadia keeps busy learning English so that she'll be able to communicate more easily with staff during the 15 hour flight as well as staff at the hospital.
Cain and his wife Deedy planned to pay for Shadia's flight out of their own pockets, but they won't have to do so, as the company that Shadia works for, has agreed to pay for her air fare, as well as her salary while she's recovering from her surgery. Though the surgery is risky, Shadia is excited at the prospect at the second chance on life that she's being given.
"She knew she was in bad shape. She knew she was really sick and nobody was helping her," Cain said. "Through an interpreter, she told me, 'You're the only one who cares. Period.'"4
Deedy Cain is of course, extremely proud of what her husband has done to help Shadia. I think that Mrs. Cain summed it up best, when speaking about our Troops and the job that they're doing in Iraq, Afghanistan and other countries around the globe.
"They're not just over there at war. They're over there trying to help," she said. "American soldiers are trying to better the lives of people who are over there, and make their lives better."5
As I researched this story, I was amazed to find only a few small references to it in the media. While that doesn't surprise me, it does upset me that our Troops aren't given the credit for the positive things that they're accomplishing, sometimes at their own expense.
So many Vietnam Veterans still bear the scars of the conflict itself and of the horrible way they were treated upon their return home from the war. Instead of returning to Homecoming Parades and being treated like the Heroes that they were and are, they were welcomed with hatred and violence from their fellow Americans. That treatment left many scars, some that many of them still battle with today. I remember being a young teenager and seeing the violence played out on the screen of our television. I remember feeling so angry that people were treating our returning Troops that way, and vowing to myself that if our country ever sent our young people to war again, I would do everything in my power to ensure that another generation of veterans would not have to suffer the way our Vietnam Veterans did at the hands of their fellow Americans.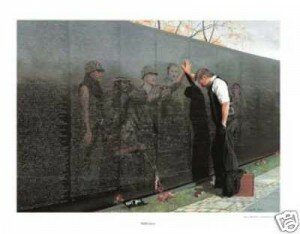 Years after the Vietnam War was over with, a memorial was created to honor those who lost their lives in Vietnam. A monument that they so rightly deserved. The gleaming black granite slabs that make up the Vietnam Memorial Wall are a lasting reminder to our country of the sacrifices that were made by thousands of men and women during the Vietnam War. That wall signifies the incredible loss by our country in that conflict. The Wall has become a place of reverential solitude, a place where friends and family members of the fallen can come to obtain a sense of peace, connection and closure. While many of these veterans are still among us, many lost their lives prematurely due to various reasons. So many of them died as a result of exposure to Agent Orange as well as the emotional wounds that never healed from PTSD, which during the Vietnam War, wasn't recognized as stemming from the war.
This year, at the 11th annual "In Memory" ceremony, 123 American heroes from the Vietnam War will be honored posthumously. These heroes names won't be found on The Wall, as they didn't meet the criteria developed by the DoD. None the less, these heroes died directly as a result of the war. The 11th Annual 'In Memory Day' is scheduled to begin at 10am on Monday April 20th. It is expected that 1,000 family members, friends and fellow veterans will be on hand to participate in the event, that is sponsored by the Vietnam Veterans Memorial Fund.
"In Memory Day allows The Wall to do what it does best: provide a healing environment for family members and friends," said Jan C. Scruggs, founder and president of the Vietnam Veterans Memorial Fund. "It also allows all of us to pay tribute to these brave Americans who served and sacrificed for their country."1
Several speakers will be present, including Richard Schneider, executive director for government affairs for the NCO Association of the USA, as well as Navy Veteran Chuck Price, who will perform the song "The Unsung Heroes" which is a song about honoring and remembering our Vietnam Veterans. During the ceremony, family members will read their loved ones name in chronological order according to their date of death. Afterwards, participants in the ceremony will lay tributes at the base of The Wall corresponding to the years they served in Vietnam, so that these Veterans will come to rest near those comrades whom they served with. With the 123 names being read this year, a total of more than 1,800 people have been honored in the "In Memory Honor Roll."
Our Vietnam Veterans, rightly deserve this honor after so many years. I've always believed that our country treated these men and women wrong and while we can never do enough to make up for the pain and suffering that we as fellow Americans have caused these brave Heroes, this is just a small step in the right direction. If you're going to be in the Washington DC area on April 20th, I encourage you to stop by and take part in this ceremony to honor our Vietnam Heroes. I think that you'll be incredibly touched by what you witness there. Too find out who is being honored this year on "In Memory Day" follow this link.
http://www.defenselink.mil/news/newsarticle.aspx?id=53869 [↩]
IEDs or Improvised Explosive Devices are one of the biggest dangers that our Soldiers are facing in the battlefields of Afghanistan and Iraq. IEDs are something that injure or kill more Soldiers in these wars. Because of this, the Joint Improvised Explosive Devise Defeat Organization (JIEDDO) was created. Now the JIEDDO is studying why some Soldiers are better able to identify and recognize an IED that has been implanted on a route they are traveling, than other Soldiers are. What special sense or inate ability do these Soldiers possess, that others don't? Is it something that can be taught to other Soldiers? Because of these questions, the JIEDDO, for the past 18 months has been conducting research into why this is, to identify what particular skills, abilities and characteristics possess that others do not.
The director of the study, Jennifer Murphy, PhD said that the leadership of JIEDDO had been hearing stories coming from the front lines, that some Soldiers were able to identify IEDs and thus help others in their convoys avoid these deadly traps. The JIEDDO and the Army Research Institute for the Behavioral and Social Sciences joined forces to research and study this phenomenon.
"Wouldn't it be great if there was a way we could identify people who have this skill before they deploy, because it would save so many lives," she said. "Because right now the way it is, we have to wait for the tour to unfold to see who is good and who's not."1
According to Murphy, as her team heard more and more of these stories about certain Soldiers who just seem to be able to 'sense' that an IED had been implaced, the more they began to question the reasons why those Soldiers were so good at finding IEDs. If the Army were able to identify those particular Soldiers prior to a deployment, they could then strategically place them in various locations throughout convoys. The end result could be many lives saved. According to statistics, most IED casualties occur either at the beginning or at the end of a Soldier's tour in combat. Those occurring at the beginning, because Soldier's aren't yet familiar with their surroundings and those occurring at the end, because Soldiers begin focusing on returning home.
"If you talk to a Soldier about what he thinks makes him good, he'll say, 'I've got a spidey sense, a sixth sense and I can just feel something is wrong. I don't know ath it is, but something is out of place, not quite right," she said. "Obviously we can't measure 'spidey sense' but I can tell you that we can determine to a large degree how eyes and certain cognitive functions work together."2
As more and more of these reports come in from the front lines, the research team began studying certain human factors that might impact why some Soldiers are more able to detect IEDs than others. Things such as the way the light enters the eyes, to the way the information is passed along to the brain, as well as personality factors were measured. This was done through several different tests as well as finding out different experiences that each Soldier experienced in the field or perhaps had earlier in their life. Questions were asked of the Soldiers, like, were they avid hunters and fisherman, was the terrain they were traveling in familiar to them? So many factors can come into play and the JIEDDO team felt it was important to study how these factors interrelate to make someone good at detecting IEDs.
After identifying certain core components, the researchers then broken them down into basic processes and determined ways in which they could measure them. To date, 800 service members from all branches of the military have been accessed, given a battery of 15-16 tests. The data was then analyzed and researchers were able to filter out the most important predictors of persons who could do well at finding IEDs.
"We're not just looking for an ability in someone, we're looking for differences between people, because that's how we identify the ones who are going to be best at this task," said Murphy. "Most Soldiers have vision that has been corrected, but there are some people who can see above and beyond that. I'm not going to know what above and beyond is, unless I know how everyone else performs."3
Besides visual acuity, researchers are also looking at other traits which seem inherent in Soldiers who are good at detecting IEDs. Murphy said those are things such as certain cognitive capacity characteristics, working memory spatial representations, Soldiers keep in their brains. While these are traits that can be measured, Murphy stressed that these traits can't be taught.
"Some of the things we're looking at are skills that actually can be trained," Murphy said. "Things like the ability to pay attention for a long period of time. We can train vigilance, that's something research has shown we can actually do to improve performance."4
Ms. Murphy was able to identify that certain Soldiers who are sensitive to various subltities are often the same Soldiers who are making the treks down the same route every day and are able to see and sense that something is wrong, or that something is missing or there that wasn't before. Often, these are the same Soldiers who are able to detect IEDs.
"These are people who notice extraordinary subtle changes in the environment," Murphy explained. "They can recognize the treat marks of their vehicles and they can see where another vehicle has gone over and down the road that's not theirs. The one thing that you'll find is that the good route-clearance guys understand this and they'll set themselves up so they can notice changes," she said. "In their minds, they'll proactively clear the area. It's called desanitization, which is where they are able to get rid of all the trash, all the garbage, all the foliage, virtually everything along the side of the road and in the process they minimize IED hiding places. They're able to segregate items from the background."5
I'm looking forward to hearing and reading more about this research and their findings and if the team is able to identify ways in which these skills can be taught to other Soldiers. In my opinion, if being able to do so can save the lives of our Troops, then it's worth whatever cost goes along with it. I'm all for anything that is able to protect the safety and wellbeing of our Troops.
**UPDATE 7-APR-09**
Voting for the Ranger Up Girls Contest has officially started.  Please make sure to head over to their site to cast your votes.  All you have to do is click on one of many RU banners on our site.
Ranger Up, one of my favorite T-Shirt sites, is at it again. They are running a contest to find the some fresh models to show off their gear. As you all know, I am a huge fan of Ranger Up. So, I volunteered myself for the daunting task of looking at photos of beautiful young women and judging. Please make sure you head on over to Ranger Up and take a look at the contest.
A week or so ago, I wrote this article on the new album by the band Queensryche. An album that tells the story of the American fighting men and women, aptly titled American Soldier. I told you that I was working on setting up an interview with the band and if I was able to arrange it, I would write a follow-up article based on the interview. While I wasn't able to interview the entire band, Queensryche front man Geoff Tate did take some time out of his day on March 31st, the release date of American Soldier to speak with me on the phone about the album, and what inspired the band to delve in a new direction.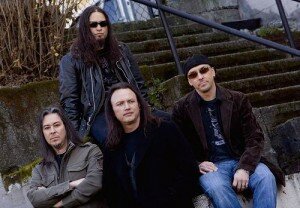 Queensryche is known for their concept or theme albums, where all songs on the album remain with a central theme. This album is no different, remaining in true Queensryche form a concept album, with one notable difference. Past albums have told the story of the bands experiences, in their words, their thoughts and their feelings. American Soldier is different, with the band telling the story of American Soldiers in combat from the perspective on the American Soldier themselves. I wanted to find out what inspired the band to go in this direction and why they chose American servicemembers as their topic.
When Geoff called me, I let him know that because I was talking to him, that I officially suck. He got a kick out of that and asked why that was. I told him that my fiancée Marty and my oldest son Corey are huge fans of Queensryche. While I've listened to some of their music over the years, I tend to gravitate towards things like Lynyrd Skynyrd and some of the classic rock bands I grew up listening to. When I told Marty and Corey that I was going to be conducting an interview with Geoff, they both immediately told me that I sucked. Ahhhhh, such is life!
Because this was a bit different for Queensryche, I asked Geoff how idea for American Soldier came about. Geoff shared that his father is a veteran of the military, having served in Vietnam and Korea. His father had never talked about his experiences before. One day he did, and Geoff was so moved that he video taped the conversation. That conversation sparked the idea for American Soldier.
"He never wanted to talk about his experiences. Whenever I asked him about it through the years, he would just say that it was something I didn't want to hear about. I thought he just wasn't comfortable talking about it". Geoff shared that his father had retired to Oklahoma, where he's currently busy building a home with his own two hands. "During the summer of 2006, while I was visiting my dad in Oklahoma and we were sitting on his porch drinking tea. Out of the blue, he started talking about his experiences. I got to know him in a way that I've never known him before."
Geoff shared that his dad retired from the military, so I asked him what branch his father served in. Geoff shared that his dad was in the Marines during the Korean War. He was injured in Korea and spent approximately 9 months recovering from his injuries. After the Korean War, Geoff's dad enlisted in the Air Force, where he served for 20 years. Born in Germany, Geoff grew up a military brat and thus traveled in several states, before the family finally settled in Washington state, where his father retired.
Growing up a military brat, Geoff stated that while his upbringing was strict and disciplined, his father taught him to never be afraid of hard work and to follow through with your word. According to Geoff, Perry Tate, was a good dad and always encouraged his children to follow their own path in life. For Geoff, military service never crossed his mind, instead, music had been a part of his life from a very young age and his father encouraged him to excel in his chosen path and has supported him as he's followed his chosen career of music. Geoff shared that he tries to use his dad's philosophies in raising his 4 daughters. I asked if any of the other band members were military brats or had served themselves.
"None of them have served and none had family members in the military. I'm the only one."
Once the idea of American Soldier was born, Geoff started on a journey that would be a very rewarding one for him. Interviewing close to 350 Soldiers and Veterans, spanning a time period from World War II Veterans to Soldiers currently serving, he was able to get a peek into the thoughts and feelings of the men and women who serve in the military. Not only did those stories touch Geoff, but when he played the interviews for the rest of the band to introduce his idea to them, they all walked away very moved. Within a few days of seeing the videotaped interviews, the band met again, with each of them sharing ideas they had for songs, based on the interviews. Geoff shared one thing that he learned about our Troops through the interviews he conducted. To further show their appreciation for our Troops and the sacrifices they make, Queensryche is working with National Military Family Association, which is a non-profit organization that is dedicated to providing assistance to military members and their family. Geoff explained that on their website, listeners can purchase specific merchandise and the band will make a donation to National Military Family Association. That's fantastic and yet another way that Geoff and the band can make a difference for our Troops!
I asked Geoff if the band has had the opportunity to perform for the Troops in Iraq and Afghanistan. Up to this point, they have not, however, he's hoping that they'll be able to do so, with their upcoming tour, which encompasses touring 28 countries. The tour kicks off on April 16th in Seattle. The hopes are that they'll be able to visit military installations around the world as the tour progresses. Good news for those of you in the Fort Hood area, Queensryche will be making a special stop at the Fort Hood Clear Creek PX on Monday May 25th at 4pm, after shows in San Antonio and Dallas. If you're in Fort Hood, stop by and say hi to Geoff and the band. I'll be there for sure!
Geoff shared that after the album was completed, a process that lasted from the summer of 2006 to January 2009, the album was played for some of the Soldiers who Geoff interviewed. Their reaction is one that will likely stick with Geoff for a long time.
"It was a very amazing experience. A very emotional one for the Soldiers and many of them had tears in their eyes. For them, coming back home and the extremes they experience, is very hard. Soldiers feel really alone with their life. What they think and what they do. They feel that most Americans don't really understand them or understand what they go through. With this album we hope that our listeners will be able, to for an hour, walk in their boots. I learned that our Soldiers are very thoughtful about their reasons for serving. All of them have an innate sense of duty, service to country and honor."
Throughout the album, American Soldier, you'll hear the voices of some of the Soldiers that Geoff interviewed, including his dad. On some tracks, you'll hear the vocals of some of the Soldiers as well. I wondered what reaction Geoff had gotten from his dad, towards the album. Geoff said he'd sent the album to his dad and spoke with him on the phone a short time later.
"He told me, you know you've been waiting for me to talk about the war for 40 years now and then when I did, you only used 19 seconds of the interview."
I hope that I was able to convey to Geoff, the depth of my appreciation for Queensryche's undertaking of this project, this tribute to the Troops. I know I told him so several times during the almost hour that we spoke on the phone. As we ended our conversation, I asked what message Queensryche hoped to send with American Soldier.
"For the Troops, this album gives the listeners the chance to walk in their boots – to see their perspective. I hope that it will spark a dialog between people and our Troops. Through this album, I'm hoping that they'll definitely get into contact with each other. So many of us, me included, take for granted what we have. We don't think about the men and women who make that possible or how many of them have sacrificed for us, to allow us to live like we want in this country. We don't think about the fact that they're willing to sacrifice their lives for people they've never met. I'm hoping this will help to open those lines of communication."
(Photos and video from the Official Queensryche website)
Next Page »