It's customary if you're in the military, to stop whatever you're doing and salute the American flag at any ceremny of hoisting or lowering the flag, at revelry or when it is passing by in a parade or review. For those who've spend time in the military and then gotten out, or retired, that habit is one that is difficult to break.
In the 2008 National Defense Authorization Act, (Public Law 110-181) Congress changed Section 9, Title 4, US Code, that covers "Conduct during hoisting and lowering of passing of the flag." Don't hesitate to share this information with veterans you know, so that they're aware of the change. The section of US Code that was changed, reads as follows:
"During the ceremony of hoisting or lowering the flag, or when the flag is passing in a parade or in review, all persons present in uniform should render the military salute. Members of the Armed Forces and Veterans who are present but not in uniform, may render the military salute. All other persons present should face the flag and stand at attention with their right hand over the heart, or if applicable, remove their headdress with their right hand and hold it at the left shoulder, the hand being over the heart. Citizens of other countries present, should stand at attention. All such conduct toward the flag in a moving column should be rendered at the same moment as the flag passes."1
I've often heard veterans express their desire to be authorized to salute the flag. Even though they're retired or no longer in the military, doesn't mean that their respect for our country and it's symbol, the Stars and Stripes, is any less. This was a great move by Congress.
Army Echoes, Bulletin for Retired Soldiers & Families
http://www.armyg1.army.mil/RSO/docs/echoes/08_Dec.pdf [↩]
Often when someone suffers from PTSD, they attempt to avoid sounds, smells, places and things that remind them of the traumatic event that they experienced. They avoid talking about the incident, in the false hope that the images, sounds and feelings will eventually go away. Often that is not the case and many end up suffering needlessly, by not getting help in dealing with it.
According to a study that was released in April, nearly 20% of veterans returning from Iraq and Afghanistan are suffering from symptoms of PTSD. Those symptoms can cover a myriad of emotional and behavioral changes. Some experts feel that by facing their demons head on, that Troops suffering from PTSD can finally learn to release the effects of their disorder.1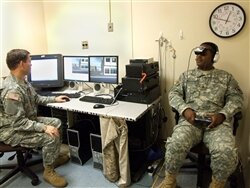 At Walter Reed, thousands of miles from the combat zones, are three computers. One has a cord that attaches to a pair of goggles, a set of stereo headphones and machines that create motion and scent. Using this equipment, doctors there are walking Troops afflicted with PTSD, through an interactive experience called "Virtual Iraq."
"You feel like you're doing to die. Your heart's beating out of your chest, your blood pressure's going up and you want to just get away from it all," Dr. Michael J. Roy, the director of Military Internal Medicine who oversees Virtual Iraq said of the treatment. "But you can make it through it. And you realize you're going to be OK."2
Traditionally, when a person is treated for PTSD, their doctors may use what is known as imaginal therapy. Using this form of treatment, doctors have the patient close their eyes and then imagine the traumatic experience and provide a first hand account of it. They are asked to describe what they saw, heard, and smelled. Often however, the attempt to protect oneself from the trauma, does not allow the individual to remember much of the traumatic moments in detail.
"It works well for those who can do that, but one of the cardinal features of PTSD is avoiding the trauma," said Roy, a medical internist and Army Colonel. "So you're asking somebody who wants to avoid any reminder, 'Tell me everything you can about what happened.' If you can do that, great - there's a good chance you're going to be cured. But are you going to be able to do it? Are you going to put up with it and keep coming back? A lot of people don't."3
Virtual Reality has been tested in other hospitals, with very good results. It's great to see it expanding to other military medical centers. Each and every tool doctors have, to help those suffering from PTSD, to get better, is that many more of our Troops that can be helped in overcoming PTSD. I think this program, along with some of the other non-traditional therapies are going to be the answer to helping the Troops who suffer from PTSD. As I find more information, I'll make sure to report it here.
http://www.defenselink.mil/news/newsarticle.aspx?id=51297 [↩]
http://www.defenselink.mil/news/newsarticle.aspx?id=51297 [↩]
http://www.defenselink.mil/news/newsarticle.aspx?id=51297 [↩]
On Thursday, President Bush signed a proclamation declaring today, Gold Star Mother's Day. The last Sunday in September, was designated by Congress to be "Gold Star Mother's Day" in 1936. By designating this day, they also request that each year, the President issue a proclamation each year.1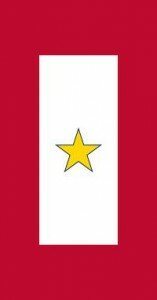 When the United States entered World War I in 1917, George Vaughn Seibold, 23, volunteered, requesting assignment in aviation. He was sent to Canada where he learned to fly British planes since the United States had neither an air force nor planes. Deployed to England, he was assigned to the British Royal Flying Corps, 148th Aero Squadron. With his squadron, he left for combat duty in France. He corresponded with his family regularly. His mother, Grace Darling Seibold, began to do community service by visiting returning servicemen in the hospitals.

The mail from George stopped. Since all aviators were under British control and authority, the United States could not help the Seibold family with any information about their son.

Christmas Eve, 1918, the postman delivered a package to the Washington, DC residence of George and Grace Seibold. The package was marked, "Effects of Deceased Officer, First Lieutenant George Vaughn Seibold, Attached to the 148th Squadron, BRFC." No other information was provided.

Grace continued to visit hospitalized veterans in the Washington area, clinging to the hope that her son might have been injured and returned to the United States without any identification. While working through her sorrow, she helped ease the pain of the many servicemen who returned so war-damaged that they were incapable of ever reaching normalcy.

After months of inquiry, the family received official notice. "George was killed in aerial combat during the heaviest fighting over Baupaume, France, August 26, 1918." His body was never recovered.

Grace, realizing that self-contained grief is self-destructive, devoted her time and efforts to not only working in the hospital but extending the hand of friendship to other mothers whose sons had lost their lives in military service.

She organized a group consisting solely of these special mothers, with the purpose of not only comforting each other, but giving loving care to hospitalized veterans confined in government hospitals far from home.

The organization was named after the Gold Star that families hung in their windows in honor of the deceased veteran.

After years of planning, June 4, 1928, twenty-five mothers met in Washington, DC to establish the national organization, American Gold Star Mothers, Inc.

The success of our organization continues because of the bond of mutual love, sympathy, and support of the many loyal, capable, and patriotic mothers who while sharing their grief and their pride, have channeled their time, efforts and gifts to lessening the pain of others.

We stand tall and proud by honoring our children, assisting our veterans, supporting our nation, and healing with each other.

Woodrow Wilson

On May 28, 1918, President Wilson approved a suggestion made by the Women's Committee of the Council of National Defenses that, instead of wearing conventional mourning for relatives who have died in the service of their country, American women should wear a black band on the left arm with a gilt star on the band for each member of the family who has given his life for the nation.

"The Service Flag displayed from homes, places of business, churches, schools, etc., to indicate the number of members of the family or organizations who are serving in the Armed Forces or who have died from such service. Service flags have a deep Blue Star for each living member in the service and a Gold Star for each member who has died." Thus, the gold Star and the term Gold Star Mother, as applied to mothers whose sons or daughters died in the World Wars, has been accepted.2
Because of the wars in Iraq and Afghanistan, I feel it's extremely important, especially now, to honor these women, for the sacrifices they've made for our country. In his proclamation, President Bush is asking that all Americans fly their flag today. To read his proclamation in whole, please click on the "more" button. Read more
http://www.defenselink.mil/news/newsarticle.aspx?id=51308 [↩]
http://www.goldstarmoms.com/WhoWeAre/History/History.htm [↩]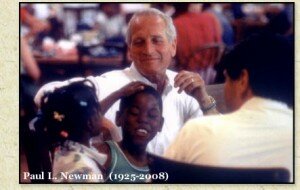 Yesterday, at the age of 83, Paul Newman passed away due to cancer. Throughout his life, Newman wore many hats. Having acted in more than 65 movies, Newman was an icon in Hollywood. Known best for his acting and race car driver, there is so much more that defines the person that Paul Newman was.
How many of our readers, know of the many charitable things that he did? He opened summer camps for ailing children. Mr. Newman was an avid supporter of our military. Each year, through his Newman's Own non-profit organization, he awarded grants to nonprofit organizations that provide support for our Troops and their families. The purpose of the Newman's Own Awards is to recognize to volunteer and non-profit organizations supporting our nation's military families. By providing grants to these organizations, he ensured that our Troops and their families were taken care of.1 The program began in 1999 and each year, thousands of dollars are awarded to these volunteer and non-profit organizations.
The military community and the world in general will miss this man and the many wonderful things he did for others. I hope that each of us will remember his inspirational works and try to live up to his example. R.I.P. Mr. Newman.
http://www.fisherhouse.org/programs/newmans.shtml [↩]
I can honestly say that those of you who weren't able to join us in Vegas for the 2008 Milblog Conference, missed out on not only the conference, but a chance to spend time with a great group of people. Over at A Soldier's Perspective, Marcus has a great write-up on just one of the "incidents" that occurred when we weren't at the conference. Great times and great people. What more can you ask for?
I'm sure that the title of this post has some of you wondering what the hell kind of kool-aid I was drinking when I was in Las Vegas last weekend. Rest assured, there's a method to my madness and the majority of the time I spent in Vegas, I was drinking Diet Pepsi or water.
When our Troops are deployed, they often miss out on important milestones in the lives of their family members. If they have children, they may miss that first birthday party, sporting events, music recitals and graduations, to name a few. Many have even missed the birth of their children, as their jobs took them away from home, as the due date approached.
The military understands how missing these milestones can affect the morale of the Troops, as well as the family members they leave behind when they deploy. Because of this, the military often attempts to ensure that the service member is able to go home on leave for at least some of these events. But that's not always possible, due to mission requirements in the combat zone. That was the case for Marine Lance Cpl. Jovan Rodriguez, who was anxiously awaiting the birth of his first child and was hoping to be by his wife's bedside, when she gave birth.
Due to operational commitments, Rodriguez was unable to return to New Jersey to be with his wife when she gave birth to their daughter. Rodriguez wanted to witness the birth of his child if at all possible, so he set out on a mission to find a solution to the dilemma and was able to do so.
"When we found out I couldn't go home, we did some research and found out we could do it by Webcam," Rodriguez said. He and his wife explained their situation and worked out the details with the hospital staff at Underwood Memorial Hospital in Frankville, NJ. The staff agreed to allow a video teleconference for them during the birth of their baby girl.1
To facilitate the teleconference, Rodriguez had to fly from Camp Al Qa'im to Al Asad Airbase. He spent several days waiting for the baby to arrive. Finally the day came and rodriguez was able to spend hours at the Morale, Welfare and Recreation Center located at Al Asad. He was able to join his wife through a two-way audio and video conference.
"If something went wrong, they would have cut off the video and I would have been scared, because it's my first time," said Rodriguez. Luckily the birth of Liliana Rodriguez went smoothly. Rodriguez was able to witness the birth of his child and provide support to his wife. 2
"I could see my wife and listen to her the whole time, and the labor went very smoothly," he said. "I consider myself one of the luckiest men in the world. I know a lot of (service members) don't get to see the birth of their child and I was blessed to be able to."3
Hopefully, with the success of this video teleconference, other service members will be able to witness such major life events in the future. Already many of our Troops are already able to participate in video teleconference visits with their families, while they're deployed. Usually these are sponsored by their units. Encourage the military spouses you know to sign up for the video teleconferences that their deployed spouse's unit might sponsor. It makes it a lot easier to be able to actually see your service member when you're talking to him or her. I participated in several when Marty was deployed, as well as one with my son when he was in Kosovo. I think being able to actually see them, makes you know for certain that they're okay and they're not just saying that to relieve you and keep you from worrying. Many of the Marines serving with Rodriguez in 2nd Battalion, 2nd Marines say that they hope they'll too be able to make the trip to Al Asad to witness the births of their own children. This is great information for Troops who are getting ready to deploy. With a little bit of coordination between the MWR Centers and local facilities, such as the hospital in Rodriguez's case, service members are able to participate in important milestones that they might not otherwise be able to.
http://www.defenselink.mil/news/newsarticle.aspx?id=51289 [↩]
http://www.defenselink.mil/news/newsarticle.aspx?id=51289 [↩]
http://www.defenselink.mil/news/newsarticle.aspx?id=51289 [↩]
As the wars in Afghanistan and Iraq continue, we've had more and more Troops return home suffering from PTSD and TBI. The stigma attached to asking and getting mental health help has been long standing and the Military is fighting an uphill battle in an attempt to cast aside that stigma and encourage our Troops to seek the help that they need. The Military has put in place several different things to assess the mental health of our Troops as they return home from deployments, as well as at regular intervals following their deployment. Unfortunately, because of the stigma, Troops often will skip subsequent screenings and when problems arise, they often will not seek help, out of fear that it will affect their careers.
On Saturday, in Los Angeles, senior physicians with the VA medical system told Admiral Mullen, the top US Military officer, that the Pentagon needs to overhaul the way it discharges Troops, as hundreds of them are leaving military service with undiagnosed and thus untreated combat related mental health problems. 1
The doctors are advocating mandatory mental health screenings for all service members retiring after service in war zones. What they don't mention is, that at least in the Army, there are already mandatory Post Deployment Mental Health Assessments immediately upon returning from the combat zone, and at 3 month intervals thereafter for the first year. The problem is that often Troops will skip the follow-up screenings or be dishonest when answering the questions. This is out of fear that if they say they're experiencing difficulties, it can have an adverse affect on their careers. As the doctors stated, few Troops acknowledge or seek help because of the stigma attached. The doctors stressed that combat stress related mental health issues become more difficult to treat, the longer someone waits to get help.
"We need to make it a gradual discharge process with milestones, whether it's six months or a year, whatever it takes," said Dr. Robert Rubin, chief of mental health at the Veterans Administration healthcare system for Greater Los Angeles. "The stigma goes away if they have no choice but to go for the exams." 2
Since he was appointed as the chairman of the Joint Chiefs of Staff a year ago, Mullen has worked hard to change the military healthcare system. He's an advocate of the Pentagon changing and improving the way that they take care of returning Troops who are suffering from physical and mental health injuries. He has ordered a senior staff officer to put together recommendations to provide to the Pentagon, as the veterans are handed over to the VA healthcare system. One goal is to make that process more seamless and easier to deal with. Mullen states that one of his big concerns is that the DoD loses track of veterans once they leave the military. That makes it difficult for them to follow their mental and physical health.3
"These people are so precious to us, we don't have much contact with them anymore," Mullen said. "We have to figure out a way to have a system that is integrated, to know where everybody is, so we can rest comfortably that those who have sacrificed so much are taken care of." 4
Mullen shared that many of the changes that need to be made to the healthcare system, will require legal action by Congress, and that because of that, changing the discharge process might be difficult. Mullen is currently on a trip scheduled to take place over a week, to Texas and California. During his trip, he'll be making stops at several mental health facilities for veterans.
Last Thursday, Mullen visited the R & R Center at Fort Bliss, Texas. As our readers know from past posts I've made about this center, Soldiers suffering from PTSD are treated aggressively by professionals trained in traditional mental health treatment as well as holistic treatments, such as acupuncture, biofeedback, meditation, and reiki to name a few. He was also scheduled to visit a homeless program in Los Angeles on Monday.
Whether we work in the military healthcare system, or we're a Veteran or Soldier or a friend or family member, we need to make sure we continue to fight the stigma attached to seeking mental health treatment. That can start by teaching Senior Leaders to encourage their Soldiers to seek help and if they themselves are experiencing difficulties, seeking help themselves. What better way, then to lead by example? Leaders need to ensure that their Soldiers are obtaining the help they need and holding them accountable if they refuse to do so. We need to ensure that the screenings that are done, aren't ones that veterans can "fudge" on, so a not to be diagnosed with a mental health disorder. We need to do everything in our power to ensure, that another generation of Veterans who might be suffering from combat related mental health issues, aren't left hanging and that they receive the help they need.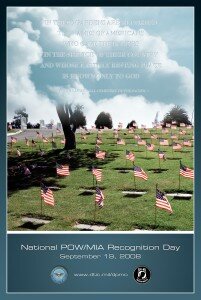 The warrior ethos are something that our military men and women live by each and every day. It defines who and what they are as a person and as a servicemember. Those ethos read as follows.
I will always place the mission first.
I will never accept defeat.
I will never quit.
I will never leave a fallen comrade.
I'm going to concentrate on the very last one. We hear in the news on a regular basis, about the remains of fallen warriors from World War II, the Korean War and Vietnam being recovered and brought home. There are groups that solely spend their time searching for those remains, meeting with diplomats from other countries, to arrange the recovery of these remains. They never stop looking. That vow is taken so seriously that the Pentagon has a POW/MIA office in Arlington, Va. Their mission is to continue to looking for these servicemembers, so that they are finally brought home and their families can finally have closure. They take their job seriously, as well they should.
"The combatant commanders that are out in the field today are working to find any servicemembers who are missing in the current conflicts" in Iraq and Afghanistan, said Air Force Capt. Mary R. Olsen, a public affairs officer for the Pentagon's POW/MIA Office in Arlington, Va.1
Currently there aren't any servicemembers listed as POW/MIA in Afghanistan. There is now only one servicemember listed as POW/MIA in Iraq, Army Spc. Ahmed Altaei, who was reported as being captured in Iraq on Oct. 23, 2006. Captain Michael Scott Speicher is listed as MIA from Desert Storm. The search for both of these brave warriors continues today.
According to Olsen, modern satellite-enabled communications devices and advanced forensics greatly assist today's recovery and identification operations, Olsen said, so that "servicemembers don't go [on] missing." But they don't just concentrate on the current wars. The POW/MIA Office works closely with the Joint POW-MIA Accounting Command to search for Soldiers listed as missing from previous wars.
"We are showing today's servicemembers and the families of today's servicemembers that these people that we send in harm's way will not be forgotten, if, God forbid, something should happen," Olsen said. "We will do everything in our power to bring them home and that we will remember their sacrifices."2
On Saturday, September 19th, the Pentagon hosted a ceremony for the 2008 MIA/POW Recognition Day, with the event featuring troops from each of the military services. President Bush issued a proclamation commemorating the observances and reminding the nation of those Americans who have sacrificed so much for their country.3 Below is the Presidential proclamation.
National POW/MIA Recognition Day, 2008
A Proclamation by the President of the United States of America

On National POW/MIA Recognition Day, we honor the brave and patriotic Americans who were held as prisoners of war, and we remember those who are still missing in action. For their valor and selfless devotion to protect the country they love, our Nation owes them a debt we can never fully repay. On this day we underscore our commitment and pledge to those who are still missing in action and to their families that we will not rest until we have achieved the fullest possible accounting for every member of our Armed Forces missing in the line of duty.

To observe this important day, the National League of Families POW/MIA flag is flown over the Capitol, the White House, the World War II Memorial, the Korean War Veterans Memorial, the Vietnam Veterans Memorial, and other locations across our country. The flag is a solemn reminder of our Nation's enduring obligation and promise to our courageous service members who remain missing and a tribute to those who have been imprisoned while serving their country in conflicts around the world.

NOW, THEREFORE, I, GEORGE W. BUSH, President of the United States of America, by virtue of the authority vested in me by the Constitution and laws of the United States, do hereby proclaim Friday, September 19, 2008, as National POW/MIA Recognition Day. I call upon the people of the United States to join me in honoring and remembering all former American prisoners of war and those missing in action for their valiant service to our Nation. I also call upon Federal, State, and local government officials and private organizations to observe this day with appropriate ceremonies and activities.

IN WITNESS WHEREOF, I have hereunto set my hand this seventeenth day of September, in the year of our Lord two thousand eight, and of the Independence of the United States of America the two hundred and thirty-third.

GEORGE W. BUSH4
It's important that we never forget these men and women. It's important that WE as a nation do everything in our power to ensure that they all eventually come home. As we remember the sacrifices of our servicemembers and veterans, let us also remember the sacrifices of our POW/MIA's and their families
I think that everyone in attendance at the 2008 Milblog Conference in Las Vegas, will agree that it was a great time. The conference was informative and it was great to be able to meet the bloggers that I'd not have the opportunity to meet before. The pre and post parties were awesome! :-)
The pre-party was hosted by the fantastic guys at Blackfive and held at the Penthouse Club. I can honestly say that the people at the Penthouse are very supportive of the Troops and they allowed us to invade their club at no cost. To give you an idea of the fun that occurred there, I'll share some photos that some of the attendees took.

After the conference on Saturday, a bunch of us met up at the Mirage for an evening of "people watching," among other things. Like the night before, I was fortunate to spend the evening in the company of a group of fantastic people. We had a blast and Marcus was able to show why the Marines are the "few and the proud" when he played hero to a damsel in distress ("I Got My Feelings Hurt!")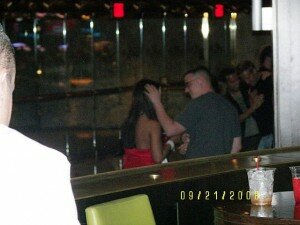 It was an evening filled with lots of laughs (chicks in barely there red dresses and wheelchairs and red biohazard bags). I am SO looking forward to the conference next year, so that I can once again spend time in the company of such wonderful people.
This panel was moderated by Greyhawk of Mudville Gazette. Bloggers on the panel were JP of Milblogging.com, Troy of Bouhammer.com, Toby Nunn of Toby Nunn's Briefing Room, and Christian Lowe of Defense Tech. All members of the panel are military except for Christian, who has served as an embedded reporter three times.
Christian said when the GWOT began, he just wanted to get over there. It was the biggest story in history and he wanted to be a part of it. He shared his frustration when he wasn't chosen for one of the first embed slots. Now that's he's been able to experience the GWOT as an embedded reporter, he tries to get back at least once a year. Luckily he says, technology has opened up a lot more opportunities for anyone to be a journalist with a little bit of time, technology and experience. He shared that the DoD is currently looking at opening up embed reporting slots for bloggers, but that he believed there was still a law that states you have to be backed by some type of media corporation to do so.
Matt Burden of Blackfive interjected that they'd been able to embed bloggers for the past year. This was confirmed by a DoD PAO representative who was present at the conference. He stated that the biggest stumbling blocks for bloggers to embed would be the liability. He went on to say that credentialling used to be a problem a few years ago, but that's no longer the case.
Toby spoke of an incident, to illustrate the often twisted version of events that the media often portrays, that occurred on Bad Voodoo Platoon's most recent deployment, where they were convoy security, when an IED detonated near the convoy. Instead of hitting the convoy, the IED struck a bus full of women and children. He shared how a Washington Post report came out that they had attacked the bus and how the Milblogging community rallied and corrected the story, basically doing the reporting for Washington Post, by getting the REAL story out there. He shared the frustration of reading about an incident you are involved in, where the media completely twists the story to suit their agendas. (We see that often) Troy stressed the importance of Milbloggers reporting from the combat zone, of making sure that their posts don't violate OPSEC.
Toby and JP both stated that they had a great experience and that their leadership was very supportive of their blogging and filming their missions for PBS, which resulted in the special entitled Bad Voodoo's War. Toby did stress however, that there always was a lot of pressure to make sure you're on the right side of the deal.
Christian stated that as a civilian, he was never censored or pressured into not printing something. He stated that he had his own arbitrary ground rules and the only censorship was his own. He did state that some units he embedded with wanted to read his stuff prior to it being publish. He stated that if he couldn't change the mindset, he generally moved on. The military members of the panel stated that often they censored themselves due to the fact that they knew their friends and family members would be reading what they wrote. Christian stated that he never thought of the effect of what he reported might affect the family members of the Soldiers involved or even that they might read it, when he initially was embedded. However he stated that he began self-censoring when he realized this, especially how he described the other people he interacted with.
All on the panel agreed that reporting from the front lines, provided the American Public and the world at large, with the opportunity to see first hand what was occurring, instead of relying on the media, who often wasn't at the scene and often reported skewed versions of what occurred.
Next Page »