If you guys didn't watch, all this weekend the Discovery Channel has been playing military themed shows. Back to back episodes of future weapons, shows about the Abrams tank, etc… This all lead up to the finale of Jesse James, the guy from West Coast Choppers, in Iraq. Jesse James took his hit TV show, Monster Garage, all the way out to Iraq. It was really great to see all the troops showing such great teamwork. In one of my previous posts I noted the importance of teamwork in any unit. There were many very touching moments in the show, I had a few goose bumps through parts. If you didn't get a chance to see it, I'm sure Discovery will be airing it again.
While watching the show I was able to discover some new music. If you havn't already seen this album you should check it out. The album features songs written, composed, and performed by Soldiers deployed to Iraq called Voices From The Frontlines. Oh yeah, I almost forgot…if you don't like rap/hip hop don't purchase this album, you will be very disapointed.  Purchase the album from Amazon.com.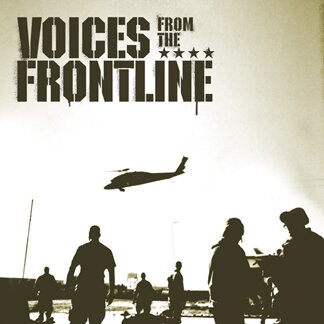 I finally gave in this weekend and bought one of those "high speed" portable mp3 players.  I used to be the guy that still hung on to his cd walkman, yep I was that guy.  Well I am pleased to report that I am the new owner of a Creative 8GB Zen Micro:Photo.  This thing is pretty cool, stores up to 8GB of music and photos.  My motivation behind the buy is my upcoming TDY to Arizona.  I figure it will be nice to have some music while I'm there.
On another note, I just finished my new book "Patton: A Biography".  I guess tommorrow I'll head out to Barnes & Noble and get a new read.  Unfortunately I am completely out of books to read.  My library is starting to pick up size though.
Kirkuk, Iraq - One of the major challenges for any military entity is teamwork. Building a team and learning to work with one another is a major milestone for the new Iraqi forces.
On the 11th of May the streets of Kirkuk were filled with chaos. Fortunately this was a planned and controlled type of chaos. Different elements of the Iraqi Security Forces participated in a two-day command post exercise. The event was orchestrated by Coalition forces at the Northern Oil Company facility in Kirkuk.
"Today's command post exercise involved all the Iraqi Security Forces that guard the infrastructure in and around Kirkuk," said U.S. Army Maj. Timothy Troutman. The exercise involved seven major elements to include: 1st Strategic Infrastructure Battalion, two Iraqi Army Brigades, the 4th Iraqi Army Division Headquarters, the Electronic Protection Security Service, Oil Protection forces, the local Provincial Joint Coordination Center and some Iraqi Police elements.
This exercise is loosely modeled after U.S. military command post exercises. "The headquarters for this element will react to, plan, coordinate and synchronize all the scenarios," said Maj. Troutman. These are the same types of exercises that the U.S. Army has long used to train their headquarters leadership.
"The positive things that I can observe are the quick reactions for all the office headquarters," said Col. Ilyad, the operations for the 2nd Iraqi Army Brigade.
"One thing that they took away that will benefit them the most the understanding of what each others duties and responsibilities are," said Maj. Troutman.
Lt. Gen. Aziz, the commander of the 4th Iraqi Army Division, concluded the exercise with three final learning points.
"One of the beneficial points out of this exercise today is that we have good relations now. We know each other on a personal level. We know who is working where so that is a positive."
"Second point; we know what the other party is doing. That gives us an idea on how to assist them."
"Third point; we all have the same objectives so we can all work together to achieve those objectives."
I recently received an eMail from Jason over at Save The Soldiers.  He asked me if I'd be willing to write articles for Save The Soldiers.  I told him I would but with my soon depature to BNCOC and other things going on I may not be able to write much.  I'm very proud to say I have written my first article, titled "Learning to Work Together", and it is currently posted here.  Keep a look out for more writting from me in the near future.  The only problem is finding enough stuff to write about, in order to fill both A Soldier's Mind and Save The Soldiers.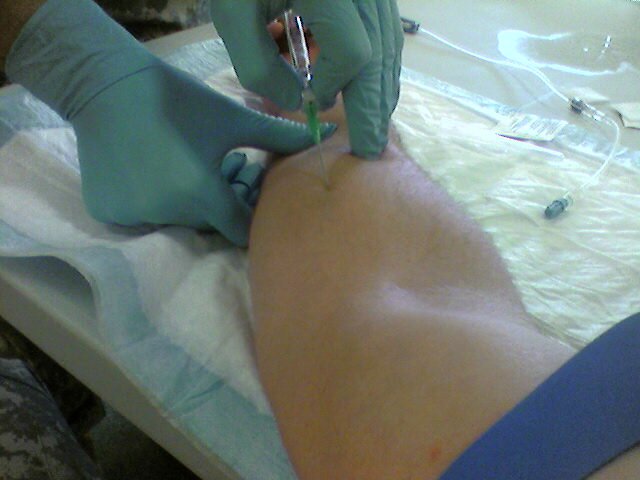 It's official, I am now a certified Combat Lifesaver. I was very lucky and had a very good set of instructors. All of them were combat medics, and very knowledgable on every aspect of first aid.
I am pretty impressed with the level of training was superior to most other classes I've been to lately. I feel confident to stop any type of bleeding, start an IV and even decompress a chest to stop a collapsing lung.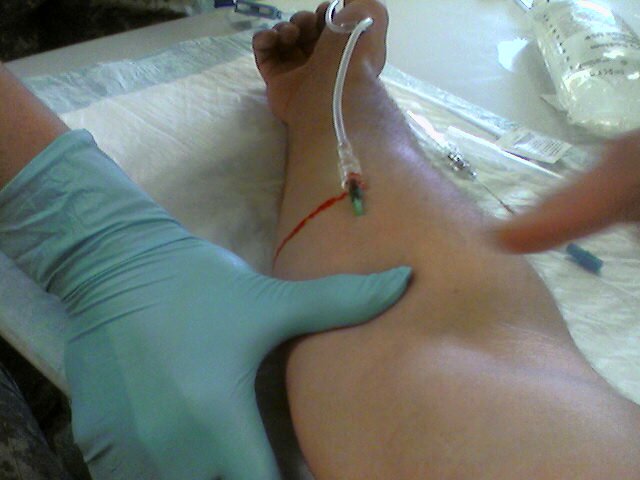 I was very nervous before the class about starting an IV. I was able to get quite a bit of practice on a dummy arm. When it got around to starting a real IV on my partner, it was no problem at all. I have included some pictures of the IV being started on my arm. This is the first time I've ever had a reason to use my camera phone.
Here are a couple photos I've recently got my hands on. This is some good motivating stuff, some things you'll never see from the MSM.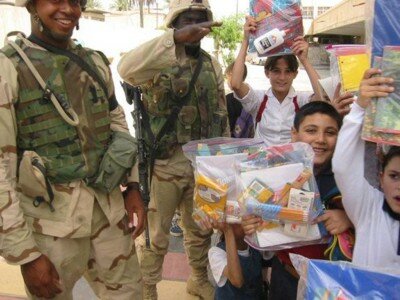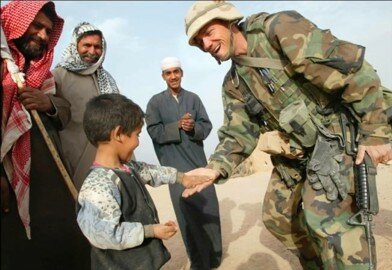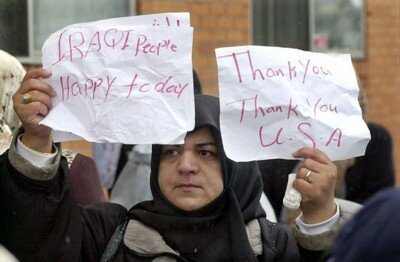 I have found a new favorite television show.  It is called Future Weapons, and airs on the Discovery Channel wednesdays at 2000hrs.  I have really found this show to be very interesting.  The premise of the show is a over-dramatic ex-Navy Seal goes around the world and checks out some the newest and most advanced weapons.  Unfortunatly I can't stand the host of the show, but the content is the part I watch for.  The greatest part is I not only get to see future American weapons, but also future weapons of other countries.  Who knows, some of these folks may be our adversary one day, I like seeing what I might be up against.
Well, got tasked to yet another class.  Today I found out I will be attending the Combat Lifesaver (CLS) course.  I have always wanted to take this class, so it is a good thing.  Unfortunately the notice is very short, I will be attending class this weekend.  It should be fun, a different experience anyway.
I am a little apprehensive about sticking another person with a needle though.  I have no problems being stuck with needles, having blood drawn, etc., although I am a bit nervous to stick someone else.  My hands are a bit unsteady, I'm going to appologize to my buddy before I even stick him.
Well, I check my AKO email the other day and found my confirmation for a seat in BNCOC.  So it looks like I'll be heading to Ft. Huachuca, AZ in mid July.  I'm pretty excited about this, I love any type of training the Army can throw at me.  Looks like immediately after BNCOC I should be going to the E6 promotion board as well.
I have just completed reading "The Face of Battle" by John Keegan.  It was a pretty good read, unfortunately I find my reading interests are more towards biographies/autobiographies.  I like to read about specific people, and look into improving myself following some of their own strategies.  I am slowly working on reading the entire U.S. Army Chief of Staff's Professional Reading List.  The next book I wanted to read was "Patton: A Genius for War", but I could not find it.  Instead of that, today I purchased "Patton: A Biography".  I have gone through the first two chapters in record time, altough it is a rather short book.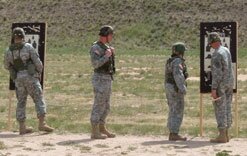 I appologize for my absense from the blog scene as of late. I have been incredibly busy for the last few weeks planning and coordinating a M16/M9 range. As a new Training NCO, everything comes as new learning experience for me. Let me assure you, this was one of the greatest learning experience thus far.
I have spent the last few weeks writing and rewriting operations orders, memos, and other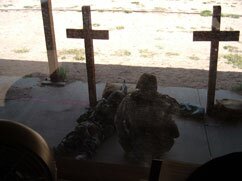 various documents required before executing a range. Although my primary focus was planning the range, I still have my normal daily duties. Because of this I spent much of my own "free time" catching up on my other responsibilities.
Not only did I have the benefit of planning every aspect of the range, I also served as the range tower NCO. Another great learning experience. The range was a huge success, we left on Thursday with nobody unqualified.
Next Page »