1223 Set To Record Military Album
[UPDATE] It was brought to my attention that I failed to provide a link to 1223's website, so here it is! 1223 MySpace Site I was also asked to provide a link to Rhino Digital Media's website, so that our reader's can see some of the awesome work they do. That link is right here. Take some time to browse around both of the sites. I think you'll be impressed.
Many of you who have been readers here at A Soldier's Mind, remember the story I wrote about these artists from San Antonio. You can reread that story here. The group 1223 is composed of two really awesome guys. One, Mr. Sylk is a US Army Medic currently stationed at Fort Sam Houston in San Antonio. The other member of the group, John John is Mr. Sylk's childhood friend. Mr. Sylk has recently changed his stage name to Soldier Disciple. These two men together form 1223. Their goal is to provide a positive image of the hip hop culture through their music. They do just that.
Currently 1223 is working on a Military Album. The album is intended to bless Soldier's and Soldier Supporters around the world. The first 250 copies of the album will be donated to Soldier's Angel to distribute to Soldiers overseas. You can hear some of the music that will be featured on the CD, entitled On Common Ground, by visiting 1223's my space site.
As with many up and coming artists, the members of 1223 work full-time jobs to support their families and work on their music whenever they have the time to do so. Currently financing for this album is rather tight and they're asking for help. But, there's definitely something in it for you. For every person who donates a minimum of $20, they will receive a free numbered copy of the CD when it is pressed. As well, each donor will be listed as an Executive Producer on the inside cover of the album. When this album hits the charts, the world will know that YOU played a key role in the development of this album. The members of 1223 are currently working on 2 videos that are required for them to be able to do an Armed Forces Tour, where they'll travel across the US visiting various military bases and sharing their music and their appreciation for the Troops. So, if you'd like to contribute to the cause, please visit their website and click on the donate button.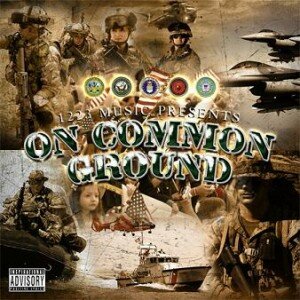 The cover art has already been designed and A Soldier's Mind, is honored to be the first blog to be able to share it with the world. The artwork for the album cover was created by Rhino Digital Media. 1223 would like to say THANKS to Rocky Garcia, the president of Rhino Digital Media. This recording is sure to be a hit, so please help it to become a reality. This CD will be 100% positive, with NO profanity, so the music will be suitable for anyone in your family. Soldier Disciple and John John have a wonderful message of support, that our Troops and their supporters need to hear.
I am happy to be able to share one of the songs that will be on the new album with our readers. The song, "For America" is fantastic. I was lucky enough to be able to see Soldier Disciple and John John perform this song recently, at the Fort Hood Clear Creek PX. They had the entire crowd in the PX participating in this song and I witnessed many people come up to them and thank them for their positive, supportive music. As an added bonus, Soldier Disciple has kindly sent along the lyrics to another song that will be featured on the album, entitled "IF I ain't Saying Nothing, I'm Probably Saying Something. This will give you a real insight, into what he's experienced as a Combat Medic deployed to Iraq. The lyrics of this song will touch you and move you. Having had the pleasure of supporting Soldier Disciple during one of his deployments to Iraq, through AdoptaPlatoon, I'm well aware of some of his experiences there and how deeply the death of one of his close friends affected him. He's poured that emotion into this song and I'm sure that you'll be able to feel the power in the lyrics as you read them.
If I Ain't Saying Nothing, I'm Probably Saying Something

Chorus:

If I ain't saying nothing, I'm probably saying something
If I bow my head, man I'm probably saying a prayer or something
A blank stare, I'm probably asking "Do you care?" or something
I see your picture, asking "Will you still be there?" or something
Now you can't see my mind, but man it's steady running
Inside I'm really crying, asking "Is it fair?" or something
It's even when I smile, and I ain't even frontin'
If I ain't saying nothing, I'm probably saying something.

Verse 1:

It's chaos at the gate, I ready up the troops
They stand before me proud, so I address the group
"It's time to go to war!", I look into their eyes
They say, "I'm kind of scared, and Sergeant Taylor Why?"
I taught them months ago do not empower fear
The youngest held his cry to tell me "There's no cowards here"
Amongst a great commotion, we headed out the gate
Finally put hell in perspective, asked my God "Is it too late?"
(Bang Bang Bang) We're taking rounds, trails of smoke from RPG's
Bombs and mortars hit the ground, Soldiers yell a frightening scream
"Help, I need a medic!", That's my name when I'm at war
A title wounded cherish, tells them "I've got life worth fighting for"
Damn, my youngest Soldier teared up, "Boy what you crying for?"
He never spoke, just fought for air to clear his bloody throat
reached up in his coat, closed his eyes and ushered out a note
and as his spirit lifted he lay watch over us tired folk
"Adrian stay strong", My mind fought hard to keep the pain and the hurt disclosed
but today it didn't work, deep down in my heart I really keep my Soldiers superimposed
I removed his ring, gave a sniffle, then I opened this bloody note
I can't see the whole letter ya'll, But I tell you that i'll never forget this quote
"I really couldn't show my heart to you in the little bit of time we spent
but when I said I love you more than me, sweet lady this is what I meant"
I sobbed a troubled sound, then dialed and made a call
and shed a tear that said, "Thank you for the greatest gift of all!
If you'd like to donate to help 1223 realize their dream of releasing a Military Album with a positive message, you'll find the place to do that on their website. Below you'll find their new release, For America as well as Drive On for your listening enjoyment. Just click on the names of the songs below and it'll open up in your current music program.
Comments