In Their Boots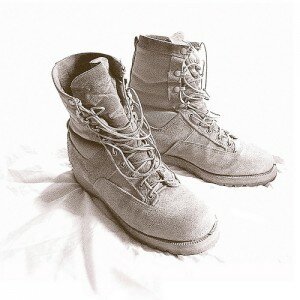 Here at A Soldier's Mind, we've tried to make sure our readers were able to read the stories of our Troops. Be it the stories of heroic actions that our Troops have taken in the combat zone, to struggles they've faced when they've returned home from combat. We've attempted to keep our Troops abreast of the many accomplishments our Troops have made in the places they're deployed, as well as the many things they've accomplished here at home. The media, unfortunately has made our Troops out to be robotic-like individuals, who do nothing but follow what they often term "illegal orders" and have no mind of their own. Because of that, we've tried very hard to tell our Troops stories, to show the people who chose to wear our country's uniform in a much more accurate light than they're usually portrayed in the media.
Yesterday, I stumbled across a website of documentaries that are streamed online, that portray our Troops, in their own words. These documentary clips are in their own words, told by the servicemember who is being portrayed. Their stories are very real. Stories that everyone in our country should make it a point to hear. The stories being told aren't always pretty, but I promise you, they're very real. The stories will make you really think about some of the issues that our Troops face, when they go to combat and then return home. How the experiences they face in combat, can change how they interact with the world, with their family and friends. You'll also hear the stories from family members who've had to cope with some of the challenges that come with war.
Will these stories, these true stories change the way you look at our Troops? Will these stories change the way you feel about our Troops being sent into combat in Afghanistan and Iraq? Will these stories change the way you interact with our Troops? Those are questions I can't answer, but I can tell you that these stories should provide you with a much better understanding of the issues that face these brave warriors, their families and their friends.
When I first heard about this website, I was a bit hesitant, because of the background of the group that is behind the project. However, I decided that it was worth checking into and I was quite impressed. The stories told aren't done in a judgmental way. They're apolitical in nature, which was a condition of the grant that the Brave New Foundation received from the financial backer of this project, the Iraq Afghanistan Deployment Impact Fund.1
I urge you, to take the time to visit the In Their Boots website and view the documentaries that are there. The films are relatively short, lasting around 20 minutes, but compelling and a look at our returning Troops that is rarely seen in most projects that have been in the media thus far. I really think you'll walk away with a much better understanding and appreciation for our Troops and what they deal with, both downrange and when they return home.
http://www.armytimes.com/news/2008/11/ap_documentary_111908/ [↩]
Comments