For service members, the legacy of those who served before them is one that is rich in history, pride, tradition and similarity of experiences. To be able to get the opportunity to sit down and visit with veterans many of whom served in previous conflicts and hear their stories is something to be treasured. They are a wealth of information and a great resource. Members of the 82nd Airborne Division were able to do that, when they visited the Liberty Commons Nursing and Rehabilitation Center in Sanford, N.C. on Memorial Day, and spent time with veterans who live there. The administrator of the nursing home, Linda Andrews said the residents were excited about the visit.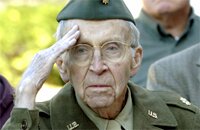 "Even though it's been years since they've served, these Soldiers still recognize the importance of their sacrifice," Andrews said.1
The visit actually began the Friday before, with a ceremony that included a formal presentation of colors, recognition of the 13 veterans who attended, the playing of patriotic songs and a lunch. The best part of the event, however, was the chance for the young Soldiers to visit with the veterans and hear their stories.
"For the veterans, it's a way for us to honor them and thank them for their service," said Capt. Light Shin, an Army chaplain. "For the new guys, it's a great way to learn from them, from their sacrifices, so that they can become stronger, better equipped Soldiers in their duties."2
Veteran residents of the nursing home served in several conflicts, among them World War II, the Korean War and Vietnam. Their vast knowledge and experiences are something that our young Troops can learn a lot from. Major Greg Stephens, whose wife Cassie serves as the director of nursing at Liberty Commons said it's important for active duty Soldiers to remember the sacrifices of past Soldiers and take the time out of their days to remember and recognize these heroes.
"It's a sincere honor to be able to salute the veterans in front of me who truly were and still are a part of the 'Greatest Generation,'" Major Stephens said. "You are the same men and women who came out of the Great Depression, who won great victories and made lasting sacrifices during war and helped build or define the world that we live in today."3
One of those veterans. Lewis Haywood, only spent 3 years in the military, but learned a lifetime of lessons in those 3 years, such as the similarities of people, regardless of the country they're from. He joined the Army in the 60s as a teenager, during the time that fear of war with the Soviet Union was prevalant. Haywood was stationed in Germany when the Berlin Wall was first erected.
"I met a lot of nice people and learned how to get along well with people from other countries," Haywood said. "For the most part, people in other countries are friendly but you'll always find some unfriendly people anywhere you go."4
Another Veteran who resides at the nursing home, Lillian Lang, was the spouse of an Air Force pilot during World War II. Wanting to contribute herself, Lang enlisted in the Army and served in an intelligence office in California. She shared how much she enjoyed her time in the military.
Another resident, Thomas Womble served as a Staff Sergeant in Korea for 13 months. During his time in service, he was injured when a mortar exploded and blew off one of his toes and caused permanent scarring to the left side of his face. He was discharged due to the injuries he received. Following his discharge from the military, Womble served for 30 years in the US Postal Service.
Each of the veterans who reside at the nursing home, had a story to tell. Stories that in many ways were familiar yet different to the young Soldiers who were there to visit with them. Each of the veterans are living history and are a valuable resource for our Troops.
I'm impressed that the Troops led by Major Stephens were willing to spend the time with these veterans. I would hope that in many other locations across the country, other Soldiers are doing the same thing. These men and women deserve our thanks and our gratitude. What they don't deserve, like happens so often when a person is placed in a nursing home, is to be ignored or forgotten. They are the history of this country.
If you ask children of service members what their parent does for a living, you're likely to get various responses. Some may tell you that their dad/mom is simply a Soldier. Others may tell you that their parent fights 'bad guys' in the Army or whatever branch of service their in. Some may be able to tell you in detail what their parent does for a living. Middle school students in Heidelberg, Germany recently were able to gain first hand knowledge of what it means to be a Soldier, when they attended "Kids Boot Camp" on May 19th. 60 students in the grades 6th through 8th attended the camp, where they ate their meals of MREs at the DFAC, learned how to apply camo to their faces, donned body armor and kevlar and even did PT.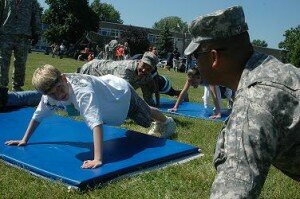 "I think it's really good because it shows the kids, it puts them in an experience that their parents have been through and it really shows them what their parents are doing," said Chelsea Shivers, one of the students who attended. "A lot of times they'll be like, 'I don't know what my dad's doing, but he's out there, just doing something.'"1
Soldiers who made the day possible for children of deployed or recently redeployed parents, were volunteers from V Corps, Heidelberg Medical Department Activity, 529th Military Police Company and US Army Garrison Heidelberg. Their goal, to make the day as realistic as possible for the children, to give them an idea what their parent experiences each day.
"I think it gives them an insight into what their parents do," said Chelsea's mom Cherie Shivers. "Just the food alone is kind of cool that they see how their parents eat."2
The children were also given the opportunity to carry someone on a liter, provide first aid to that person. That allowed them to see that the physical activity wasn't the only thing their soldier parent does during deployment. The children were able to sit inside several different Army vehicles.
According to one the organizers of the event, Lana Barshinger, the event was a huge success. While trying to provide the children with a realistic view of the jobs their parents do, they also hoped to reassure the children that their parents were safe, by focusing on what life was like for their parents, aside from the weapons. Ms. Barshinger said that they entire community pulled together to ensure that the event occurred and went smoothly.
"That was one of the best things about how this worked out," she said. "Lynn Mattingly, the school counselor, called me and had been trying to get this going, so I said of course we'll help. As we started, HMEDDAC came in, ACS or Army Community Services, came in, even Club Beyond. So we were able to draw many people together. There are several different organizations that have been out here. I think it's good for us to do more of these events."3
This is a fantastic idea and one that can only help the children understand more about their parents' chosen profession. At the installation that I work for, they've also held 'boot camps' for the spouses, to help them better understand the role that their spouse has in the military. I think that both of these events only helps to open up the lines of communication and helps them to feel closer to theri deployed Soldier. I hope that more and more installations will follow by offering these types of activities for spouses and children of deployed Soldiers.
http://www.army.mil/-news/2009/05/27/21675-kids-spend-a-day-in-the-life-of-soldier-parents-during-boot-camp/ [↩]
http://www.army.mil/-news/2009/05/27/21675-kids-spend-a-day-in-the-life-of-soldier-parents-during-boot-camp/ [↩]
http://www.army.mil/-news/2009/05/27/21675-kids-spend-a-day-in-the-life-of-soldier-parents-during-boot-camp/ [↩]
When a service member is in a deployed environment, regardless of the job they do and regardless of whether they even leave the FOB, there are certain things that occur in that environment that can lead to combat stress. Our Troops who have been deployed in Afghanistan and Iraq can attest to the fact that it's not uncommon for mortars and rockets to fall on the FOBs, so even those who never leave the FOB have the potential of developing combat stress. That's where the combat stress centers come in. I realize that lately there's been a focus on those centers, due to the horrific incident that occurred where 5 service members were murdered by a fellow Soldier. The staff at the combat stress centers are dedicated professionals who are there to help anyone seeking their help to combat and manage their stress. They are well aware of what our Troops experience in the combat zone and are there to help those who are struggling.
"We are able to see any service member that is stationed at FOB Kalsu and anyone who needs assistance is sent here to this location," said Air Force LTC (Dr) Alicia L. Tschirhart, a psychiatrist who is commander of the Kalsu Combat Stress Control Center. The center serves several provinces in Iraq. "I have two enlisted personnel here as well, that do individual counseling, screen patients and do outreach to the community."1
Approximately 25-30 service members a week are seen at the Kalsu Combat Stress Control Center. Issues that they see the staff there, range from anxiety, depression and even marital problems. Others may be having difficulty sleeping due to the stress they're experiencing. Confidentiality is very important to most patients, especially who self-refer, or seek help of their own accord. Many still fear that if they seek help, it will cause them problems in their jobs. The stigma of seeking help that the military is working hard to eradicate. According to Tschirhart, they shouldn't allow those fears should not keep Troops from seeking help.
"For the most part, a Soldier is treated right here at Kalsu with little interruption to their work schedule," she said. "We try to protect the patient's confidentiality as much as possible."2
Keep in mind, that's standard proceedure in all mental health services, be it military or civilian. However, if the mental health professionals feel that the service member is a danger to themselves or others, then they are obligated to report those concerns. Many different services are available, such as anger management, stress management, tobacco cessation assistance, and other services.
"Most people just need assistance in managing their thoughts, and we do offer therapy as well as prescription medicine treatment," Tschirhart said.3
I would highly encourage anyone downrange who is experiencing troubles with these types of problems to seek help at their combat stress center. If you've still not decided to seek help there, yet feel that you do need help, there are also resources online that can be helpful. A couple of years back, a website was created to assist service members experiencing difficulties. Called simply,Combat Stress Center it offers many resources for those seeking help, as well as providing the locations and phone numbers for the Combat Stress Centers in Iraq. For our Troops, I strongly encourage you to seek help if you're experiencing difficulties. The combat stress centers are someplace that you can do so.
http://www.defenselink.mil/news/newsarticle.aspx?id=54543 [↩]
http://www.defenselink.mil/news/newsarticle.aspx?id=54543 [↩]
http://www.defenselink.mil/news/newsarticle.aspx?id=54543 [↩]
As I sit here, reflecting on the many sacrifices over the years of military veterans in this country, it's only fitting that I pay special tribute to some of my ancestors who sacrificed so that we might continue to live in freedom.

My grandfather's cousin, Oliver N. Vannaman who served during World War II in the US Army, earning a Silver Star. Unfortunately I don't have a photo of Oliver.
These are just a few of my ancestors who have served this country proudly, who believed in the ideals that this country was founded on and who were willing to make the necessary sacrifices to ensure that we could continue to live in freedom. Many who have served in my family are still with us today. These men and many men and women like them are what this day is all about. We owe them a debt of gratitude. They and men and women such as them, are the reason that I do what I do every day. Thank You just doesn't seem quite enough.
For many people in the United States, Memorial Day is a day that swimming pools open for the summer, the first three day weekend of the summer and a time to get together and barbecue, party and relax. It seems that many have forgotten what the holiday is intended to be. The meaning of Memorial Day is often lost in all of the other things. It's a travesty.
Originally called Decoration Day, it was initially dedicated as a day to remember the fallen from the Civil War. A day in which those fallen warriors could be remembered for laying down their lives for something they believed in, whether they fought for the Union or Confederate armies. In May 1966, President Lyndon B. Johnson officially proclaimed Waterloo, N.Y to be the birthplace of Memorial Day, though other cities have staked claim to that title as well. Regardless of its origins, it's a day of remembering those who sacrificed their lives for the ideals of this country.
Memorial Day was officially proclaimed on 5 May 1868 by General John Logan, national commander of the Grand Army of the Republic, in his General Order No. 11, and was first observed on 30 May 1868, when flowers were placed on the graves of Union and Confederate soldiers at Arlington National Cemetery. The first state to officially recognize the holiday was New York in 1873. By 1890 it was recognized by all of the northern states. The South refused to acknowledge the day, honoring their dead on separate days until after World War I (when the holiday changed from honoring just those who died fighting in the Civil War to honoring Americans who died fighting in any war). It is now celebrated in almost every State on the last Monday in May (passed by Congress with the National Holiday Act of 1971 (P.L. 90 - 363) to ensure a three day weekend for Federal holidays), though several southern states have an additional separate day for honoring the Confederate war dead: January 19 in Texas, April 26 in Alabama, Florida, Georgia, and Mississippi; May 10 in South Carolina; and June 3 (Jefferson Davis' birthday) in Louisiana and Tennessee.1
Across the country on Memorial Day, the graves of Veterans will be decorated with US flags. While the holiday has evolved over the years to include a day in which many remember their friends and family members who have passed on, the history of Memorial Day is something that we should never forget and that we should pass down to our children and grandchildren. Were it not for the brave men and women who have and continue to sacrifice so that we might continue to enjoy the freedoms that are the foundation of our great country, this country would not be what it is today.
To help re-educate and remind Americans of the true meaning of Memorial Day, the "National Moment of Remembrance" resolution was passed on Dec 2000 which asks that at 3 p.m. local time, for all Americans "To voluntarily and informally observe in their own way a Moment of remembrance and respect, pausing from whatever they are doing for a moment of silence or listening to 'Taps."2
I urge everyone to participate in the National Moment of Remembrance. All it takes is a few minutes of your time to stop what you're doing and remember all of the brave warriors who have given their lives so that we are free to live ours as we chose, whether that is by pausing a moment to reflect in silence or listen to Taps. The sacrifices of our brave, fallen warriors are too important to forget, regardless of whether anyone from your family has ever served or not. , with the voice of an angel and a heart of gold says it best in her song, "Honor The Fallen."
I ask that each of you take a few moments on Memorial Day to 'Honor The Fallen'. We owe them that.
http://www.usmemorialday.org/backgrnd.html [↩]
http://www.usmemorialday.org/backgrnd.html [↩]
Throughout the history of our country, some have willingly sacrificed to ensure that we as citizens of this great nation can enjoy the freedoms that many take for granted. Some have given their lives in battle, while others have willingly given of themselves to defend our country. They deserve our respect and honor. Because these brave souls have been so willing to give of themselves, the Warrior Legacy Foundation was born, to ensure that the legacy and honor of our warriors is preserved and protected. The Warrior Legacy Foundation is a non partisan organization that is committed to this and welcomes everyone who believes that our warriors deserve this. Please take some time to visit their website (you can access it by clicking the words The Warrior Legacy Foundation above) and join the cause. I think you'll be glad that you did. I urge you to sign up and do your part in ensuring that the legacy of our brave warriors is protected and preserved. Below, you'll find the official Press Release.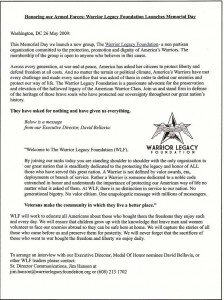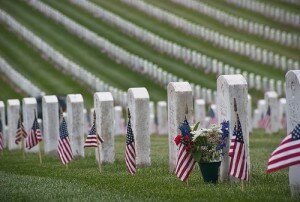 In a place where courage and valor lie, Soldiers from the 3rd Infantry Regiment, known as "The Old Guard," as well as ceremonial units from each branch of the military gathered on May 21st with full rucksacks. Their mission? To place American flags on each grave at Arlington National Ceremony. That's more than 300,000 flags. "Flags In" as it is known, is the beginning of the Memorial Day weekend for military members and visitors to Arlington National Cemetery, a holiday for reflecting upon the sacrifices, commitment and valor of those who have given their lives in defense of this country.
Each service member participating had a ruck sack full of flags. Wooden crates containing more flags lined the roads of Arlington National Cemetery, where those participating could refill their ruck sacks as needed. When they were finished, each grave had a flag placed one foot from it's base.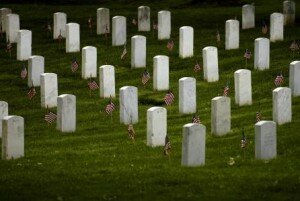 "It's a privilege to be out here, it's a very specific group that is allowed to do this," said Sgt. Andrew Jansen of the Old Guard's Headquarters Company. This is the 5th year that Jansen has had the honor of participating.1
They take this job seriously. Afterall, their mission is to ensure that those whose resting place is there, is honored. It's important to do so, especially on the day set aside to honor the sacrifices of the brave souls buried there. Some of those who had the honor of participating, brought their families along to witness. Children could occasionally be seen carrying tall stacks of flags, some taller than they were, and handing them to the service members whose job it was to place a flag at each grave.
They sometimes took the time to pause and salute, as they placed a flag on certain graves, those of Medal of Honor recepients, such as SPC Ross A. McGinnis who gave his life, by throwing himself on a grenade to save the lives of his fellow Soldiers.2 Old Guard Soldiers will stand watch at Arlington National Cemetery throughout the Memorial Day weekend.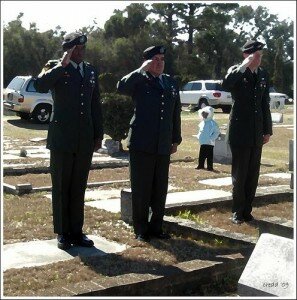 Arlington National Cemetery isn't the only place where you'll see a sea of flags proudly waving at the graves of fallen warriors. In Veterans Cemeteries across the country, a similar mission was accomplished. In civilian cemeteries, you'll also see flags standing proudly on the graves of military veterans. As you go about your weekend, whatever you have planned, take time to think about what these men and women have given for us as a nation. I urge you to take part in the National Moment of Silence on Monday at 3pm local time. If you visit a cemetery and see flags on certain graves, please take a moment to reflect upon what those flags mean. Take a moment to say thanks that brave warriors such as these, have willingly sacrificed to ensure our freedoms. They deserve this honor.
http://www.army.mil/-news/2009/05/21/21517-joint-services-place-flags-in-at-arlington-national-cemetery/ [↩]
http://www.army.mil/-news/2009/05/21/21517-joint-services-place-flags-in-at-arlington-national-cemetery/ [↩]
Pay It Forward … Real Warriors Campaign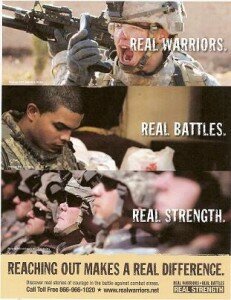 We've covered the topic of Post Traumatic Stress Disorder quite often here and it's something that is likely to continue being in the news due to the frequency of deployments that our Troops are seeing, as well as the experiences that they're encountering in combat. PTSD is something that has affected service members throughout all of the conflicts that our military has been involved in, though in the past, it's been called by different names. Since the current conflicts began, the military has worked hard to attempt to change the stigma that has been attached to our Troops seeking help for this ailment. In the past, when our Troops have had difficulties dealing with what they experienced in combat, they've been told to 'suck it up, and drive on.' That's no longer the case. Our Troops are being encouraged to seek mental health help to aid them in dealing with their experiences. Unfortunately, the stigma still remains and the battle to get Troops to seek help is one that continues.
The Defense Department announced yesterday that's it is launching a new campaign, aimed at encouraging Troops to seek help for PTSD. That campaign is called "Real Warriors." One Marine sergeant who is participating in the campaign is someone that, at a glance you'd not think would be suffering from PTSD. It's obvious that he is a body builder. Yet he suffers from PTSD. He's served 3 tours in Iraq, in 2003, 2005 and 2006. He's a purple heart recepient, due to injuries that he received after a roadside bomb injured him in Anbar province. He's been in many firefights and he has PTSD because of what he experienced.
"Real Warriors is a program aimed at wiping out the stigma associated with getting mental health care in the military," said Army Brig. General (Dr) Loree Sutton. "We want people to seek help the same way they would if they had a physical wound." Sutton is a psychiatrist and heads the Defense Centers of Excellence for Psychological Health and Traumatic Brain Injury.1
When Hopper first got back home, he suffered from difficulties sleeping and tended to concentrate on the negative aspects of his deployments. Though he tried to hide the symptoms and did a pretty good job of it, by those close to him, his wife and other family members knew that he was struggling. That eventually affected his work as well.
"My big thing was outbursts and mood swings," he said. "I had a bad, bad temper that didn't take much to get me there. I used alcohol as a way to comfort everything, and that was big-time out of the norm for me."2
Things quickly came to the forefront when he was receiving an award from his battalion commander. The symptoms that he had tried so hard to hide, burst out into the open.
"When I received the award, I replayed what happened that day," he said. "I sort of got into another world. I started shaking, got the cold sweats - everything. That's when my commander sat me down and offered help."3
Like many of our Troops, Hopper had many preconceived notions about what it meant to admit that he had a problem and ask for help. Like many others, he felt that he was supposed to be a warrior, a strong, tough guy who was supposed to be able to deal with it and soldier through the difficulties. Luckily he swallowed his pride and sought help. He went to Walter Reed Army Medical Center for help. Specialists there realized that he was in need of more intense treatment than what they could provide.
"The place that really changed my life was at the Martinsburg, West Virginia Veterans Affairs Hospital," Hopper said. "I was lucky enough to get the help I needed there."4
There he met many other Veterans who were dealing with the same demons that he was. He quickly bonded with Veterans from Vietnam, Desert Storm, Iraq and Afghanistan all who were at the hospital getting help for PTSD. They understood what he was going through and they were there to support him. When he returned to Camp Lejeune, everyone noticed the difference. Upon his return, his unit was deployed, so he was temporarily assigned to another unit.
"They all knew where I had been, but everyone was great to me," he said. "They didn't tiptoe around me as if I were some crazy guy. They treated me like any other new Marine to the unit."5
When his unit returned from deployment, Hopper was there to welcome them home. He pulled aside his commander and thanked him for encouraging him to get help and expressed that he could never pay him back for that encouragement.
"And he told me, 'There are a lot of people who are coming back from these wars that are going to be in the same shoes you were, and you'll recognize what they are going through. All I ask is that you pay it forward. If you can help one person, you've paid me back," Hopper recalled.6
For Hopper, participating in the Real Warriors campaign is one way that he can 'pay it forward.' His is a story that many others who are suffering from PTSD can relate to. Hopefully, knowing that he was willing to swallow his pride and ask for help, will encourage others who are suffering to seek the help they need.
I'm impressed with the insight of SGT Hopper's commander. I only hope that other commanders in all branches of the military, will follow his lead and encourage their Troops that they know are suffering, to get the help they need. To find out more about the Real Warriors campaign, just click on the Real Warriors widget in the sidebar and it'll take you directly to the webpage.
http://www.defenselink.mil/news/newsarticle.aspx?id=54450 [↩]
http://www.defenselink.mil/news/newsarticle.aspx?id=54450 [↩]
http://www.defenselink.mil/news/newsarticle.aspx?id=54450 [↩]
http://www.defenselink.mil/news/newsarticle.aspx?id=54450 [↩]
http://www.defenselink.mil/news/newsarticle.aspx?id=54450 [↩]
http://www.defenselink.mil/news/newsarticle.aspx?id=54450 [↩]

Twenty years ago, in 1989 a couple of veterans decided to embark on a trip on their motorcycles, across the country to the Vietnam Memorial in Washington D.C. That was the very first "Run For The Wall" ride and it's become a yearly tradition ever since. They began their journey in San Diego and ended in Washington DC. There they met up with a group of riders known as Rolling Thunder and together they converged on the nation's capital to honor POWs and those who remain classified as Missing In Action.
Twenty years later, the thunder still rolls across the country and the number of participants has grown tremendously. Last Wednesday, 350 motorcycles left Victoria Gardens and headed East towards Washington DC. Along the way, other groups of motorcyclists will join them as they make their trek towards the Wall, in a ride that is multifaceted. Not only is it about showing their patriotism and pride for our country, or the closeness shared by those making that trip together, but for many, it's also a ride that's an integral part of their healing process.
"It's not a strenuous ride but it's an emotional roller coaster," said Daryl Neil from Phoenix. "If you want to see a bunch of old men cry, come on the ride."1
Many of those who will make the ride are Vietnam veterans as well as their supporters and family members. The rides come in all sizes and shapes, both men and women. Many have made the trip an annual event, while others are making the trip for the first time. Regardless, they will all be impacted and will all experience the emotion that is present on the ride. Their mission is simple, raise awareness of our POWs and MIAs, as well as our Troops and Veterans.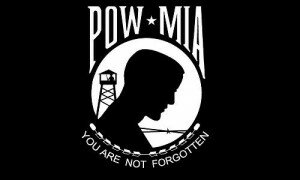 For some, especially the Vietnam Vets, these rides may have been the first time they've been able to find some closure to what they experienced, both during the war, but also afterwards when they came home and were treated so badly. Those who have made the ride previously, tend to take care of those who are making the trip for the first time. One veteran rider, Charlie Del Campo embarked on his 5th trip to the capital. For him, his first ride was a pivotal point in his healing process and coming to grips with his service in Vietnam. He now makes the journey each year, in order to help other veterans who are riding for the first time.
New riders are designated by wearing a pin that says "FNG". According to Del Campo that stands for 'fun new guy/gal' and is a play on the term in the military for new guys. As they were preparing to embark on the journey, Del Campo spotted a man who was wearing an FNG pin.
"Hey FNG, welcome home," Del Campo said. "I'll be your wingman."2
As they make their way cross the country, the riders will take two different routes, picking up riders along the way. Stops will be made in Arizona, Texas, Indiana, as well as other states along the way, before they arrive at their final destination in Virginia on Friday, May 22nd, where they'll meet up with the Rolling Thunder riders. If you happen to see them as they make their way to Washington DC, don't hesitate to shake their hand, let them know you appreciate their service and sacrifice and tell them "Welcome Home." A full weekend is planned to advocate for the Troops, Veterans and ensure that our country's POWs and Missing In Action are not ever forgotten. Rolling Thunder and the Run For The Wall are extremely dedicated to ensure we never forget our POWs and MIAs and should be applauded in their efforts.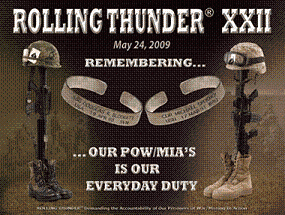 The Rolling Thunder activities this year, which kicks off on May 23rd will feature Marine recording artist, Mike Corrado, who's song "On My Watch Tonight" has a lot of meaning for our Troops as well as our Veterans. Vietnam Memorial founder Jan Scruggs will be a featured speaker. Other musical artists will also perform.3
To find out more about the activities that are planned, please visit the Rolling Thunder website.
To find out more about the annual Run For The Wall, including the routes that will be taken and stops they'll make along the way, please visit Run For The Wall website.
If you're in Washington DC or that general area over the Memorial Day weekend, please take some time to visit the National Mall and participate in the activities that will be happening there. Take the time to let these brave men and women know just how important they are to our country. Wish I could be there….
http://www.military.com/news/article/thunder-still-rolls-after-20-years.html?col=1186032325324 [↩]
http://www.military.com/news/article/thunder-still-rolls-after-20-years.html?col=1186032325324 [↩]
http://www.defenselink.mil/news/newsarticle.aspx?id=54383 [↩]
In the Central Texas city of Harker Heights, a group of military veterans set out on a very special mission to honor a Soldier currently stationed at Fort Hood, who's in a valiant fight against cancer. The Veterans of Foreign Wars Motorcycle Group Unit 14, which is part of the VFW Post 3892 stepped up to the plate by hosting A Hero's Ride to raise funds to ease the financial burden on Sgt. Anson Martin an aircraft hydraulics specialist assigned to 4th Squadron, 3rd ACR and his family as they continue the battle his disease. The group couldn't have picked a more fitting day to hold the ride, as Saturday May 16th was Armed Forces Day. What better way to show your appreciation for our Troops, than to do what has to be done, to help a soldier in need.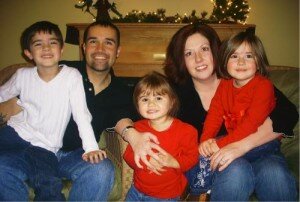 Between the hours of 0600 and 0800, the parking lot of the VFW filled with motorcycles of all types, as well as passenger vehicles, who would also follow the motorcyclists on their mission that day. Prior to beginning the ride, the State of Texas State Senior Vice-Commander presented Sgt. Martin and his family with a check to pay off their car, as well as presenting the family several other gifts. Sgt. Martin also participated in the ride, riding with one of the members of VFW Motorcycle Group #14 in a sidecar and recording the entire ride on video. Sgt. Martin's family was able to participate as well, as the State of Texas VFW provided a van and driver at their disposal for the day. Shortly after the ride began, a steady rain began falling. While the rainfall discouraged some from continuing on the ride, over half of the riders and their passengers remained dedicated to completing the mission and arrived at the final destination in Temple, Tx. After leaving the post in Harker Heights, riders then headed towards their first stop at VFW Post 3393 in Kempner, Tx. Shortly after the ride began, the rain began falling steadily, accompanied by wind. Members of the post had hot coffee and donuts waiting for the soaked riders as they arrived. After a short time in Kempner, the riders headed north to VFW Post 8230 in Gatesville, where they were met more coffee and donuts and a place to rest and dry off a bit, before heading towards Belton. As the riders left Gatesville, the rain subsided for a short period of time, before picking up again and ensuring that everyone arrived at Belton Lake VFW Post. Riders were greeted with plenty of dry towels, meat, cheese and crackers along with plenty more hot coffee. The marquee in front of the VFW at Belton Lake proudly stated "Welcome Sgt. Martin," so there was no doubt that they were glad to be participating in this important event. Members of the Belton Lake VFW Post also presented Sgt. Martin with a check for donations that they had collected in his behalf. Riders dried off and rested a bit before heading for the final destination, the VFW Post in Temple, and a meal in honor of Sgt Martin and his family. A total of 120 riders signed up, 100 began the ride with 55 actually completing the 96 mile ride.
After a wonderful meal at the Temple VFW, the President of the VFW Motorcycle Group Unit 14, commanders of Sgt. Martin's Squadron presented the VFW Motorcycle Group Unit 14 with a plaque expressing their appreciation for the group coordinating the benefit Hero's Ride. Unit 14's President, Allen Freeman then shared that the benefit had raised over $7,000 to assist Sgt Martin and his family and presented Sgt. Martin with US Army and US Marine Corps flags that had been signed by all the motorcyclists and their riders. Sgt. Martin expressed his heartfelt appreciation at the generosity and kindness that the Central Texas Community and most importantly, the VFW Motorcycle Group Unit 14 and Department of Texas VFW have bestowed upon him and his family, during this trying time.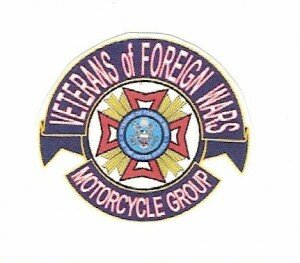 The dedication of the members of the VFW Motorcycle Group, Unit 14 in Harker Heights, Texas is truly inspirational. They believe and demonstrate what the term "Veterans Helping Veterans" means in their actions and their words. I was honored to be able to participate in this very special Hero's Ride and was inspired by the dedication of each and every person that I came into contact with during the ride. The kindness, generosity and willingness of this group to help other veterans and soldiers in need, sets a very high standard for other VFW Motorcycle Groups to follow.
Sgt. Anson Martin is an amazing young man. His optimism, faith, positive attitude and determination to overcome and conquer his disease are truly inspirational and amazing. He exemplifies the true warrior spirit that is so inherent in our Troops and our Veterans. Sgt. Anson Martin is a true hero in every sense of the word.
You can read the original article I wrote about this ride, here. In that article, you'll also find a link to Sgt. Martin's Caring Bridge page as well.
Next Page »