"And The Thunder Rolls … "

Twenty years ago, in 1989 a couple of veterans decided to embark on a trip on their motorcycles, across the country to the Vietnam Memorial in Washington D.C. That was the very first "Run For The Wall" ride and it's become a yearly tradition ever since. They began their journey in San Diego and ended in Washington DC. There they met up with a group of riders known as Rolling Thunder and together they converged on the nation's capital to honor POWs and those who remain classified as Missing In Action.
Twenty years later, the thunder still rolls across the country and the number of participants has grown tremendously. Last Wednesday, 350 motorcycles left Victoria Gardens and headed East towards Washington DC. Along the way, other groups of motorcyclists will join them as they make their trek towards the Wall, in a ride that is multifaceted. Not only is it about showing their patriotism and pride for our country, or the closeness shared by those making that trip together, but for many, it's also a ride that's an integral part of their healing process.
"It's not a strenuous ride but it's an emotional roller coaster," said Daryl Neil from Phoenix. "If you want to see a bunch of old men cry, come on the ride."1
Many of those who will make the ride are Vietnam veterans as well as their supporters and family members. The rides come in all sizes and shapes, both men and women. Many have made the trip an annual event, while others are making the trip for the first time. Regardless, they will all be impacted and will all experience the emotion that is present on the ride. Their mission is simple, raise awareness of our POWs and MIAs, as well as our Troops and Veterans.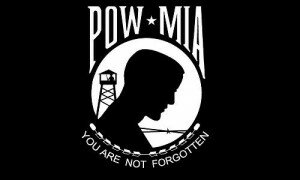 For some, especially the Vietnam Vets, these rides may have been the first time they've been able to find some closure to what they experienced, both during the war, but also afterwards when they came home and were treated so badly. Those who have made the ride previously, tend to take care of those who are making the trip for the first time. One veteran rider, Charlie Del Campo embarked on his 5th trip to the capital. For him, his first ride was a pivotal point in his healing process and coming to grips with his service in Vietnam. He now makes the journey each year, in order to help other veterans who are riding for the first time.
New riders are designated by wearing a pin that says "FNG". According to Del Campo that stands for 'fun new guy/gal' and is a play on the term in the military for new guys. As they were preparing to embark on the journey, Del Campo spotted a man who was wearing an FNG pin.
"Hey FNG, welcome home," Del Campo said. "I'll be your wingman."2
As they make their way cross the country, the riders will take two different routes, picking up riders along the way. Stops will be made in Arizona, Texas, Indiana, as well as other states along the way, before they arrive at their final destination in Virginia on Friday, May 22nd, where they'll meet up with the Rolling Thunder riders. If you happen to see them as they make their way to Washington DC, don't hesitate to shake their hand, let them know you appreciate their service and sacrifice and tell them "Welcome Home." A full weekend is planned to advocate for the Troops, Veterans and ensure that our country's POWs and Missing In Action are not ever forgotten. Rolling Thunder and the Run For The Wall are extremely dedicated to ensure we never forget our POWs and MIAs and should be applauded in their efforts.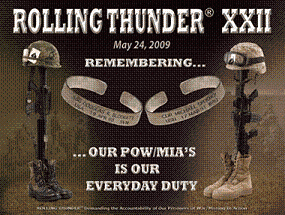 The Rolling Thunder activities this year, which kicks off on May 23rd will feature Marine recording artist, Mike Corrado, who's song "On My Watch Tonight" has a lot of meaning for our Troops as well as our Veterans. Vietnam Memorial founder Jan Scruggs will be a featured speaker. Other musical artists will also perform.3
To find out more about the activities that are planned, please visit the Rolling Thunder website.
To find out more about the annual Run For The Wall, including the routes that will be taken and stops they'll make along the way, please visit Run For The Wall website.
If you're in Washington DC or that general area over the Memorial Day weekend, please take some time to visit the National Mall and participate in the activities that will be happening there. Take the time to let these brave men and women know just how important they are to our country. Wish I could be there….
http://www.military.com/news/article/thunder-still-rolls-after-20-years.html?col=1186032325324 [↩]
http://www.military.com/news/article/thunder-still-rolls-after-20-years.html?col=1186032325324 [↩]
http://www.defenselink.mil/news/newsarticle.aspx?id=54383 [↩]
Comments