In hospital and clinic settings there are certain standards of care that are expected. That includes standards such as ensuring that medical equipment used in treatment of a patient is sterile. It doesn't matter whether that is a civilian hospital, a military hospital or a veteran's hospital. Recently it has made headlines that veterans in several Veterans Affairs medical facilities were exposed to viral infections including hepatitis by using equipment that was not properly sterilized. So far, viral infections, including hepatitis have been found in 16 patients. More than 10,000 veterans were warned to get blood tests, because they could have been exposed to contamination at several different veterns healthcare facilities.1 That's just NOT acceptable. For some people, those infections could be life threatening.
The Joint Commission on Accredidation of Healthcare Organizations sets standards of care practices for hospitals and clinics to follow. Those standards aren't overly harsh, but are standards that should be practiced in every healthcare facility in this country. Why then, did these Veterans Hospitals not follow the standard of care, in regards to infection control? Why were our veterans put at risk in this manner? Those are questions that all of us should be asking right now and demanding answers. It's not acceptable practice in our civilian hospitals and it darn well shouldn't be in facilities that take care of our veterans! They deserve only the best medical care available in this country. Nothing less is acceptable.
I for one am completely outraged that something like this has happened to our veterans, anywhere within the VA healthcare system. The numbers of veterans who have been infected is appauling! So far, according to VA spokeswoman Katie Roberts, 10 colonoscopy patiets have tested positive for Hepatitis, after receiving treatment at the VA medical center in Murfreesboro, Tennessee. 4 of those patiets have tested positive for Hepatitis B and 6 have tested positive for Hepatitis C, according Roberts. Those are diseases that don't go away. Roberts was quick to say however that there was no way of knowing the source of the infections.
"There's no way to scientifically prove they contracted this due to treatment at our facility," she said.2
She went on to say that the VA will make sure that all patients who have tested positive, will the the best possible treatment. In that situation, you can bet I would not want to receive any further care from the VA system, for fear of contracting an even more serious disease such as HIV. A spokeswoman for the VA inspector general's office, Joanne Moffett said on Friday that a review has been started.
Some veterans, have opted to seek testing from private physicians instead of the VA system. Can't say as I blame them there. This is serious! Our veterans should get only the best medical treatment that is humanly possible. They've earned that right and this is a slap in the face to those who have given so much to this country.
According to Roberts, the VA healthcare system has conducted a review of VA facilities nationwide. She went on to state that the VA cannont yet say if patients at other locations were exposed to infectious diseases from improperly sterilized equipment. My thought is that Congress and President Obama need to become involved. We as citizens of this country need to DEMAND better healthcare for our veterans. This should never have happened and the VA has a duty to our veterans to ensure that something like this never happens again.
http://www.military.com/news/article/patients-of-problem-va-clinics-infected.html?wh=news [↩]
http://www.military.com/news/article/patients-of-problem-va-clinics-infected.html?wh=news [↩]
Thirty years ago, there wasn't a memorial to honor those who gave their lives in Vietnam. There was however a man with a mission. That man, Cpl Jan Scruggs, set out on a mission to build a national memorial. His determination to do so, ultimately led to a memorial that has been a place of comfort and closure for millions of people, the Vietnam Memorial.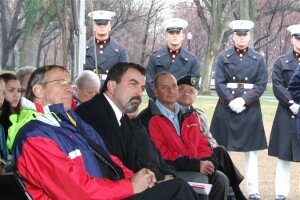 On Thursday, Jan Scruggs announced his next project. A project to honor the fallen in a very unique way, the Education Center at the Wall. Scruggs unveiled a replica of the new exhibit, that will eventually be housed in the underground visitor's center at the National Mall in Washington DC. The replica that was unveiled, will be traveling all over the country, to give Americans a preview of the future exhibit. The spokesperson for the project, on hand at the unveiling, is Actor Tom Selleck. Selleck is well known for his character in Magnum PI, but a lesser known fact about his=m, is that he served in the California National Guard during the Vietnam Era. He lost a good friend in Vietnam.
"Across the street from here is a wall with more than 58,000 names of those who made the ultimate sacrifice for their country during the Vietnam War," Selleck told the 100 or so people attending the ceremony.1
Scruggs spoke to the crowd as well, noting that The Wall and the replica are meant to honor the courage, sacrifice and devotion to duty and country, of the people who answered the call during the Vietnam War, America's longest war. He spoke of how the Vietnam Memorial is a place that has brought to many, recognition and symbolizes a place for healing. According to Scruggs, the Wall, the wall that heals has also taught the American public, and thus has also become a place of education. The new exhibit will travel along with the traveling Wall. That exhibit will include teddy bears, photographs, letters, baseballs and many other memories that have been left at the Wall over the years. It will soon be on tour across the country. According to the designer of the exhibit, Ralph Appelbaum, some of the letters that are included, were written at the wall, often out of sheer impulse, while others were carefully written and then left precisely at the Wall. He provided an example of one of those letters.
"Dear Dad, I'm sorry it took so long but when you went away I was 8 years old and I couldn't understand why you never came back to us. I'm now 35 and I can understand now as I have fought in two wars myself. It's not much fun, is it? You might like to know that you have three grandchildren, two girls and a boy and they all know about you. It meant a lot to me to see your name on The Wall with all the others. Your loving son, Paul."2
That letter and others like it have been left at The Wall, since it's unveiling. While the letters and other items left at The Wall, show the depth of loss and grief, they show another thing that we don't often think about. It also celebrates the human bonds of love, friendship and memories. So often those items, represent comfort and closure for those left behind.
"They represent a treasure trove of conversations about the deaths of sons and the births of granddaughters," he said. "That's what this center is dedicated to and that's what you'll see as you stroll around the portable wall as it begins its journey around the country." 3
Jan Scruggs is the founder, as well as the President of the nonprofit Vietnam Veterans Memorial Fund. For the construction of The Wall, Scruggs and his foundation raised almost $9 million. To build the underground museum and the exhibits , one of which will be photographs of the men and women whose names are seen etched into the gleaming black granite of The Wall. Another part of the exhibit will be the display of over 100,000 mementos that have been left at The Wall by visitors.
"Remember that what we're doing here is remembering values," Scruggs said. "The values of our active-duty servicemembers today, the values of loyalty, respect, duty, integrity, courage and service. These were shown by the fellows and women who served in Vietnam, by the people who are serving today, and by the people at a place called Lexington Green in 1775 who stood up against the British to get the American people our freedom," he said.
((http://www.defenselink.mil/news/newsarticle.aspx?id=53668))
Prior to the unveiling of the new replica, the foundation had raised around $18 million, with $10 million being donated by Time Warner. On Thursday, Rolling Thunder donated $25,000, and Iraq and Afghanistan Veterans of America donated $5000. Representatives from each organization were in attendance at the ceremony on Thursday.
Lisa Quiroz of Time Warner presented the idea to her company. She said that when she introduced the idea to Time Warner executives, they recognized that the letters, photos and other items left at The Wall, were representative of years of experiences that had been missed by the people who are memorialized on The Wall. They felt that the education center represented the opportunity to give everyone who visited The Wall and the visitors center, 'a profound sense of gratitude and a deeper understanding of the meaning of patriotism.'4 The chairman of Rolling Thunder and Vietnam veteran, Artie Muller spoke to the crowd as well.
"Welcome home to all the veterans who are here. And to those who gave their lives, we'll never forget them. This is a different war, a lot of women are in this war; and it's altogether different than during the Vietnam days," Muller said, as he addressed the Troops now serving in Iraq and Afghanistan. "We know you guys and gals are doing a great job and we're real proud of you. Us Vietnam veterans never want to let what happened to us, happen to you."5
Also present at the ceremony, were some loved ones of the fallen whos names are etched onto The Wall. One mother, Ann Sherman Wolcott, is the mother of Rex Sherman, a fallen Vietnam Army veteran. Mrs. Wolcott feels that the exhibit will help to keep alive the spirits of the fallen.
"My son was 18 years old when he died in 1969. He was an airborne ranger and I'm very proud of him," she said. "To see this lets me know that people have not forgotten his sacrifice."6
Mrs. Wolcott, we will NEVER forget what your son and countless others gave their lives for. We will never forget their sacrifice and the ideals and values that they died fighting for. We as Americans owe them the honor that they will receive with this new project. If you would like to find out more about The Wall and the Education Center at The Wall, please visit the Vietnam Veterans Memorial Fund Website, by following the link below. If you know a Veteran of the Vietnam War, take a moment to shake his or her hand and tell them "Thank You."
Vietnam Vieterans Memorial Fund Website
When someone is in a stressful situation, one of the body's natural response to stress, fright, or danger, is what is called the fight or flight response. This is a very natural and inborn reaction to stressful situations that we all experience when we're in stressful situations. It is our body's primitive, automatic, inborn response that prepares the body to "fight" or "flee" from perceived attack, harm or threat to our survival.1
When our fight or flight response is activated, sequences of nerve cell firing occur and chemicals like adrenaline, noradrenaline and cortisol are released into our bloodstream. These patterns of nerve cell firing and chemical release cause our body to undergo a series of very dramatic changes. Our respiratory rate increases. Blood is shunted away from our digestive tract and directed into our muscles and limbs, which require extra energy and fuel for running and fighting. Our pupils dilate. Our awareness intensifies. Our sight sharpens. Our impulses quicken. Our perception of pain diminishes. Our immune system mobilizes with increased activation. We become prepared—physically and psychologically—for fight or flight. We scan and search our environment, "looking for the enemy.2
When in deployed to a combat zone, our Troops experience this 'fight or flight state', due to the situation they're in, they remain in that hypervigilant state for the entire time they're deployed and many times after they return home. It becomes second nature to them to be in that constant hypervigilant state and it's often difficult for them to just turn that switch, if you will and return to their normal state, before they were deployed. Some struggle with that and some never learn how to turn that switch. That often creates difficulties for our Troops, when they return home, away from the combat zone and with their families. Often family members don't understand, why their Soldier appears to always be on edge, jumpy and not themselves. That's where Battle Mind Training comes into play, both for the Troops and for their Family Members.
Recoginzing that it's very difficult for Troops to turn off that 'hypervigilance' and relax and get back into the routine of everyday living outside the combat zone, the Carl Darnall Army Medical Center at Fort Hood has created what they call the Warrior Combat Stress Reset Program, to help teach Soldiers how to leave behind the "Battle Mind" and return to the "Peacetime" state of mind. The program at Fort Hood is designed to help reduce the hyper-arousal symptoms and inappropriate reactions to normal everyday events.
"We use a variety of body and mind healing techniques along with group and individual counseling," said Oregon native Maj. Lynette Heppner, officer-in-charge of the reset program. The two-week program is for Soldiers struggling to adjust to being home. "Soldiers do not need to be diagnosed with Post Traumatic Stress Disorder to attend the program," Heppner said. "The name of the clinic is really fitting, warrior combat stress,"3
The program at Fort Hood lasts for two weeks and is designed to help Soldiers 'reset' and help them heal from traumas that they may have experienced during their time in the combat zone. By providing the Soldiers with the right tools to help them begin the emotional healing process, Soldier's are learning to cope with those feelings and learning to relax and get back to their normal existence at home. Being able to do so, becomes more difficult for the Soldiers as they are sent on repeated deployments. Events have occurred that are painful for them and thus talking about them or dealing with the feelings are difficult as well and are often buried deep inside.
"We have powerful tools to help with adjusting, resetting, and with Post Traumatic Stress Disorder. Yes, service members are scared but they are not disabled," said Dr. Jerry Wesch, a clinical psychologist from Nebraska. Before enrolling in the reset program, Soldiers are screened and later scheduled for the next available two-week session.4
The sessions are open to all Soldiers both officers and enlisted personnel. The sessions are held from Monday through Friday from 7:30 am to 4:30 pm for two weeks. It's important that if Soldiers enroll in the program, that they are personally committed to following through. They must also provide a consent form from their chain of command, to attend the sessions.
So far, the feedback from those who have attended has been positive. It's great that such a program is available to the Troops at Fort Hood, the largest military installation. Staff members and Soldiers who have attended the program, stress that for a Soldier to seek help, is a definate sign of strength. A sign that they're ready to leave the 'battle mind' behind and return to a sense of normalcy in their lives.
What does the rock band Queensryche and the US Military have in common? If you're not a fan of Queensryche or perhaps even if you are, you'd probably say not a thing. But that couldn't be further from the truth. Queensryche is an American Heavy Metal band that was formed in 1981 in Bellevue, Washington. The band is comprised of the following members, lead vocalist Geoff Tate, Michael Wilton lead and rhythm guitars and backing vocals, Eddie Jackson, bass guitar and backing vocals, Scott Rockenfield drums, percussion and keyboards and Parker Lundgren on guitar.1
Their newest album is a special album for the band and one that is in honor of the American Soldier and one that is completely different from what Queensryche usually produces. In the past, the majority of their music has been based on personal experiences of the band members. For this album, lead singer Geoff Tate actually interviewed Soldiers, to provide basis for the lyrics of the songs on American Soldier. Queensryche's album, American Soldier will tell their stories and you'll actually be able to hear some of their voices, on the album, as they talk to Tate. Visit the band's website and find out how you can support our Troops by purchasing American Soldier. I'll include a link at the end of this post.
Queensrÿche, Rhino Entertainment and JamsBio.com have joined together in a special project honoring the AMERICAN SOLDIER. Whether you're an active duty soldier, a reservist, a veteran or a loved one, help us celebrate the strength and courage of those who serve our country by sharing (1) stories of service and sacrifice, (2) song dedications to military personnel at home and abroad, and (3) your list of top-5 songs related to war and life on the frontlines.

You can now enjoy early access to HONORING THE AMERICAN SOLDIER. As an important member of the military or metal community, we're letting you know first about this exciting opportunity for your community to contribute to this unique project and pay tribute to our servicemen and woman by sharing music memories, song dedications and top-5 lists.

JamsBio.com is already host to dozens of touching memories and dedications to soldiers, from servicemen and women and their loved ones about service, sacrifice, life on the frontlines and home front. Here are just a few:

My Soldier, a memory from armywife704 of Fort Bragg, NC
My Brother Comes Home, a memory from kwalz of Kansas City, MO
Radar Love, a memory from wedge of Redmond, WA
3-9-66, a dedication from Dave030966 of Inverness, FL
Far Away in Korea, a dedication from lovelogan of Olney, IL
Songs about Soldiers & Service, a JamsBio user-generated top-5 list
Songs about Freedom, a JamsBio user-generated top-5 list
The project officially kicks off on March 31st and will run for two weeks. At that time, we'll be adding exclusive multimedia editorial tributes, including videos on the making of Queensryche's epic concept album, American Soldier, featuring voices from actual soldiers interviewed by lead singer Geoff Tate.

Take a sneak peek and add your tribute now at JamsBio. Then help us spread the word about HONORING THE AMERICAN SOLDIER by:

Informing your community about this special tribute by posting an image, writing an article, blog post or through an email inviting them to contribute,
Forwarding to any active military, veterans or others who will be interested, and
Emailing us with any suggestions at !
About JamsBio

JamsBio offers a rich platform on top of a database of over 4 million songs to share your memories of music; review albums, songs and concerts; dedicate music to that special someone; create and debate Top-5 music lists; play games to test your knowledge of music; and keep a pulse on the world of music through our Magazine's original columns, podcasts, and news articles from our contributors around the globe. Already the site has hundreds of thousands of posts, lists and games played by people sharing great music and profound life experiences that we can all relate to.

JamsBio is a property of Mouth Watering Media, LLC.2
Singer Geoff Tate recently wrote an editorial, that was featured on Military.com . In the article, he explains his motivation behind the album American Soldier and his dedication to telling their story through the band's music. I'm currently trying to see if I can arrange an interview with Geoff Tate via telephone. If I'm able to do so, I'll make sure and provide a follow-up to this story. I'd like to share what Geoff had to say.
Over the last few tumultuous years, things have become very political. War brings that out. People agree and disagree, and we Americans find it comfortable to debate politics with clever bumper stickers. One sticker slogan that pushed my buttons was one that declared, "I support our troops!" For months I asked myself what it meant. Was I missing something? Wasn't this statement obvious? Isn't this one thing that most of us can agree on?

The more I thought about it the more I thought of my own meanings for this ambiguous statement. Of course I support our troops … or do I? What is it that I do support? What do I even know about our troops? Even though I was raised in a military family I had never been a Soldier and I've certainly never been in combat.

I felt compelled to understand what a Soldier is. Just what is the soldier's perspective? What does the Soldier experience before, during and after war. The only way to do this was to ask them and to listen to what they had to say.

I started by asking my dad who is a veteran of Korea and Vietnam about his experiences. This was new territory for us as we had never talked about such things and as he spoke about the challenges that he had faced as a young man I began to understand him differently and see how he became the person he had become. As we were talking, I grabbed my video camera and filmed our time together so I could share his thoughts with my wife and children.

After seeing the taped conversation with my dad, my wife said, "You need to write a song about this. You need to share this with other people." As we spoke further about it we both realized that with more interviews with more Soldiers from different conflicts, we might then begin to understand the meaning of supporting the troops.

I didn't realize the depth of the journey I would take and how much I would learn. Throughout hundreds of hours of conversations with soldiers from WWII to the present conflict in Iraq, I found myself humbled and awed by their dedication, loyalty and supreme willingness to give everything and anything for our way of life. They lay their lives on the line and live through things that most of us can't even imagine. They stand in the "Gap" so that the rest of us can live our lives and pursue our dreams. We sleep easy because they are watching our backs.

As one of the Soldiers states in the opening line of the song "Unafraid" on Queensryche's new album, "People sometimes lose the vision of where it all came from … they're living in the laps of luxury in a country that was built on over three and half million deaths. "Our military men and women make sacrifices, and I for one never stopped to realize just how enormous these sacrifices are. I took it all for granted.

"How can you know me until you've walked in my boots?" This is a very old saying and I think a very appropriate description of this album of music. These are Soldier's stories, their words and even their voices. This hour of music is a walk in a Soldier's boots.

As you listen to the record and hear these songs and stories, I hope you will be moved. I urge you to not stop there but to talk to the people in your life, the people you know that have served our country. Ask them to share their stories. Then thank them.

Sound Off…What do you think? Join the discussion.

Copyright 2009 Geoff Tate. All opinions expressed in this article are the author's and do not necessarily reflect those of Military.com3
Take some time and visit Queensryche's website. Listen to the songs, participate in the discussions, and read what you can do to be a part of donating to the National Military Family Association. Portions of album proceeds will be donated to the above charity, to help military members and their family members. My hats off to Geoff Tate and Queensryche, who have put their money where their mouth is. Their actions speak volumes!!! Thank You for what you're doing to support our Troops!
National Military Family Association
http://en.wikipedia.org/wiki/Queensr%C3%BFche [↩]
http://www.queensryche.com/2009/03/17/honoring-the-american-soldier/ [↩]
http://www.military.com/opinion/0,15202,187049,00.html?wh=news [↩]
One of the most unpopular programs that has been implemented after the wars in Iraq and Afghanistan began, was the Stop-Loss Program. The stop-loo program was put in place to ensure that deploying units had enough Soldiers for their mission. In the program, a Soldier who was nearing the end of his or her term in service, or one who was preparing to retire, could have their active duty status extended, so that they could deploy with their units. Currently, the Army is the only branch of the military that has been using the program and it's been a very unpopular and controversial one. The Marines used stop-loss in the early days of the wars in Iraq and Afghanistn, but stopped utilizing it on May 12, 2003. The Air Force used the program very sparingly and quit using it on June 23, 2003. In the Navy, the program wasn't used at all since the spring of 2003. Even then, it was only for medical corpsmen who would serve with Marines.
On Wednesday, Secretary of Defense, Robert Gates announced that the stop loss program would be phased out between now and next January. That news I'm sure will receive much support from Soldiers in the Army, as they no longer will have stop-loss hanging over their head. Currently in the Army, there are approximately 13,000 Soldiers whose active status was extended through the program.
"We have the legal authority to do it," Gates said during a Pentagon news conference. "But … I felt, particularly in these numbers, that it was breaking faith. It wasn't a violation of the enlistment contract. But I believe that when somebody's end date of service comes up, to hold them against their will, if you will, is just not the right thing to do."1
According to Mr. Gates, while there will always be a need to perhaps hold some people in service, the numbers should be much smaller. I'm sure that those who would continue to be affected by this, would be Soldiers who are in critical MOSs in which there is a shortage of personnel. I'm sure that this news will be cheered by Troops and will go a long ways towards helping increase the morale of Soldiers.
"Effective this August, the US Army Reserve will no longer mobilize units under stop-loss," Gates said. "The Army National Guard will stop doing so in September, and active Army units will cease employing stop-loss in January."2
The hope is that by June 2010, the number who have been stop lossed, will be cut by 50 % and hopefully by March 2011, the numbers will be near zero. Mr. Gates did emphasize however, that the military will retain the authority to be able to utilize stop-loss in extraordinary circumstances.
Instead of stop-loss, the Army will implement several incentives that will hopefully encourage Soldiers to volunteer to extend their enlistments. Beginning this month, the Army will be paying stop-lossed Soldiers $500 additional per month. According to Mr. Gates the program is retroactive to October 1 of last year, which was when such payments were authorized by Congress.
According to Army officials, the Army is able to make this move, to end stop-loss because of several factors. Those factors are: Conditions have changed in Iraq, a new unit rotation schedule has been implemented and the size of the Army has increased. During the next 18 months, the drawdown in Iraq will continue. According to Mr. Gates, the drawdowm will far outnumber the increases to Troop levels in Afghanistan.
I think this is a great move by the Department of Defense and one that will impact troop morale, attitude and willingness to serve in a positive way. I'm sure that many who are serving will be happy to hear this news. In the end, I think it will better serve our country and the military to end this policy at this time.
http://www.defenselink.mil/news/newsarticle.aspx?id=53543 [↩]
http://www.defenselink.mil/news/newsarticle.aspx?id=53543 [↩]
If you're in the Washington D.C. area on June 13th, please join the Victory Day In Iraq gathering at the National Mall. Join what's going to be thousands of others in honoring our Troops and the victory that they have had in Iraq! They deserve this honor for the things they've been able to accomplish in Iraq! Here's the flyer.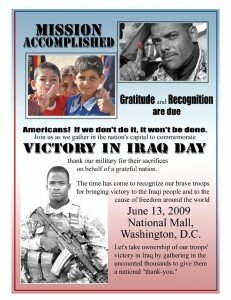 This morning I returned to work, following a few vacation days and was horrified after reading an article in my email box. So much so, that I felt compelled to write about it. I'm extremely disillusioned and honestly, quite appalled about the things that we as Americans consider important. Things have definitely changed since I was raising my children as well as the way I was raised. Have we forgotten about the ideals that this country was founded upon? Have we forgot about why the United States of America is the greatest place on earth to live? If what occurred on a recent commercial flight is any indication, then we as Americans have our priorities all screwed up!
On the flight in question, a flight attendant posed a challenge to the passengers. What was the challenge you ask? To name just 1 of the 5 people who have been awarded the Medal of Honor since the wars in Afghanistan and Iraq have begun. I've featured stories about each of them, here at A Soldier's Mind. If the passengers could do so, they would be awarded a free drink coupon. Sounds easy enough, right? You might be surprised and as appalled as I was, at what happened. It definitely makes you wonder what is being taught to the children of this country. Where are priorities lie and just plain what is happening to our country.
Of approximately 150 passengers aboard the flight, only 1 person was able to name a Medal of Honor recipient from the recent conflicts. Only one person? Folks that's sad. Our military holds a very important piece in this country's history and only 1 person could provide an answer. For myself, that is extremely embarrassing to think that we're raising a generation of young men and women and not teaching them the important things about the history of our country. The adults on that flight should be ashamed of themselves. What's even more frightening is that some of these people and perhaps eventually their children, may hold very important positions in the country. Who knows, one of them may be a future President. Scary huh? I don't know about you, but I sure don't want someone like that in charge of my country! It's an outrage, and a disgrace!
"Dale Shelton, an Annapolis, Md., resident who served five years as a Navy intelligence specialist, was the only passenger to press the button over his seat to beckon the attendant. Shelton's response: Army Sgt. 1st Class Paul R. Smith, the first Medal of Honor recipient in the global war on terror and in Operation Iraqi Freedom.

Smith received the highest military honor for valor posthumously on April 3, 2005, two years to the day after saving more than 100 soldiers in the battle for Baghdad's airport. His young son and widow accepted the award on his behalf during a solemn White House ceremony.

The flight attendant gave free drink coupons to Shelton, as well as his wife, Jean, and two other traveling companions. Then he returned to crew area to announce over the intercom that only one person had correctly answered the challenge.

This time, the attendant offered a second challenge: "Name an 'American Idol' winner." The cabin lit up like a pinball machine as 43 passengers scrambled to push their attendant call button. Passengers named various Idol winners.

The attendant announced that he wasn't going to award drink coupons for that answer, telling the passengers that "naming an Idol winner was not worth a free drink," Shelton recalled"1
What's wrong with the priorities in this country? Instead of ensuring that our children know about the history of our country and the men and women who keep it safe, we encourage them to idolize fictional heroes on television, video games, sports celebrities and people in the acting and musical fields. Something's wrong with that picture, don't you think? Something's wrong when we know the names of those people, yet can't name one military hero! It's a disgrace and I for one am upset, disgusted and embarrassed for this country.
After Shelton was able to name a Medal of Honor Recipient, the flight attendant asked Mr. Shelton if he could name the other 4 recipients of the award. Mr. Smith was able to accurately name 4 out of the 5, forgetting to mention Marine Cpl. Jason Dunham, who gave his life on April 15, 2004 by using his body to shield his fellow Marines from a hand grenade. He regretted that he had forgotten Dunham's name.
"The flight attendant didn't hold Shelton's memory lapse against him though. "He gave me all the remaining drink coupons he had in his possession and shook my hand," Shelton said.2
Recently the Department of Defense created a page paying tribute to the 5 service members who have been awarded the Medal of Honor during the Global War on Terror. Yes I can name all 5 of them. They are: Navy Lt. Michael Murphy, Navy Petty Officer 2nd Class Michael Monsoor, Army Spc. Ross McGinness, Marine Cpl. Jason Dunham and Army SFC Paul R. Smith. To view the DoD's Medal of Honor Heroes of Iraq and Afghanistan webpage, follow this link. Please encourage everyone you know to visit this site and learn about TRUE American Heroes. Hopefully they'll impart this knowledge onto their children as well.
http://www.defenselink.mil/news/newsarticle.aspx?id=53536 [↩]
http://www.defenselink.mil/news/newsarticle.aspx?id=53536 [↩]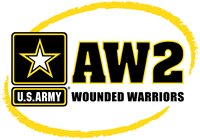 After problems were revealed in 2007, relating to the treatment of wounded warriors at Walter Reed Army Medical Center in Washington DC, the Army created Warrior Transition Units (WTUs) across the Army and in communities across the country as well. The mission of the WTU's is to provide a single Chain of Command to ensure quality of care and support to Warriors in Transition and their families. From the point of injury or illness or disease to their return to duty or transition from active duty. To synchronize existing care and services available and provide a knowledgeable and carind Triad and Chain of Command capable and committed to treating Soldiers and their families with honor and respect.1
Recently in the media, there has been numerous stories about overly harsh discipline methods at Fort Bragg's Warrior Transition Unit. Taking these charges seriously, the General in charge of some 9,000 wounded soldiers in the units across the Army, told the media on March 11th, that he is ordering a review into how the members of the Warrior Transition Unit (WTU) at Fort Bragg are being punished for minor violations. Brig. Gen. Gary Cheek said he is asking the Army Surgeon General to look at all discipline that has been taken against soldiers in the base's Warrior Transition unit to make sure each case was fair.2
Cheek's comments come a day after The Associated Press reported that soldiers in the unit are being disciplined three times as often as those assigned to the base's main tenant, the 82nd Airborne Division. The AP also found that discipline rates vary widely across the Warrior Transition system; some units punish their soldiers even more frequently than the one at Fort Bragg, while others are far more lenient.3
In a bloggers roundtable held on Tuesday, Col. Jimmie Keenan, Chief of Staff of the Army's WTUs and Col. Patrick Sargent spoke about the mission of WTU's the successes that have occurred and how the reported problems at Fort Bragg are being addressed by the Army and reviewed. According to Col. Keenan, each disciplinary action at taken at Fort Bragg will be reviewed by the 18th Airborne Corps Judge Advocate General office to ensure it's appropriateness.
One of the priorities for WTU's is quality of care of each Soldier assigned to a WTU. The men and women assigned to the WTU's remain Soldiers and thus it's necesary to balance the need for order and discipline and the individual need of the Soldiers. Since the inception of the first WTU at Walter Reed almost 2 years ago, many things have been put into place by the Army to ensure the needs of these Soldiers are met.
Each month, commanders from the WTUs across the Army participate in videoteleconferences, to address problems, update on new policies that have been put into place and review what's going on at each installation. Training for the cadre (staff) of WTUs is an on-going process. Initially, as the WTUs stood up across the Army, mobile training teams were sent out to the various sites to ensure that the cadre were aware of the intricate needs of the soldiers assigned to their WTU. This was supplemented by online training. Things such as education on TBIs, PTSD, stress, medication interactions as well as many other things were covered with the cadre, most whom were moved from more traditional Army MOSs (jobs) to be part of the WTU cadre. Family involvement is a huge part of recovery for wounded and ill Soldiers, and the cadre is provided with training on how to deal with the families of the Soldiers assigned to the WTU as well. As of October, the first class participated in a 2 week course for cadre, at Fort Sam Houston in San Antonio to provide them with additional formal training. Other on-going training that is provided throughout the year are things like suicide prevention, medication resolution, and medical conditions.
One practical application of the training resulted in a chain of command taking a look at a Soldier who was experiencing difficulty making his 0730 formation every morning. After looking at the types of medication this particular Soldier was taking, it would be very difficult to make a 0730 formation, so his report time was changed to a later time.
It was stressed during the Roundtable discussion, that the key component of the Warrior Transition Units, was the Triad of Care. What is that, you might ask? In each WTU, there are 3 components to ensuring the appropriate care, treatment and transition of the Soldiers assigned there. Those components are, Nurse Case Managers, Primary Care Managers and the Soldier's Squad Leader. Each Soldier has a care plan that is individualized for them, based on the goals of that Soldier and their family. Things that are looked at, are, does the Soldier want to stay in the Army? If so, will he or she need to be trained into a new MOS? If he or she choses to transition from the Army to the civilian sector, does he or she need civilian job training? Under certain circumstances, if a Soldier is judged physically unfit to remain in the Army, they can apply to stay in anyway. Those circumstances are that they must meet one of the following criteria:
1. 15 years of service.
2. Shortage of their occupational skill set.
3. Their injury was related to combat.
Currently, there are 9,000 Soldiers who are part of the WTU's. While that number is amazing in itself, Col. Keenan informed us that since the inception of the WTUs, and 24,000 have been transitioned through the WTUs Army-wide. Not all of those in WTUs have combat-related injuries. Some (about 1/3) may have injuries or illnesses that become apparent while they're training to be deployed or during demobilization, thus are related to the Global War on Terror, but didn't occur during actual deployment. Another 1/3 are not active Global War on Terror related injuries. These typically occurred at home, perhaps a car or motorcycle accident. The other 1/3 are Global War on Terror related. 11-12 % of those are wounds caused by IEDs, gunshot, etc. 6 % are non-battle related, but occurred during deployment, such as a fall or accident that occurred while on a FOB, and 16 % occurred while down-range but were non-battle related injuries such as PTSD, heart problems, etc. For National Guard or Reserve Soldiers who have injuries or illness, they are automatically assigned to a WTU to ensure that their medical needs are taken care of. Some may be assigned eventually to a Community Based WTU, in areas of the country where there may not be a military installation nearby that has a WTU stood up.
There are many other government and private agencies and organizations that work closely with the Army to develop programs specifically for Soldiers coming from the WTUs. These things include but are not limited to: working with the VA and other agencies to develop internship programs to assist them in retraining in new job skills. Other programs such as business mentoring, with universities such as University of Syracuse and TexaS A&M provide education, and mentoring to those who may wish to open their own business. Another program mentioned was one in which the Secretary of the Army has partnered with the University of Kansas to provide wounded Soldiers and Veteran's the avenue to enter a Master's Level program. Upon graduation, they will be instructors at the Command Staff General College at Fort Leavenworth, Kansas.
Other things being explored are establishing Community Covenants with various communities across the country to welcome Soldiers into their communities, provide them with resrouces and reach out and help them with their transition.
Taking care of our Wounded Warriors is and should be a top priority of this country, as well as our military services. I was very pleased to have the opportunity to participate in this roundtable. I feel like I walked away with a much better understanding of the WTUs across the Army. We all need to remember that each of these units was stood up very quickly, as soon as the need for them was identified. Thus, the Warrior Transition Units a work in progress as they should be, as long as there is a need for them. I appreciate Col.'s Keenan and Sergant taking time out of their busy schedules to speak with us about this important topic and patiently taking the time to answer all of the questions that those participating had.
Information supplied from Army's Office of the Chief for Public Affairs in preparation for a Bloggers Roundtable held on March 17, 2009 [↩]
http://news.yahoo.com/s/ap/wounded_warriors [↩]
http://news.yahoo.com/s/ap/wounded_warriors [↩]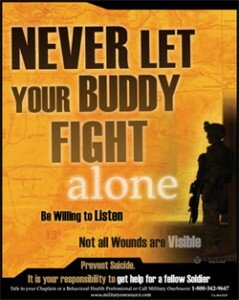 According to the World Health Organization, more than one million people commit suicide each year. They go on to say that suicide is one of the leading causes of death among teenagers and adults under 35. There are also an estimated 10 to 20 million non-fatal attempted suicides every year worldwide.1 Those are pretty frightening statistics, when you think about it.
People commit suicide for many reasons, including depression, shame or guit, desperation, pain, financial problems, relationship problems and often other undesirable problems. The predominant view of modern medicine is that suicide is a mental health concern, associated with psychological factors such as the difficulty of coping with depression, inescapable suffering or fear, or other mental disorders and pressures. Suicide is sometimes interpreted as a "cry for help" and attention, or to express despair and the wish to escape, rather than a genuine intent to die. Most people who attempt suicide do not complete suicide on a first attempt; those who later gain a history of repetitions have a significantly higher probability of eventual completion of suicide.2
Recently, the number of suicides in the military has been increasing at an alarming level. So much so, that the Army and other branches of the military are taking proactive steps to decrease and hopefully eliminate suicide altogether. Because of the increased numbers in the Army, a suicide prevention campaign has been launched and a task force has been formed in address these very real issues. In a recent news release, US Army Forces Command talks about the steps the Army is taking towards the prevention of suicide.
U.S Army Forces Command
Directorate of Public Affairs, 1777 Hardee Ave SW,
Attn: AFCS-PA, Fort McPherson, Ga. 30330 1062, 404-464-6381,
Fax 404-464-5628, DSN 367-6381

ARMY LEADERS DEVELOP SUICIDE PREVENTION PROGRAMS

By Jessica Maxwell
FORSCOM Public Affairs

Considered an ongoing battle to decrease the Army's suicide rates, commanders brainstormed how to reduce the rising numbers and push prevention training.

The number of suicides in 2008 totaled 128 confirmed cases from all Army components. This is the highest figure since the Army began tracking this alarming statistic.

The Army G1, which manages and develops Army personnel programs, is the proponent of the Army's suicide prevention program and works as part of a joint effort with Installation Management Command (IMCOM), leaders of U.S. Army Forces Command (FORSCOM), mental health professionals from Medical Command (MEDCOM), and the Chief of Chaplains office.

To continuously track suicide data, FORSCOM G1 personnel chief, Brig. Gen. Eric Porter, formed a bi-monthly summit in October 2008. In addition to fostering communication between commands, the goal is to provide appropriate human resources to installations and forecast the needs of brigade combat teams post-deployment.

"Gen. Porter directed his staff to look into the circumstances around which the Soldiers committed suicide," said CH (Col.) Brad Fipps, FORSCOM staff chaplain.

FORSCOM G1 is developing data that will show where in the deployment cycle suicides may be more likely to occur. Once these have been identified, commanders can apply mitigation strategies at key points to counter them through preventive training and reinforcement activities that promote resiliency.

"Soldiers and Families are remarkably resilient," said Fipps. "Even though they are under tremendous stress from all the demands of current operations, including multiple deployments, most of them bounce back with incredible fortitude. With supportive emotional backing from their Families and friends, Soldiers are better able to withstand the emotional challenges, such as feelings of severe hopelessness and helplessness, which often lead to suicide," he said.

Ongoing data from G1 shows that one-third of suicides occur during deployment, one-third occur a full year post-deployment, post-deployment, and a third of the Soldiers never deployed. However, Col. Mike Freville, a behavioral health officer at FORSCOM said, 70 percent of the suicides appear to be relationship-based. "It's a mystery. Whether it's in the civilian world or military, suicides are a mystery," said Freville.

He added that commanders are dedicated to the battle and large amounts of energy and resources are being pooled to decrease the rates.

"Nothing is more important than the well-being of our Soldiers and Families," said Gen. Charles C. Campbell, commanding general, FORSCOM. "We will do everything in our power to address the underlying causes that have contributed to the increase in suicide rates. We will make every effort to provide the necessary resources and training to help our units deal with this problem."

On February 15, an Army stand-down began and continues through March 15. In a press conference Jan. 29, Vice Chief of Staff of the Army Gen. Peter Chiarelli said the stand-down allows commanders to take a direct approach to the issue. The stand-down teaches peer-to-peer recognition of suicide warning signs and is available to all Army components and Department of the Army civilians.

http://en.wikipedia.org/wiki/Suicide [↩]
http://en.wikipedia.org/wiki/Suicide [↩]

The youth of today are inundated by all kinds of things in the media. Things that tell them what is considered cool and hip in society today. But how positive are the messages that our children are receiving? Think about it, really think about it. Every day in the media, be it television, the radio or even online, we are bombarded with stories about sports figures, musical artists, actors, politicians and other so called pillars of society, who are often in trouble with the law, or in the media for doing things that are socially unacceptable. Yet these are the people whom many of us and therefore our children look up to as role models. They strive to dress like them, act like them and hope to lead a similar life as them. Is that really the message that we want our children to have? Are these really the people that we wish for our children to emulate? Is that the type of person that we hope our children become?

Think about those negative role models for an instant. Snoop Doggy Dogg, Axel Rose, Terrell Owens, Michael Vick, Teddy Kennedy, Roseann Barr, the list could go on and on. Do we really wish for our children to grow up to be like these people? As a parent, I can honestly say that I did my best to make sure that my children didn't grow up to be like these people and live the lives that they lead. I tried my best to ensure that my children had positive role models growing up and am very proud of the young men that my sons have become. I tried to teach them responsibility, right from wrong, and the joy they could find in doing something for someone else, not because they had to, but just because it was the right thing to do. The role models that I provided for my sons and pointed out to my sons, were for the most part, positive role models. Did they still make mistakes sometimes? Undoubtedly, but they did their best not to do so. Those are the role models I wanted my sons to emulate and for the most part, they've done so. People like our Troops, our police officers, firefighters, EMS personnel. Normal, everyday people that we come into contact every day. People who quite often do completely amazing and extraordinary things, not because they have to, but because it's just the right thing to do.

All across America, there are thousands of men and women who selflessly do things for the betterment of others and of our country. The majority of these men and women never receive any recognition for their actions, nor in most cases, do they wish for recognition. Instead they do the things they do, not because it's a requirement to do so, but instead because they want to. These people are ordinary people who on a daily basis, do extraordinary things. Perhaps, they are that person who volunteers for the local fire department or Emergency Medical Service. Perhaps they are the grocer who witnessed an accident on his or her way to work and stopped to help. Perhaps they are the teenager who volunteers at the local nursing home, reading to the elderly. Perhaps they're the Servicemember who volunteered for the military after witnessing the events of 9/11 on their television sets.

While these people may be from different walks of life, in different professions and each encountering different circumstances, they are people who go out of their way to do things for others and for our country, without asking for anything in return. They are people who are willing to make sacrifices to benefit others or to benefit our country. These people are the people we should encourage our children to emulate. They are role models and mentors and they set a great example for each of us.

One website has made it, their mission to celebrate the lives of these extraordinary American people. This website, Great Americans, strives to tell the story of the lives of these heroes, the story of their service and sacrifice for the benefit of others. As part of the mission of Great Americans, they are striving to tell the story of the men and women who serve our country in uniform, both at home and overseas. Our Soldiers, Sailors, Airmen, Marines, Coast Guard, Police Officers, Fire Fighters and EMS personnel to name a few. These people put their lives on the line on a daily basis, to ensure our safety and security. Each and every one of them are true American Heroes and each of them has a unique and special story. At Great Americans, their goal is to share their stories through video. Please take some time to visit the Great Americans website, to view some of the videos, read their blog and participate in the discussions on their forum.

Please also take some time to read about the founder of Great Americans, Matt Daniels. His is an amazing story of how, with role models, one can succeed in life and be a positive role model for others. Matt grew up in the Spanish Harlem area of New York City. Matt didn't have many positive role models growing up. When he was a young man, his mother was robbed by 4 men, and in the ensuing struggle ended up with a broken back, that caused her to be disabled and subsequently have to rely on welfare to support herself and her son. Because of some positive role models in his life, Matt was able to do amazing things with his life. Things that one wouldn't think possible, considering his impoverished upbringing. Because of the example these people set for Matt, he worked hard, received a scholarship to Dartmouth Law School. Because of the influence that these positive role models in his life, Matt's dream was to created a place to spotlight the modern day "Great Americans," to tell their story. The stories that we so very rarely hear about. Once again, I encourage you to visit Great Americans. Listen to the stories there about true American role models, ones we should make sure that our children know about. I think you'll be very pleased with what you find there. In the future, as I'm covering stories about our military men and women, I'll try to incorporate videos from the Great Americans website.

Next Page »