The concept behind the idea of a Veterans Court in Allegheny County, Pennsylvania stems from the military itself …. 'Leave no man behind.' The idea is to provide an alternative court option for veterans accused of certain crimes in the county. According to those advocating for the court, it will save the traxpayers money, by diverting veterans from the corrections system to treatment facilities, that don't use taxpayer money for their operations.
"The purpose of the court is to make sure vets who are incarcerated or suffering from things like addictions or mental health problems are not left behind," said Allegheney County Common Please Judge, Michael E. McCarthy, as he spoke to the state House Subcommittee on Courts during a hearing at Soldiers & Sailors Memorial Hall & Museum in Oakland, Pa.1
According to information that McCarthy provided, the proposed court would be similar to drug, drunk driving and mental health courts that are currently in place in the county, The program if passed, will offer psychological counseling, job placement services and treatment to veterans who commit non-violent crimes in the county, instead of incarceration. This will help veterans who successfully complete the program and follow the guidelines set down by the court, to receive the help they need, instead in a jail cell without receiving help.
According to one of the Judges who preside over the mental health court in the county, the gap between repeat offences with those who go through his court as opposed to those who do not is huge …. about 15 percent compared to 70-71 percent. If plans are approved, it will be the states first Veterans court. If it works in Allegheney County, then state Supreme Court Judge Seamus McCaffery would like to see the program expanded into other counties.
The idea of this type of court isn't a new one. Similar systems are in place nationwide for Juvenile Offenders and often are able to rehabilitate the offender instead of institutionalize them. The veterans court will focus on providing assistance to veterans who come before it, in areas such as mental health care, substance abuse programs, job training and placement. According to statistics that were quoted at the hearing, 3 in 5 veterans in jail have substance abuse problems, as many as 1 in 3 have serious mental health problems and 1 in 5 are homeless. Sobering numbers for sure.
"For incarcerated veterans, 70 percent committed a nonviolent crime," said Michael Moreland, a network director for VA Healthcare in Pittsburgh. "These statistics suggest that there is a significant need for services for veterans who face criminal charges."2
I seriously hope that this program will be successful. I think it's something, that if it works, should be replicated not only throughout Pennsylvania, but across the country. The more services and programs that are out there and available for our veterans, the more chance they have to overcome their problems and difficulties and succeed in life outside the military. Hopefully I'll be able to report later that this program has been a huge success.
http://www.military.com/news/article/county-considers-veterans-court.html?wh=news [↩]
http://www.military.com/news/article/county-considers-veterans-court.html?wh=news [↩]
In a move that is likely to raise the ire of military members and their families, Defense Secretary Robert Gates announced today that the news media will be allowed to photograph flag-draped coffins of fallen US Servicemembers, as long as their family members agree. The change will allow family members to chose if the media is allowed to photograph their fallen loved ones' return at Dover Air Force Base in Delaware.
"I have decided that the decision regarding media coverage of the dignified transfer process at Dover should be made by those most directly affected — on an individual basis — by the families of the fallen," Gates said at a Pentagon news conference.

"We ought not to presume to make that decision in their place," added Gates, who began reviewing the policy at the request of President Barack Obama.1
This decision, will likely continue the controversy that has been raging across the milblog world. The ban, initiated in 1991, by President George H.W. Bush, was meant as a way to shild grieving families from the glare of the media. Opponents of the ban, have proclaimed that to not allow the news media to photograph the flag draped coffins as they are returned to the United States, claim that the ban was meant only to hide the human cost of war from the citizens of the country. The decision will likely be viewed by some as the right thing to do, while others will be angered at the decision and the fact that many feel that military families, especially Gold Star Families weren't consulted on the decision.
Gates made it clear that family members would be the ones who made the decision whether the the media will be allowed to photograph the return of their fallen loved one. My question is, what's to stop media personnel from stationing themselves a distance away and utilizing telephoto lenses to photograph the return of our fallen warriors, if their family members do not give permission? I think this decision is a bad one and feel that it only opens up grieving family members to more trauma and stress than they are already facing. Having seen members of the media in action in the past and their tendency to push the envelope, I see them stretching the boundaries and going against the wishes of the family members, at every opportunity that presents itself. I just don't see that the Pentagon will be able to prevent these breaches from occurring, once they open the door to opportunity. As much as I respect Robert Gates, I feel that in this instance, he made a very wrong and poor decision.
http://www.defense.gov/news/newsarticle.aspx?id=53250 [↩]
Nothing is more solemn and heart wrenching, than the task of preparing the remains of a US Service Member for burial. In the United States, all remains are first taken to Dover Air Force Base in Dover, Delaware, prior to the remains being released to the family for burial. For years the media has been banned from filming the flag draped caskets as they arrive at Dover, for the final preparation. After he was inagurated, President Barrack Obama and his administration proposed a review of the 1991 ban. The media of course is all for allowing them to be present when the remains of our fallen arrive at Dover, but they're facing tough opposition from Veterans groups, such as the American Legion. Currently the media will often film parts of the funerals of our fallen warriors, but they're not allowed at Dover. I feel that's the correct thing, that the family members and our fallen deserve the respect and honor, without interference from the media. Too often the media tends to make the situation even harder on the families of the fallen.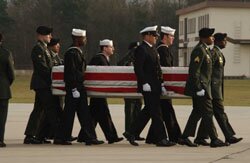 Family members who've had to bury their loved ones after they lost their life in the Global War on Terror have mixed feelings. Some are vehamently opposed to the idea of media being present at Dover when their loved ones remains arrive, others have mixed feelings, while others feel that it's okay as long as it's done in good taste. The feelings of many veterans groups and military supporters is strongly opposed to lifting the ban.
"The practice would be intrusive and hurtful to the warriors' families," David K. Rehbein, American Legion national commander stated in a news release.1
Myself, I'm very opposed to the idea. Unfortunately many of the members of the national media today, don't ever stop and think how their actions may affect the family members. So many times, the media has tended to sensationalize anything to do with the wars in Iraq and Afghanistan, often to the point of actually causing much more harm than good. I honestly don't feel that allowing them to film our fallen soldiers remains being returned from the war zone will be any different. I feel that in doing this, all it will do is inflame people and denigrate the solemnity of the situation. The return of our fallen heroes should be dealt with in a professional and sensitive manner. I don't feel that the media has the right to have any part in that.
If by change, this ban is rescinded, I feel that there should be extremely stringent guidelines. Prior to any photographs being published, they should have to be approved by the family of the fallen service member as well as by the military. I fear that if we allow the media free reign on this subject, that these photographs will be used in a negative light, in a way that is disrespectful to our fallen warriors and their families.
There are plenty who disagree with my thoughts about this. Take for instance, the president of the National Press Photographers Association, Bob Carey, who feels that "the ban on media coverage goes against the very principles of free speech and free exchange of ideas for which these very heroes have died."2
The final outcome of this controversial subject, will continue to stir debate, sometimes very angry debate. I know for myself, had Marty or my son died in combat, I would be outraged if the media were allowed to film the return of their remains to Dover. I do feel, if changes are made, that it should be the sole decision of each individual family, whether the media is allowed to film the return of their fallen warrior. It's definately something that should NOT be up to the politicians. I'm sure many people will be watching, to see what is decided and I'm sure it will continue to stir sometimes heated debate. Please feel free to share your thoughts on this subject.
http://www.military.com/news/article/quarrel-stirs-on-flagdrapped-coffins.html?wh=news [↩]
http://www.military.com/news/article/quarrel-stirs-on-flagdrapped-coffins.html?wh=news [↩]
From the first day they enlist in the Army, a Soldier is taught the 7 Core Values of the Army. The Army Core Values are everyday guidelines for living. They are guidelines that not only should be taught in the Army, but should be taught in every public school in the United States. Those 7 Core Values are:
Loyalty: The faithful adherence to a person, unit or Army. It is the thread that binds our actions together and causes us to support each other, our superiors, our family and our country.
Duty: The legal or moral obligation to accomplish all assigned or implied tasks to the fullest of your ability.
Respect: Treating others with consideration and honor. It is the ability to accept and value other individuals.
Selfless Service: Placing your duty before your personal desires. It is the ability to endure hardships and insurmountable odds because of love of fellow Soldiers and our country.
Honor: Living up to the Army Values. It starts with being honest with oneself and being truthful and sincere in all our actions.
Integrity: To firmly adhere to a code of moral and ethical principles. Every Soldier must possess high personal moral standards and be honest in word and deed.
Personal Courage: Physical courage is overcoming fears of bodily harm while performing your duty. Moral courage is overcoming fears of other than bodily hard while doing what is right, even if unpopular.
Honestly, these 7 Core Values, should be something that each of us adheres to every day, regardless of whether we're Soldiers or not. These values should be something that we should strive to live up to in our personal lives every day and something that should be taught to our children in every school in America. For me, those values are guidelines to what it means to be a good, honest and decent human being.

In June 2008, one former Soldier displayed publically how he lives the Army Core Values in his daily life. Even though he's no longer in the Army, this former NCO courageously displayed these values when he took actions that more than likely saved the lives of several people. That day in June, started out as a normal summer day in Fort Worth, Texas for former MSG Donald Murrah, who was running a routine errand when he day suddenly went from routine to extraordinary.
Retired MSG Donald Murrah, who is now serving as the JRTC instructor at Haltom High School in Haltom City, Texas had made arrangements with a friend to meet at the parking lot of the Wells Fargo Bank in Fort Worth to exchange items that his friend was borrowing from him. After exchanging the items, the two sat and visited for awhile, when they noticed something strange.
"I had seen him get out of a taxi cab and walk up to the bank – this guy," said Murrah. "And he was wearing a jacket, long pants and a hat. But in Texas in June, it's real hot outside."1
It's not often in the summer in Texas, with the sometimes sweltering heat, that you'll see someone walking around with a jacket on. Something just wasn't right about this man and Murrah was instantly on alert.
"We have to keep an eye on this guy, something is not right here," Murrah said to his friend. "As we stood outside and were talking, we saw a lady walk out real quick. Then I was telling the first sergeant that I think the guy robbed the bank. I said we'd watch and see what he does when he came out."2
Just as he suspected, the man, 57 year old Larry Don Enos, had robbed the bank, using a .32 caliber semi-automatic pistol. According to later police reports, Enos had been wearing a disguise, that consisted of sunglasses, a wig, false beard and mustache. When he entered the bank, he pointed the gun at the manager of the bank, demanding money. After that demand was complied with, he then demanded that the bank manager drive him away from the bank. The manager instead gave the robber the keys to his vehicle and provided him with instructions as to where the car was parked.
"So he came out and he was trying to open a car," Murrah said. "I was on the south side of the building and he walked out on the north side and I could see him after he passed the building, he was trying to get into the car."3
He watched as the man appeared to be struggling to get into the car. Later he found out that the bank manager had directed the robber to the wrong car – more than likely to provide enough time that the police could arrive. After struggling for a few minutes, the robber gave up and sought a different means of escape from the bank parking lot. He headed towards the line of occupied cars waiting for the drive through window and ATM machine. As the robber approached a woman at the ATM, in an attempt to car jack her, Murrah headed towards him.
"He tried to carjack her, but she drove off," Murrah said. "At that time I was just about up to him. After that, he went to the next lane of vehicles."4
The robber saw Murrah approaching as he attempted to car jack the first lady and pointed his gun at him. Murrah ducked behind a concrete pillar. The robber then went on to another vehicle, this one being driven by a woman who had children in the car with her. The robber pointed the gun at the lady driving, holding it about 12 inches from her face and told her to get out. The woman tried to stall him, telling him that she had children in the car. He told her he didn't care. Murrah knew that he had to act, before someone got hurt.
"He got to the van and was about to carjack a lady and her two kids," Murrah said. "He kind of had his body halfway in the van and I grabbged him by the collar. You know in Judo how you do a hip toss? I knew I had to get him off his feet and that's the only way I'd have any leverage, because he had a gun. I grabbed him by the collar, one hand on each side of his collar and tossed him over my left side. He landed on the ground, the money fell out of the bag, and I held him down and held his right hand down that had the gun in it and I pried his fingers loose. We just waited for the Fort Worth police to get here then –it seemed like a matter of seconds." 5
Murrah credits his Army training and his martial arts training that he took while stationed in Korea, for his quick actions that day. Actions that likely saved the life of the driver of the van and her two children. While he reacted as he'd been trained to react, Murrah is still in disbelief about the events that occurred that day, and his actions.
"After it happened, I couldn't believe what I did," he said. "I thought that was kind of stupid – a guy had a gun and I chased after him and I didn't have a gun. My adrenaline was going so bad – it took a couple of hours to calm down before I could write my police statement."6
The robber pled guilty to bank robber, two counts of using or carrying a firearm during a crime of violence and one count of carjacking. Enos faced a maximum sentence of life in prison and a fine of $1 million dollars. While he was awaiting sentencing for his crimes, he died on October 14th. MSG Murrah received recognition from the Fort Worth Police Department and received the Soldier's Medal during a ceremony today at Haltom High School.
Retired MSG Murrah is someone who exemplifies the Army Core Values. He willingly put himself in danger from an armed gunman, to do what was right and to ensure the safety of others. He did so without hesitation. Even after retiring from the Army, he continues to live the Army Core Values. We should all look at him as a fine example of the men and women who put their lives on the line daily to protect and serve our country and we should all attempt to live our lives in his example.
When I first saw this story, I knew it was one that I wanted to share with our readers here at A Soldier's Mind. I am totally amazed at this doctor's willingness to serve in Iraq and Afghanistan, especially at his age, when most of his peers have long since retired and are enjoying their golden years. Dr. Burson is truly one amazing man. Continue reading and I think you'll see why I say that.
At an age when most people are enjoying their golden years in retirement, one doctor at age 74 is heading to Afghanistan and the war. Dr. John Burson, from northwest Georgia recently wrapped up a week of training at Fort Benning, Georgia and then headed to Afghanistan on Friday. It's not the first time he's been deployed during the Global War on Terror. He's spent two stints in Iraq in 2005. Time that he says was unforgettable. He was among several doctors who were assigned to take care of Saddam Hussein during his imprisonment, prior to his eventual execution. Being able to deploy to Afghanistan wasn't an easy task, as he soon found out, when an Army staff person asked him to undergo a 3 day physical to prove he was fit to deploy.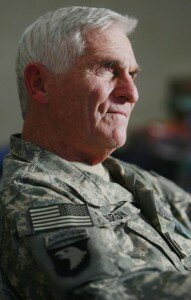 "Look, I'm training for a half marathon," replied Burson. "You come down and check to see if I can make it."1
This isn't his first stint in the Army either. Burson is a retired Lieutenant Colonel. Dr. Burson has a family history of military service, with his uncles and cousins having served. Their service inspired him to seek an Army officer's commission in the 1950's. By the time his training was completed, the Korean War was winding down. He later left active duty, but remained in the Army Reserves. His unit was informed that they should prepare to deploy to Vietnam. They never received a call. Burson retired from the military in 1985. A few years ago, he received an email from the Army's surgeon general asking retired military doctors to volunteer to serve rotations in Iraq. Burson was 70 at the time and replied, asking if he was too old. The answer led to his first tour in Iraq in 2005.
"He likes to say, 'Where else can a 74 year old go and have fun?'" said Barbara Burson, his wife of 53 years. "I don't know if I see it as fun, but he enjoys doing it. And anyone would feel good about being able to contribute."2
Burson has remained very active since he retired. He maintains a steady exercise regimen. He works out 4-5 times per week, lifts weights, plays raquetball and mountain bikes. He runs on an elliptical machine. This is what swayed the Army from requiring him to take a new physical exam. All deploying Soldiers are required to have a health screening and answer questions about their overall health. If Army doctors have any concerns, then can then order a physical, which is what they tried to do with Burson, mostly because of his age. When Burson deployed the first time in Iraq, he had to pass an Army physical exam and fitness test. Soldiers who are over age 62 are required to do 16 pushups, 26 situps and run 2 miles in 20 minutes. He passed all of those requirements. Burson says that the main thing he had to do prior to deploying is to qualify with a 9mm handgun, which will be the only weapon he'll carry in Afghanistan.
"I'm not really a very good shot," Burson said. "I could probably do better throwing the pistol at a target."3
Burson's job in Afghanistan will be to oversee medical staff that are treating around 1,000 Soldiers. Much of his time will be spent working at the clinic on the base, but there may be times that he'll have to treat Soldiers who are wounded during patrols.
"There's an element of risk," Burson said. "But statistically it's probably not any more hazardous than driving to work."4
Burson's wife isn't surprised in the least that Dr. Burson wishes to continue being a Soldier. She said that it doesn't appear that retiring doesn't appear to be in his blood. She pointed to the fact that several years back, he was planning to retire from his medical practice and turn it over to his partner. When it came down to it and he had to sign the paperwork to do so, he couldn't do it. She's hoping that this tour in Afghanistan will be his last deployment, but isn't holding her breath.
"We can't help but hope that," Barbara Burson said. "He doesn't make any promises."5
I hope that when I turn 74, that I can have the ambition and good health that Dr. Burson has. He's a true testament to what it means to continue serving your country, well past the time that it's expected or required of you. I think our Troops are damn lucky to have such a dedicated doctor willing to take care of their medical needs during their deployment. Amazing…..
Just wanted to post a quick announcement. Today marks the forth year of operation at A Soldier's Mind. It amazes me every time we pass a new milestone. I would like to personally thank all of our readers for keeping us around. Because of you it is possible that we continue to publish.
One benefit that our Troops receive for their military service is educational benefits. The transition from the structure of the military to the college environment can be difficult for some veterans. Recently a new program was launched that is geared to ease the transition, at Cleveland State University in Ohio. The program is open to only veterans and assists them in easing into the college environment, instead of becoming overwhelmed and possibly dropping out. The idea for the program was born in 2006 after creator of the program, John Schupp, who is a Chemistry professor, received a call from one of his students who was having difficulties with the adjustment.
"Listening to her talk about her experiences in Kosovo, then thinking about her having to listen to a teacher and freshmen students discuss their issues and trying to make that kind of adjustment … I thought to myself that this is a problem that's going to happen time and time again, and I wanted to know what can I do about it," he said.1
After giving it some thought, Schupp began doing research about veteran's educational benefits, such as the Montgomery GI bill and speaking with the local and state Veteras Affairs offices. What he found out shocked him. He learned that while these benefits were very appealing to recruits, fewer than 10 percent of veterans ever take advantage of the benefits. Part of his research included speaking with Vietnam and Gulf War veterans and asking them the reason that they didn't use their GI bill. Most of them confided that they had a difficult time concentrating in class.
"So, my experiment was to change the environment," he said. "It's either the building or the people, so let me take the civilians out of the equation."2
He spoke with university officials and convinced them to allow him to conduct a test class. Last spring, a pilot group of 14 chemistry students took the first exam. According the Schupp, the results were remarkable. The learning environment in the program is more comfortable, with the classes being veteran only. The classes are much smaller. Best of all, the students are all veterans, so everyone in the class understands each other and the issues that come with being a veteran.
"It wasn't just circling or matching the answers," Schupp said. "They actually had to know and write out the answers. They handed it in - no one tore it up or walked out … and when I graded them, they had a higher average than my civilian classes."3
According to Schupp, because the classes are composed of entirely veteran's, many feel comfortable opening up and talking about their military experiences. Almost like a mini-counseling session. According to Schupp, students don't take all of their classes as veterans only classes. The first semester, students are offered 12 credit hours of veterans only classes, then 9 credit hours the next semester. Full time students would still have to take 3 credit hours in a civilian class. That way, instead of being thrown head first into the civilian environment, the students are eased into the campus life, setting them up for success instead of failure. Since the program began, Universities, other colleges and Veterans Affairs systems has indicated interest in the program. So far, 23 universities and colleges are considering offering similar programs.
The program at Cleveland State University appears to be successful. Out of the 14 original students, 10 went on to summer semester. The following fall, 25 veterans enrolled and in the current spring semester, there are 41 veterans enrolled in the program.4
I think this is a fantastic idea and a way to slowly ease veterans into civilian college courses. It's great that Professor Schupp has taken enough interest in the success of our veterans that he took the time to create this program and convince University officials to allow him to give it a test run. Hopefully we'll see more colleges adapting this program for our veterans.
From 1948 to 1973, young men were required to register for the draft when they reached the age of 18 years of age, during both peacetime and times of conflict. The idea was that these men would be drafted into the military, to fill the positions that couldn't be filled through voluntary enlistment. In 1973, the draft ended and the registration requirement was suspended in April 1975. Men who were drafted into the military during that time period, saw combat in several combat situations that our country was involved in. In 1980, the registration requirement was reinstated by President Carter and it continues today. However, since the draft ended in 1973, no men have been called to duty through the system. 1
2
The military has been steadily working towards an 'all volunteer' military. They neglect to remember that there is still one Soldier serving on active duty, who was drafted. That Soldier, CSM Jeffrey Mellinger still serves today, as the CSM in charge of the US Army's Materiel Command. He was recently interviewed by Time Magazine. Mellinger was drafted in 1972 and first donned his uniform on April 18, 1972. It's now almost 37 years later and Mellinger still proudly serves his country in the Army.
"I'm a relic," Mellinger concedes." He recounts how he still impresses the young volunteers that are currently enlisting in the Army. "Most of them are surprised I'm still breathing, because in their minds, I'm older than dirt. But they're even more surprised when they find out this dinosaur can still move around pretty darn quick."3
Mellinger recalls the day that he came home to find a draft notice in the mail. At the time he was 19 years old and working as a drywall hanger in Oregon. He remembers going to the draft office and asking if the draft notice was really serious. He quickly found out that indeed it was serious and soon reported for active duty. Initially his military career started as a clerk in Germany. His plan was to serve for two years and then get out, but his company commander talked him into reenlisting. According to Mellinger, the thing that convinced him was the opportunity to join the Rangers.
"Reenlisting was the best decision of my career," Mellinger said.4
His career in the Army has allowed him to travel all over the world, visiting many countries. One of his last tours was in Iraq, where he spent the last three months of the tour working directly for General David Petraeus, who kept the General informed of battlefield morale.
"We lost count of how many times his personal convoy was hit," Petraeus said. "Yet he never stopped driving the roads, walking patrols and going on missions with our troopers."5
Mellinger spent a total of 33 months in Iraq, going out in the trenches, so that he was able to give a true and accurate account of morale to General Petraeus. He encountered some 27 roadside bombs, including two that destroyed his vehicle. Luckily he was able to escape injury both times
.
Mellinger is a military brat, his father having served as a Marine. He recalls how he attempted to enlist in the Army and the Marines prior to being drafted, but was turned down by both branches of service. He still finds it strange that the Army he was drafted into doesn't exist any longer.
"You get people who want to do this work," he says of today's nearly all volunteer force. "Until the time comes that we're in danger of losing our capabilities to do our missions, then we ought to stick with what we have — there is no need for the draft."6
One thing sure to anger Mellinger is when someone mentions that they feel the Vietnam era Army was filled with misfits and druggies. He counters that argument by referring to the many who avoided the draft by heading to Canada.
"We didn't run off to Canada," he says. "While it makes great rhetoric to stand up and say 'We don't want a draft Army because the draft Army was bad,' the facts don't support it," Mellinger said. "Just because they didn't run down and sign up doesn't make them less deserving of respect for their contributions. I'm proud to be a Soldier and I'm proud to be a draftee," he said. "I took the same oath that every other enlistee who came in the Army – there wasn't a different one for draftees."7
Thinking over the years of service he has given the Army, he proudly thinks about Soldiers that he let, who've went on to take on key leadership roles in the Army. At this time, Mellinger has plans to retire from the Army next year, making his last duty station the Army Mareriel command in Virginia. Of course, he's quick to mention that he's told his wife 6 other times that he was going to retire, yet something has always compelled him to reenlist.
CSM Jeffrey Mellinger is a fine example of a leader, a warrior and a Hero. He's someone that our young Soldiers can look to for guidance and someone they can strive to emulate. Good luck CSM Jeffrey Mellinger in everything you do and thank you for your stellar service to our country.
While millions of American Military Members continue to bravely serve our country in harms way, one US Army deserter or should I say coward, received a German Peace Prize on Saturday, for being a coward. This Army Deserter, SPC Andre Shepherd, who is originally from Cleveland Ohio, is currently attempting to claim political asylum in Germany. On Saturday, Shepherd was awarded the Munich American Peace Committee's annual prize, during a protest at a major security conference that occurred in southern Germany.1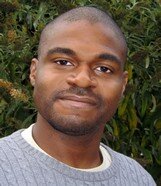 Shepherd had served one tour in Iraq and had returned to Germany where he was stationed, when he went AWOL a year and a half ago. He applied for asylum in Germany on November 26th of last year, claiming he morally objected to the war in Iraq. After his deployment and subsequent return to Germany, he began to explore options. He eventually went AWOL on April 11, 207 from the Katterbach base in the middle of the night, showing to the world, what a coward he really is. What happened to the Oath he took when he enlisted in the Army, the Code of Conduct and Army Ethos? It's obvious that he's someone who doesn't realize the significance of those. He's lived underground in Germany since that time.2
This turns my stomach for so many reasons. I find it despicable that SPC Shepherd is being rewarded in this manner for his actions, when in all reality, he should be spending many years in Fort Leavenworth Disciplinary Barracks. According to publicity about the award from the Munich American Peace Committee, Shepherd was given the award "for his courage and conviction in spite of the possibly extreme punishment from the US authorities and for publicizing your convictions to five other soldiers the courage to also leave the army and push for peace."3
My response to that is, 'What a load of utter crap!' If he really was such a courageous person, one would think that he'd have the guts to go through the appropriate process to see if he was eligible for Conscientious Objector status. Sure the process is a lengthy one, but it's morally the ethically the right way to go about it, instead of being a coward and turning tail and running. His petition for asylum was heard by German authorities on Wednesday and is currently under consideration. I would hope that German authorities will do the right thing and turn him over to US Military authorities. Hopefully that's exactly what they'll do and Shepherd will spend some much deserved time locked up in Leavenworth. It's the right thing to do.
http://www.military.com/news/article/February-2009/us-deserter-receives-german-peace-prize.html?col=1186032307786 [↩]
http://www.mc-network.de/Andre%20Shepherd.html [↩]
http://www.military.com/news/article/February-2009/us-deserter-receives-german-peace-prize.html?col=1186032307786 [↩]
One thing that I feel is very important as President Obama continues to pick key people to fill in his cabinet, especially in the areas that concern the military, is that he is careful to chose people who have experience with the vital issues that are relevant to our Troops and Veterans. It was recently announced that the white House intends to nominate Disabled Iraq war veteran, Tammy Duckworth, who is currently serving as the director of the Illinois Department of Veteran's Affairs. Duckworth is a Major in the Illinois National Guard and lost both of her legs and partial use of her arm when the helicopter she was flying in Iraq, was hit by a rocket propelled grenade. The formal nomination of Duckworth will be made following the completion of background checks and once Duckworth completes the paperwork and disclosure statements are required.

The director of the VFW, Bob Wallace, said that he was pleased to see Obama pick Duckworth to serve as assistant secretary of public and intergovernmental affairs for the VA. Not only is she a veteran, but she's a disabled veteran, which is a plus when dealing with the plethora of wounded warriors returning from both Afghanistan and Iraq.
"Too often, this job goes to a nonveteran," said Wallace.1
It's hoped that Duckworth will have her confirmation hearing before the Senate Veterans Affairs Committee, by the end of this month. According to VA Secretary, Eric Shineski, good communications with veterans and their supporters is essential in improving the agency's services and ensuring that the veteran's receive them. Duckworth would be very knowledgeable and helpful in that respect, as she knows well the system, what works and doesn't work, as she's had to utilize the system herself.
Since her injury, Duckworth has been a frequent witness before the House and Senate veteran's affairs committees on issues that involve Iraq and Afghanistan veterans. After her injury, she also continued to serve in the National Guard and her husband, Brian Bowlsbey is also an Iraq veteran and serves as a major in the Illinois National Guard.
"President Obama has made a fine choice in selecting Tammy Duckworth to join Secretary Shinseki's team at VA," said Senator Daniel Akaka, Senate Veteran's Affairs Committee chairman.2
Duckworth's opinions during her testimony, have not always been ones that set well with the VA. During testimony during 2007 before the Senate Veteran's Affairs Committee, she stated that the VA seemed unprepared to deal with younger Iraq and Afghanistan veterans and with older veterans. She also made a proposal which was deemed very controversial when she stated that all new amputees should be treated in the private sector or at Walter Reed Army Medical Center instead of the VA, due to the fact that the VA's prosthetic programs were outdated and not state of the art. She used herself as an example when she shared that the high-tech limbs she received at Walter Reed following her injury could not be repaired or adjusted at the VA hospital she used near Chicago, because staff there had no experience dealing with them. 3
If Duckworth is confirmed for the position, she will direct the VA's public affairs, internal communications and intergovernmental relations. She would also be responsible for overseeing programs for homeless veterans, consumer affairs and special rehabilitative events. This is one nomination that Obama has made that I feel halfway decent about. Though I didn't vote for Obama and Duckworth is a longtime ally of Obama, I would hope that she could look beyond that and base her actions on what is best for our Veterans and Troops. In the position she's been nominated for, I feel that her experience as a wounded veteran will be valuable in her decisions and policies that she endorses. It will be interesting to see what kind of changes, positive or negative Tammy Duckworth can bring to the VA. I would hope that since she herself had the experience of dealing with both the VA and Military healthcare systems after her injury, that the things she would implement would be positive things for our Veterans. Only time will tell.
http://www.armytimes.com/news/2009/02/military_duckworth_020309/ [↩]
http://www.armytimes.com/news/2009/02/military_duckworth_020309/ [↩]
http://www.armytimes.com/news/2009/02/military_duckworth_020309/ [↩]
Next Page »