Doctor Off To War In Afghanistan, At Age 74
When I first saw this story, I knew it was one that I wanted to share with our readers here at A Soldier's Mind. I am totally amazed at this doctor's willingness to serve in Iraq and Afghanistan, especially at his age, when most of his peers have long since retired and are enjoying their golden years. Dr. Burson is truly one amazing man. Continue reading and I think you'll see why I say that.
At an age when most people are enjoying their golden years in retirement, one doctor at age 74 is heading to Afghanistan and the war. Dr. John Burson, from northwest Georgia recently wrapped up a week of training at Fort Benning, Georgia and then headed to Afghanistan on Friday. It's not the first time he's been deployed during the Global War on Terror. He's spent two stints in Iraq in 2005. Time that he says was unforgettable. He was among several doctors who were assigned to take care of Saddam Hussein during his imprisonment, prior to his eventual execution. Being able to deploy to Afghanistan wasn't an easy task, as he soon found out, when an Army staff person asked him to undergo a 3 day physical to prove he was fit to deploy.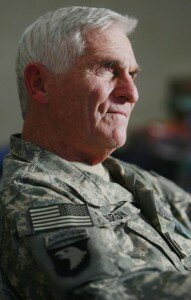 "Look, I'm training for a half marathon," replied Burson. "You come down and check to see if I can make it."1
This isn't his first stint in the Army either. Burson is a retired Lieutenant Colonel. Dr. Burson has a family history of military service, with his uncles and cousins having served. Their service inspired him to seek an Army officer's commission in the 1950's. By the time his training was completed, the Korean War was winding down. He later left active duty, but remained in the Army Reserves. His unit was informed that they should prepare to deploy to Vietnam. They never received a call. Burson retired from the military in 1985. A few years ago, he received an email from the Army's surgeon general asking retired military doctors to volunteer to serve rotations in Iraq. Burson was 70 at the time and replied, asking if he was too old. The answer led to his first tour in Iraq in 2005.
"He likes to say, 'Where else can a 74 year old go and have fun?'" said Barbara Burson, his wife of 53 years. "I don't know if I see it as fun, but he enjoys doing it. And anyone would feel good about being able to contribute."2
Burson has remained very active since he retired. He maintains a steady exercise regimen. He works out 4-5 times per week, lifts weights, plays raquetball and mountain bikes. He runs on an elliptical machine. This is what swayed the Army from requiring him to take a new physical exam. All deploying Soldiers are required to have a health screening and answer questions about their overall health. If Army doctors have any concerns, then can then order a physical, which is what they tried to do with Burson, mostly because of his age. When Burson deployed the first time in Iraq, he had to pass an Army physical exam and fitness test. Soldiers who are over age 62 are required to do 16 pushups, 26 situps and run 2 miles in 20 minutes. He passed all of those requirements. Burson says that the main thing he had to do prior to deploying is to qualify with a 9mm handgun, which will be the only weapon he'll carry in Afghanistan.
"I'm not really a very good shot," Burson said. "I could probably do better throwing the pistol at a target."3
Burson's job in Afghanistan will be to oversee medical staff that are treating around 1,000 Soldiers. Much of his time will be spent working at the clinic on the base, but there may be times that he'll have to treat Soldiers who are wounded during patrols.
"There's an element of risk," Burson said. "But statistically it's probably not any more hazardous than driving to work."4
Burson's wife isn't surprised in the least that Dr. Burson wishes to continue being a Soldier. She said that it doesn't appear that retiring doesn't appear to be in his blood. She pointed to the fact that several years back, he was planning to retire from his medical practice and turn it over to his partner. When it came down to it and he had to sign the paperwork to do so, he couldn't do it. She's hoping that this tour in Afghanistan will be his last deployment, but isn't holding her breath.
"We can't help but hope that," Barbara Burson said. "He doesn't make any promises."5
I hope that when I turn 74, that I can have the ambition and good health that Dr. Burson has. He's a true testament to what it means to continue serving your country, well past the time that it's expected or required of you. I think our Troops are damn lucky to have such a dedicated doctor willing to take care of their medical needs during their deployment. Amazing…..
Comments