Revisions to the criteria for the Army Wounded Warrior Program (AW2) will allow more severely wounded, ill and injured Soldiers the chance to participate in the program it was announced on Friday. Under the new criteria, Soldiers who have a combined disability rating of 50% will now be eligible for the program, as long as their injuries are related to combat.
According to Program Director Col. Jim Rice and SGM Brent Jurgensen, for example, if a Soldier has a 10 % rating on his hand, 20 % on his leg and 20 % because of a TBI and if the injuries were combat related, the Soldier will qualify the for Army's Wounded Warrior Program (AW2). In the past, to qualify for the program, the Soldier must have a 30% disability rating for a single injury or illness.1
"As were were laying out the criteria for the Army Wounded Warrior Program in a briefing for senior leaders, one of the responses was that they thought maybe the program wasn't as inclusive as it needed to be. That they had, in their visits to Army installations, come across Soldiers and families who needed the support of programs like the Army Wounded Warrior Program," said Rice. He and Jurgensen pointed out that those Soldiers may be more in need of assistance, than the wounded Soldiers who were traditionally elgible for the program, founded in 2004.2
The new criteria doesn't change eligibility of those who are already in the program. Those Soldiers who have a disability rating of 30% or more for a single injury still remain eligible for the program, whether it's combat related or not. Currently around 3,400 Soldiers are enrolled in the Army's Wounded Warrior Program. Soldiers who are newly eligible don't have to complete any additional paperwork in order to enroll in the Wounded Warrior Program. Once they are identified, the program will contact them to see if they wish to participate or need any assistance. Their names will remain on the rolls and program officials will periodically check in with them.
The Army Wounded Warrior Program can do many things to assist a wounded Soldiers. They can assist with assisting them to find medical care in their area, applying and obtaining disability benefits from Social Security and the VA, as well as assisting them in finding employment or training opportunities. Sometimes just assisting a Soldier with a move, as simple as that might sound, can make a huge difference to the Soldier, according to SGM Jurgensen, speaking from experience. He because the senior enlisted advisor to AW2 after receiving two severe combat injuries. He then experienced a severe infection, which caused him to be unable to use his prosthetic. AW2 staff assisted him by finding three college students to help him set up his new house, following his recovery from severe injuries in Iraq, that left him an amputee.
"When I woke up, I really thought my life was over as I knew it," he said. "Here's a person who prided himself in his career, his physical fitness and his capabilities of leading Soldiers and just like that it's gone. But you learn. I'll never forget one of the people who walked into my room. He was a double amputee from the Vietnam era. He walked in, and maybe it was the drugs, but I never noticed anything. He sat down and we were talking and he said, 'I'm a double amputee myself.' It kind of made you think."3
SMG Jurgensen shared how much the program meant to him. He talked in length about how, due to his pride, he'd have never asked for help. Luckily for him, the staff at the AW2 recognized his need and arranged help for him. He and Col. Rice both pointed out that AW2 doesn't just assist the injured Soldier, but their family as well. Often family members are their primary contacts.
"I could tell you stories all day long. I could tell you stories of a young lady I met in California who spent the last 4 years either in a military hospital, a VA polytrauma hospital or a civilian hospital, who went home for the first time … She went from being in a coma for six months to walking me out to my car. Those things are great. I met a young man on the same trip. Also, spent the last four years of his life in a hospital or a polytrauma, quadriplegic from the neck down, blows in a tube to move his wheelchair around. But for the first time in his life, he is looking to find a caregiver and an apartment for himself," Jurgensen said.4
While the program is a separate and distinct program from the Warrior Transition Units at bases throughout the Army, they share some of the same goals … enabling and assisting wounded Soldiers in transitioning either to civilian life or returning to active duty. Often Soldiers in a WTU are also involved in the AW2. The majority of Soldiers in the AW2 however, have already made that transition to civilian life or returned to active duty.
It's great that the AW2 has relaxed the criteria for being eligible for the program. This will allow many more Soldiers, who really do need the services, to make the transition necessary to continue their lives and it will help them to do so, with as little difficulty as possible.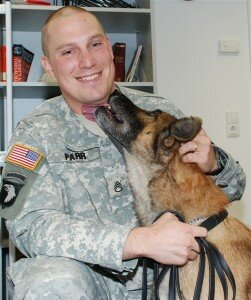 Currently a military working dog team in Stuttgart, Germany is waiting to see if the canine warrior will be awarded the Combat Action Badge. That team, Army SSG Cully Parr, a dog handler with the 554th Military Police Company, Military Working Dog Section and his dog Rex, were deployed to Afghanistan and were attacked by insurgents.
"We were caught up in a two-hour firefight – where we were engaged by the enemy with indirect fire and small arms fire – during a town hall meeting for the local Afghan community," Parr said. "For over a week we went out to villages and informed the people about the meeting. We had humanitarian aid, such as rice and other supplies, for them at the meeting to take back to their villages."

But during the meeting, enemy fighters attacked. "The first thing I did was get Rex behind a pillar, and I took up a position next to him," Parr said. Despite the ensuing chaos, Rex, a patrol and explosive detection dog, never budged. "That's where obedience training comes into play," Parr said. "He's got to stay there, so he doesn't risk getting injured."1
They're back in Germany now and settling into a much less exciting and less stressful routine. Their day begins every morning at 0530, with feeding and then training. The handlers are responsible for training their dog, as well as responsible for their care and the care of at least one other dog. Currently at the kennels in Stuggart, there are 11 dogs and two Soldiers and their dogs are currently deployed.
For the dogs, they don't consider their training work. Instead to them, it's fun and time that they're able to spend with their handler. Each dog has a toy they're working for, while they're training. They're not only obedience trained, but trained on a particular odor. Handlers set up difficult scenarios for their dogs. Some are trained to detect narcotics, others explosives or cadavers. Regardless of their specialty, their constantly training to go downrange. Currently, the MP Company in Stuttgart has handler and dog teams going downrange about every six months.2
Regardless of what's going on with the dogs, dental appointments, veterinary appointments, their handlers are right beside them, continuing to build the bond that makes them a strong working team. The handler knows how his or her dog will react and the dog knows how their handler will react. That emotional bond between the Soldier and their dog is a strong one. Often after the dog retires, the handler will attempt to adopt them.
Military Working Dog teams do great work during deployments, work that saves the lives of many Soldiers. It's only fitting that Rex should be awarded a Combat Action Badge, just like any other Soldier would. Military working dogs do their jobs without question and will fight to the death to save the life of their handler and other Soldiers. They're right there on the frontlines just like their human counterparts.
http://www.defenselink.mil/news/newsarticle.aspx?id=51700 [↩]
http://www.defenselink.mil/news/newsarticle.aspx?id=51700 [↩]
The Presidential elections will quickly be upon us. With the state of the economy, the candidates have lost site of an issue that I feel is very important …. issues involving our Troops and Veterans. Regardless of your political beliefs and regardless of which candidate you vote for, I feel that we should all DEMAND that our next President make Military and Veterans issues one of his top priorities. We owe our Troops and Veterans the best possible care and we should do everything in our power to ensure that our voices are heard and the voices of our Troops and Veterans are heard. I think you'll be as impacted by it as I am. Let's all do what we can to ensure that our Veterans and our future Veterans no longer suffer in silence.
The increasing demand for professionals to deal with veterans who are suffering from PTSD has placed a strain, not only on military mental health providers, but also on civilian mental health providers. Case loads are increasing and they often find that they have a waiting list. In San Diego at the Armed Services YMCA, social workers are finding it difficult to keep up with the number of requests for services that they're getting. Two years ago, the Social Work staff dealt with about 16 cases each. Now, each of the 5 Social Workers are carrying a caseload of around 23.
"As of last year, we now have a wait list, and we've never had that before in over 20 years of service," said Amanda Cross, senior program director of family outreach.1
Caseloads in the military healthcare system are also seeing an increase in requests for services. So much so, that they often have to refer to civilian agencies. Many civilian agencies are also seeing an increase in their caseloads, as Soldiers and their families are seeking help outside of the military healthcare system. Many of the therapists with the civilian agencies aren't aware of the special issues that come along with being in the military.
Recognizing that, the University of Southern California is launching a new program. One that will train therapists and teach them to work with the difficulties faced by military families. The School of Social Work at USC will begin next fall to offer a military specialization within the two year Master's program in social work.
"There's been a lot of problems with post-traumatic stress disorder and other kinds of problems unique to returning service members. Currently, there is a very limited supply of people who are educated and prepared to deal with those unique problems, according to Marilyn Flynn, the School of Social Work's dean. The Army has also recently contracted with Fayetteville State University, in North Carolina, to create a social work master's program at Fort Sam Houston, in San Antonio. The military track at USC however, is the first of it's kind at a civilian university. 2

"On average, mental health practioners are 20 years behind clinical trials, so it's important to do this at a research institution," Flynn said.
About two years ago, Flynn was reading about the increasing numbers of mental health problems among returning military veterans. That's when she had the idea to create the military track at the School of Social Work. According to USC officials, approximately 30% of service members returning from combat, are expected to seek mental health care. The suicide rate in the Army has grown to it's highest, since they began tracking that data.
Having the military track in the school, should help the Social Workers to better understand the unique problems faced by military members and their families. Those needs clearly reach beyond what is normally taught to social workers, according to Jose Coll, a social workers and former Marine. Coll will be chairing the new program at USC.
"What we hear all the time is, 'They didn't understand me,'" he said.3
The stressors that repeated deployments can place on a Soldier and their family, is something that many civilian Social Workers don't understand. They typically haven't been taught. Another thing that can add to the treatment difficulties is the lack of understanding of the military as a whole, the acronyms used and specific issues military families face. If the therapist can't understand the client, due to the jargon they use, it can hamper the ability to build a trusting relationship. That can cause the client to not come back, even though they may sorely need the help.
The program at USC will focus on various aspects of the military. They will teach military related material in traditional social work classes. They'll teach about self-image and how it relates to dealing with the devastating injuries that often are a result of combat, as well as loss, grief and bereavement. They also plan to add classes on dealing with PTSD and teach the students about the military hierarchy. All things that civilians with no exposure to the military might not know.
Students in the program will be required to complete a 600 hour internship at places where they are more likely to encounter military members or veterans. Some places that the internships will be done are the drop in veteran centers as well as the jail at Camp Pendleton. Instead of typical role-playing, the program will take advantage research from other parts of the university, such as virtual humans.
Military social work students will be able to deal with "Sgt. Justina" who was initially developed to be a civilian teenager who had been sexually assaulted. The plan is to dress Justina in ACUs and adapt her to display military related mental health issues.
"We're going to target sexual assaults, PTSD and depression," said Albert "Skip" Rizzo, a clinical psychologist, who is a research scientist at the Institute for Creative Technologies at USC. "Eventually researchers hope to create a libraty of 50-100 characters for social workers.
Workers at the San Diego Armed Forces YMCA are excited about the new program and can't wait to be able to utilize their graduating students.
"We used to do a lot of on-the-spot crisis intervention, where they were out of food, or they had parenting issues," said Ms. Cross. "Now we're seeing a lot of families dealing with anxiety, depression. There's an increase of the actual clinical acuity of cases … We have to look for more skilled clinicians."4
This sounds like a great program and one that will be beneficial to our Troops and Veterans. I would hope that more colleges across the nation, especially those near military installations, would replicate this program and offer more military-specific courses to their Social Work students. If the Social Workers coming out of this program are able to better understand military specific issues, then our Troops, our Veterans and their family members will be much better served.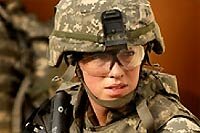 They play an active role in the Army and in the Global War on Terror and they've played an active role in the U.S. Army for as long as this country has existed. On October 20, 1978, President Jimmy Carter did away with the Women's Army Corps and women were fully integrated into the Army. Starting this week and running through mid-November, the Army will be honoring the achievements of women warriors in their ranks.
"It's important that we remember the generations of women, whose dedication, commitment and quality of service helped open the doors of opportunity for us today," said Lt. Gen. Ann Dunwoody, deputy commander, Army Materiel Command, following her confirmation for four-star promotion. "There are so many talented women in our Army today … you would be impressed."1
Dunwoody will become the first woman to ever achieve the rank of 4-Star General on November 14th. She received her commission in the Army in 1975, when the Women's Army Corps (WAC) was still in existence. Her achievements and the achievements of many other women in the Army, have shown that women are up to the task and fully capable of doing whatever they're tasked with in today's Army.
During the period from October 20th through November 14th, the Army plans to highlight stories that celebrate and honor it's women warriors, who have served throughout the history of this country. The Army PAO (Public Affairs Office) has asked that all installations in the Army, tell the story of "Women in the Army." They also invite readers to share their stories online at the national at the Official Army website.
From the Revolutionary War to present day, women have served in the Army in increasing numbers in many different roles. According to Col. Jon Dahms, chief OCPA Planning Support, women have continually shown and proven wrong the stereotype that limited their choice of occupations. Women warriors have continuously exhibited their patriotism and warrior spirit throughout the course of history. They have proven over and over again, that when freedom is threatened, they are equal to any task and that when our nation calls, they're quick to respond as proud U.S. Army Soldiers. 2
""Our female Soldiers' patriotism, fighting spirit, and ability to reach across cultures strengthen our nation's presence around the world," Dahms said. "We ask that all installations and organizations share the stories of their own women warriors."3
These women warriors know no boundaries. Many serve, even while raising young children and juggling the everyday chores that come along with being a wife and mother and they do so with grace and style. During these next few weeks, please take a moment to thank a female veteran or a female Soldier who is still serving. Thank them for the sacrifices they've made for our country.
http://www.military.com/news/article/army-news/anniversary-honors-women-warriors.html?wh=news [↩]
http://www.military.com/news/article/army-news/anniversary-honors-women-warriors.html?wh=news [↩]
http://www.military.com/news/article/army-news/anniversary-honors-women-warriors.html?wh=news [↩]

On Saturday, October 25, 2008, millions of people across the country will make a concerted effort to make a difference in the lives of other people. Saturday is National Make A Difference Day. The idea for Make A Difference Day was created by USA Weekend Magazine 18 years ago. This day is a celebration of one of the cornerstones of our country …. neighbors helping neighbors. Each year on the 4th Saturday in October, National Make A Difference day occurs. Newman's Own is teaming up with USA Weekend Magazine to honor 10 different groups or people who have registered their Make A Difference Day project at http://usaweekend.com/diffday/daytabank/index.html by featuring them in the USA Weekend Magazine on National Volunteer Day in April. Each of the 10 honorees will also have $10,000 donated in their name by Newman's Own, to the charity of their choice. This is a great opportunity for you as an individual or as a group of people, to do something worthwhile that can have a positive impact on the lives of other people. Many military brigades will often get together on Make A Difference Day, to help out local charities in their community, such as homeless shelters, soup kitchens, domestic violence shelters, emergency shelters for kidsand other non-profit charities.
What can you do on Make A Difference Day? USA Weekend Magazine has a database of different projects that you can become involved in on this page. There you can search by state or zip code and find a project that is happening in your area. Or, you can organize your own project. There are literally thousands of things that you can do in your local communities that could make a difference to someone else. For those of you, who wish to do something that can benefit our Troops, our Wounded Warriors, our Military Veterans or Military Family Members, there are many things that you can do as well. I've come up with a list of a few things that you might want to consider, or perhaps my list will spark ideas of your own.
1. Plan a visit to Veterans at a local VA Hospital. Take those who are able out for a day, maybe for a meal. Or for those who are unable to leave the hospital grounds, spend time visiting with them, perhaps taking a small token of appreciation along to cheer them up.
2. Have the children in a local school, create cards for the veterans in the VA Hospital and take them when you visit.
3. If you live near a military medical treatment center, take the day and visit with the wounded warriors, maybe taking in lap blankets to pass out, cheerful cards and other small gifts.
4. Coordinate with authorities at a military medical treatment center to take wounded warriors who are able, out for an activity. That could be almost anything. Maybe a movie, to a restaurant for a nice meal.
5. Organize a care package party to collect items to send our deployed Troops. You could make this into a very fun event and children can be involved with this as well.
6. Host a military appreciation day, where fun activities for military members and their families are occurring.
7. Create a babysitting coop, where military members or their families can bring their children free of charge for the day, so that they can have a 'free day' without children.
8. Organize a fun event for military children with games and prizes.
9. For military family members, who's Soldier is deployed, create a team that can do odd jobs for them. That could range from mowing their lawn, minor home repairs, winterizing their vehicles, as well as many others.
Use your imagination. Get creative and have fun. Not only will the people you help really appreciate what you've done, but you'll also feel good about what you've done to help them. Start making plans for next year's Make A Difference Day. You'll have more time to plan your event and get the word out, so that others in the area, who wish to, can participate. Make A Difference Day is a very worthwhile project that anyone can take part in, young and old alike. Just remember, whatever you do is going to make a difference in someone else's life and in the meantime, can make a difference in your life as well. To find out more about Make A Difference Day, please visit USA Weekend Magazines website.
They play an important part in the military and the Global War on Terror. They serve in all branches of the military and their civilian counterparts hold down very similar jobs to theirs. They hold a variety of jobs, such as searching for bombs, searching for bodies, go on patrol and search for illegal substances. They are the military working dogs and just like their human counterparts, they too suffer from combat related injuries.
On Tuesday, a brand new veterinary hospital to treat military working dogs opened at Lackland Air Force Base in San Antonio, called the Military Working Dog Center. The facility will offer advanced medical treatment to dogs wounded in combat. For them, it will be the 'Walter Reed' of the canine world.
When they are injured in Iraq or Afghanistan, just like their human counterparts, they receive emergency medical treatment on the battlefield. They are then flown to Germany for further treatment and care. If necessary, they will then be flown to San Antonio for more advanced care at the new hospital. Much like human Soldiers, who when injured are air-lifted first to Landsthul Army Medical Center and then on to either Walter Reed or Brooke Army Medical Center for additional treatment.
"We act as the Walter Reed of the veterinary world," said Army Col. Bob Vogelsang hospital director, referring to the Washington military medical center that treats Troops returning severely wounded from Iraq or Afghanistan.1
Once the dogs have sufficiently recovered from their injuries, they can return to combat. Prior to the opening of the center, veterinarians had to treat and rehab the dogs in a small building that was opened in 1968, to deal with military working dogs who were injured working in Vietnam. By September 11, 2001, the hospital was already outgrowing the building. With the two wars going on, the demand for military working dogs has increased, thus increasing the need for more space at the hospital to treat those that become injured.
At the hospital, injured dogs receive top-notch care. In place are operating rooms, digital radiography, CT scanning equipment, an ICU, rehab rooms, an underwater treatdmill and exercise balls, among other things. A canine behavioral specialist is also housed in an office near the lobby of the building.2
"This investment made sense … and somehow, we were able to convince others," said retired Col. Larry Carpenter, who first heard complaints about the poor facilities in 1994 and later helped launch the project.3
The training that a military working dog goes through is intense and packed into just four months. The demand is much greater than the number of dogs that are available. It only makes sense, that because of this, that military veterinarians would work to keep the dogs healthy and able to work for as long as possible. Usually a dogs enters into the program when they're about 1 ½-3 years old and they can typically work until they're around 10 years old. Once they retire from the military, the military attempts to adopt them out, sometimes to police departments for their K-9 programs, but often to private individuals.
This is a great thing and it only makes sense, that the military would have top notch veterinary facilities available to care for military working dogs who are injured in the line of duty. The jobs that they do are invaluable and have saved countless human lives, doing jobs that would otherwise have to be done by humans. These 4-legged Heroes deserve only the best when it comes to their medical care.
http://www.military.com/news/article/war-dogs-get-their-own-walter-reed.html?col=1186032310810&wh=news [↩]
http://www.military.com/news/article/war-dogs-get-their-own-walter-reed.html?col=1186032310810&wh=news [↩]
http://www.military.com/news/article/war-dogs-get-their-own-walter-reed.html?col=1186032310810&wh=news [↩]
Deployments are stressful times for the service member, for their family and their friends. Regardless of how many times a Soldier has deployed, each one is different and each time, family members encounter different things that can tax their coping mechanisms. Spouses are left with having to run the entire household, play the role of both parents and deal with all the day to day issues that tend to crop up. Soldiers are thousands of miles from home and have the stress of being in a combat zone and dealing with the unknown element that brings and having to worry about how things at home are going, especially when something goes wrong. Children, especially very young children, are confused about why their mom or dad is no longer there, while older children may be angry that their parent isn't there to share in the milestones of their lives that are important to them. This can present itself with behavior problems, depression, withdrawal or acting out. When these things arise, how do military families cope? Where do they turn to when they need help? What resources are available to them, both on the military installation as well as in the local community? Where do they turn to for support?
To help answer these questions and give military families more resources, as well as ideas on how they can best cope with the stress of deployments, the American Red Cross announced on October 13th, that they'll be offering a new course called "Coping With Deployments: Psychological First Aid For Military Families. The course will be offered free of charge and is open to military families of Active Duty, Reserve and National Guard Troops, as well as Veterans and their families. Currently, the course is offered in 16 states. Those states are, Alaska, Arkansas, California, Colorado, Florida, Hawaii, Minnesota, Nebraska, New Hampshire, Ohio, Oregon, Pennsylvania, Tennessee, Texas and West Virginia, as well as Washington D.C. By the summer of 2009, Red Cross plans to make the course available in all states across the country. 1
Recognizing the stress and strain that frequent deployments place on the Soldier and their family members, the Red Cross developed this course as a way to help address some of these issues and provide family members with tools to assist them in dealing with deployments. The course will be taught by currently licensed Red Cross mental health professionals. Experts from the Army, Navy, Air Force and Marines worked closely with the Red Cross to ensure that the curriculum was something that would benefit the family members. The course it's just for spouses and children of military members, but also their parents, siblings and significant others.
"The American Red Cross is rooted in a proud tradition of providing support to service members, veterans and their families for more than 100 years," said Sherri L. Brown, sr. vice president of Service to the Armed Forces. "From the front lines to the home front, the Red Cross will continue to help service members and their families receive the services they need in the future. We are thankful that we can be there to help those who have served our nation."2
The free course is designed to provide family members with information on resiliency strategies for adults and children. The course will also explain the steps involved in psychological first aid. One of the main things emphasized is immediate support and how to provide that immediate support to people in times of distress. Included will also be a significant resource and referral guide. The course can be taught as a single 4 hour session or can be divided into modules, one that focuses on adult issues and lasts two and a half hours, a module focusing on child issues lasing one and a half hours.
If you or someone you know would be interested in this course, and live in one of the states where it is offered, please contact your local Red Cross chapter to enroll or find out when they will be offering one. Local chapters can be located in your Yellow Pages or by going online to American Red Cross website.
http://www.redcross.org/pressrelease.0,1077,0_8294,00.html [↩]
http://www.redcross.org/pressrelease.0,1077,0_8294,00.html [↩]
Even without our country being involved in two wars on separate fronts, military life is not an easy life, for spouses and children of our Troops. Both spouses and children face repeated moves, which can have an impact on education and careers for spouses and education for children. Another impact is leaving friends behind. For children, that can be especially tough. Some find it difficult to make new friends, because of the frequent moves that come with being a part of a military family. These stressors are the normal everyday stressors that go along with have a family member in the military. Over the past 7 years, our country has been involved in wars on two fronts. The frequent deployments that go along with these wars, adds additional stressors upon the family.
Because of the additional stressors that frequent deployments cause, the Army is carefully watching to ensure that Army children don't begin exhibiting mental health problems. Recent studies have shown that most military children are just as healthy and resilient as their civilian counterparts. However, because of the increased stress levels they're watching closely, to see how multiple deployments and stressors such as their parent returning from combat with injuries, death of a parent or the parent returning with PTSD, affect military children. While studies are currently being conducted, most of the data in regards to how military children adjust to these sometimes life altering situations, comes from Desert Storm and earlier conflicts.
"Military deployments are changing and military deployments are different," said Retired Col. Stephen J. Cozza MD, associate director of the Center for the Study of Traumatic Stress. "First deployments can be different than second deployments and third deployments, so as we're moving into increasing optempo … how do we better understand it?"1
Deployments increases stress not only on the Soldier and his or her spouse, but their children as well. These stressors can cause distraction and can be presented by the child becoming difficult to manage. When their parent deploys, some children become withdrawn, others may act out, especially during the early days of the deployment. According to Cozza, reports of child maltreatment and neglect rates also tend to rise during deployments.
By the time the parent returns home from their deployment, the family has often settled into a new routine. The Soldier, the spouse and the children then face the stress of having to readapt. This can be made more difficult, if the Soldier returns suffering from physical injuries or PTSD. Roles in the family are redefined when the parent returns back from deployment, which can be confusing to the children. You might see additional acting out when the parent returns.
"We know that the health of military families and Soldiers are interconnected," Cozza said. "So if one is not doing well, it's likely that the other is going to be powerfully impacted by that. There isn't a whole lot of data in our military literature about the impact of psychiatric illnesses in parents, but we do know from the civilian literature that it can profoundly impact and impair children. It can disrupt parental roles. It can lead to child confusion and distortion about how they understand the changed behaviors they notice in parents and it can lead to increased risk behaviors, whether that has to do with domestic violence or substance misuse. PTSD itself is likely to be a significant and powerful impactor on relationships within families," he said.2
This is something that should be followed closely. With some children, the impact may be seen very quickly and can be addressed right away. With other children, the impact of these stressors may not show up for many years, after the military member returns home from deployments. As with our Troops, where repeated deployments tend to increase the chance of PTSD, the stressors on the family of repeated deployments, can also have the same type of cumulative effect on the children. The Army is working hard to put additional family support programs in place, for the spouses as well as the children. It's only right that this issue should be watched closely. Afterall, the children of today are our country's future. It's future leaders, future business people, it's future Soldiers. Hopefully with these and other supports in place during and after deployments, our military children will be able to continue to adapt and continue to live their lives with little negative impact. Only time will tell.
http://www.army.mil/-news/2008/10/16/13343-experts-watching-mental-health-of-army-children/ [↩]
http://www.army.mil/-news/2008/10/16/13343-experts-watching-mental-health-of-army-children/((http://www.army.mil/-news/2008/10/16/13343-experts-watching-mental-health-of-army-children/ [↩]
On October 6th, Army Secretary Pete Geren made a speech to the AUSA(Association of the United States Army) Annual Meeting that was held in Arlington, Va. In his speech, he noted many accomplishments that the Army has made over the years of it's existence. He did however strongly denounce the high rate of Sexual Assaults that is occurring within the ranks of the Army. He announced that the Army will create an environment of zero tolerance for sexual assault.
While the majority of Geren's speech focused on the achievements of the Army over the years, he was quick to strongly condemn the poor record the Army has on sexual assaults. According to Geren, the numbers of sexual assaults in the Army are twice as high as those in any other branch of service.
"We are short of becoming the band of brothers and sisters, they should be," Geren noted.1
Since September 11, 2001, 1,800 soldiers in the Army have been punished for sexual assault on a fellow Soldier. To Geren, that characterizes only one thing, 'an Army at war with its self … blue on blue,' which is the term that is used for combat fratricide.
"Sexual assault is a crime everywhere, but blue on blue is much more," he said. "It's an assault on the core values of every American Soldier."2
Geren gave an example of what he feels the Army should look like, when he spoke about PFC Margaret Brown. Brown is an Army medic who shielded wounded Soldiers with her own body from enemy fire. She was awarded with a Silver Star for repeatedly disregarding her own safety to protect others.
"It is in this context we will attack this enemy within our own ranks and affirm the duty of every Soldier to protect fellow Soldiers," he said. "In the Army, there is no bystander … Every Soldier is his brother's and sister's keeper."3
The Army has recently launched several campaigns to combat sexual assault within it's ranks, including the I A.M. STRONG campaign, which I've previously written about. After having previously noted the Army's achievements in eliminating discrimination for instance among it's ranks, Geren vowed to do the same in regards to Sexual Assault.
"This year we're recommitted to do the same in regards to gender. We are committed to eradicating sexual harassment and sexual assault from the life of our Army. And, as with equal opportunity, we will become the model for sexual assault prevention in our Nation. And we will succeed because of Army Values. The brothers and sisters of our Army must be able to count on each other, wherever they are, in the battlefield or in the barracks and whenever, on duty or off, no matter the cost."

"We will create in this effort, Army values will lead us to our goal. Strip away everything else about our Army, at it's core, Soldiers take care of Soldiers. That's what Soldiers do."4
Sexual Assault is a crime that permeates all of American Society. It's a henous crime, that is brutal and leaves many victims in it's wake, the actual victim, but also their family and friends. Sexual Assault occurs in all facets of society, from the very poor neighborhoods to the very elite and upscale neighborhoods. All of America needs to stand up and say "No More!" No more will we allow these depraved predators to victimize us. Instead, we will do everything in our power to bring these people to justice and make sure they are punished to the maximum extent of the law. Not only is sexual assault against all the core values of the military, but it is also against all human decency and should not be tolerated in our country.
Next Page »