Honoring Women Warriors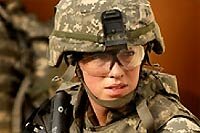 They play an active role in the Army and in the Global War on Terror and they've played an active role in the U.S. Army for as long as this country has existed. On October 20, 1978, President Jimmy Carter did away with the Women's Army Corps and women were fully integrated into the Army. Starting this week and running through mid-November, the Army will be honoring the achievements of women warriors in their ranks.
"It's important that we remember the generations of women, whose dedication, commitment and quality of service helped open the doors of opportunity for us today," said Lt. Gen. Ann Dunwoody, deputy commander, Army Materiel Command, following her confirmation for four-star promotion. "There are so many talented women in our Army today … you would be impressed."1
Dunwoody will become the first woman to ever achieve the rank of 4-Star General on November 14th. She received her commission in the Army in 1975, when the Women's Army Corps (WAC) was still in existence. Her achievements and the achievements of many other women in the Army, have shown that women are up to the task and fully capable of doing whatever they're tasked with in today's Army.
During the period from October 20th through November 14th, the Army plans to highlight stories that celebrate and honor it's women warriors, who have served throughout the history of this country. The Army PAO (Public Affairs Office) has asked that all installations in the Army, tell the story of "Women in the Army." They also invite readers to share their stories online at the national at the Official Army website.
From the Revolutionary War to present day, women have served in the Army in increasing numbers in many different roles. According to Col. Jon Dahms, chief OCPA Planning Support, women have continually shown and proven wrong the stereotype that limited their choice of occupations. Women warriors have continuously exhibited their patriotism and warrior spirit throughout the course of history. They have proven over and over again, that when freedom is threatened, they are equal to any task and that when our nation calls, they're quick to respond as proud U.S. Army Soldiers. 2
""Our female Soldiers' patriotism, fighting spirit, and ability to reach across cultures strengthen our nation's presence around the world," Dahms said. "We ask that all installations and organizations share the stories of their own women warriors."3
These women warriors know no boundaries. Many serve, even while raising young children and juggling the everyday chores that come along with being a wife and mother and they do so with grace and style. During these next few weeks, please take a moment to thank a female veteran or a female Soldier who is still serving. Thank them for the sacrifices they've made for our country.
http://www.military.com/news/article/army-news/anniversary-honors-women-warriors.html?wh=news [↩]
http://www.military.com/news/article/army-news/anniversary-honors-women-warriors.html?wh=news [↩]
http://www.military.com/news/article/army-news/anniversary-honors-women-warriors.html?wh=news [↩]
Comments