Having worked as a paramedic and a police officer, I've taken part in many disaster drills over the years. At least once a year, the local emergency response agencies, police departments, sheriff's departments, EMS, hospitals, fire departments, local emergency preparedness agencies, state law enforcement agencies and others that might be called into play during an emergency, took part in these drills. This allowed us to practice situations, such as large disasters and how our agencies would work together during those times. In April 2001, I was able to see how these drills pay off, when an F4 tornado hit my hometown. While things didn't operate totally without problems, I can say that things could have been much worse, if the agencies that were involved hadn't taken part in these disaster drills over the years. We were lucky, very lucky. Only one person lost their life and several more were seriously injured and they were able to receive medical assistance very quickly due to the quick responses made by emergency personnel.
In an exercise that began July 28th and ends on August 1st, federal, state and local agencies in the states of Virginia, Oregon, Colorado and Indiana participated in Noble Resolve '08, designed to test disaster preparedness communications and coordination systems. The exercise was sponsored by US Joint Forces Command that is based in Norfolk, Va.
"We can't afford to wait …. the timeliness and robustness of response is too important to leave it to a sort of 'pickup game' in the event of a natural or man-made disasters," said Air Force Col. Gene Taylor.
Also participating in this exercise are elements of the US Northern Command, the National Guard Bureau and the Department of Homeland Security. Having worked in emergency response fields, I can't say enough about how important it is to ensure that responders know what to do and that any communication barriers are taken out of the equation. It's important in these types of situations that response is quick and timely and that the agencies involved are aware of the resources available to them and that the willingness is there to share information. These situations can only be improved upon, if regular disaster drills are conducted, so that the problems can be corrected before an emergency situation occurs, instead of attempting to do so, during the situation. By then, it might make the difference between life and death for some folks. I'll be interested in hearing how well the event worked and what problems were identified.
http://www.defenselink.mil/news/newsarticle.aspx?id=50644 [↩]
Like politics or religion, the death penalty is a subject that tends to incite very strong feelings from people, regardless of their position on it. Many people will cite religious reasons for their feeling against the death penalty, others will cite cruel and unusual punishment. Other people will say that the death penalty doesn't deter crime. To that I have always said that it might not deter a criminal from committing a crime, but it definately goes a long ways towards reducing recevidism, or criminals continuing to repeat their crimes over and over again. If they're dead, they can't commit more of the same types of crimes. For myself, it's a no brainer. Having spent many years working in law enforcement and seeing the depravity and cruelty that some criminals espouse upon their fellow human beings, it's something that I'm very much in favor of. For the most part, people such as this will continue to victimize others as long as they're free. Whenever I get into a discussion about the death penalty, whether it violates the criminal's Constitutional Rights, I will often ask just how cognizant of the victims' rights was the criminal, when he or she committed their crime.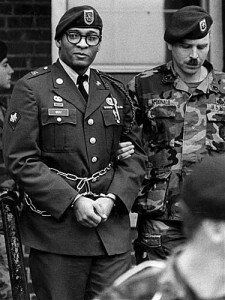 Pvt. Ronald A. Gray, left, is escorted from a Fort Bragg, N.C., courtroom by military police in April 1988. President Bush approved Gray's execution July 28, the first time in over a half-century that a president has affirmed a death sentence for a member of the U.S. military.1
I'll give you a little background on this person. Between April 1986 and January 1987, Ronald A. Gray, who was an Army cook at the time, stationed in Fort Bragg, North Carolina, brutally raped and murdered 4 women and raped and attempted to kill 4 other women. In a general court martial held at Fort Bragg in April 1988, Gray was convicted of two murders, an attempted murder and 3 rapes. This man was a predator, who preyed on unsuspecting women. The 6 members of the panel unanimously convicted Gray of the crimes, after a two hour deliberation.
During the hearing, one of his victims, who was lucky enough to escape with her life, testified against him and was able to identify him as her assailant. At the time, she was a Pvt in the Army and was attacked by Gray in her barracks. He raped her and stabbed her several times in the neck. The injuries she suffered included a laceration of her trachea and a collapsed or punctured lung. It's obvious from the extent of her injuries, that Gray's intent was to kill her after he raped her.
Unlike the civilian justice system, where a person is convicted and sentenced to die and then goes through sometimes years of appeals, a president must approve the execution of members of the Armed Services. President Bush's approval of the execution of Gray is the first time in 51 years that a President has approved the execution of a member of the Armed Forces. Gray won't be executed for at least 60 days and it could possibly take even longer, because of the possibility of appeals.
"While approving a sentence of death for a member of our Armed Services is a serious and difficult decision for a commander-in-chief, the president believes the facts of this case leave no doubt that the sentence is just and warranted," said White House spokeswoman Dana Perino. She called the crimes "brutal."
Over the course of the years that the United States has existed as a nation, several military members have been executed. It wasn't until 1951, that the Uniform Code of Military Justice, required a Presidential approval for any execution of a military member. President Eisenhower was the last president to approve a military execution. In 1957, he approved the execution of John Bennett, an Army private convicted of raping and attempting to kill an 11-year-old Austrian girl. He was hanged in 1961.3
For myself, the President's approval of this execution, is the right choice. You have to wonder how many women would have been raped and murdered by this man, had he not been caught. He definitely has many of the same characteristics of other predators, such as Ted Bundy. Unfortunately, people like this tend to be sociopaths, who have no remorse for their actions and have a tendency to justify their actions, often blaming the victim for what they did. I applaud President Bush for having the guts to stand up for the rights of the victims in this case and approve the execution of the man who victimized them.
To get another opinion on this issue, you can read COB6's article and discussion that has ensued over at Black Five. COB6 was stationed at Fort Bragg during this time period and I'm sure could provide a lot of insight into the fear that pervaded the community, until this sicko was arrested.
http://www.armytimes.com/news/2008/07/ap_militaryexecution_072808w/ [↩]
http://www.military.com/news/article/bush-approves-execution-for-soldier.html?col=1186032310810&wh=wh [↩]
http://www.armytimes.com/news/2008/07/ap_militaryexecution_072808w/ [↩]
Today, more and more National Guard and Reserve members are being called up for duty, and being deployed to Iraq and Afghanistan. Due to their unique circumstance as "citizen soldiers" these men and women, not only leave behind their friends and families, but they leave behind their civilian jobs as well, for whatever length of time that they're deployed. The deployments can create problems for their employers, as they have to hire temporary help to replace them while they're deployed. Some companies have been less than accommodating with their Guard and Reserve employees, which can create problems as well. While these men and women's jobs are protected under Federal law, they sometimes experience difficulties with their employers when they return.
To help alleviate those problems and work with employers of National Guard and Reserve Soldiers, the Department of Defense operates an agency called Employer Support of The Guard and Reserve. The ESGR operates a program called the Boss-Lift Project. It's a program that many have probably not even heard of. The program allows the employers the opportunity to see for themselves first hand, what their employee/soldier experiences on a deployment. The hopes is that the program, created over three decades ago, will provide the employer with a better understanding and appreciation of what their employee goes through.
The program has expanded over the years, to 56 different installations across the country. The employers are introduced to what the day to day life of their employee/soldier is like when they're deployed. They spend time in a classroom, learning basic Arabic, participate in various drills and trainings and even participate in in-flight refueling. It's also a chance for the military to show their appreciation to the employers, who, by employing a Reserve or National Guard Member, also make a sacrifice. Different from what their employee does, for sure, but all the same, having that Soldier missing from work can cause a drain on the company, as they are forced to rely often on temporary replacements until their employee returns. In order for an employer to participate in the program, they must be referred by a reserve or national guard member. They are then contacted by the members unit and a time is scheduled for them to attend an orientation.1
The experience is often an eye opener for the employers, who often have no clue initially what their employee is experiencing. One employer, John Burns operates a monument company in New Jersey. One of his employees, who designs art for the memorials was activated recently for a year tour in Iraq. Mr. Burn's company will feel the impact of the employee being gone for a year. He recently participated in the Boss Lift Project at Fort Bliss, Texas.
"It's hard as a small business to, you know, have to toss things up in the air constantly around their schedules."
After his experience with the Boss Lift program, Mr. Burns had a much greater understanding and appreciation of what his employee would be facing. His company will cope, as they continue their business over the next year while their employee is in Iraq. He walked away from the experience, grateful that men like his employee are willing to put their lives on the line for our country.
"Look at where he's going. I mean, we're going home tomorrow – he's not. He's got to be away for another year. I mean, that's a pretty big sacrifice. I mean, our sacrifice is miniscule compared to what his is."
It's great that the DoD is reaching out to employers through ESGR to help the employers understand the situation. Their website is full of valuable information for employers of National Guard and Reserve Soldiers who have been called to active duty. They also have means for the Soldiers to formally recognize their employers and the support they've provided during their deployment. I hope to see more employers take advantage of the Boss-Lift Project and learn more about what their employee/Soldier is dealing with.
Employer Support of The Guard and Reserve
http://www.fly2houston.com/0/25606/0/1906D1934/ [↩]
http://www.foxnews.com/video2/video08.html?maven_referralObject=2601631&maven_referralPlaylistId=&sRevUrl=http://www.foxnews.com/specialreport/ [↩]
http://www.foxnews.com/video2/video08.html?maven_referralObject=2601631&maven_referralPlaylistId=&sRevUrl=http://www.foxnews.com/specialreport/ [↩]
[UPDATE] It was brought to my attention that I failed to provide a link to 1223's website, so here it is! 1223 MySpace Site I was also asked to provide a link to Rhino Digital Media's website, so that our reader's can see some of the awesome work they do. That link is right here. Take some time to browse around both of the sites. I think you'll be impressed.
Many of you who have been readers here at A Soldier's Mind, remember the story I wrote about these artists from San Antonio. You can reread that story here. The group 1223 is composed of two really awesome guys. One, Mr. Sylk is a US Army Medic currently stationed at Fort Sam Houston in San Antonio. The other member of the group, John John is Mr. Sylk's childhood friend. Mr. Sylk has recently changed his stage name to Soldier Disciple. These two men together form 1223. Their goal is to provide a positive image of the hip hop culture through their music. They do just that.
Currently 1223 is working on a Military Album. The album is intended to bless Soldier's and Soldier Supporters around the world. The first 250 copies of the album will be donated to Soldier's Angel to distribute to Soldiers overseas. You can hear some of the music that will be featured on the CD, entitled On Common Ground, by visiting 1223's my space site.
As with many up and coming artists, the members of 1223 work full-time jobs to support their families and work on their music whenever they have the time to do so. Currently financing for this album is rather tight and they're asking for help. But, there's definitely something in it for you. For every person who donates a minimum of $20, they will receive a free numbered copy of the CD when it is pressed. As well, each donor will be listed as an Executive Producer on the inside cover of the album. When this album hits the charts, the world will know that YOU played a key role in the development of this album. The members of 1223 are currently working on 2 videos that are required for them to be able to do an Armed Forces Tour, where they'll travel across the US visiting various military bases and sharing their music and their appreciation for the Troops. So, if you'd like to contribute to the cause, please visit their website and click on the donate button.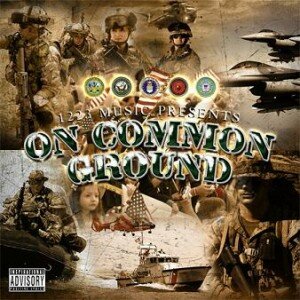 The cover art has already been designed and A Soldier's Mind, is honored to be the first blog to be able to share it with the world. The artwork for the album cover was created by Rhino Digital Media. 1223 would like to say THANKS to Rocky Garcia, the president of Rhino Digital Media. This recording is sure to be a hit, so please help it to become a reality. This CD will be 100% positive, with NO profanity, so the music will be suitable for anyone in your family. Soldier Disciple and John John have a wonderful message of support, that our Troops and their supporters need to hear.
I am happy to be able to share one of the songs that will be on the new album with our readers. The song, "For America" is fantastic. I was lucky enough to be able to see Soldier Disciple and John John perform this song recently, at the Fort Hood Clear Creek PX. They had the entire crowd in the PX participating in this song and I witnessed many people come up to them and thank them for their positive, supportive music. As an added bonus, Soldier Disciple has kindly sent along the lyrics to another song that will be featured on the album, entitled "IF I ain't Saying Nothing, I'm Probably Saying Something. Read more
It's my honor to be able to tell our readers about a very special group of men, who got on their motorcycles and made a cross-country trip to visit the graves of 4 Soldiers that served with one of them. At each stop, the men also took the time to visit with the families of the fallen, share their grief and their memories. It's been almost two years since the deaths of their friends, yet their memory remains a strong one and for 1SG Paul Alkire, the ride is most likely a therapeutic one, a means of closure and a way for him to say good-bye.
Almost two years ago, on January 20, 2007, a group of paratroopers were ambushed in Karbala, Iraq. One of the Soldiers was killed immediately and four others were taken prisoner and later were executed. 1SG Paul Alkire and three other motorcyclist left Alaska on a cross-country trip last month, to visit the hometowns of the four men who were executed. Alikre was the 1SG of the men. He designed a patch that is in the shape of a US highway sign, with the number 4 circled by the names of the 4 men who were executed … SPC Johnathan Bryan Chism, 1LT Jacob Noal Fritz, PFC Shawn Patrick Faller and PFC Johnathon Miles Millican. They were assigned to the 2nd Battalion, 337th Parachute Field Artillery Regiment, 4th Brigade Combat Team, 25th Infantry Division, that is based out of Fort Richardson, Alaska. Their journey would take them about 5,000 miles, before they were able to visit the hometowns of each of the fallen. Their last stop being Gonzales, Lousiana, where they laid a patch at the grave of SPC Chism.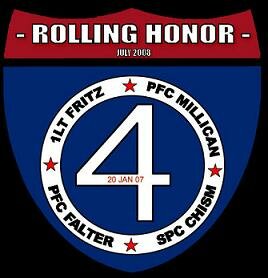 Photo of the patch from Rolling Honor Riders website
"I knew I had to do something to pay my final respects," Alkire said. "I got to thinking about the miles between their hometowns and the highways needed to get there."
While he was still in Iraq, after the deaths of his comrades, Alkire decided that he would visit the hometowns of the fallen personally, as well as make it a point to meet their families. Three of his closest friends, also from Alaska joined him on his journey, leaving Seattle on June 30th. They call themselves the Rolling Honor Riders. The only thing left to do, is to venture back where they began their journey, 3,000 miles away in Seattle. The men accompanying Alkire were Marc Phillips, himself a Special Forces Soldier and father of a son currently serving in Iraq, Laddie Shaw, retired Vietnam Veteran and Navy SEAL, and Todd Bullock, son of a retired Air Force Tech Sgt and supporter of the wounded warrior project.2
While it was comforting to meet the men, Chism's mother said it was also very emotionally draining. She attempts to stay in touch with her sons friends. The Chism family joined the riders, sharing a private moment and remembering PFC Chism, each in their own way.
"To see the grown men crying and to give each other a hug - it was special," said Patsy Meades, Chism's sister. "They have not forgotten."
Please visit the Rolling Honor Riders website, read about the heroes that were lost that day in 2007 as well as read their notes on the trip/ What a great way to honor these fallen heroes. I'm sure that this gesture meant the world to the families of the fallen men, that the riders visited.
http://www.armytimes.com/news/2008/07/ap_rollinghonor_072608 [↩]
riders.html [↩]
http://www.armytimes.com/news/2008/07/ap_rollinghonor_072608 [↩]
One of the most common injuries to be seen coming out of the combat zones of Afghanistan and Iraq are Traumatic Brain Injuries. Because of the complexity of the injury and the fact that it's not an injury that can been visually seen, in the past, our Troops haven't been treated for this injury. Many have also been sent back to the combat zone, due to the hidden nature of the injury, putting them at more risk of further injury. The problems that can be caused by a traumatic brain injury, if not diagnosed and treated appropriately, can be life changing and possibly career ending.
Now, with new aggressive screening being done on Soldiers who are injured and flown to Landsthul Army Medical Center in Germany, more and more of this injuries are being diagnosed and Troops are receiving the treatment the injury requires. Because our Troops in the combat zone risk being exposed to sometimes multiple blasts , the concussion type effect can cause severe injury to the brain, as it's effects causes the brain to slam against the skull.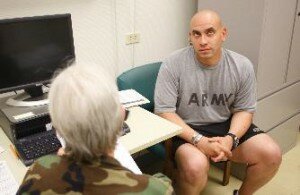 The Pentagon has now mandated that all military branches begin to screen Troops for Traumatic Brain Injury. Some bases are even testing Soldiers prior to deployment and again after they return, in hopes that by comparing the two test results, they'll be better able to identify Troops who have suffered a TBI.
When Troops are wounded or injured in Afghanistan and Iraq, one of their first stops is at the Army's Landstuhl Regional Medical Center. There, an aggressive screening program is conducted. Even if they aren't there for a possible brain injury, the screening is conducted and many previously missed TBI's are being discovered.
"One of the things we've learned here at Landstuhl is you have to be actively looking for this to find it," said Col. Stephen Flaherty, who oversees the TBI screening process at Landstuhl.1
If doctors have even the slightest indication that a service member has suffered from TBI, it's almost a certainty that they won't be returned to combat. In the past 6 months, several hundred Troops were diagnosed with mile TBI. Only two of them have been allowed to return to the combat zone. The hopes are that the aggressive screening process at Landstuhl will provide caregivers with valuable information that will help them learn how to best spot and treat brain injuries.
"If I have a hint of a whiff of suspicion – no matter how vehemently you want to go back downrange ( to Iraq) – that you will be compromised, then I've got to be the black hat and say, 'No you're not going back,'" says Major Shawna Scully, a neurologist who directs TBI recovery. "I'm sure there are some commanders downrange," she added, "who are furious with me because I didn't take X Soldier and send them back."2
In Landstuhl, the TBI screening program began in 2006, but was expanded in the past year. As new patients arrive, they are asked about the way they were hurt and any symptoms that they might have, such as headaches, nausea, dizziness, light sensitivity and balance problems. Memory skills are also tested, such as short-term memory and problem-solving skills. A neurophysical exam, MRI and eyesight evaluations are also performed. Since 2006, doctors at Landstuhl have been able to identify 2,391 brain injuries in Troops. Most of them received that injury from exposure to a blast. According to their numbers, TBI injuries make up about 15% of all the patients who arrive at the hospital. Read more
http://www.usatoday.com/news/health/2008-07-23-brain-injuries_N.htm?loc=interstitialskip [↩]
http://www.usatoday.com/news/health/2008-07-23-brain-injuries_N.htm?loc=interstitialskip [↩]
One of the things that Coalition Troops and the Iraqi government having been working hard on is to restore power and other utilities to the citizens of Iraq. Many citizens have had limited power, since before the war in Iraq, when Saddam made sure that he and his cronies had an unending supply, yet the people had limited or no power. New power generation plants have been built, like the one in southern Baghdad in 2006. With the new technology comes the need for trained personnel to operate those plants.
Recently, students from the Ministry of Electricity in Iraq were at the plant in southern Baghdad to be trained in operation and management of electrical power plants. Since February, over 1000 students have been trained, in what used to be an old dining facility. The plans had been to dismantle the camp near the competed electricity facility, when one of the program managers came up with the idea that it would be a great place for a training facility.
"The GRD was in the process of dismantling a man camp of trailers at a completed electricity project in southern Iraq," said Vincent Dorio, GRD electrical sector program manager. "Then one of our high speed contractors came up with the idea of using the old DFAC (Dining Facility) and some other trailer bits and pieces laying around camp to fabricate the parts into a training facility for Baghdad South. We worked together to design and reconfigure the trailers into a MoE school house and of course transport the unassembled pieces 300 miles north to Baghdad."1
With the creation of the training facility, this guarantees that there will be fully trained workers to operate the electrical plants across the country. The school will be open to people from across Iraq. This ensures jobs for the citizens, as well as ensuring that trained personnel will be on hand to work on the new electrical power plants should problems arise and repairs need to be made. As with most facilities of this type, there does come a time, when machinery breaks down or preventative maintenance needs to be performed. This is great news for the citizens of Iraq and will ensure that they will have power in their homes and the people trained to ensure that they continue to have power. More and more training facilities of different kinds are being opened across Iraq to ensure that workers have the capability to work in their chosen field and provide a quality service to the people. We'd expect nothing less here in the United States and our Troops are ensuring that the Iraqi people receive no less.
These are the types of things that aren't ever reported in the media. It's not often that the media tells us about the successful completion of such projects. Instead, to find out what's really happening, you've got to either search for it amongst the many government websites or hope that one of the MilBlogs report the information. That's one thing that we strive to do here and will continue to do.
news/releases/NR08-07-12-02.pdf [↩]
Our Troops are an amazing group of men and women and I'm always completely blown away by their resilience and ability to adapt to any situation. Think about the number of deployments many of them have endured, think about the severe injuries many of them have had. Yet they continue to do their jobs to the best of their abilities, with many of them, standing out as shining examples, of why I've always said that our Troops are the 'best of the best' that America has to offer.
Even after they've completed their service in the Armed Forces, many of our Troops tend to continue to exemplify the morals, values and standards that they lived by in the military. They distinguish themselves in their civilian lives and continue to display professionalism, honesty and integrity in everything they do. Many of them, because of the skills and commitment, the morals and values that have become a part of them, are highly sought by civilian employers. There are so many veterans that I could give as examples.
Take Bob Kunkle for instance. Bob is a Vietnam era veteran, who was injured in the jungles of Vietnam. Now as a civilian, Bob continues to display the character that defined him as a Soldier, by sharing his skills as a martial artist, with young men and women, patients at Walter Reed Army Medical Center, who are recuperating from war injuries. Bob has now expanded that mission even more, by starting to provide the same service to the men and women who are patients at Brooke Army Medical Center in San Antonio. Bob doesn't receive any financial compensation for his work with the wounded warriors. Instead, his "payment" is the self-satisfaction of knowing that he's able to help the wounded warriors and perhaps help them to regain some of their self-confidence, despite their injuriese.
Or, how about David Bellavia? David returned from Iraq, after a harrowing hand to hand combat experience there and earned a Silver Star, Bronze Star for Valor and a Conspicuous Service Cross. David has also been nominated for the Medal of Honor. After his time in Iraq, David wrote a best selling book, entitled "House to House," helped to found the Vets For Freedom group and works extensively on various causes in support of our Troops, including ensuring the public and our leaders in the nation's capital are aware of the dangers of pulling our Troops from Iraq, before their mission is complete.
Or Marcus Luttrell? We've featured stories about Marcus quite a few times since his book, "Lone Survivor: The Eyewitness Account of Operation Redwing and the Lost Heroes of SEAL Team 10." I can't say enough about what Marcus has accomplished since he retired from the Navy SEALS and wrote his book. Marcus was later presented with the Navy Cross by President Bush. Marcus too is part of the Vets for Freedom group and has traveled with the group across the country, telling his story and advocating for the mission in Iraq. Marcus is currently working closely with producers on a movie based on his book. Marcus has plans to eventually go to medical school and become an emergency room physician.
"Mighty Joe" Beimfohr is another great example of the resiliency of our Troops, despite the challenges they've been dealt with in life. I met Joe at Walter Reed, in October 2005, a short time after he was injured in Iraq. Joe is a double leg amputee and he hasn't allowed that to slow him down at all. That day in Walter Reed, Joe told me that his plans were to medically retire from the Army and then go to work for the VA, so that he can help other wounded warriors, as they transition from military life to civilian life. Joe has accomplished that and so much more. Joe is working for the VA in the Washington DC area. He also works closely with Bob Kunkle, teaching self defense tactics to wounded warriors.
Another great example is Major David Rozelle. If you recall, I've introduced our readers to him and used him as an example of how he inspires other wounded warriors to drive on and continue. Major Rozelle lost part of his leg when he was in Iraq with the 3rd ACR. Instead of allowing his injury to defeat him, he was determined to remain in the Army and return to Iraq. He did just that, remained in the Army and led his Soldiers on another mission in Iraq. But he's accomplished so much more and is such an inspiration to so many of the wounded warriors. Major Rozelle has competed in numerous Iron Man competitions and running events around the country, including the Army 10 Miler. He was also instrumental in the building and design of the Army rehabilitation center at Walter Reed. Major Rozelle wrote about his experiences in his book, "Back in Action: An American Soldier's Story of Courage, Faith and Fortitude."
These men and so many others have given so much to our country, yet they continue to "give" and don't show any signs of giving up. Something that many of their civilian counterparts might have done under the same circumstances that these men faced. It's these men and women that we should teach our children to hold in high esteem. It's these men and women that we should teach our children to emulate. Men and women like this, are fine example of selfless service, sacrifice, dedication, and integrity. If you do a search on this blog, as well as other MilBlogs, you'll find the stories of these men and many others who've proudly served our country in the Armed Forces. Believe me when I say, you'll not walk away from their stories without being touched. These are the folks we should be encouraging our children to emulate, NOT the celebrities.
Instead, so often in our society, our children are taught that it's okay to emulate and hold in high esteem, people such as Michael Vick, Snoop Doggy Dog, Paris Hilton, Brittany Spears and a myriad of other entertainment and sports celebrities, who always seem to be splashed across the media with details of the latest trouble they've gotten into. Yet somehow, we seem to think it's okay for our children to idolize these people (I've never figured out why). Then we wonder why the values in our country have become so degraded. We often don't spend quality time with our children, and instead allow the television, computer and video games, to be our children's "babysitters" because we don't want to spend the time we should with our kids. Then, we're awfully quick to point our fingers at others when our children do wrong, be it their teachers, their peers ….. anyone but ourselves. Our children learn by the example they're given, their parents and the values we instill upon them, the role models we have them emulate.
The men I've listed above are but a few of the men and women that our children should be taught about. The men and women that we should encourage our children to strive to be like. Perhaps, turn off the television, drag them away from the computer or their video games, and put one of the books mentioned above, in their hands. Have them read the books and learn about courage, bravery, pride and dedication in our country, and the will to survive and excel. Then take the time as a parent to sit down and discuss the book with your child. Discuss what makes these men such special people, as compared to the myriad of celebrities that our Society tells them to worship. Make sure that they understand what these men have did for them, their friends and our country and how their actions are honorable and admirable. I think that you just might be surprised and hopefully impressed with the changes you might see in your children.
Army Chief Of Staff: Fort Bliss PTSD Program Should Be Replicated
After the Army Chief of Staff General George Casey made a visit to the Fort Bliss PTSD program on July 13th, it impressed him so much that he said publicly that the program should be replicated across the Army at other locations as well. We've told you about the program in Fort Bliss, in this story in May, which is unique in the Army, as it offers a more holistic approach to treating PTSD, including such things as acupuncture, massage, meditation, reiki and qi gong. We told you how much we were impressed by this program and how we'd like to see other installations utilize the same treatment model.
The program is operated by Dr. John Fortunato, who is a Benedictine monk, Vietnam veteran and clinical psychologist. The program opened it's doors a year ago and thus far, has been very successful in assisting Soldiers suffering from PTSD, to return to active duty, instead of being medically discharged from the Army.
"Unfortunately you can't package John Fortunato and move him around and it really takes someone with that passion to drive these kinds of operations," said General Casey. "But there are some of the elements of this, that are clearly exportable, and we will do that."
This is great news for the Army. As I said in my previous article about the Fort Bliss center, it's something that does need to be replicated around the entire Armed Forces. In the past, many Soldiers who were struggling with PTSD were medically discharged from the military and unable to continue their careers, even if that's what they wanted to do. Fortunato's program has allowed several to continue their careers. In the past, if Soldiers weren't deemed fit for duty after a course of about three months, they were medically discharged, often against their own desires.
"There were two things about that, that didn't seem right," Fortunato said. "I got tired of Soldiers crying in my office, telling me they did not want to get out, that the Army was their life, and it's all they knew. All I could say is, 'Sorry, we have to discharge you.' It tore me up."
During sessions with Soldiers over time, Fortunato said that he realized that they often needed much more than just psychological treatment. As he met with these Soldiers, he noticed that they fidgeted, hands and feet constantly tapping and shaking, sometimes throughout their entire sessions. He also noticed that many had spiritual questions and had a tendency to isolate themselves from their friends and loved ones. That was when the idea of building a place where the physical, spiritual and psychological aspects could be treated to help these Soldiers stay in the military if they desired to do so. Alternative or holistic treatment modalities weren't readily accepted in the military, so the job to sell his idea would be difficult. That difficulty didn't sway him from his mission, as he persistently pleaded to get approval and the funding to open the facility. His instinct was to design a facility, where the Soldiers who came there, felt comfortable. The last thing he wanted for them to do was isolate in their rooms. Because a person suffering from PTSD, is often over-stimulated, they often tend to isolate themselves and avoid contact with other persons.
"Only – we can't leave them there," he said. "So I had to sort of seduce them out of their rooms."
Fortunato decided that the facility would have a "vacation resort" type appearance, which would likely help to put the Soldiers at ease. At the entrance to the facility, visitors are met with oversized leather, mission type chairs, wood floors. In the background is the sound of trickling water, that comes from a fountain that sits in the lobby. Put together, it lends a relaxing and calming ambience to the room. At the end of one hallway, is a room that appears Asian in design. In the background are therapeutic sounds. That room is the meditation room.
Read more
Airport Opens In Holy City Of Najaf
Each year, hundreds of thousands of pilgrims make the trek to holy Shiite shrines in the Iraqi cities of Najaf and Karbala. Most of the time, they travel on foot or in vehicles. It will be much easier now for the pilgrims, many from Iran to make the trip, because of the opening of a new airport in the city of Najaf, located in the southern part of Iraq.
Prime Minister Nouri al Maliki calls the opening of the airport, a vital element in Iraq's economic development. The opening of the airport will provide jobs for citizens in the area, as well as make travel much easier from their part of Iraq to other parts of the country, or even other countries. The airport was built, by renovating a military airfield. The prime minister said at a grand opening ceremony on Sunday, that it was expected that several flights would be landing.
"The Najaf airport is a starting point for competition among provinces and local governments to make extraordinary progress toward reconstruction," al-Maliki said.

"We were determined to face the terrorism that was about to destroy Iraq. The strong will of the federal government has fought and defeated it in all of its forms," al-Maliki said.
This is a great boost to the economy of Iraq, as well as the fact that by creating more jobs, many more Iraqis won't have to worry about how they're going to support their families. This in turn helps to prevent Iraqis from turning to the insurgency to provide for their families. I'm sure that the airport will make it much more possible for people to make the treks to the holy cities. I know that as each new business opens, our Troops have that much more proof, that the jobs they're doing in Iraq, are worthwhile.
Next Page »