The days of comment spam on this blog are over.  Thanks to the guys over at Akismet for their wonderful WordPress plugin.  I was spending more time deleting and blocking spammers then I was writing posts.  Now I turn the security back down on my blog as well, won't have to approve each comment posted.
Here it is, as promised, my personal review of the ACU. My review is based on my 0900-1700 training NCO job in garrison. In the future, as I go to further exercises, I'll review them in a more tactical environment.
Day One (27 March 2006)

Wow, this uniform is extremely comfortable. It's pretty much like what everyone has told me, I feel like I'm wearing pajamas. The material seems incredibly thin. This uniform may be a little cold to wear here in Colorado. It should be great for the mild summers though. I continue to grab at my neck for my pens, it is going to take a while to get used to looking to my sleeve for my pen. I have found myself being extremely carefull where I step/put my boots, the light tan leather/suede seems easily staind.

Day Two (28 March 2006)

Not much to say today. Very good day with the ACUs. I have already stopped reaching to my neckline for my pens.

Day Three (29 March 2006)

My first major problem with the ACU was discovered today. Because these uniforms are so light in color, they easily stain. Today a spilled a drop of fruit punch on the crotch of my ACU. Great, now I have a bright red stain on my crotch, very small thankfully. With the old BDU stains either didn't show up, or if they did usually just looked like a bit more camo pattern.

Day Four (30 March 2006)

No deficiancies noted today. I'm really starting to like these new ACUs.

Day Five (31 March 2006)

Again today, no deficiancies noted.
I have come to the conclusion that this is an excellent uniform. I'm not a huge fan of all the velcro, it gets stuck to everything, to include other Soldiers. The uniform is very comfortable, and not having to worry about ironing and shining is a nice bonus. I hope to see a larger clothing allowance to cover their cost, as I don't feel they are as durable as the BDU.
If anyone is interested, I am going to be offering ANYONE a free @soldiersmind.com email address.  You will get full POP3/SMTP access to your email account, as well as webmail access.  Our servers have built in spam protection as well.  If you are interested, leave a comment or email me and I'll will setup an account for you.
Well, I finally got around to shelling out the money for a brand new set of ACU's.  Not really sure how I like them yet.  Monday will be the first day of actually wearing them to work.  I think the people over at Military Clothing thought I had lost my mind when I was "modeling" them in the store.  Anyway I'll give my opinion on them at the end of the week.
I have been obsessed with tattoos since I joined the military. I really like the way a nicely done tattoo looks. I'm not the type of person to cover my entire body with tattoos, but a couple here and there in my mind is ok.
I had been thinking about getting a new tattoo, and since most of my tattoos are religous based, I wanted something to match. I also wanted something to commemerate my military service. Most of the 'premade' military tattoos are rather boring and ugly.
A while back I was at the bowling ally with my girlfriend and a couple of our friends. All of a sudden, after about five beers, an idea popped into my head. I scratched it out on a napkin, and working on it latter when I was sobber. I decided to write a 'military' prayer, which ended up as:
Protect me from the faces of evil.
Give strength to those fighting beside me.
Guide my unit through the perils of battle.
Lead us to the path of victory.

The final product, completed 26 March 2006:
Well, here are the photos I promised. I reenlisted along with my orderly, SPC Matthys.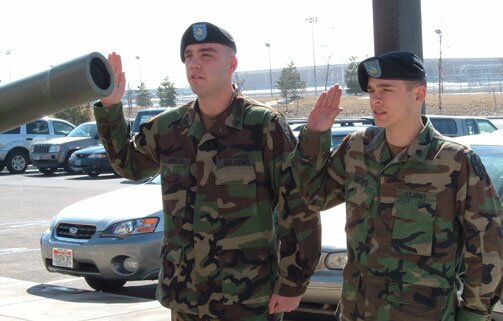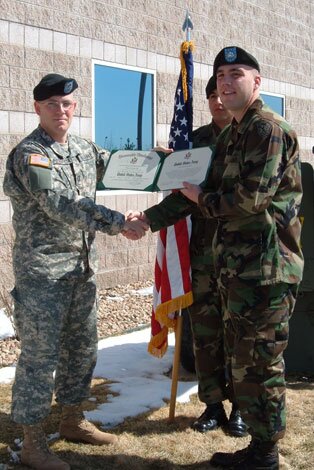 Lots of fun had by all.
Holy crap I'm being attacked over the last couple days with comment spam.  If anyone knows an affective WordPress plug-in to help combat spam, please let me know.
Here is another strange news item.  I'm not exactly sure what to say about this one.  I guess you can never be too prepared?
MEDFORD, Ore. — Dehydrated food bought in anticipation for a Y2K shutdown and melted snow kept a family of six alive for more than two weeks in their snow-trapped recreational vehicle in remote southwestern Oregon, the family said Tuesday.

Fearing a search for the family from Asheville, Ore., had been called off entirely after 16 days, Marlo Hill-Stivers and husband Peter Stivers left their two children, 8-year-old Gabrayell and 9-year-old Sabastyan, and Stivers' mother and step father, in the 36-foot Dolphin RV in search of help. -Courtesy FoxNews.com
Well, I finally stopped procrastinating. Wednesday morning at about 0930, I walked into my career counselor's office and told him I was going to reenlist. He asked me what I wanted to do, and when I wanted to do it. I eagerly told him I wanted to reenlist that day. He got all the information he needed from me, and about 10 minutes later I was signing the dotted lines for the second time in my military career. (Once to enlist, and now to reenlist.)
I had a very hectic day, so I kind of sent the whole morning activities to the back of my head. When I got home a light bulb went off, "Holy shit!", I exclaimed. My girlfriend wondering what the hell was wrong with me just gave me a strange look. I then told her, "I just remembered, I reenlisted today."
I havn't done the ceremony yet, because my commander is on "baby" leave and I don't want anyone but him to reenlist me. So, as soon as he gets back I'll do the "official" ceremony and get some pictures to post up here.
P.S. I was trying to wait until I did the ceremony to announce it, but I couldn't hold the secret in any longer. Here we go, another four years!
Here is a good one, if only this could happen to me. I'd never leave my apartment, for fear that the beer would stop flowing. I'd be emptying out milk jugs and filling them with beer.
A woman thought she was in heaven when beer instead of water flowed from the taps in her apartment in west Norway.

"I turned on the tap to clean some knives and forks and beer came out," Haldis Gundersen told Reuters from her home in Kristiansund, west Norway. "We thought we were in heaven."

Beer in Norway is among the most expensive in the world with a 0.4 liter (0.7 pint) costing about 50 crowns ($7.48) in a bar.

Gundersen said she tried the beer but that it tasted a bit odd and was not fizzy.

It turned out that a worker in a bar two floors below had mixed up the pipes on Saturday evening, wrongly connecting a new barrel to a water pipe leading to Gundersen's flat. The bar got water in its beer taps.

"If it happens again I'm going to order Baileys (coffee liqueur)," she said.
Next Page »