Wounded Heros Reunite After 18 Long Years
So many times, for various reasons, when parents divorce, family connections are broken between children and parents. Imagine that as a child, your mother and father split up. You live with one parent and never have the opportunity to see your other parent again. Imagine how that would leave an empty spot in your life that could never be filled. In this instance, for the past 18 years, SPC Carlos Herrera has thought about and wondered about his father; where he was and what he was doing. His parents had divorced when he was young and over the years he had lost touch with his father, Emanuel "Manny" Herrera. I introduced our readers to SSG. Emanual "Manny" Herrera, when I shared his story back in June of this year. I had met Manny in San Antonio and felt that he had a very compelling story that our readers would like to know about.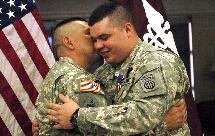 On Tuesday, SPC Herrera finally to realize his dream of finding his father and making up for lost time, when they exchanged their Purple Hearts in a very rare and very personal ceremony. The ceremony was their way of reconnecting and preserving that special bond between fathers and son. A bond that they swear will never be broken again. It was a start for them to be able to make up for all the special times over the past 18 years that they have missed.
"There are powerful emotions," said SSG Herrera. "I never stopped looking for him."1
Also on Tuesday, Spc Herrera learned that he would be deploying for Iraq for the third time, next month. Though they only had a weekend to share with each other, Carlos and his father made up for lost time, spending as much time as possible together. Often late into the night, talking about things and sharing family photographs. It was a poignant reunion and a very special weekend for both Carlos and Manny.
When Manny and Carlos's mother split up, they were living in El Paso. Carlos was only 5 years old and as most children of that age, probably didn't understand what was happening. After their divorce, Carlos and his mother moved to the Dallas area. Manny moved to Phoenix. Both parents went on with their lives and Manny and Carlos lost touch with each other. Despite losing contact with each other and living so far away from each other, that didn't diminish the love that they had for each other. There was a special piece missing in each of their lives.
"I would always look in the telephone book, trying to find him," Carlos said. "My mother felt that I had a lot of anger built up, not getting to know him."2
Unbeknownst to both of them, almost twenty years after losing touch with each other, they were both serving in Iraq, north of Baghdad. They were literally a few short miles away from each other and neither of them knew. Manny spoke of making convoys to the FOB where Carlos was serving. Even though they were so close to each other, their paths never crossed.
On November 21, 2006, SSG Herrera was wounded when a bomb detonated, causing herniated discs in his back and neck, partial hearing loss and traumatic brain injury. Currently he is still undergoing treatment for his injuries at Brooke Army Medical Center in San Antonio. Almost three months later, Carlos was injured in a mine blast on February 12th 2007, ironically enough, only 15 miles from the site of his father's injury. Carlos suffered shrapnel wounds to his arms and legs, as well as temporary vision loss.
Manny shared how he had been told by someone that they had searched the internet to find an article about him. That gave him the idea, that he should do an internet search as well, to see if he could locate his ex-wife and his son. Three weeks ago, after 18 years of searching and hoping to somehow reconnect, Carlos and his father were reunited over the telephone. At the time, Carlos was at Fort Bragg, recovering from his injuries. Manny of course, was concerned about his sons injuries and asked where he was and how badly he was injured. At times, they struggled to find the right words to say to each other.
"There was so much I wanted to say, but I was speechless," Carlos said.3
Because of the help of several wonderful groups of people, their reunion was made possible. They received assistance from the Warrior and Family Support Center at Fort Sam Houston, as well as the Fisher House Foundation's Hero Miles Program. They agreed to exchange Purple Hearts with each other, after checking to make sure that doing so, wouldn't violate any military protocol. When they met, Manny was delighted to meet his daughter-in-law Desiree and his two young grandsons. Desiree was thrilled to see her husbands dream finally come true, after so many years.
"It's what he's always wanted," she said, as she cradled their infant son.4
Following his next tour in Iraq, Carlos and his father plan to spend a lot of time together, making up for lost time. They plan to hunt, fish and ride motorcycles together. Eventually, his father wishes to remain on active duty and return back to the Phoenix area. Despite the miles that will separate them, they vow that never again will they lose touch with each other.
"There's no chance of us breaking that string of contact ever again," said Manny.5
I was so happy for Manny when I received an email from our mutual friend, Bob Kunkle. Manny is such a wonderful person and I know this reunion with his son meant the world to him. Hopefully, now that they've been able to reunite, they'll have many more happy years to reconnect and share their lives. It's wonderful that both of these Heros have finally been able to have their dream come true.
To view a video of this very special reunion by following this link.
Comments